No one likes emptying their RV toilet. Dealing with black tank odors and regulating the water used for flushing is a pain. But the future of RV toilets is now here.
This week on Episode 456 of the RV Podcast, we tell you one of the RV Community's Best-Kept secrets: The electric Laveo Toilet.
Also in this episode:
Expert advice on how to safely unhook, refill and reattach your RV's propane tanks.
The hottest social media buzz about the RV lifestyle
And the RV News of the week, your questions, a fabulous camping food recipe, and much, much more
You can watch the video version from our RV Lifestyle YouTube Channel by clicking the player below.
If you prefer an audio-only podcast, you can hear us through your favorite podcast app or listen now through the player below.
Podcast: Play in new window | Download (Duration: 56:23 — 33.8MB) | Embed
Subscribe: Google Podcasts | Spotify | Stitcher | Email | TuneIn | RSS
SOCIAL MEDIA BUZZ – Wendy Bowyer
Wendy Bowyer reports on the hot issues most talked about this past week on our RV Lifestyle Facebook Group:
​​We got a post from Natasha last week that really got people talking. Natasha is a seasonal camper who posted a picture of her crowded and tiny RV counter and said she needed some ideas on how to improve the counter space because her configuration was not working.
She uses her Keurig coffee maker, air fryer and toaster every day and asked if anyone had an arrangement that was working for them.
Dianne told her she has a Ninja convection oven that does several jobs at once – including a toaster and air fryer – saving her space.
Some, like Carol, suggested she invest in a smaller Keurig coffee maker.
Others showed her how they had made counters and attached them with hinges so they could fold up when needed and fold down when not needed. So many great ideas and encouragement in this post.
Just about every day in our RVLifestyle Facebook Group, people who are new to RVing or new to the group introduce themselves, and sometimes they show a picture of their new rig.
Nate did that last week, snapping a few pictures of the interior of his new Grand Lodge by, I believe, Forest River. It was so beautiful! It had an upstairs loft with a ladder, an island in the kitchen, and an L-shaped sofa. It was very interesting to see and received so many enthusiastic comments from the community.
Then finally, one of my favorite posts of the week came from Carol, who asked: What do you never leave home without and why?
Lots of interesting comments from the RV community!
Bill said good lawn chairs, patience and humor. Michael said his wife – she is the navigator.
There were so many other things like bug spray, broom and dustpan, pillows from home, lip balm, a good hat, duct tape, the dog ….
I had to agree with Kelly who wrote that she just loved the post and loved reading what everyone wrote.
RV RECIPE OF THE WEEK – Jerrica Mah
Time now for the RV Recipe of the Week with the editor of CampingFoodRecipes.com, outdoor enthusiast and lifelong foodie enthusiast Jerrica Mah:
This week's Camping Food Recipe: Crockpot French Toast Casserole
Hey, camping foodies! This is Jerrica with CampingFoodRecipes.com, and this week I have a sweet way to start off your camping day. We have a new crockpot French toast casserole recipe on our site, and it is delicious. It's one of those recipes where you prep the night before, taking about 10 minutes to get all the ingredients ready. Then you put them in your fridge and let them soak overnight.
The next day, simply pop it in your crock pot, and a couple of hours later, you have a delicious way to start off your camping day. But I know we're not all early risers or patient enough to wait a few hours for breakfast. The recipe also includes an alternative to pop it in your oven for quicker enjoyment.
So don't worry if you prefer to sleep in a bit. There's an alternative for you to still enjoy this great recipe much sooner in the morning. Be sure to check it out.
You should also take a look at our fruit salad recipe. If you make that for lunch the day before, you can use any leftover fruit to top your French toast casserole. It's a great way to make these recipes work together without having to bring different ingredients for every single meal of the day.
I hope you enjoy this recipe. We also have another breakfast option, which is homemade sweet cream pancakes. It's another tasty way to start your day. As you browse our website and discover all the new recipes that we add every week.
Please don't forget to submit your favorite camping recipe by clicking on the corresponding tab. That way, the entire RV community can enjoy what you enjoy whenever you go camping.
Thank you, and we'll see you next week with another camping food favorite.
RV INTERVIEW OF THE WEEK – The no water, no smell Laveo Electric RV Toilet
We've all heard of black tank horror stories, be it a hose "explosion" at the dump station, an unpleasant odor from the RV toilet black tank, or a pyramid that causes, let's just say, a bit of a problem. What if we told you there is an RV toilet option that could eliminate your need for a blank tank completely?
We are not talking about composting toilets or cassette toilets.
Rather we are talking about a product called The Laveo, a waterless RV toilet by the Connecticut-based company Dry-Flush. This toilet collects waste in what looks like a foil-lined toilet, with each flush tightly wrapping waste in what reminds me of the Diaper Genie, a device used for soiled baby diapers.
I got to see a Laveo toilet recently and thought it was so interesting, so we invited the president and owner of the company, Douglas Rice, to explain.
Be sure to listen to the interview on the podcast or watch the video version to see it in action! Click the players above.
RV NEWS OF THE WEEK
Ever notice those piles of rock randomly stacked here and there while hiking somewhere picturesque? Well, if you come across one in Yosemite National Park, rangers are requesting you knock it down.
Called rock cairns, these stacks of rocks upon rocks were all the range a while back, but increasingly parks throughout the country are telling people to knock it off.
And in Yosemite, they are going so far as to urge visitors to dismantle them.
The reason is these piles disrupt small insects, reptiles and micro-organisms found in nature and they go against the "leave no trace" philosophy by leaving a human presence in an otherwise natural setting.
If you enjoy RVing in solitude in national parks, check out our story here.
A tipped over camping stove a few miles south of Oregon's Deschutes State Park caused a fire that lead to the evacuation and closing of the state park last week.
The fire spread to about 1,000 acres and firefighters did contain it in a canyon but were still fighting it as of this writing. Much of this part of the country is under a heat advisory with extra dry conditions.
With hot and dry conditions there is an increased risk of wildfires in many parts of the country and certainly wildfires are still burning in Canada.
If you find yourself in an area with wildfire smoke, check out our story on potential dangers breathing this air can cause.
Many campgrounds and tourist areas in the Adirondacks and forests of Vermont are continuing to clean up and access damage done after record rains hit the area a week ago.
In the Adirondacks, a state of emergency was issued for an area that includes Indian Lake, Long Lake, and Speculator. Pictures showed crumbled pavement, washed out roads and serious water damage. (See more here.)
And in Vermont, some places saw nine inches of rain in a short time, causing what the governor called "historic and catastrophic" flooding.
The Adirondacks is a wonderful place to camp, so much so we wrote a 7-Day Adventure Guide you can see here.
It is so HOT at Death Valley National Park, it is apparently becoming a tourist attraction.
Visitors are flocking to the park to snap a picture of themselves by its famous thermometer outside the Furnace Creek Visitors Center.
Temperatures have been high in much of the West as excessive heat warnings are issued for parts of California, Nevada, Arizona. In Death Valley temperatures are approaching 130 degrees.
The all-time temperature record for Death Valley was set in 1913 at 134 degrees. Rangers are posting signs along trails urging visitors to bring lots of water, not to go for hikes after 10 am and to "pack to survive."
To help you stay cool this summer no matter where you find yourself, be sure to follow our 9 RV air conditioner maintenance tips here.
Speaking of Death Valley National Park, the National Park Service is asking for the public's help in identifying who shot five wild burros there.
Burros are an invasive species, heavily used during the Gold Rush when some escaped and their decedents are the wild herds there now. Even though they are invasive, it is not legal to shoot the burros.
Yet someone did just that – shooting five of them and leaving their carcasses behind to rot. The NPS has set up a hot line and is asking for the public's help finding who did this. To learn more click here.
RV INDUSTRY NEWS WITH RICK KESSLER
For the latest in RV and Camping Industry news, we're joined by Rick Kessler, executive editor of the industry leading publications RVBusiness and Woodall's Campground Magazines.
Let's start with Camping World as the nation's largest RV dealership had a whole bunch of announcements this past week.
First, Camping World announced it was going to be buying Sonny's RV in Wyoming.
The next day they opened a new dealership in Oklahoma City that only sold and serviced Jayco-branded RVs.
Then, Camping World said it had closed on the acquisition of All Seasons RV in California.
Lastly, they announced the opening of a store in Oshkosh, Wisconsin.
Marcus Lemonis has been busy, and we're told he's not even close to being done yet.
In other industry news, the retail sales figures for May came out and it's pretty much a good news-bad news situation. The bad news is the monthly total was down 17% compared to May of last year. The good news is that drop is not as bad as it has been.
What's happening? For starters, the first half of 2022 were all pretty much record numbers, so this year could hardly be expected to keep pace with that.
But the other thing is even though the numbers are off from last year, they aren't that far off from where they should be given the long-term expectation.
Finally, it looks like KOA had a really good Fourth of July, with an increase in registration revenue of more than 12% over the record results of the prior year.
It was the same story up in Canada, where KOA's registrations for the Canada Day holiday were up nearly 7%.
RV Tip of the Week from Brenda of Queen Bee RV
Time now for the RV Tip of the week from certified RV Inspector Brenda of Queen Bee RV.
Brenda's focus is on educating RVers on how to care for their RVs – especially women RVers – and she is a regular contributor to the podcast, sharing her expertise with our entire audience.
Here's Brenda.. The RV Queen Bee… with this week's RV Tip.
Transporting Propane Cylinders
Let's go over the steps for properly and safely transporting your portable DOT cylinders, aka the propane tanks. These are the tanks you typically see on a travel trailer or 5th wheels. Some motorized RVers will also use these in conjunction with their Extend-a-stay adapter.
If you need to disconnect and transport your tanks to either get them filled, trade them in, or get them recertified, there are some simple and also critical steps that you need to know to take on the task.
Turn off any appliances calling for propane inside the rig like the refrigerator, water heater, stove/oven, or furnace.
Turn off/close the service valve at the tanks. This is the triangular shaped handle on the top of the tanks. Follow the arrows to know which direction to turn them to open and close the valve.
Disconnect the pigtail/excess flow valve. No tools needed, simply use your hand to unscrew it.
Put the dust cap on the opening of the service valve to keep debris and dust from entering during transport.
Release the tank from its platform on the tongue of the trailer or holding area in the cargo storage bin.
Lift the tank up and out of the area to take to the transport vehicle.
Keep the tank upright – this is imperative during transport. Don't let it tip over. You can place it in a carrier or something secure in the bed of the truck or you can even put it in the backseat of the car, however, there are some important safety tips to note. No matter where you put the tanks for transport, it must be secured in all directions so that there is no movement. Over its shoulders and around the belly. Don't let it slide around the bed of the truck. Another great way to do this is with the seatbelt inside the vehicle, however, make sure to crack a window just in case your service valve has a small leak.
Go straight to the dispenser and come straight back. Don't leave propane tanks inside a hot vehicle while you run errands!
When you return, do everything in reverse. Secure the tanks in the cargo storage bin or on their platform, remove the dust cap, attach the pigtail, then open the service valve. Do all of this BEFORE you turn on any appliances calling for propane in the RV to avoid propane lock out.
By following these simple and important steps can help you feel confident about the task of refilling the propane tanks.
RV App of the Week
Time now for the RV App of the week, brought to you by our sister blog, NewTravelTech.com, which celebrities the many ways technology enhances the entire travel experience.
This week's app is called Polarsteps, and it's an automatic travel mapping program that tracks your travels seamlessly, giving you a very attractive map that shows your routes, your stops and highlights you want to display.
The thing that is particularly awesome about this app is that all you have to do is keep your phone on and it does everything in the background. You can share or post your map online or you can get really creative and write notes, and highlights of the journey, post photos and turn the whole map into an 11 by 8 inch travel book that chronicles your entire journey.
We learned of this app from a friend who is currently on an RV trip to Alaska. She's been using the app to share her routes with her Facebook friends. We were very impressed by how nice and professional the maps look.
The app works for any kind of trip, anywhere in the world. It's free for iOS and Android devices.
RV QUESTION OF THE WEEK
Question: I was widowed this past year and though I was the driver of our motorhome for the last many many years, I have never driven it all by myself. It's a 37' Thor Windsport, gas, motorhome and I have to get it down to Marietta, Georgia in August/September. Do you happen to know of anyone who transports these for people – Ronnie
ANSWER: Call your local RV dealer and ask them for a contact. Most have drivers they use from time to time to do this.
Alternately, the FMCA has a service for members to relocate an RV if an emergency happens. You need to be a member. Check them out at fmca.com
Where are you going next?
Whenever someone asks us, "Where is one of your favorite places in the US for RVing?" Our answer is unquestionably, in unison, "The UP of Michigan." The "UP" means Upper Peninsula, of course.
That's why we decided to write our first "7 Stop RV Adventure" to help you explore Michigan's Upper Peninsula.
This ebook is a seven-stop guided exploration of the Michigan UP. We provide a suggested route and itinerary, links to multiple campgrounds and boondocking spots, and the best spots to see along the way. Don't plan your trip to the Upper Peninsula without it!
---
---
---
---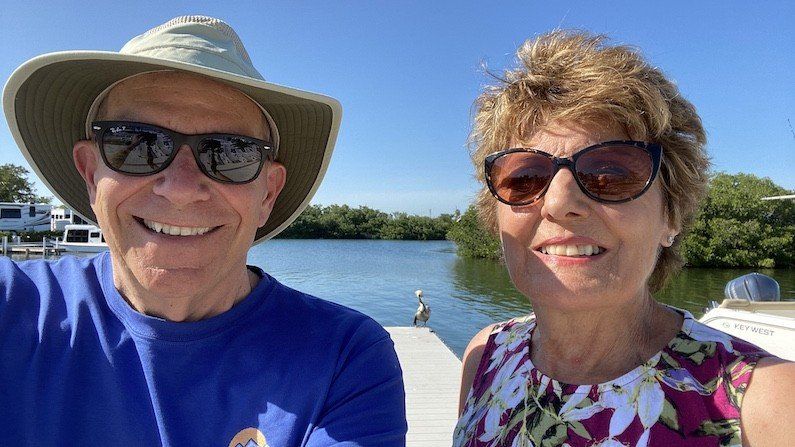 Curious about the gear, gadgets, accessories, and RV products Mike & Jennifer use and recommend?
On this RV Lifestyle Travel blog, our RV Podcast and our RV Lifestyle YouTube Channel, we mention all sorts of RV-related products and gear that we use, So we created a special page that links to them. We update this all the time.  CLICK HERE to go to it directly.
---