We've had it for six weeks now so it's time for a complete Arcadia Fifth Wheel tour. We have the 3250 RL Model, meaning it's 32.5 feet long with a Rear Lounge.
And while it is smaller than many Fifth Wheels out there, we're luxuriating in the extra room and storage space.
Click the video below for a complete tour of the outside, inside, and topside!
The specs on our Arcadia Fifth Wheel
In the video, we show pretty much everything. But to save you from going back and taking notes here are the main specs we show:
Length – 32.5 feet
Height – 13.4 feet
Shipping Weight – 9029 pounds
Carrying Capacity – 2,831 pounds
Rear bumper hitch capacity – 300 pounds
Propane – 60 pounds (two 30-gallon tanks)
Freshwater tank – 66 gallons
Greywater tank – 88 gallons (divided between s bathroom/shower tank and a galley tank)
Blackwater tank – 49 gallons
Solar – 600 watts
Batteries – three 100-amp hour Dragonfly lithium batteries
Inverter – Victon 3,000 watt
Sleeping Capacity – 4
MSRP – $64,251 (Base price. Does not include freight, title, tax, options, or dealer fees)
Heater water supply lines
Battery heaters
Lippert Ground Control 3.0 auto leveling system
Fireplace with 5,000 BTU heating element
35,000 BTU ducted heater
In-floor heating ducts
Two Coleman 15,000 BTU air conditioners
8 cubic foot LP/electric refrigerator
Residential 30-inch microwave
Residential Roman shades
How we plan to use our Arcadia Fifth Wheel
We've camped in motorhomes – Class B, B+, and C models – for the past 10 years.
And indeed, we still have our Leisure Travel Vans Wonder RTB.
We love the easy mobility that motorhomes offer, particularly when traveling from place to place to place. We expect to get a new motorhome this fall, too, so having a motorhome for trips that have us going place to place (like when working RV shows, doing personal appearances, chasing stories in multiple locations) will continue to be a big part of our RV Lifestyle going forward.
But ever since we bought 5 acres of property in Tennessee last fall, we've been excited about camping there for longer stays. That's where the Arcadia Fifth Wheel comes in. As soon as all our utilities are in, we plan to bring it down and use it there as a base camp, staying longer than we usually do in the motorhome.
We're also looking for some similar property we can buy in Michigan, and see us using the Arcadia up there, too. In the winter, we could bring it for extended stays in Florida or Arizona, too.
The favorite features of our Arcadia Fifth Wheel
The Arcadia Fifth Wheel offers so much room and storage.
It's like a cabin on wheels. The big panoramic windows truly bring the outside in.
It is really comfortable, with an L-shaped sofa, a long kitchen table that doubles as a workspace for us, a fireplace, a big bathroom and shower, and a super comfy memory foam Queen sized bed.
The solar panels and bank of three 100-watt lithium batteries from Dragonfly (the parent company of Battleborn batteries) allow us to comfortably boondock and run everything except the AC units.
We're thinking about adding more batteries and solar in the future (we have room for 1,200 watts of solar) so we can run the AC a bit off the grid but for now, as we've been getting used to the whole fifth wheel experience, we're good.
Photos from our Arcadia Fifth Wheel
The walk-through tour video will give you a pretty comprehensive look at our new Arcadia and the features we like the most.
But to round out this post here are a few still photos of us using it. So far, we've traveled about 2,800 miles in it, pulling it with a 2021 Ford F-250 Lariat Diesel 4×4. I'm getting about 12.5 miles per gallon.
Want to see more of our videos?
Just head over to https://www.youtube.com/rvlifestyle and you'll see we have hundreds of videos on enjoying the RV Lifestyle.
---
Looking for exciting RV trip ideas and travel suggestions?
We've written a library of RV Travel books that lay out guided RV explorations of scenic areas of the US that we''ve explored and think would make an excellent RV trip for you.
In each location, we provide a suggested route and itinerary (7 stops in each guide, one for each day of a week trip!) as well as links to multiple campgrounds and boondocking spots, local tips, and interesting things to do at each location.
You can hit everything in seven days, do a whirlwind weekend tour, or you can take your time and explore the area over a 2+ week period.
Planning an RV trip can be very time-consuming so that's why we've done the research for you! Just take our guides and use them. We're sure you'll have an RV trip for the ages! Instant download. CLICK HERE for information on our RV Travel Guides
---
---
---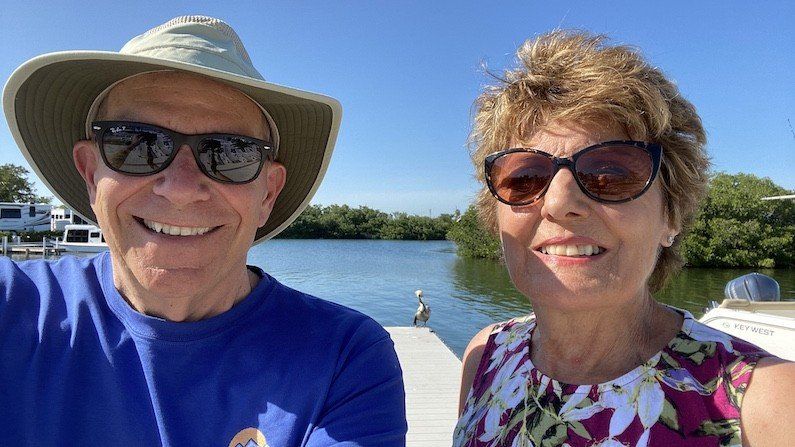 Curious about the gear, gadgets, accessories, and RV products Mike & Jennifer use and recommend?
On this RV Lifestyle Travel blog, our RV Podcast and our RV Lifestyle YouTube Channel, we mention all sorts of RV-related products and gear that we use, So we created a special page that links to them. We update this all the time.  CLICK HERE to go to it directly.
---