Save yourself from a bad camping experience by watching out for these red flags when booking campgrounds…
Has it ever happened to you? Have you booked a campground with all the expectations of a great stay, only to arrive and think you must have put the address into the GPS wrong?
This can't be the place! This is not what I signed up for!
Well, you're not alone. Unfortunately, too many campgrounds these days aren't living up to campers' expectations. So, it's good to know what red flags to watch out for when booking a campsite!
NOTE: These red flags are primarily for privately owned campgrounds. Public campgrounds in national and state parks, for instance, work a bit differently. They may not have as many photos, detailed descriptions, etc., but they can still be an excellent place to stay.
We use affiliate links and may receive a small commission on purchases at no added cost to you. Thank you for your support. You can read our full affiliate disclosure here.
1. Outdated Photos or Lack Thereof
A picture is worth a thousand words, and this rings especially true when evaluating campgrounds. Outdated or non-existent photos should raise a red flag.
When considering a campground, make sure to browse through their website or online listings and carefully examine the photos they provide. If the photos appear outdated or blurry, it might indicate that the campground hasn't invested in maintaining or updating its facilities.
Similarly, if a campground doesn't offer any photos at all, you should question why. Are they trying to hide something? A well-maintained campground will proudly showcase its features, so be wary if you come across a lack of visual evidence. And a PRO tip: check their social media accounts and images… and comments.
2. No Photos of Amenities
Another red flag to watch out for is the absence of photos showcasing the amenities the campground claims to offer. If a campground describes fantastic amenities like swimming pools, playgrounds, or nice bathroom facilities but doesn't show any pictures of them, it's natural to wonder why.
Are these facilities not as nice as they say? Were these facilities only "fantastic" when they were built 3 decades ago?! Do they not want you to really use the facilities because it creates more work for them?
All of those are potential concerns. After all, why wouldn't a campground show off its best features?
3. Situated Along a Busy Highway
While campgrounds located along highways can be quite nice, you should look closer when considering one. The proximity to a busy highway might mean constant noise from passing vehicles and possibly poor air quality.
The increased traffic can also pose safety concerns, particularly if traveling with children or pets.
Read reviews from previous campers who have stayed there. They will provide valuable insights into the noise level and other potential issues you might encounter.
At the very least, it will properly set your expectations. You may be willing to deal with some extra noise in exchange for the convenience of being right off the highway.
4. High Crime Rates in the Surrounding Area
Like traditional neighborhoods, a campground's safety can be affected by the surrounding area. Theft is not very common at campgrounds. But the theft that does occur is usually by people who come into the campground (not your fellow campers).
AreaVibes is a great resource for getting an overview of the area the campground is located. It shows the crime rate, as well as rates the amenities and health & safety within that region.
If the campground is located in a high crime rate area, you need to dig deeper. Read the reviews and ask the campground what safety measures they have in place. Perhaps they have a manned gate, a security guard, or other safety measures.
Then, you can decide if it's a safe enough place for you to feel comfortable camping there.
5. Noise Complaints in the Reviews
A camping trip is often a chance to connect with nature, relax, and escape the noise of the busy world. Therefore, if you come across reviews that consistently mention noise-related issues in a campground, it should raise concerns.
Noise complaints can indicate that the campground either lacks noise regulations or doesn't enforce them. Which means they may not enforce other campground rules either.
As you research, pay close attention to reviews that mention noise levels. If multiple reviews consistently express frustration regarding excessive noise, it might be best to steer clear of that campground. Keep in mind that some campgrounds cater more to a "party crowd," so if that's not your scene, it's best to move on to the next option.
6. Recent Reviews Are Bad
Reading reviews can provide valuable insights into the experiences of previous campers at a specific campground. While it's normal to encounter a few negative reviews amongst generally positive ones, a concerning red flag arises when the most recent reviews consistently reflect a bad experience.
Always consider the dates of the reviews you read. A campground that once received positive feedback may have declined over time due to poor management or a change in management, or the other way around.
Look for options to filter reviews by "most recent" to get an accurate sense of the current state of the campground. A pattern of recent bad reviews can indicate that there have been significant changes or ongoing issues that may affect your stay.
7. Staff Has Bad Attitudes
The attitude and demeanor of the campground staff can greatly impact your overall camping experience. When you interact with the staff, whether via phone or email inquiries, pay close attention to their attitude and level of customer service.
Friendly and helpful staff members are a positive indication of a well-managed campground.
Watch out for any signs of staff with bad attitudes or unprofessional behavior. Bad attitudes often translate into badly managed and badly maintained campgrounds.
8. Campsites Are Too Small
One crucial aspect of a campground is the size of the campsites. It should raise a red flag if you come across multiple reviews that mention how small the campsites are. A campground that prioritizes profits over camper experience may overcrowd its sites, leaving little room for you to relax and enjoy your outdoor space.
A well-designed campground understands the importance of adequately sized campsites, allowing campers enough space for their RVs and outdoor setups. It's essential to have a balance that optimizes profits without sacrificing the comfort and privacy of campers.
Look for reviews highlighting spacious sites, as this indicates that the campground values the quality of its guests' experience. If you want to know what other amenities RVers often look for, read 77 Must-Have RV Resort Amenities & RV Park Deal Breakers.
9. Excessively Strict Cancellation Policy
While having a cancellation policy is reasonable for any business, an excessively strict policy can be a potential red flag. While it's understandable that campgrounds want to protect themselves from last-minute cancellations, an overly strict cancellation policy without great reviews to back it up could indicate a "gotcha!" business model.
If the policy states that cancellations are not allowed or refunds are not given under any circumstances, the campground may be more interested in securing your payment than providing value to their customers.
To avoid any surprises or added stress, always carefully read and understand the cancellation policy before booking. Look for campgrounds that offer reasonable cancellation options, such as partial refunds or rescheduling opportunities, in case of unexpected circumstances or changes in your plans.
(By the way, here's How to Find Campground Cancellations for last-minute reservations.)
10. Hidden Fees and Additional Charges
Watch out for any hidden fees or unexpected additional charges. Some campgrounds may advertise low-cost campsites but surprise you with hidden fees upon arrival. These additional charges can include fees for amenities, pets, extra vehicles, or even basic services like water and electricity.
Note that these additional charges aren't bad practice IF the campground clearly outlines them before you start the checkout process. It's normal to have additional charges based on individual campers' needs. It saves the campers who don't need those things money.
If you're reserving through a third party that doesn't offer a lot of campground information, visit the campground's website before booking it. If the website doesn't outline what you're looking for, give them a call and ask about their fees.
What are YOUR RED FLAGS When Booking Campgrounds?
Let us know in the comments.
Find New Campgrounds with CampersCard
Like what you see in these videos? We'd appreciate it if you would Subscribe to our YouTube Channel (easy to do right here) and consider "ringing the bell icon" to be notified of any new video from us. 🙂 Thanks!
It was a wonderful time camping out at Lago Linda Hideaway! We found this hidden gem campground when looking for a new RV spot using CampersCard, a new program with Harvest Host.
CampersCard members get benefits, including early check-in, late checkout, and discounts on nightly rates. Learn more at https://rvlifestyle.com/camperscard
Mike and Jennifer's Southern Utah RV Adventure Guide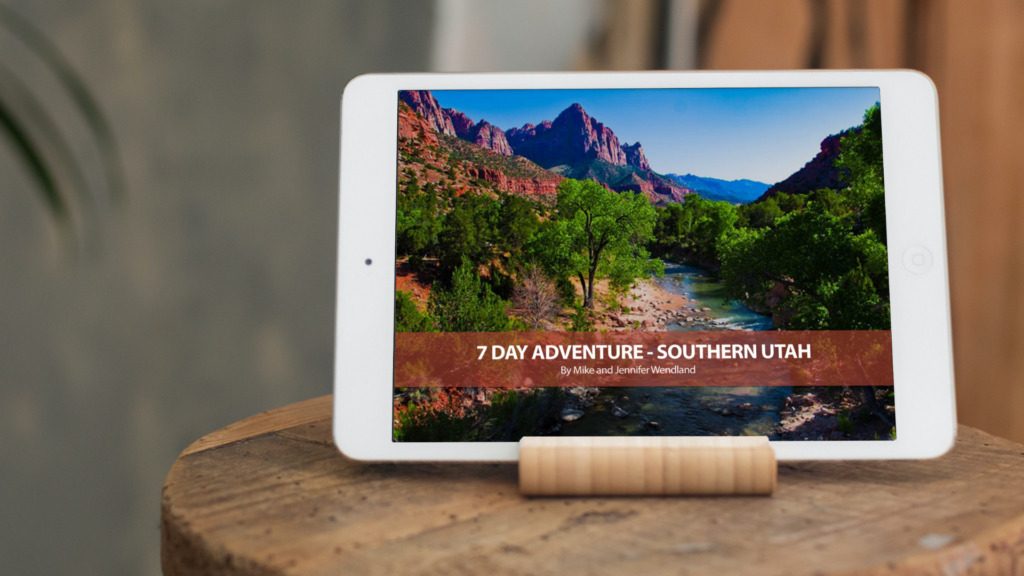 Utah, Utah, Utah. What more is there to be said? In very few places across the United States is there such a tremendous area with breathtaking vistas and diversity of terrain.
The sheer size of the National Parks, the canyons, the desert. Combined with the amount of history written in the red rocks that rise like towers jutting out of the ground and the delicate hoodoos washed away by erosion.
It is a place that, if you've never been, you need to go, at least once in your life.
This ebook is a seven day guided exploration of the State and National Parks in Southern Utah. We provide a suggested route and itinerary, links to multiple campgrounds and boondocking spots, and the best spots to see along the way. Don't plan your trip to Southern Utah without it!
You can hit everything in seven days, do a whirlwind weekend tour, or you can take your time and explore the area over a few weeks.
---
---
---
Official RV Lifestyle QUICK Links to ALL our eBooks
You can see ALL our eBooks here, or use the following Quick Links to go straight to what you need!
● Arizona
●    Colorado 
And MANY of these are BUNDLED together:
New England Bundle
Coastal Maine, Adirondacks
Ultimate Michigan and Great Lakes Bundle – 3 ebooks –
Upper Peninsula, Lower Peninsula, and the Great Lakes Tour
Michigan Bundle
Upper Peninsula, Lower Peninsula
The Great Lakes Adventure Guide Bundle
The Great Lake Shoreline Tour & JUST the Upper Peninsula Guide
Florida Adventure Guide Bundle
Gulf Coast, Atlantic Coast, Keys
Southwest Adventure Guide Bundle
Arizona, Colorado, Southern Utah)
Ultimate 7-Day RV Adventure Guide Bundle
Collection 1- our first 10 ebooks (does NOT contain Great Lakes Shoreline or Natchez Trace)
We also have a nice collection of ebooks that will help you navigate the RV Lifestyle.
Like these:
The Beginner's Guide to Boondocking
The Ultimate Guide to Cheap or FREE RV Camping Sites
Boondocking and Free RV Camping EBOOK Bundle
The Beginner's Guide to Boondocking ebook and Ultimate Guide to Free Camping Sites
And ONE PRINT book 🙂 and yes, before you ask, we have plans for MANY more print books.
The Complete Guide to Boondocking – PRINT VERSION
This is the same as the ebook titled The Beginner's Guide to Boondocking but in print.
And while you are exploring all our ebooks – check out the hoodies, T-shirts, Stickers, and mugs in our MERCH Store! You can get to it directly by just going here – SHOP!