After more than 10 years of thinking ALL RV air conditioners were very noisy, we now have a quiet RV Air Conditioner that actually makes it possible to have a normal conversation in the RV when it is on.
It was an expensive upgrade – over $3,000 after purchase and installation, which took the better part of the day.
So it's not for everyone.
But it is for us. Here's a video that shows how loud the stick 15000 BTU Dometic was that came with our unit and how our new one is in comparison.
Where we got the Quiet RV Air Conditioner
First, let me say up front that we paid for our own unit ourselves and its installation.
This is not a sponsored post.
We write about it because, for us, it was a very significant upgrade and we think a lot of other RVers will find this interesting. But no one has paid us for this story. It's all our own.
The Quiet RV Air Conditioner – that's what it is marketed as – was installed at Advanced RV in Willoughby, Ohio, which makes its own very high-end customer Class B RVs and also does some upfitting of certain features and accessories for other RVs.
It's manufactured under the brand name Houghton and while a quick link around the Internet shows it being sold by several companies, we chose Advanced RV for the installation because Willoughby, Ohio wasn't that far from our house in the Detroit suburbs and we know the folks there well as we've done several stories on their RVs.
Even though the unit is only 13,500 BTUs compared to the 15,000 BTU unit from Dometic that it replaced, Advanced RV CEO Mike Neundorfer said the efficiency of the Quiet RV Air Conditioner more than compensates for the difference.
He says that after rigorously testing it against three similarly-rated rooftop RV Air Conditioners, it was the clear winner.
"This unit is 20% more efficient and many times quieter than any other we have tested," he said. "It is even quieter than the ceiling ducted design we have used in our custom-built RVs."
The reason, Neundorfer says, is the construction.
"It has more compressor mount isolation, all-metal, balanced fans; and an excellent design balance between compressor, evaporator, and condenser components."
The unit is Whisper-Quiet
What led us to do this upgrade was hearing the unit that our friends, Les and Kathy Shanteau, of Navarre, FL, had installed to replace the rooftop AC that came with their Pleasure-Way Class B RV.
They had visited Advanced RV the previous year and installed Quiet RV Air Conditioner.
For us, hearing the AC was believing.
Our old unit was so loud that it was all but impossible to have a conversation while we were in the back of the RV. If the AC was on, we could forget about watching TV. The AC was just too noisy.
If we were in a very hot area and needed to run the AC at night, it was so loud that we could hardly sleep.
The day after visiting Kathy and Les, we booked an appointment with Advanced RV.
The Quiet RV Air Conditioner can fit on just about any RV
The unit can be installed, we learned, on just about any RV, from Class B all the way up to Prevost buses.
The team at Advanced RV noted two issues with our install. The Dometic unit we had also had a heat pump.
The Quiet RV Air Conditioner does not have a heat pump. Since that is a feature we never used anyway, it was no big deal.
But my old air conditioner was also controlled by the touch screen panel in our Leisure Travel Vans Wonder RTB RV. The new unit would not interface with that panel. Instead, it is controlled by a remote.
Again, that wasn't an issue for us, not when it came to gaining more efficient cooling and the quiet.
Making the trip to Willoughby
My appointment was on a Thursday. Since Willoughby – an eastern suburb of Cleveland – is about 225 miles from our house in Michigan, I drove over the night before and spent the night behind the factory.
The company has a half dozen parking spots there for customers, complete with 30 amp hookups.
I just pulled in, not bothering to level. I regretted that several times during the night because, while my head was higher, the sideways slant of the parking spot made for an uncomfortable sleep. So did the nonstop train traffic outside.
Still, I was glad that I was there at first light so they could get an early start.
Installing the Quiet RV Air Conditioner
Installation was pretty straightforward.
They removed the old AC and installed the seal for the new one. That turned out to be the most time-consuming part as the cement used to make for a weatherproof seal needs about four hours to drive.
Once that happened, the unit was put into position and connected up.
I decided to keep the SoftStart RV accessory I had on my previous unit that mitigates the energy spike caused when the air conditioner compressor kicks on. That SoftStart RV feature lets me run my AC when moochdocking and plugged into a 20 amp household circuit. Click here to read the article I did earlier on why the SoftStart RV is such a great accessory.
After installing the unit, my Wonder was moved to a separate area in the factory where the seal was water tested – twice – to be sure there were no leaks.
They pulled the RV into the service bay at 8:30 AM. I was out a little after 4 PM.
Does the Quiet RV Air Conditoner live up to its name?
I made the trip home that night and the first thing I did was have Jennifer come out. I turned on the unit.
"Look, it shows the temperature you have it set at," she noted pointing to a little digital display on the unit over our beds. Can you turn that off?"
Yes, you can.
The test for us is whether we can do our video work inside the RV when the AC is on.
There are two fan settings, low and high.
On low, you can't even hear it from the front of our 25-foot-long unit.
In the galley area – about 10 feet from the AC – it is undetectable with our microphones when we are doing video "stand-ups." Before, with the old AC, we had to completely turn off the unit to be able to record the narration.
Even on high, the fan is quiet enough to do narration at the front of the coach.
In back, on either setting, conversation is very comfortable at a normal level. And the TV can easily be heard.
Best of all, we now sleep undisturbed by AC noise.
Another huge plus for the Quiet RV Air Conditioner: Dehumidification Mode
Something else that the Quiet RV Air Conditioner has that I can see making a huge difference is the dehumidification mode that uses much less energy than cooling mode and improves comfort by lowering humidity.
People who have had a lot of experience with this unit say just running the AC in that mode dramatically lowers the humidity and thus, in effect, makes it feel so much better.
Remember that old summertime slogan, "it's not the heat it's the humidity?"
Well, there's a lot of truth to that. Drop the humidity and the unit is much easier to keep cool.
The Quiet RV Air Conditioner is NOT silent
Don't misunderstand me. It is quiet. But not totally silent. The fans are very quiet. And when the compressor kicks on, you do hear it as a low rumble.
But it is all very tolerable. Nothing like the old unit.
We are on the road usually three-quarters of the year and often in very hot and humid locations. Because our work is deadline-driven, we find ourselves having to work in the RV on many days.
I can't tell you how quickly an RV can heat up when the AC is off. And so many times when recording a podcast in the RV or doing on camera video work we felt we were working in a sauna. But with the old RV and the noise it made, we had no choice but to turn it off.
Now, we won't be having those problems.
So for us. the $3,000-plus price tag was worth it.
It may not be for you.
---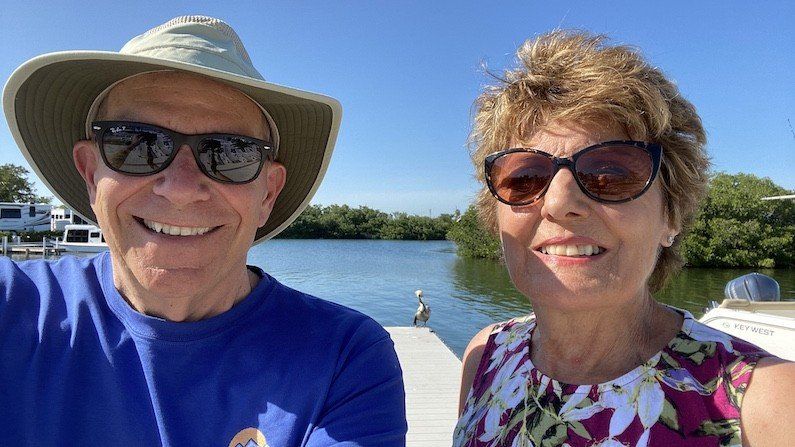 Curious about the gear, gadgets, accessories, and RV products Mike & Jennifer use and recommend?
On this RV Lifestyle Travel blog, our RV Podcast and our RV Lifestyle YouTube Channel, we mention all sorts of RV-related products and gear that we use, So we created a special page that links to them. We update this all the time.  CLICK HERE to go to it directly.
---
This bundle is our popular Upper Peninsula RV Adventure Guide PLUS our newest Adventure Guide – The Great Lakes Shoreline Tour! Both ebooks will give you plenty of ideas and resources to enjoy this part of the US.
The Great Lakes Shoreline Tour — One of our favorite RV trips has been driving the United States side of the five Great Lakes. It is a trip of over 4,000 miles and takes you to 8 states! And it's filled with beautiful vistas, welcoming towns and villages, and fabulous places to camp, hike, and explore.
Upper Peninsula RV Adventure Guide — Whenever someone asks us, "Where is one of your favorite places in the US for RVing?" Our answer is unquestionably, in unison, "The UP of Michigan." The "UP" means Upper Peninsula, of course.
---
Looking for some place warm to RV?
Mike and Jennifer's Favorite Places in Florida – all 3 ebooks!
We RVers may wander far and wide but it's true for most of us that we end up with some favorite "Go-To" places – places that draw us back again and again.
Florida is one of those places for us. And we know it is for many RVers looking to get away and explore during the winter.
That's why we've created three guides, covering Florida's Atlantic Coast, the Gulf Coast, and the Keys.
Each of these guides is a seven-day guided exploration of one of the coasts. And each stop is a curated view of the best things that we've enjoyed on this trip and want you to experience.
Altogether these guides are over 300 pages of content!
---
FAQ's about Florida Gulf Coast beaches of interest to RVers