Recently, one of our RV Lifestyle group members on Facebook reached out to our members. Christy recently talked to another RVer about staying overnight at Walmart parking lots versus rest areas. She said that she feels more secure at rest areas since most have surveillance cameras and occasionally security personnel.
Her acquaintance said that she feels safer parking overnight in Walmart parking lots. She posed this question to the rest of our members:
"What do all prefer when traveling?" she asked, and received hundreds of responses.
I will give you the gist of their replies below and provide resources and advice to help you determine where you should stay.
We use affiliate links and may receive a small commission on purchases at no added cost to you. Thank you for your support. You can read our full affiliate disclosure here.
Which is Safer: Overnighting at Walmart or a Rest Area?
Like what you see in these videos? We'd appreciate it if you would Subscribe to our YouTube Channel (easy to do right here) and consider "ringing the bell icon" to be notified of any new video from us. 🙂 Thanks!
Safety is one of the biggest concerns of "lot docking" or overnighting in a parking lot or rest area. Is it safe to park overnight at Walmart? What about rest stops? How can you be as safe as possible?
To answer the question directly, the safety of each depends on its location. I know that's a frustratingly vague answer, but it's the truth. A Walmart in a nice neighborhood is likely safer than a rest area in a bad area, and vice versa.
Jennifer and I have happily stayed at Walmarts and rest areas and felt safe. Although, there have been times when we pulled in and pulled right back out because we didn't feel safe. The key is to pay attention to your surroundings and trust your instincts.
Below, I'm going to outline more safety guidelines to follow as well as overnight parking alternatives. But first, here are a few related articles for your reference:
General Safety Guidelines When Overnighting in Your RV
The following are a few general guidelines to help keep you safe when overnighting at a parking lot or rest area. While they may not guarantee your safety, they can help deter thieves and wrong-doers.
Follow Your Instincts
It is essential to follow your gut whenever you are in a new area. Listen to yourself if something does not feel right about a parking lot or rest area. Leave the site and find a more secure spot.
Set Up a Camera
Cameras are a deterrent, even when not recording anything. Consider setting up a camera on your RV so that would-be robbers think they are being recorded.
You can also look into these RV security systems.
Check Crime in the Area
It's always best to check to see if the spot you want to overnight is in a high-crime area. Although that cannot protect you from everything, it can help give you better odds that you will not run into any trouble.
Lock Your Doors & Windows
Before sleeping for the night, be sure that you have all safety precautions in place. Lock your doors and have all valuable items stowed out of sight.
Don't forget your windows! Make sure they're locked, and it's usually best to close your curtains so nobody can peek in and be tempted to steal.
Be Prepared for a Quick Exit
In the event of an emergency, you want to be prepared to drive away at a moment's notice. That means you want to be set up in the simplest possible way. Refrain from opening awnings or setting out chairs or other personal belonging.
These are safety precautions, but they're also proper etiquette whenever you're lot docking. You're there to sleep, not camp!
Get a Dog
This may sound like a humorous suggestion. But one of our members mentioned this, and I think it is a great idea!
Samantha said she has two large dogs that "do really well at deterring weirdos." If you are considering getting a pet, you might want to consider a loyal dog that can help protect you. Even their presence is a deterrent.
I remember a survey that asked convicted thieves what the biggest deterrent was, and the majority said dogs. They said security system signs weren't as much of a deterrent because people usually forget to alarm them. Dogs are much more unpredictable, and nobody wanted to chance getting bitten.
Where Real RVers Like to Park When Overnighting
Real RVers provide a wealth of knowledge regarding all things traveling. Where to overnight is no exception!
Many responded to Christy's question by suggesting overnighting alternatives to Walmart and rest areas. So, I thought I'd share some of their suggestions below.
Truck Stops
Truck stops are great places to stay for a night. That is because, according to Deanna, they "have cameras and traffic." That means there are lots of people and videos around, making it less likely for something terrible to happen.
This sound thinking can also be used when staying at Walmart or a rest area. If either has cameras or a lot of traffic, they can offer you some additional protection. Look for locations on a busy road or visible part of the highway. The idea is to be near other people or surveillance equipment.
Planet Fitness
Another RV Lifestyle member had a great suggestion. Denise, who used to stay at Walmart but has not since the pandemic began, stays in her camper van in Planet Fitness parking lots.
They have a membership to Planet Fitness (which costs $25 per month for access to all Planet Fitness locations). In the morning, they wake up and shower at the gym. How inventive!
Knowing The Importance of Staying Healthy While RVing, Jennifer would also suggest fitting in a quick workout.
As an added safety bonus, many Planet Fitness locations are 24/7.
Cracker Barrel
Many people commented about staying in a Cracker Barrel parking lot overnight. What could be better than having a hot breakfast cooked by someone else first thing in the morning?
We have mentioned Cracker Barrel before. We have written an article about unwritten rules when staying overnight at this restaurant. You should check it out!
Casino Campgrounds
Another option was brought up a lot: staying overnight on casino grounds. Many locations allow you to park overnight for free or have inexpensive campgrounds.
Some casinos offer a free stay in their campgrounds if you sign up for their casino card.
Letitia said she likes casino camping because "they are often very cheap, and some have clean new full-hookup spots."
For example, one person mentioned Indigo Sky Casino in Missouri. If you get their casino card, you pay $15 to camp overnight. It is a no-frills parking lot site but does have water and electric hookups. While this option is not free, it is a clean and possibly safer choice for RVers traveling long distances.
Another member, Georgiann, jokingly said she likes casino camping because her husband "went in (to the casino) with $20 and came out with $300." Wouldn't it be nice if it was always like that!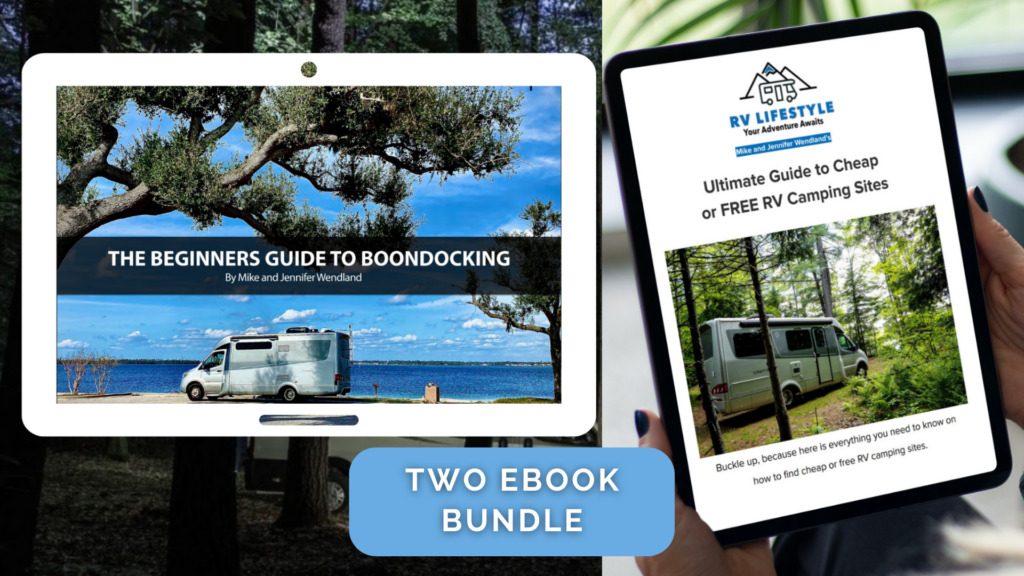 Beginners Guide to Boondocking (one of our most popular ebooks) and one of our newest ebooks, The Ultimate Guide to Free and Cheap RV Camping!
ebook #1: Beginners Guide to Boondocking
We created a 65+-page downloadable digital guide to help you understand the nuances that come with boondocking, the most common boondocking problems, and what you need to do to get your rig "boondocking-ready."
ebook #2: The Ultimate Guide to Free and Cheap RV Camping
Buckle up because here is everything you need to know on how to find cheap or free RV camping sites in the 33-page EBOOK.
---
---
---