In our weekly RV Lifestyle podcast, certified RV inspector Brenda from Queen Bee RV shares her expertise on common issues RVers face. In this RV Lifestyle podcast episode, Brenda shared troubleshooting tips for RV coach batteries.
An RV's 12-volt coach battery is not just for overhead lights and fans. It plays a crucial role in powering your heater, furnace, and refrigerator by coordinating with other power sources.
Therefore, it's important to troubleshoot any issues with your RV's lead acid, AGM, or gel coach batteries.
Here is the advice Brenda shared on our podcast. She walks us through the coach battery troubleshooting tips that will likely fix the problem.
We use affiliate links and may receive a small commission on purchases at no added cost to you. Thank you for your support. You can read our full affiliate disclosure here.
Watch the Podcast Video queued up to Brenda's segment
Like what you see in these videos? We'd appreciate it if you would Subscribe to our YouTube Channel (easy to do right here) and consider "ringing the bell icon" to be notified of any new video from us. 🙂 Thanks!
We summarize Brenda's coach battery troubleshooting tips below, but you may prefer to watch the above podcast video queued up to her segment.
We also suggest you tune into our podcast for more troubleshooting tips, camping recipes, and lots of great RV-related information. A new episode airs every Wednesday!
Subscribe with your favorite podcast platform: Google Podcasts | Spotify | Stitcher | Email | TuneIn | RSS
Coach Battery Troubleshooting & Maintenance Tips
Brenda of Queen Bee RV really knows her stuff, and she explains everything in such an easy-to-understand way. Let's take a look at the valuable advice she shared this week.
Lights Only Working When Plugged Into Shore Power?
If your lights only work when your RV is connected to shore power, there's a chance your coach battery is dead. In this situation, the converter charger is the only thing powering the 12-volt systems.
The converter charger not only charges the 12-volt DC coach batteries when the RV is plugged into shore power but also supports high-power systems like large slide rooms. When you're plugged into shore power, the converter uses the 120-volt AC and converts it to 12-volt DC to operate all the 12-volt systems in your RV.
If your coach batteries are old, they might not be receiving much charge, and the converter is doing all the work. If the converter is your only power source, it's probably time to invest in new coach batteries.
Coach Battery Drains While In Storage?
Did you know that the LP detector is directly connected to the 12-volt DC coach battery? Additionally, some electronic devices, circuit boards, and even the TV antenna booster can drain the battery over time.
When you put your RV away for an extended period, battery care becomes crucial.
Forgetting to turn off all the 12-volt lights before storage can quickly drain the battery. To prevent this, you can activate the battery disconnect switch.
However, even with the switch activated, the coach battery will still self-discharge at about 1 volt per month. If you can't keep your RV plugged into shore power, it's a good idea to use a smart battery charger when the RV is not in use.
Get the Home Study Course today and worry about the road, not the repairs!
Every time you move your RV it's like driving through a hurricane during an earthquake. Parts break and many items need to be maintained, this program will show you how you can save time and money by gaining the confidence to take on the majority of the issues you'll come across. Don't get caught with your RV in the shop! Learn how you can maintain and repair your RV at your own pace and at the most convenient time for you! This course is produced by the National RV Training Academy.
Troubleshooting Tip: Test Your RV's Power Converter
Testing your RV's power converter can be a helpful troubleshooting tool. A fully charged 12-volt DC battery should read 12.7 volts or higher.
When plugged into shore power, the voltage reading should increase by at least half a volt, indicating that your converter is functioning properly. You can check the voltage at the battery monitor panel or by using a multimeter.
Set the multimeter to volts DC, place one lead on the battery's negative post and the other lead on the positive post. When plugged into shore power, the reading should be approximately 13.2 volts DC or higher.
Maintaining Flooded Lead Acid (FLA) Coach Batteries
Flooded lead acid (FLA) coach batteries require special maintenance to prolong their lifespan. These batteries contain water, which can evaporate over time.
If you have serviceable lead acid batteries, you need to periodically remove the water fill well caps and top them off with distilled water. The water level should touch the bottom of the fill well area and not be overfilled.
Remember to check the water level at least every 30 days, as the more you use the batteries, the more water they require.
What Is a SMART RV Battery Charger?
Brenda recommends connecting your RV to a battery charger when you put it in storage or whenever your RV sits for a prolonged time. A smart battery charger maintains your RV battery while protecting it from overcharging.
We have written an article on everything you need to know about smart battery chargers, and include a list of the 3 best RV smart batteries.
Learn more by reading this article…
Consider Upgrading to Lithium Batteries
If you are a boondocker or just want to increase your off-grid RVing capability, you should really consider lithium batteries. They have made huge advancements and are entirely changing the battery game in the RV world.
We have been RVing and boondocking as much as possible for well over a decade, and we readily recommend Battle Born Batteries. They are, in our confident opinion, an RV upgrade that's well worth the cost.
Read more about why lithium batteries are better, and why we recommend Battle Born…
New York's Adirondack Park is immense. In fact, it's greater in size than Yellowstone, Everglades, Glacier, and Grand Canyon National Parks combined.
Created by New York in 1892, it is a constitutionally protected "Forever Wild" area and contains 85% of all wilderness in the eastern United States.
There are about 3,000 beautiful clean lakes in the region, surrounded by lush forests and dozens of small charming towns to visit.
This ebook is a seven day guided exploration of New York's Adirondack Park and Finger Lakes.
We provide a suggested route and itinerary, links to multiple campgrounds and boondocking spots, and the best spots to see along the way.
Don't plan your trip to Upstate New York without it!
---
---
---
Official RV Lifestyle QUICK Links to ALL our eBooks
You can see ALL our eBooks here, or use the following Quick Links to go straight to what you need!
● Arizona
●    Colorado 
And MANY of these are BUNDLED together:
New England Bundle
Coastal Maine, Adirondacks
Ultimate Michigan and Great Lakes Bundle – 3 ebooks –
Upper Peninsula, Lower Peninsula, and the Great Lakes Tour
Michigan Bundle
Upper Peninsula, Lower Peninsula
The Great Lakes Adventure Guide Bundle
The Great Lake Shoreline Tour & JUST the Upper Peninsula Guide
Florida Adventure Guide Bundle
Gulf Coast, Atlantic Coast, Keys
Southwest Adventure Guide Bundle
Arizona, Colorado, Southern Utah)
Ultimate 7-Day RV Adventure Guide Bundle
Collection 1- our first 10 ebooks (does NOT contain Great Lakes Shoreline or Natchez Trace)
We also have a nice collection of ebooks that will help you navigate the RV Lifestyle.
Like these:
The Beginner's Guide to Boondocking
The Ultimate Guide to Cheap or FREE RV Camping Sites
Boondocking and Free RV Camping EBOOK Bundle
The Beginner's Guide to Boondocking ebook and Ultimate Guide to Free Camping Sites
And ONE PRINT book 🙂 and yes, before you ask, we have plans for MANY more print books.
The Complete Guide to Boondocking – PRINT VERSION
This is the same as the ebook titled The Beginner's Guide to Boondocking but in print.
And while you are exploring all our ebooks – check out the hoodies, T-shirts, Stickers, and mugs in our MERCH Store! You can get to it directly by just going here – SHOP!
---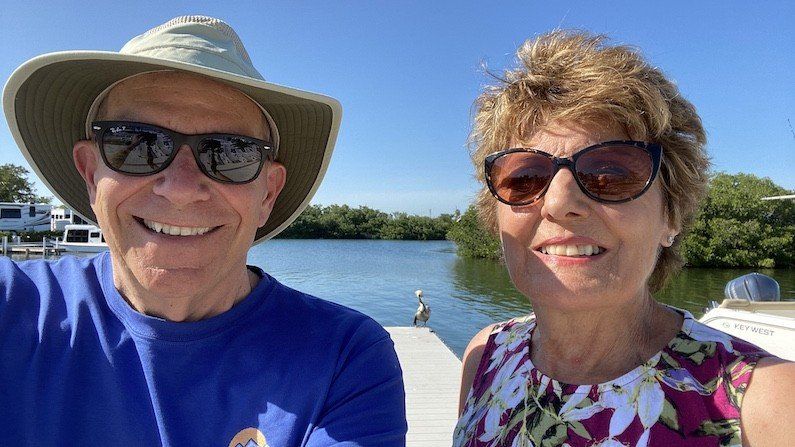 Curious about the gear, gadgets, accessories, and RV products Mike & Jennifer use and recommend?
On this RV Lifestyle Travel blog, our RV Podcast and our RV Lifestyle YouTube Channel, we mention all sorts of RV-related products and gear that we use, So we created a special page that links to them. We update this all the time.  CLICK HERE to go to it directly.
---