If you like cruises and all-inclusive travel, a guided RV tour sure makes sense. Except instead of ships, you're cruising in an RV "land yacht" with all your camping, excursion, and most of your meal costs covered at no additional costs.
In Episode 453 RV Podcast this week we talk about Guided RV Tours and find out if they are right for you.
Other topics this week include:
– Should eBikes be allowed in National Parks?
– A great make-ahead camping food recipe to save you time
– and expert tips on keeping your RV Plumbing System working properly
You can watch the video version from our RV Lifestyle YouTube Channel by clicking the player below.
If you prefer an audio-only podcast, you can hear us through your favorite podcast app or listen now through the player below.
Podcast: Play in new window | Download (Duration: 54:56 — 33.0MB) | Embed
Subscribe: Google Podcasts | Spotify | Stitcher | Email | TuneIn | RSS
SOCIAL MEDIA BUZZ – Wendy Bowyer
Wendy Bowyer reports on the hot issues most talked about this past week on our RV Lifestyle Facebook Group:
Lots of people in the RVLifestyle Facebook group are out there camping and sometimes that brings many questions, like one from Sara.
Sara's had her trailer for a little over a year. She is traveling from campsite to campsite, and temperatures are HOT so she asked: Is there a way to cool down the camper faster on travel days? She estimated the temperatures are in the 90s when she pulls over around 6 pm. She wanted to be able to rest, prepare food and not feel like she was stepping into an oven at the end of the day.
So many helpful suggestions, including:
– cover windows and skylight with Reflectix when you travel
– if at a campsite, hook up to electricity and run the air before you set up anything else
– never cook inside your rig when it is hot, instead use an outside stove
If you are in the same situation, be sure to check out the post for even more ideas.
Allison had a tip to share. She said she is always on the lookout for better storage for all her gear. She found a wreath box last winter that is 25 inches in diameter. She is using it now to store a 50-foot heated hose in her rig. It is a wonderful hack, and many liked it leaving comments like "brilliant" or "what a great idea." We will share a picture of it with this report in case it can help you.
And then finally, there is one picture I just have to share.
Clark was camping at Zion National Park and when he was walking back to his rig after being out all day and couldn't believe what he saw. It looked like someone had painted this gorgeous desert landscape scene in the front window of his Class A. In fact, when he first saw it, he said to himself, "Who did this?" Then he realized it was the reflection. Apparently, the light was just right and this unbelievable image was being perfectly reflected in his giant Class A window. He snapped a picture and shared it with the group generating hundreds of responses.
Many, like Beverly, said, "It doesn't get much better than that!"
RV RECIPE OF THE WEEK – Jerrica Mah
Time now for the RV Recipe of the Week, brought to you by CampingFoodRecipes.com
Here's the editor of CampingFoodRecipes.com, outdoor enthusiast and lifelong foodie enthusiast Jerrica Mah
Homemade Uncrustables (DIY Frozen PB&J)
Hi, Camping Foodies! Jerrica here from CampingFoodRecipes.com. This week I'm coming to you from my home kitchen because I have a make-ahead recipe for you. This is a favorite among grandparents and parents with little ones who are big fans of Smuckers Uncrustables sandwiches.
On our website, we have a DIY version of PB&J Uncrustables that you can make at home with just a simple, affordable tool from Amazon. It's great for camping trips because you can make as many as you want in advance, pop in them in your home freezer, and then whenever your'e ready to go camping, you move them over to your RV freezer.
Once you're out on your campsite, read to have lunch, you take them out and pop them in the microwave for about 30 seconds or just take them out about 30 minutes before you're ready to eat. So, you have these ready-made PB&J's wherever you go.
They're really a great simple option, and the BEST PART is they're significantly cheaper to make than to buy. You'll be saving money and have the added convenience of those nice little Uncrustable sandwiches. So, be sure to go to our website and check out this recipe.
Please also don't forget that you can submit your own favorite camping recipes through our Submit a Recipe tab on our website. We'd love to see what recipes you take with you wherever you camp.
That's it for me this week. I'll see you next week with our favorite camping recipe of the week!
RV INTERVIEW OF THE WEEK – Taking a Guided RV Tour
We hear from many people either by email or on our RV Lifestyle Facebook group who are feeling overwhelmed planning a big RV trip, or are looking for people to travel with. One option these folks, and others, may want to consider is booking a trip with an RV touring company.
RV touring companies do all the planning for an RV trip,  handling everything from campground reservations to detailed maps and special activities. On our show today to tell us more is Stacey Rabung, the operations director of Fantasy RV Tours, an RV touring company with more than 40 years experience.
Among topics we discuss:
– What does an RV touring company do?
– Why hire a company to do this instead of taking care of the planning yourself?
– Fantasy RV advertises caravans and rallies (Not tied to a club or group) – what is the difference between the two?
– Where are some of your more popular rallies? How many people are typically at these events? What is a typical itinerary?
– Where are some of the most popular caravan trips?
– How many other RVers are on a typical caravan tour?
– How many miles are between the different campgrounds in a typical caravan trip?
– During drive days in the caravan tours, does everyone have to travel nose-to-tail?
– What if someone does not want to do a planned activity at one of the stops, but has something else that looks more interesting to them, is that permitted?
– How much does it cost to go on a caravan? What are the price ranges? And a rally?
– Do people tend to sign up with friends, or do people tend to go in without knowing anyone?
– Are there many repeat travelers?
To hear the answers — Watch the video interview or listen to the podcast above or on your favorite player.
RV News of the Week
The National Parks Service is seeking the public's input as it considers the future of allowing eBikes in National Parks.
Currently, superintendents can decide where eBikes are appropriate, typically a road or trail where traditional bikes are allowed.
Now the NPS is trying to determine what effect eBikes may have on such things as wildlife, other visitors' experience, and the parks' ecology.
Public comments are being collected until July 21. To add your voice, click here.
We really enjoy our eBikes and they are a great tool for those who may need just a little boost here and there while bicycling, and they are becoming extremely popular with RVers. To see a story we did on eBikes to help you determine if you should get one, click here.
A tornado hit the northwest part of Texas last week, killing four and injuring at least 10, with pictures showing some of the devastating damage included RVers.
Apparently, the tornado came with little to no warning with the small town of Matador, which is southeast of Amarillo, particularly hard hit. Images showed down power lines, flattened buildings and RVs shredded by the strong winds. (see here).
We share this extremely sad story because it is a good reminder to all of us to pay attention to the weather and camp prepared for emergencies. For some suggestions on how to stay safe, see our story here.
A decision is expected soon about whether Washington's Mt. Rainer National Park should impose a reservation system during the busy summer months to better manage visitors.
Mt. Rainer gets nearly 2 million visitors a year, 70 percent of whom arrive in the summer with most visiting a select number of destinations.
At times people must wait hours in line to enter, and the sheer volume of so many people in a small window has caused concern about congestion, people stepping off trail and damaging delicate environments.
A decision on a timed entry system is expected later this year. For more information, click here.
Thieves targeted more than a dozen RVs awaiting service at an Oklahoma Camping World last week, stealing catalytic converters, tires and TVs from the dealer's parking lot.
The parking lot had a fence around it, which the thieves cut through. News reports (click here) indicated seven catalytic converters, 15 spare tires, and five TVs were taken – dashing the immediate travel plans of many.
We have been seeing more and more reports of RVs being targeted at RV dealers awaiting service, and often catalytic converters containing rare minerals are what the crooks are after. For tips on how to protect yours, read our story here.
An RV exploded at a Myrtle Beach, South Carolina, campground last week, injuring a man, destroying his RV and damaging two nearby.
The explosion at Lakewood Family Campground also caused required one dog to be rescued, and another dog ran away, frightened by the large boom the explosion caused.
The cause of the explosion is still underway and reports said it could take one to two weeks to complete.
Meanwhile, this sad event is a good reminder to all of us to do everything we can to stay safe. Here is a story we wrote with 7 RV safety tips to prevent a propane explosion.
We do not yet know if the dog has been found. But, dogs do regularly get scared, run and become lost while camping. For a story on what to do should that happen to you, click here.
RV Tip of the Week from Brenda of Queen Bee RV
Time now for the RV Tip of the week from certified RV Inspector Brenda of Queen Bee RV.
Brenda's focus is on educating RVers on how to care for their RVs – especially women RVers – and she is a regular contributor to the podcast, sharing her expertise with our entire audience.
Here's Brenda.. The RV Queen Bee… with this week's RV Tip.
Understanding your RV's Plumbing Systems
The freshwater distribution system, aka the plumbing system, is what sends water throughout the RV to your showers, sinks, and toilet. There are two ways that this system is pressurized and that is either from the City water connection or the freshwater holding tank and your on-demand water pump.
City water receives pressure from the city, county or wherever you are connected. You will need to utilize a potable hose to connect to a spigot or hose bib and the other end to the RV. If you have ever been in a campground, you are probably aware that the water pressure can be unpredictable, sometimes extremely excessive.
This can be problematic for RVers, because your plumbing fittings are typically rated to withstand about 55-65 psi on average. If the pressure exceeds that, it can wreak havoc on the system by way of water leaks, sometimes slow and difficult to detect, which can be costly and time consuming.
To combat this, RVers will implement various kinds of pressure regulators. Note that you get what you pay for on this item. Some are low-end and single function. Others are a little more expensive and have adjustable settings that allow you to customize your experience. You can connect the regulator either at the hose bib or at the RV.
A potable water hose is important to make sure you are not introducing lead or anything that is not safe for human consumption to the system like the old green garden hoses from back in the day. These also come in a variety of price ranges ranging from the low-end white kind that is not the easiest for handling and storage, to the nicer woven fabric types that are really lightweight and take up much less space.
Pro tip: keep a packet of the rubber hose washers on hand. These will head off that annoying hose drip at the spigot or the side of the RV – which is quite common.
Now let's talk about reasons RVers like to use the freshwater holding tank and how to get water in there. One big benefit for using the freshwater tank and water pump is for boondocking – you can take the water with you.
Other RVers like to immediately fill the fresh tank upon arrival at the campground in case there is a water main break and the City water connection becomes a moot point. Also, your water pump is calibrated to match your plumbing fittings, so no excessive water pressure issues to worry about.
You might have a gravity fill opening or a threaded cap type connection option to fill the freshwater tank. Gravity fill has an opening that is bigger than the end of your hose. You simply place the hose down into the opening and wait for water to come gushing back at you indicating the tank is full.
Some RVs have a threaded hose connection either on the side of the rig or in the water bay area. If you have a threaded fill, you will know the tank is full by watching the monitor panel inside or if the tank overflow starts spilling onto the ground. This is normal and not harmful to the RV.
The freshwater tank sends water throughout the plumbing system by way of the on-demand water pump. This component is powered by the 12Volt DC coach battery, so you will need to confirm that the battery stays charged.
When you open a faucet, the pressure drops which signal to the water pump that the human is calling for water and you will hear it kick on with the telltale rumbling noise. When you close the faucet handle, the pump will shut off. If you hear an intermittent rumbling noise from the water pump even though one of the faucets is not open, this could mean there is a small leak somewhere.
A few more tips: try not to travel with a full freshwater tank. Water weighs approximately 8.3 pounds per gallon and that can add up really quickly. If possible, wait until you are a little closer to your destination to fill the tank.
Or, if you choose to travel with a little bit of water in the tank for washing hands and flushing the toilet, make sure that you turn the water pump off when not in use. This will prevent any flooding mishap in the event that a faucet handle got bumped open while in transit.
Ladies, are you a female RV Traveler? Want to learn more about safety, troubleshooting problems and maintaining your own RV? Head to www.queenbeerv.com and click on "events" to view the locations of our nationwide women's RV workshop tour – we'll see you there!
App of the Week – Monitor public service radio communications
Time now for the RV App of the Week segment, taken from the pages of NewTravelTech.com – our sister blog that celebrates the many ways technology enhances the travel experience.
This week's app is called Broadcastify, and it's an app and website that lets you tune in to police, fire, EMS, rail, aviation, and public service two-way radio broadcasts from thousands of locations across the nation.
This is great when you are traveling and maybe you hear sirens, or see smoke or need to know what's happening around you. You can also listen on your computer to local services, but check the map as some counties are not on the service yet. Click on this map and then into your State.
It's available as a free app for iOS and Android, but the free version features a 30-second commercial at the beginning. You can purchase an ad-free version with some extra features for $30 a year.
RV Questions of the Week
QUESTION: We love our Class C RV but the source of the biggest frustration is the door lock. Sometimes the key fob opens the door, sometimes it doesn't. A while back, you did a story about changing the center door lock. Can you tell us what you did? Rob and Tricia
ANSWER: That is a common problem. One of the first things we've done with our last three RVs is to replace the standard center door local with something called the RV Lock.
The RV Lock is a combination lock. It also comes with a fob (that does work all the time) and keys, but the way most people use it most often is by entering a combination. It's pretty easy to install, though on our Unity FX Leisure Travel Vans Class C I had to trim out the door opening a little bit after removing the original lock. But it was quite easy to do and we couldn't be happier.
Check it out at https://RVlifestyle.com/RVlock
QUESTION: We are about to become 5th wheel owners and are very excited. But with the cost of living in a home so high these days, what is the cost of living like in a 5th wheel traveling the US? – Kerry
ANSWER: We see variations of this question all the time and based on our experience over the past 12 years and those of most fulltimers we know, you are not going to save much money living and traveling fulltime in an RV versus living in a house.
Now there are certainly exceptions. If you park the RV in rather marginal trailer park-type campgrounds, limit your travels, moochdock or boondock and already have a rather low standard of living it is possible to live cheaper like that than as homeowners.
But that is a lifestyle we are not familiar with and would not be interested in pursuing. In general, maintaining a comfortable lifestyle in an RV will cost the same or perhaps even a bit more than living in a house.
Where are we RVing next?
---
Looking for exciting RV trip ideas and travel suggestions?
We've written a library of RV Travel books that lay out guided RV explorations of scenic areas of the US that we''ve explored and think would make an excellent RV trip for you.
In each location, we provide a suggested route and itinerary (7 stops in each guide, one for each day of a week trip!) as well as links to multiple campgrounds and boondocking spots, local tips, and interesting things to do at each location.
You can hit everything in seven days, do a whirlwind weekend tour, or you can take your time and explore the area over a 2+ week period.
Planning an RV trip can be very time-consuming so that's why we've done the research for you! Just take our guides and use them. We're sure you'll have an RV trip for the ages! Instant download. CLICK HERE for information on our RV Travel Guides
---
---
---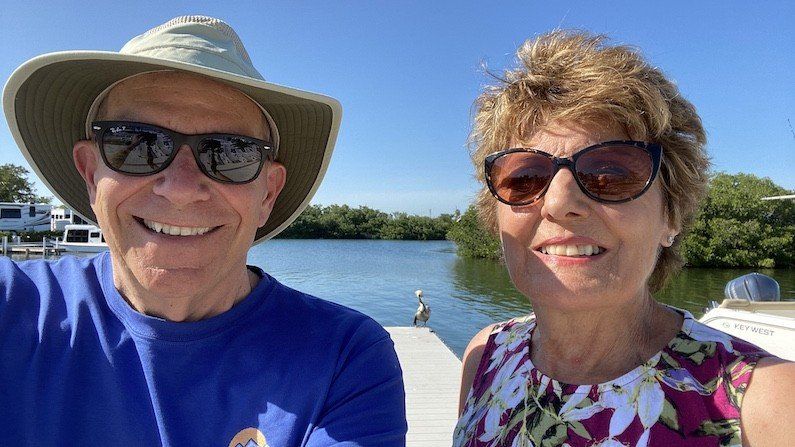 Curious about the gear, gadgets, accessories, and RV products Mike & Jennifer use and recommend?
On this RV Lifestyle Travel blog, our RV Podcast and our RV Lifestyle YouTube Channel, we mention all sorts of RV-related products and gear that we use, So we created a special page that links to them. We update this all the time.  CLICK HERE to go to it directly.
---