What's it like being a fulltime RV couple?
This week on the podcast, we learn what it's been like spending 1,000 days on the road from a couple that did just that and plans to spend many more enjoying the RV Lifestyle.
If you've been contemplating the fulltime RV Life, you won't want to miss our interview of the week.
Also, in this Episode 446 of the RV Podcast, we share the RV News of the Week, Tips about your RV refrigerator, the latest RV social media buzz, and answers to your questions about the RV Lifestyle.
You can watch the video version from our RV Lifestyle YouTube Channel by clicking the player below.
If you prefer an audio-only podcast, you can hear us through your favorite podcast app or listen now through the player below.
Podcast: Play in new window | Download (Duration: 48:46 — 78.8MB) | Embed
Subscribe: Google Podcasts | Spotify | Stitcher | Email | TuneIn | RSS
Latest giveaway winner!
Congrats to Patrick of Poolesville, MD for winning our latest giveaway, a 1-year Awesome tier Campnab membership (value: $270)!
We are huge fans of Campnab. They have an awesome tool that lets you snag campsites at sold out campgrounds by constantly scanning the campground reservations site (as often as once every 5 minutes!) and then notifying you when cancellations create new vacancies. In these trying times of sold-out campgrounds, Campnab really works.
Social Media Buzz by Wendy Bowyer
Wendy Bowyer reports on the hot issues on our RV Lifestyle Facebook Group:
One post that created quite the buzz was a picture of an unraveled RV paper towel rack. Eddie asked: 
"What would cause this? I don't own a cat, RV is locked up… could it be paranormal? a small creature?"
Hundreds offered suggestions – some silly, others serious.
But what struck me was how common this is! And many had figured out a way to solve it.
Some, like Kari, said Eddie needed to switch his paper towel brand.
Others, like Dennis, said they solved the issue by using a rubber band – what great suggestion!
Next I'd like to tell you about a post from Tyler. Tyler camps with his wife, dog and two cats. He said they like to boondock, and they track a LOT of dirt into the RV. Tyler said he and his wife sweep, mop, use a Swiffer, and are constantly cleaning up dirt. He asked for suggestions on cleaning up the RV and boy, did he get them! More than 325 and counting!
Several suggested Tyler and his wife invest in specific kinds of vacuums – including a handheld and a Roomba. Cecilia suggested a small leaf blower, just open the door and blow it all out! Betty suggested Muddy Mats – great for keeping the dirt off shoes and paws.
Hopefully Tyler will let us know what he tries and how it works out
Sometimes posts are less about tips, and more philosophical, such as one Tony recently put up asking: "What is the one unexpected satisfaction that came along with RV ownership ?"
Some of my favorite answers?
Judy said a  mini-vacation every weekend. Kimberly said her RV has meant forced relaxation.
Tracy said the RV community was something she didn't expect and really enjoys. 
And perhaps my favorite response was from Russell who said. "Being able to go to my RV after a day of sightseeing and just relax in my own bed. I knew it was going to happen, but didn't realize how much better it is than a hotel."
That's it from me this week.
 I'm Wendy Bowyer on the RVLifestyle Facebook group.
Interview of the week: 1,000 days on the road from fulltime RV couple
Ali Wimberly, her husband Wiley, and their two Shorty Jack Russel terriers, Pippa and Nigel, recently celebrated 1,000 days of living on the road full-time.
Ali regularly shares her adventures on the RV Lifestyle Facebook group, sharing great campsites and the beautiful waterfalls, mountains, creeks, deserts and natural beauty they are exploring on the road – with pictures.
Ali said these past 1,000 days on the road have been an incredible journey that exceeded all her expectations and wildest dreams.
In this episode of the podcast we meet Ali, hear how she and her husband began this journey, and learn how their decision to live unconventionally has been the best decision they ever made.
Ali, 52, works part-time for the Waterfall Keepers of North Carolina, a non-profit she founded. Wiley, 53, works full-time in systems architecture for a cloud-based computer company.
They travel in a Pleasure-Way Class B campervan.
RV News of the Week
If you're headed to Death Valley National Park anytime soon, park officials have issued a warning to beware of animals behaving oddly after a woman was bitten by a bat with rabies.
The woman works at a general store in Death Valley and was trying to remove a bat that was behaving strangely from an outside garbage can when the bat bit her, penetrating her gloves.
The bat was captured and tested positive for rabies, and the woman is now undergoing treatment. Rabies is fatal if it is not treated before symptoms begin. Park officials are using the incident to warn visitors to stay away from wildlife – of all forms.
Snow continues to close campgrounds in California, with the California State Parks announcing last week that about six campgrounds in the Lake Tahoe area will be closed well into June because of the heavy snowfall.
Many parks still are covered in a good six inches of snow making it impossible to prepare for the traditional Memorial Day weekend opening. The state is issuing refunds to those with reservations, but since it is such a hard area to get in, it will be hard for those reservation holders to visit later in the season.
To see the state's list of which campgrounds are expected to open when, click here.
National park officials are working to discover who shot a 500-pound grizzly bear some 14 miles outside of the east entrance to Yellowstone National Park.
The dead male bear was found in Wyoming, not far off the highway, and was originally believed to be struck by a car. But when officials arrived, it was evident someone shot him.
Federal officials would not comment further, since the investigation is ongoing.
As bears start to wake up from their winter hibernation, it is a good idea to make sure you are bear aware while camping. Click here to see our story on five bear safety resources for RVers.
Winnebago is recalling 6,536 RVs made between May 2020 and March 2023 because of a potential fire risk.
The affected models include the Travato, Solis, and Ekko. The problem stems from the generator – specifically a faulty fuel hose that connects the inline fuel filter and the Injection Pump Module.
Owners will start being notified of the recall June 2. To learn more, click here.
A Fargo couple who went last week to pick up their travel trailer for the camping season got a sad surprise – it was stolen.
The couple dropped off the $20,000 trailer, which had about $7,000 worth of supplies inside plus priceless memories, in October. The trailer could have been stolen any time between then and now.
The storage facility where they left it for the winter had no security cameras, but did have a keypad entry system. The couple had numerous camping reservations for May – all of which they will have to miss.
To see our post with tips for choosing an RV storage facility, click here.
RV Tip of the Week from Brenda of Queen Bee RV
Time now for the RV Tip of the week from certified RV Inspector Brenda of Queen Bee RV.
Brenda's focus is on educating RVers on how to care for their RVs – especially women RVers – and she is a regular contributor to the podcast, sharing her expertise with our entire audience.
Here's Brenda.. The RV Queen Bee… with this week's RV Tip.
Optimizing performance and troubleshooting tips for the absorption type RV refrigerator
There are typically three types of refrigerators we encounter in the RV space and those are the residential, the 12Volt DC style which are becoming very popular, and a large number of us have the RV absorption style. The absorption refrigerators utilize very old technology that you will still find in loads of both new and used RVs, so let's talk about some tips for optimizing its performance and I will offer a few troubleshooting ideas.
The two-way absorption refrigerators are operated by either propane or 120Volts AC and the three-way will throw 12Volts DC into the mix. They all need 12Volts DC to operate the control panel to even turn the refrigerator on, so keeping your coach battery charged is an important part of the process.
Here are some tips for maximizing the performance of the absorption refrigerator:
There is no fan in this style of refrigerator to circulate air, so don't overpack with your food and especially up against the rear wall.
If you have the opportunity, pre-cool your groceries and cool down leftovers before putting them in the fridge.
Plug in the RV and turn on the refrigerator the night before a trip to allow it to reach proper and safe temperatures before adding your food.
You may also use a small battery operated fan to help circulate air in the fridge compartment.
Keep the RV level. The cooling coils on the backside of the refrigerator need to be at a specific angle to prolong their life and to operate properly.
Air flow is king and the most important place that this occurs is where the cooling coils are located on the back of the refrigerator. Periodically inspect the lower access panel on the exterior of the RV to make sure there are no bugs or debris blocking air flow as it moves up and over the coils. In addition, inspect your rooftop vent for the same thing.
Now let's cover a few troubleshooting tips:
If you have ice on the silver fins on the inside rear wall of the fridge or it's too warm in there, you need to adjust the temperature either on the control panel or by moving the thermistor on the interior.
If you have no power coming to the refrigerator at all and the control panel is not illuminated, you probably have a 12Volt DC problem. Check that the coach batter is charged and also check the fuse.
If the refrigerator will work on propane, but not on 120Volts AC electrical mode, start by checking the breaker in the electrical panel box to make sure that it has not tripped. Next, make sure the fridge is plugged into its dedicated receptacle in the exterior access panel and then confirm that you are not exceeding the power capabilities for your RV – especially if you are a 30 amp rig. You might be operating too many 120Volts AC appliances at the same time.
If the refrigerator operates on electric mode, but not on propane, check to see if there is enough propane in the tanks. Or, you might also be in propane lockout. That would occur if there were appliances calling for propane before you turned on your tank service valve. Simply turn off all propane appliances, head out to the tank, turn the service valve to the closed position, wait a beat, then open the service valve back up. Your appliance might have also timed out if it attempted to ignite three times unsuccessfully. Reset the appliance by turning it off and then on at the control panel to start the process over.
RV App of the Week – Finding public WiFi on the road
Time now for the RV App of the Week segment, taken from the pages of NewTravelTech.com – our sister blog that celebrates the many ways technology enhances the travel experience. This is from an article they recently published about handling work from the road problems as you travel
If you want to forego carrying your own internet around, you can use a wifi finder app to locate wifi around the world. WiFi Map is the leading app in this arena.
RV Question of the Week
QUESTION: ​​Can we use cell phone hot spot connection thru the Mercedes Sprinter RV? Or do you have to purchase a plan that Mercedes offer thru TeleKom Hot Spot Drive to get it to respond like an Alexa? Is it prudent – to purchase a WI-Fi connection for the RV and one for the Sprinter? – Glenn & Rose
ANSWER: First, don't buy TeleKom Hot Spot. That's a needless cost. You will need a wifi connection for your RV only. You don't need one for the vehicle dashboard and one for the RV.
Get a Wi-Fi data plan through your cellular provider or someone else that specializes in remote Internet service. I you don't want to invest in that right now,  just use your cell phone as a hotspot.
Now, as to Alexa: Yes, you can use Alexa in your Sprinter, but you will need to either bring your Alexa device from home with you and then connect it to whatever wi-fi network you are using or purchase a special device that works through your Mercedes dashboard. 
There are a lot of vehicles that have Alexa Auto built into the vehicle's entertainment system but a quick check seems to indicate that is not a standard Sprinter feature for your RV.
If that is the case, that means you will need to have another device if you want to connect through the Sprinter's dashboard entertainment system.
On my Ford F-250, which we use to pull our fifth wheel, it is built in.
Amazon Alexa has a website that lets you search by vehicle and model to find out exactly how to make Alexa work in a vehicle.
Where to next?
Mike and Jennifer's Southern Utah RV Adventure Guide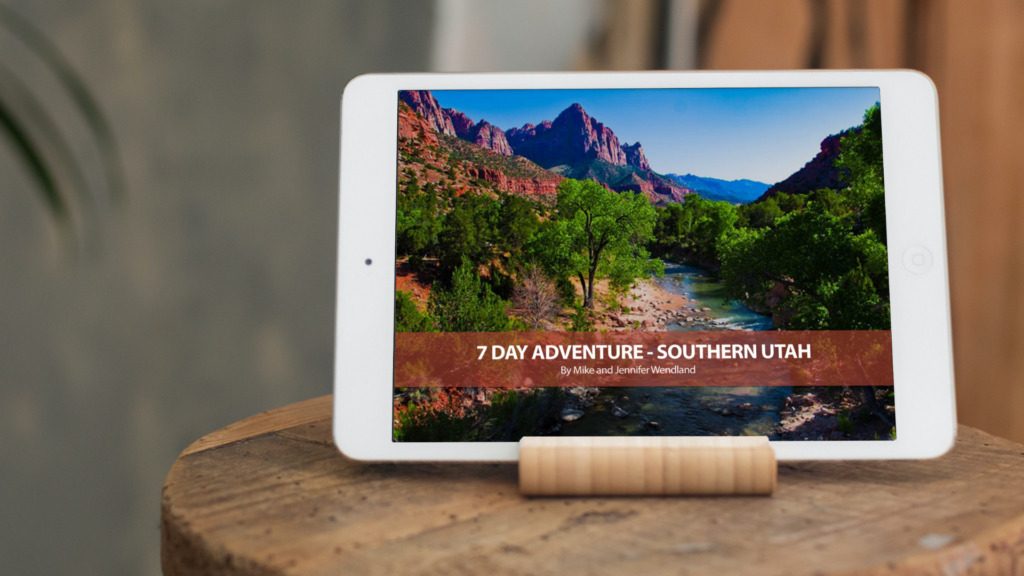 Utah, Utah, Utah. What more is there to be said? In very few places across the United States is there such a tremendous area with breathtaking vistas and diversity of terrain.
The sheer size of the National Parks, the canyons, the desert. Combined with the amount of history written in the red rocks that rise like towers jutting out of the ground and the delicate hoodoos washed away by erosion.
It is a place that, if you've never been, you need to go, at least once in your life.
This ebook is a seven day guided exploration of the State and National Parks in Southern Utah. We provide a suggested route and itinerary, links to multiple campgrounds and boondocking spots, and the best spots to see along the way. Don't plan your trip to Southern Utah without it!
You can hit everything in seven days, do a whirlwind weekend tour, or you can take your time and explore the area over a few weeks.
---
---
---
We recommend Hollywood Racks for your RV Lifestyle…
The RV Rider bike rack for RV's, motorhomes, and fifth wheels carries 2 E-Bikes (up to 80 lbs. each) on the back of an RV Motorhome, a 5th wheel, or a flat towed vehicle. A 2″ hitch is required for this rack. Special features include universal heavy-duty wheel holders for heavy load carrying capacity. These wheel holders can fit any tire up to 5″ wide and include a ratchet wheel strap. Locking frame grabbers secure the bikes in place. This bike rack is not compatible with bumper pull, travel trailers or bumper mounted hitch receivers. Enter the promo code RVLIFESTYLE to save 10%
If you want to look at everything they offer, not just the RV Rider rack — go here and explore all the options!