Between driving, setting up, and tearing down, being a new RV owner can be daunting. But there are several things you can do to make it easier on yourself…
Getting behind the wheel for the first time and setting out on your first trip can be nerve-wracking. And the truth is, that feeling usually remains for the first few trips.
But have no fear, because I have helpful tips for you to build your confidence in no time. I was in your shoes before, but now it's like second nature.
So, take a deep breath, push the "what if's" out of your mind, and focus on the following…
7 Ways to Build Confidence as a New RV Owner
I think the only people who are confident with RVing right off the bat are those who have lots of driving, towing, and mechanical experience.
But even then, driving an RV or towing a trailer is a unique situation. And, more so, living in one takes getting used to (whether for a weekend or long-term).
There is a lot to learn and adjust to, but you don't have to know it all at once. You'll learn a lot from experience and from fellow RVers who help along the way. And as a fellow RVer, I'm here to help with these tips…
1. Record Your Walk-Through
I wish I had done this when we picked up our first RV. As the seller walked me through everything, it all made sense and seemed pretty easy… until I went to do it later by myself.
There was a lot of "Was it this or that?" and "Where is that again?" I got really frustrated with myself but Jennifer reminded me that it's a lot to try to take in at once.
So, I highly recommend you record your walk-through. Just use the camera on your phone so you can refer back to it whenever.
If you've already completed your walk-through, don't worry… you can always refer to good-ol' YouTube. Just type in your make and model and what you need help with and there's almost always a perfect explainer video.
2. Plan an Easy First Trip
I think most newbie RVers are most nervous about that first drive or road trip. Pulling it out of the driveway, hitting the road, and then hitting something you're not supposed to!
Start off with an easy trip. Just something to get your feet wet, so to speak.
Plan to drive outside of peak traffic hours. This will take a lot of pressure off of you, and allow you to comfortably take your time getting the feel of things.
Also, choose a nearby campground. So, if something does go wrong, you're not far from familiar resources. Or just take everything for a test right there in your driveway! Spend the night in your new rig to get used to everything.
3. "It'll Go Where You Tell It To"
I'll also share a piece of advice that seems simple but is surprisingly reassuring: "The RV will go where you tell it to."
If you turn the wheel, the RV will turn. If you push the brake, it will stop. If you push the gas pedal, it will go.
Basically, it's a simple way to remind yourself that you are in control. An RV is a machine that is designed for you to easily control. Trust that it will respond as it's supposed to.
Little mantras like "I can do this" and "I'm in control" can help calm your nerves.
4. Take the Pressure Off
You also need to cut yourself some slack. Know that you are going to make some mistakes because we all do!
If you start to take a turn too sharp, no big deal. Just correct it.
If it takes you 10 times to back up into a spot, no big deal. Next time it'll take you less.
Take the pressure off yourself and you'll find that everything is easier… or at least not nearly as frustrating. It's when you try to force yourself to perform a certain way that things really start to go wrong.
So, take a deep breath, laugh it off, and try again. Maybe try all the turns and maneuvers in an empty parking lot. That's how many young people learned to drive and get confidence in making all the right moves. This is totally ok to do at your age now, too.
5. Choose an Easy Campsite
When booking your first campsite, don't hesitate to tell the person you're a new RV owner. Ask for a pull-through site, if possible, or for a site that they recommend for newbie RVers.
Don't be embarrassed to ask because it'll actually save you from embarrassment from trying to park and set up in a difficult spot. (Although again, I suggest you laugh off any "embarrassment"… embarrassment leads to frustration which leads to a ruined trip.)
I also recommend you choose a private campground rather than a state park. Why? Because state parks often don't have full hook-ups or a full staff to help if need be.
6. Ask Your Campground Neighbor
One of the biggest reassurances I can give you is that as long as there are other RVers nearby, you'll be fine. You'll find that RVers are the epitome of "neighborly" even if those neighbors change every day.
If you don't have a tool you need, ask a neighbor. If you don't know how to do something, ask a neighbor. If you've made a fool of yourself, laugh it off with a neighbor. I'm sure they'll have similar stories to share with you.
But, speaking of which, here's a list of Tools Every RVer Needs to Carry.
7. Don't Be Afraid to Turn Down Help
Fellow RVers are so neighborly that sometimes they can be a little too helpful. If you're trying to do something on your own and someone comes to offer help, it's okay to say no.
You can just politely say, "I really appreciate your help but I learn best by doing. So I'm going to give it a try myself, but if I need help I'll now know who to come to."
9.9 times out of 10 they'll respect you for it and step aside.
How Did You Build Confidence as a New RV Owner?
Were you confident or nervous when you became a new RV owner? Did you have any funny mishaps or useful "teaching moments"? Please share your experience and advice in the comments below.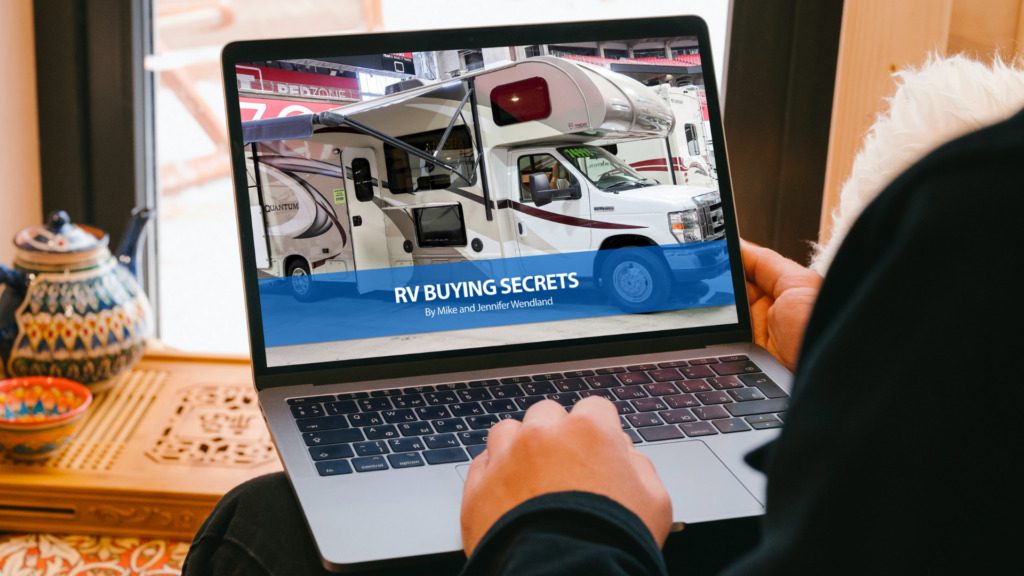 Next to your home, an RV is most likely the 2nd most expensive thing you'll ever purchase.
We get questions every day of other RVers wondering. "How do you buy a new or used RV?"
So we created a 75+-page downloadable digital guide to help you understand the nuances that come with purchasing an RV, where you can save thousands of dollars in the buying process, what the right questions are to ask dealers, what things to look out for, how to select the right unit, amenities, warranties, and so much more!
We created this guide to help you understand the nuances that come with purchasing an RV including:
Where to save thousands of dollars in the buying process
What questions to ask dealers
How to select the right unit
How to narrow down RV amenities
Understanding your warranty and what it covers
This ebook is designed to help make your purchase process as smooth as possible. And to teach you step-by-step exactly what to do so you can start your RV Lifestyle today!
---