There are great campground jobs for couples to subsidize their travel budget. Here's how to find those workamping jobs…
Are you and your partner enjoying the RV lifestyle but want to make some extra money? Or are you thinking about traveling full-time but unsure where to find work? Do you want to subsidize your social security income?
RVing is not cheap. Offsetting the high costs of traveling can be a challenge regardless of age and your line of work. Whether you are retired, have another job that doesn't meet your needs, or want to make traveling more affordable, work camping is an excellent way to make money while traveling.
Work camping is an excellent way for couples to pay for traveling WHILE they travel! You can find temporary paid positions throughout the country in great places like national parks, RV resorts, a state park, or a visitor center.
The great news is that many of these places are looking for multiple employees and will hire you and your partner!
Thankfully, many websites are specifically designed to help RVers find campground jobs for couples. Consider joining multiple work camping sites to make pulling in some extra cash easier. In the following, I have outlined the best resources to help you locate work camping jobs all over the country!
What Kind of Work Camping Jobs are There?
Are you nervous that age, experience, or ability might affect your chance of getting a work camping job? Don't be. There are exceptions, of course, but there's a wide range of campground jobs for couples that most people can find something in their wheelhouse.
There is a wide variety of seasonal job listings. You will find them at places like pumpkin patches, Christmas tree lots, or festivals. Many times they are looking to hire more than one employee.
One of the most common campground jobs for couples is camp host and maintenance. What do camp hosts do? It varies by host site, but hosts help oversee camper registration, help keep the campground clean, and perform other related tasks.
The National Park Service often has seasonal positions at different locations. You might find work in a cafe, as a park host, or answer questions at historic sites.
Other year-round job opportunities include tour guide, customer service, food service, campground maintenance, office work, camp general store clerk, and many other jobs.
Seasonal work positions vary quite a bit. Some are full-time and have extended hours. Other positions are part-time with flexible hours. There's also a range from summer positions to short-term all-season jobs and more!
How Well Do Work Camping Jobs Pay?
Most campground jobs for couples are temporary positions. They do not require a high skill set, so they will not make you rich. However, it is still a great way to offset your traveling expenses based on how much time you're willing to work.
Many private RV parks and public campgrounds offer a free campsite and amenities (such as electricity) in exchange for a set number of work hours in the campground or at the general store. If you go beyond the required work hours, you may also receive pay!
Receiving a free campsite and amenities helps you and your husband or wife! They can benefit from the free site since you are both staying on it together. It is almost double the benefit if your partner gets a paying gig!
Many places start you at minimum wage, but it depends on the type of work you will be doing. Another factor is the location of the work. For example, work camping jobs in California will likely pay you more than working in Alabama.
5 Best Resources to Find Work Camping Jobs
Several excellent resources are available to help you find campground jobs for couples. I recommend you check job listings and post an online resume on multiple sites to increase your chances of finding the best job for you.
Let's start with the most popular one that has turned what work campers do into a single word…
Workamper News (also known as Workamper) is the first website to help RVers find temporary work. That is why work camping, or a workamping job, is often called "workamping." It is a vital resource for the workamping community since so many campgrounds offer jobs using this resource.
The website is simple to use and houses one of the most extensive databases. It is filled with workamping opportunities and offers a great opportunity for those who seek it. It is an excellent starting point for couples looking to join the traveling workforce.
2. Pet Sitting
Becoming a pet sitter is a great way to make extra money from the road.  It doesn't really require any special skills, Unless, you're offering dog training.
Most of the job entails feeding, playing, and cleaning up after the pet. If you are or have been a pet owner, then you already have the foundation needed.
The easiest way to become a pet sitter is to sign up on popular pet-sitting apps. Every site or app is different, but for the most part, the signup process is easy. You simply create a profile, write a bio, select services you'd offer, and the types of pets you'd care for. 
The most popular pet-sitting apps and websites are:
You can decide which platform best suits your needs by considering the fees, insurance coverage, and the process for matching. You can also consider registering on multiple platforms to increase job prospects.
Volunteer.gov is a website that lists volunteer jobs for the U.S. Army Corps of Engineers, Fish and Wildlife Service, U.S. Forest Service, National Parks Service, Bureau of Land Management, U.S. Geological Survey, National Resource Conservation Service, National Oceanic and Atmospheric Administration and U.S. Bureau of Reclamation.
You can use filter tools to narrow down your search criteria for the following: activities, keywords, host housing, and difficulty level, to name a few.
This website was highly recommended by others RVers in response to a post in our RV Lifestyle Facebook group.
Kamper Jobs is a popular website because it is 100% free. However, because the website is free, the site and user experience are not as friendly as the sites mentioned earlier. It is an excellent resource for couples that want to find work without an additional cost.
You will find hundreds of job listings on the website at several places across America. The cool thing is that the website shows the newest jobs right on its home page. You can easily view what's immediately available before diving into a deeper search.
Workampingjobs.com is another free website that was created for RVers by RVers. Jerry and Cynthia Winegard designed WorkkampingJobs.com to allow businesses and RV workers to find each other for free.
The following is a message from the couple on their website: "We don't use this site to make a living, so we don't need to charge our visitors anything. We offer the site as a service to our RV friends. As long as ad revenue covers the hosting costs, we are happy."
A Real-Life Workamping Couple
Like what you see in these videos? We'd appreciate it if you would Subscribe to our YouTube Channel (easy to do right here) and consider "ringing the bell icon" to be notified of any new video from us. 🙂 Thanks!
Here's an interview we did with Jim and Rhonda Phipps, a retired couple who are veteran workcampers. They share what workcamping is all about and how it can help pay for your RV travel and RV living. They are examples of how work camping is a great way to do short-term jobs in exchange for free places to stay and, usually, pay.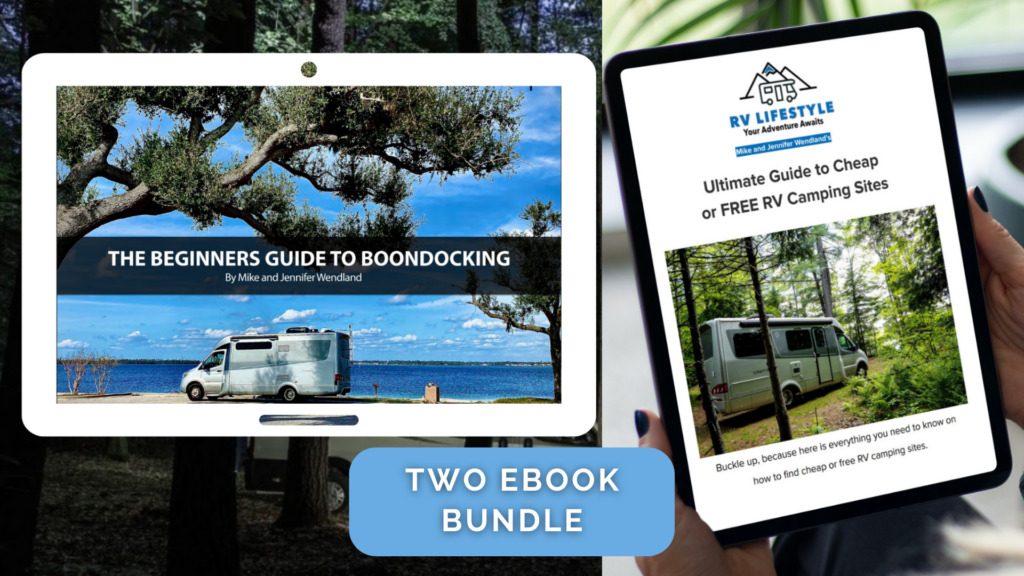 Beginners Guide to Boondocking (one of our most popular ebooks) and one of our newest ebooks, The Ultimate Guide to Free and Cheap RV Camping!
ebook #1: Beginners Guide to Boondocking
We created a 65+-page downloadable digital guide to help you understand the nuances that come with boondocking, the most common boondocking problems, and what you need to do to get your rig "boondocking-ready."
ebook #2: The Ultimate Guide to Free and Cheap RV Camping
Buckle up because here is everything you need to know on how to find cheap or free RV camping sites in the 33-page EBOOK.
---
---
---
Get the Home Study Course today and worry about the road, not the repairs!
Every time you move your RV it's like driving through a hurricane during an earthquake. Parts break and many items need to be maintained, this program will show you how you can save time and money by gaining the confidence to take on the majority of the issues you'll come across. Don't get caught with your RV in the shop! Learn how you can maintain and repair your RV at your own pace and at the most convenient time for you! This course is produced by the National RV Training Academy.