Looking for fun ways to personalize your campsite? These camping flags will do the trick…
Camping flags are a popular accessory among outdoor enthusiasts who want to express their individuality and create an enjoyable camping experience.
In a recent Facebook post on our RV Lifestyle page, one of our members named Heather asked to see the creative flags people have at their campsites. Lots of happy campers shared their flags in the comments!
From campground humor to patriotic flags to funny flags about wine, there are all sorts of flag styles out there. You can even get personalized flags with your name, your pet's name, or a cartoon version of yourself!
We use affiliate links and may receive a small commission on purchases at no added cost to you. Thank you for your support. You can read our full affiliate disclosure here.
Why You Need a Camping Flag in Your RV Life
Camping flags can provide a festive and welcoming atmosphere, making the campsite more inviting and memorable. They are often used to celebrate special occasions, holidays, or themed camping trips.
They can also serve as a marker to help group members easily locate their campsite in a crowded campground.
Many campers choose flags representing their interests, hobbies, or favorite sports teams, which brings us to the next benefit of camping flags…
Camping Flags Can Help You Meet Other People
Another really great thing about camping flags is that they can help you make camp friends. When others see your flag, they may recognize something that you have in common and strike up a conversation.
They're excellent icebreakers! And speaking of which, we have another article with 14 more icebreakers to help make friends while camping.
20 Camping Flags to Add Personality to Your Campsite
No matter your personality, there is sure to be a fun camping flag that fits your unique style. From campsite flag scenes to patriotic flags, the following are fun flags to personalize your campsite.
On, and don't forget a Flag Stand!
Campsite Related Flags
Featuring two Adirondack chairs, a fire, and some marshmallows, this flag offers a warm greeting to welcome visitors. The classic message of "Welcome to our campsite" is simple and to-the-point.
2. Making Memories One Campsite at a Time
This flag shows an adorable blue camper, a campsite scene, and some trees in the background. It says, "Making memories one campsite at a time."
3. Camping Rules Slogan Wooden Sign
This adorable flag mimics a wooden sign that lists off camping rules. Some rules include wake up smiling, enjoy nature, and eat smores.
4. Making Memories Garden Flag
This flag has the same message as #2 but features a beautiful watercolor scene. There is a trailer set against a backdrop of painted mountains and forest.
Patriotic Flags
5. Home of the Free Military Flag
This flag is perfect for Memorial Day, 4th of July, or any/every day you want to honor our military. It features a flag background with military silhouettes in the foreground. The flag says, "Home of the free because of the brave."
This flag has a womanly touch. It says, "Welcome," and features red, white, and blue mason jars with flowers and small flags sticking out.
7. American Stars and Stripes Popsicle Flag
This cute flag features the word "America" across the top. It also has patriotic popsicles in stars, stripes, and shades of red, white, and blue.
Army boots filled with flowers and flags balance strength and beauty. We particularly like the pop of patriotic colors against the sepia tones.
Do you love gnomes? If so, here's a cute flag for you with lots of patriotic flare.
---
Mike and Jennifer's Summer T-Shirts for your next adventure

---
Personalized Flags
This flag is perfect for a patriotic dog lover. It features a camper decked out in red, white, and blue. It can be personalized with your favorite dog and family name.
This flag is customizable. It has a camper in the background decked out in patriotic decor. Then it has a dog in the foreground that can be customized with your favorite pooch. It can also be customized with your last name.
12. Welcome to Our Campsite Personalized Flag
Personalize this adorable camper flag with your last name and hometown. It features an old-school trailer in the center.
13. Making Memories Personalized Flag
This flag features a cartoon husband and wife enjoying their trailer. Personalize it and get the conversation going with your first names.
Humorous Flags
14. Let's Drink and Watch Other People Park Flag
This funny flag exposes what many Rvers favorite form of people-watching! Its humorous saying goes like this: Let's drink by the fire and watch people park their campers.
15. Sorry for What I Said Flag
This flag probably hits home for a lot of folks. We all know how stressful parking a trailer can be!
It shows a trailer and mountain picture with the humorous phrase, "Sorry for what I said when we were trying to park the camper."
Beer & Wine
16. It's 5 O'Clock Somewhere Flag
The flag, done in watercolor art, has a coconut drink front and center with an ocean background. It looks beachy and tropical and says, "It's 5 o'clock somewhere."
17. Wine a Little, Laugh a Lot
If you love wine, this is the flag for you! It has a neutral background and has the phrase, "Wine a little, laugh a lot" on it.
18. Enjoying the Kids' Inheritance
This is a popular joke among campers. There's even a well-known camping acronym for it: SKI (Spending Kids' Inheritance.)
It's certainly a funny twist on the popular "making memories one campsite at a time."
19. You Don't Have to Be Crazy…
This cute flag is printed on a tan burlap background. It has a vintage trailer and tree scene and says, "You don't have to be crazy to camp with us. We can train you."
20. Big Foot Doesn't Believe in You Either
Another funny flag comes complete with a forest green border. The center of the flag shows a big foot and a mountain scene, with the saying, "Bigfoot doesn't believe in you either."
Speaking of big foot…
Monsters, Myths & Mysteries in Michigan's UP
There is a lot of wildlife in Michigan's Upper Peninsula. Some say some of it is TOO wild. Join us on an RV trip across the UP chasing down stories about monsters myths and mysteries.
Whenever someone asks us, "Where is one of your favorite places in the US for RVing?" Our answer is unquestionably, in unison, "The UP of Michigan." The "UP" means Upper Peninsula, of course.
That's why we decided to write our first "7 Stop RV Adventure" to help you explore Michigan's Upper Peninsula.
This ebook is a seven-stop guided exploration of the Michigan UP. We provide a suggested route and itinerary, links to multiple campgrounds and boondocking spots, and the best spots to see along the way. Don't plan your trip to the Upper Peninsula without it!
---
---
---
Official RV Lifestyle QUICK Links to ALL our eBooks
You can see ALL our eBooks here, or use the following Quick Links to go straight to what you need!
● Arizona
●    Colorado 
And MANY of these are BUNDLED together:
New England Bundle
Coastal Maine, Adirondacks
Ultimate Michigan and Great Lakes Bundle – 3 ebooks –
Upper Peninsula, Lower Peninsula, and the Great Lakes Tour
Michigan Bundle
Upper Peninsula, Lower Peninsula
The Great Lakes Adventure Guide Bundle
The Great Lake Shoreline Tour & JUST the Upper Peninsula Guide
Florida Adventure Guide Bundle
Gulf Coast, Atlantic Coast, Keys
Southwest Adventure Guide Bundle
Arizona, Colorado, Southern Utah)
Ultimate 7-Day RV Adventure Guide Bundle
Collection 1- our first 10 ebooks (does NOT contain Great Lakes Shoreline or Natchez Trace)
We also have a nice collection of ebooks that will help you navigate the RV Lifestyle.
Like these:
The Beginner's Guide to Boondocking
The Ultimate Guide to Cheap or FREE RV Camping Sites
Boondocking and Free RV Camping EBOOK Bundle
The Beginner's Guide to Boondocking ebook and Ultimate Guide to Free Camping Sites
And ONE PRINT book 🙂 and yes, before you ask, we have plans for MANY more print books.
The Complete Guide to Boondocking – PRINT VERSION
This is the same as the ebook titled The Beginner's Guide to Boondocking but in print.
And while you are exploring all our ebooks – check out the hoodies, T-shirts, Stickers, and mugs in our MERCH Store! You can get to it directly by just going here – SHOP!
---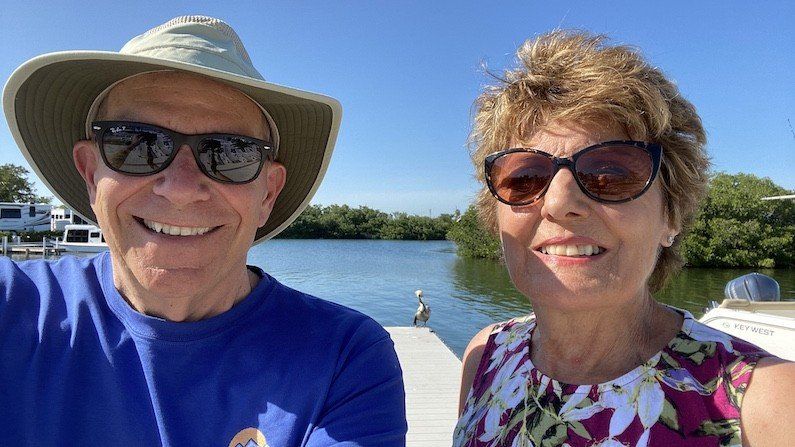 Curious about the gear, gadgets, accessories, and RV products Mike & Jennifer use and recommend?
On this RV Lifestyle Travel blog, our RV Podcast and our RV Lifestyle YouTube Channel, we mention all sorts of RV-related products and gear that we use, So we created a special page that links to them. We update this all the time.  CLICK HERE to go to it directly.
---