The best time to visit Utah National Parks is mid Spring and early Fall.
Are you planning a Utah road trip soon?
Taking your RV on the open road is the best way to see the numerous national parks and other attractions that Utah has to offer!
Best Time to Visit Utah National Parks
Utah has some of the coolest rock formations in the United States. Whether you're going to visit a Utah national park or just driving through, the formations are usually just an easy hike away.
When to Visit
You can visit many parts of Utah year-round. However, some areas require chains or snow tires in the winter months. And others lots of water or air conditioning during the summer months.
Overall, the perfect time to visit Utah's national parks and other attractions are April through May and September through October. That is when you can enjoy its main attractions with moderate crowds and the most moderate temperatures.
A good idea when planning your national park road trip is to map out the parks and the best things to do in the area. Combine that with the best time of year to visit and you'll have the best experience possible.
To make that easy for you, we've created a 7-Day Southern Utah Adventure. It'll guide you through the best Utah national parks in the area and more! Including all of the parks below and more…
Best Utah National Parks to Visit
More and more people are taking to their RVs on a Utah National Parks road trip. It is a great way to see everything Utah has to offer.
Check out my list of the top places you won't want to miss!
Zion National Park is a geological wonderland and offers some of the best hikes in Utah. With massive sandstone cliffs colored in creams, reds, and pinks, you will be in awe. I've even referred to it as "Indeed a Holy Place" in our blog article about our visit.
You can see a wide variety of plant and animal life before checking out a narrow slot canyon that is worth the hike!
Another spot you will not want to miss is the Zion Canyon Kolob Canyons. It features 2,000-foot peaks of red Navajo sandstone set along lolling streams. There's an amazing 5-mile scenic drive with gorgeous scenic viewpoints and cascading waterfalls.
Another popular adventure is the hike to the observation point at Angel's Landing. Be warned, though, as it is not for the faint of heart! Also, be aware that they are implementing a lottery system for that hike soon.
One of the best things to check out at Bryce Canyon are the red rock hoodoos. Think of them as an otherworldly tree sculpture!
These rock formations were formed as a result of millions of years of a freeze and thaw cycle that carved their unique shape.
Jennifer and I were mesmerized by the changing colors during sunset on our trip to Bryce Canyon National Park.
At 8,000 to 9,000, Bryce Canyons is considered one of the higher elevations in which to spend time. Be sure to give yourself time to acclimate to the elevation!
If wildlife is what you are after, you will not be disappointed. See mule deer, as well as dozens of other species of birds and mammals.
Although there are many popular hikes to do in the park, there is also adventure to be had during the winter months, like cross-country skiing and snowshoeing!
Be sure to also visit the nearby Navajo Loop Trail. This 1.5-mile loop is one of the most popular trails in Utah, and for good reason.
Yet another Utah red rocks wonderland!
Arches National Park has over 2,000 natural stone arches. You can also view hundreds of rock fins, balanced rocks, and pinnacles soaring high above you, You will be amazed by the rock formations and enjoy its numerous hikes.
One of the park's main attractions is Delicate Arch. You can take a level, short hike (about 100 yards) to view the arch from one mile away. Or, take a 3-mile roundtrip hike to see it up close and personal.
The best time of year to visit Arches is outside of the peak heat and cold. The summer heat has the potential to be very high and brutal, and the winter cold can pose frozen, icy conditions.
Late spring and fall through early November are excellent times to plan a trip.
You can stay at one of these 4 Arches National Park Campgrounds.
All 4 of these campgrounds are on our NEW RV Lifestyle Map!
---
Think of this as a group travel journal! We've been adding our favorite places all across the country and now you can, too! Every day more and more gets added by RVers just like you!
To add your own locations, you need to get the free app for your smartphone so you can add spots and share them with others as you travel! Click the link in the lower-right corner of the map and start adding YOUR favorite places. Already we've found many new places to explore during our RV adventures and you will too!
Together, we can make this a huge resource for the RV community!
---
Now back to the Best Time to Visit Utah National Parks
Capitol Reef National Park is a Utah hidden gem featuring canyons, domes, cliffs, and bridges in something called the Waterpocket Fold.
This is a geologic fold, which is basically a wrinkle on Earth's surface, that extends for almost 100 miles! We've outlined 7 Things to Do at Capitol Reef National Park.
This national park is divided into four main districts, characterized by the massive canyons formed by the Colorado and Green rivers. The districts are named: The Needles, Island in the Sky, The Maze, and then the rivers themselves.
Check out breathtaking buttes and countless canyons!
Other Places to Add to Your List
The national parks in Utah are amazing, which is why so many people love to visit as many as they can. But if you are in the area, there are other places worth a mention.
Grand Canyon
While the Grand Canyon is not technically in Utah, it is near enough to visit if you have never been. Or if you want to visit again!
The Grand Canyon is located in the northwest corner of Arizona. It is very close to the borders of both Nevada and Utah. The breathtaking and grandiose canyon is the result of millions of years of being carved out by the Colorado River.
There is a reason this is one of the most visited national parks in all of America. Its unmatched views and breathtaking hikes are like no other on Earth. You can check out its one-mile and 18-mile gap (at its largest opening) from the rim, or hike down to the bottom.
It is open year-round, 24 hours a day. There are more visitors that come during the spring, summer, and fall.
Slot Canyons
If slot canyons are what you are seeking, there is no better place to see them than in Utah. The most popular locations to check out these cool canyons are:
Bucksin Gulch (Wire Pass Trailhead)
Little Wild Horse
Spooky and Peekaboo
Furniture Draw
Zion Narrows
Box Canyon Hiking Trail in Maple Canyon
Zebra Canyon
Willis Creek Slot Canyon
The Subway (Top-Down Route)
Burro Wash
Mike and Jennifer's Southern Utah RV Adventure Guide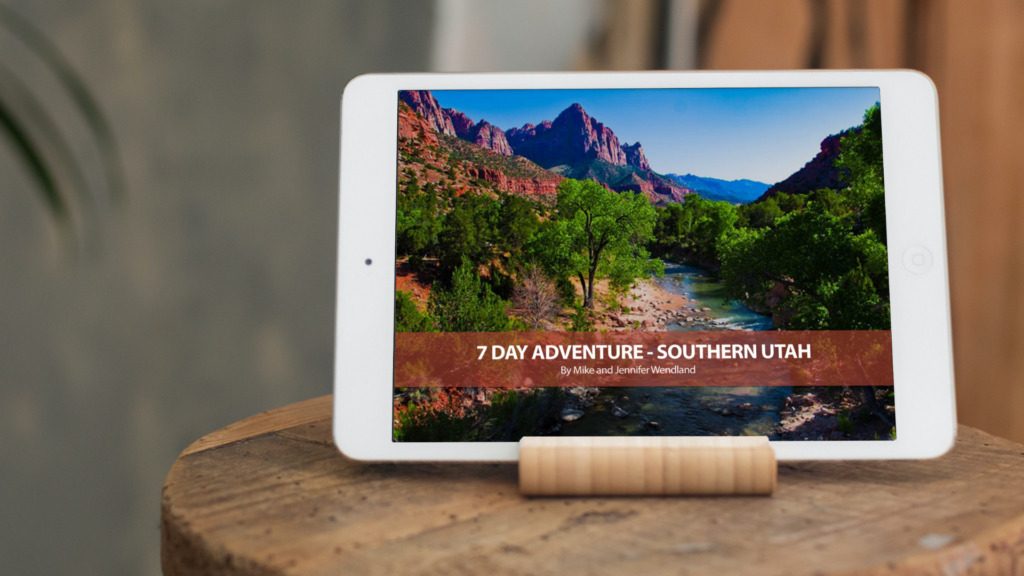 Utah, Utah, Utah. What more is there to be said? In very few places across the United States is there such a tremendous area with breathtaking vistas and diversity of terrain.
The sheer size of the National Parks, the canyons, the desert. Combined with the amount of history written in the red rocks that rise like towers jutting out of the ground and the delicate hoodoos washed away by erosion.
It is a place that, if you've never been, you need to go, at least once in your life.
This ebook is a seven day guided exploration of the State and National Parks in Southern Utah. We provide a suggested route and itinerary, links to multiple campgrounds and boondocking spots, and the best spots to see along the way. Don't plan your trip to Southern Utah without it!
You can hit everything in seven days, do a whirlwind weekend tour, or you can take your time and explore the area over a few weeks.
---