If you're like many, a trip to New England might be in your plans for the upcoming fall season. Now is the perfect time to review a list of the best fall color drives in New England…
Sure, we've talked about "5 Awesome RV Destinations for Fall Color" and it did include Williamstown, Massachusetts.
But we didn't want the other New England states to feel left out, so we created a list of the 7 best fall color drives in the region.
Check it out and please be sure to leave feedback in the comments below, especially tips for your RV Lifestyle Fellow Travelers.
Hey, if you buy something through my links, I might get a little something-something as a thank you. No extra cost to you, promise! Read our full affiliate disclosure here.
1. The Kancamagus Scenic Byway (New Hampshire)
One of the most iconic fall drives in New Hampshire is the winding mountain pass known as the Kancamagus Scenic Byway. Nestled in the scenic White Mountains, this 34-mile stretch of Route 112 offers breathtaking views of fall foliage, usually starting in late September and lasting until the first three weeks of October. Locals affectionately refer to it as "the Kanc."
Whether you begin your journey in Conway and head west to Lincoln or vice versa, be prepared to frequently tap your brakes as you traverse this picturesque route. Along the way, you'll encounter numerous scenic overlooks and trailheads, allowing you to capture stunning photos and embark on invigorating hikes around enchanting ponds and beautiful wilderness waterfalls.
To fully appreciate the natural beauty of the Kancamagus Highway, make sure to allocate ample time for photo ops and exploration. This renowned route promises an unforgettable experience immersed in New Hampshire's autumn splendor.
2. The Mohawk Trail (Massachusetts)
Prepare to be enchanted by the breathtaking vistas that unfold as you explore the Mohawk Trail, also known as Route 2 in Massachusetts – New England's first official scenic road. This captivating journey guarantees unforgettable scenes that will leave you in awe.
To fully immerse yourself in the vibrant colors of the fall foliage, begin your leaf-peeping adventure by making your way to the summit of Mount Greylock. It's one of the most renowned mountains in New England for a scenic drive.
As you continue eastward through the Mohawk Trail region, keep your focus on the road despite the surrounding beauty, especially when navigating the famous hairpin turn.
When you feel the need for a well-deserved break, take a moment to stop at Shelburne Falls. Here, you can indulge in the delights of walking across the enchanting Bridge of Flowers and see the glacial potholes.
3. State Route 169 (Connecticut)
Embark on a picturesque journey along ​ State Route 169 , which starts in North Woodstock and extends south to Newent. As Connecticut's inaugural National Scenic Byway, this route brings together idyllic towns nestled within the tranquil landscapes of the state's northeastern corner.
It's famously referred to as part of New England's "Last Green Valley."
During this delightful drive, you will be treated to the sight of charming churches, orchards, historic stone walls, enchanting shops, lively fairgrounds, and a multitude of homes that date back to pre-1855.
Amongst these treasures, make sure to catch a glimpse of the Roseland Cottage, distinguished by its distinctive pink paint. This remarkable architectural gem offers guided tours from June to mid-October, allowing visitors to step back in time and appreciate its unique allure.
As you traverse State Route 169, be prepared to immerse yourself in a captivating journey through time, where every turn reveals another delightful element of Connecticut's rich history and natural beauty.
4. The Road to Rangeley (Maine)
To savor the peak season, RVers should start the road to Rangeley in Portland or Bethel and venture into western Maine's captivating mountains and lakes. En route to Rangeley Lake State Park, make a quick side trip to behold the iconic covered bridge.
Then partake in gold panning at Coos Canyon, and revel in the breathtaking vistas from Height of Land, renowned as one of New England's top autumn foliage viewpoints.
It is said that the fall sunsets here are so mesmerizing that even locals can't resist pulling over to witness their splendor.
PSST!I Check out our new 7-Day Maine RV Adventure Guide!
5. The Arcadia Management Area (Rhode Island)
Did you know that Rhode Island is actually two-thirds forested? That means plenty of leaf-peeping and less traffic that sometimes clogs popular scenic routes in the northern part of New England.
One of the fall color drives in New England is to drive into Rhode Island from Connecticut on Route 165, turn right and follow Arcadia Road south through the largest state-owned forest: the Arcadia Management Area.
Then, when you're in Wyoming, Rhode Island, connect with Route 138 West to loop back to the Connecticut state line. Scenery includes serene ponds, stone walls, and woodlands painted with fall's distinct palette along this off-the-beaten-path drive.
6. Route 100 (Vermont)
Spanning 146 miles from the Massachusetts border to Canada, Vermont's Route 100 Scenic Byway cuts through the heart of the state. Driving the entire route reveals a spectrum of autumn colors, influenced by varying latitudes and altitudes.
As you traverse this scenic road, you'll be treated to views of the majestic Green Mountain National Forest and pass through charming mountain towns like Killington, where RVers can enjoy a unique perspective of the vibrant foliage from a gondola ride. It's worth mentioning that detours and exploration are easily accomplished since most attractions in Vermont are conveniently located near this central highway.
One highly recommended stop along the way is the Vermont Country Store, situated right on Route 100 in Weston, offering a delightful experience for travelers.
7. The Catskill Mountains Scenic Byway (New York)
Another one of our best fall color drives in New England is this 52-mile drive through New York State's storied mountains is an exhilarating way to check out fall colors. The designated byway sticks mostly to New York State Route 28 linking bucolic towns along the way.
Get your Clark Griswold on at Mount Tremper, where you can visit the world's largest kaleidoscope, an attraction that is guaranteed to be colorful. Sports fans might want to extend their trip to Cooperstown, where the Baseball Hall of Fame celebrates America's game.
Try This Interactive Leaf Peeping Map
Discover the best destinations to experience nature's spectacular show as the leaves change color this season. Simply explore this interactive map to find where red, orange and yellow hues will peak near your travel dates.
The map provides a visual guide to follow autumn's colorful transformation across North America. View precise predictions of the fall foliage season from week to week. Get ideas for your RV route and plan to hit the road when scenery will be at its most breathtaking.
Go to the interactive leaf-peeping map…
New York's Adirondack Park is immense. In fact, it's greater in size than Yellowstone, Everglades, Glacier, and Grand Canyon National Parks combined.
Created by New York in 1892, it is a constitutionally protected "Forever Wild" area and contains 85% of all wilderness in the eastern United States.
There are about 3,000 beautiful clean lakes in the region, surrounded by lush forests and dozens of small charming towns to visit.
This ebook is a seven day guided exploration of New York's Adirondack Park and Finger Lakes.
We provide a suggested route and itinerary, links to multiple campgrounds and boondocking spots, and the best spots to see along the way.
Don't plan your trip to Upstate New York without it!
---
---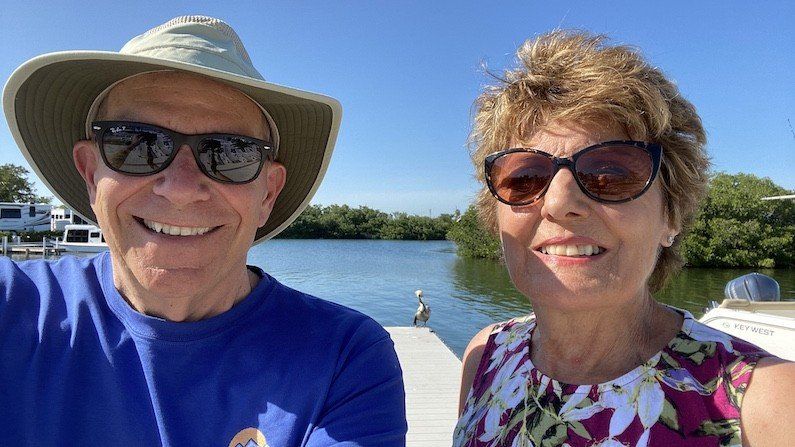 Curious about the gear, gadgets, accessories, and RV products Mike & Jennifer use and recommend?
On this RV Lifestyle Travel blog, our RV Podcast and our RV Lifestyle YouTube Channel, we mention all sorts of RV-related products and gear that we use, So we created a special page that links to them. We update this all the time.  CLICK HERE to go to it directly. Have you caught one of our Amazon LIVE events yet? Just go here and Follow us – to be notified every time we go live.
---