The month of October has surprisingly become huge for RV campgrounds, resorts, and parks around the U.S. thanks to Halloween.
Maybe because for many in the northern states, it's a chance to do one more trip before the RV has to be winterized and put in storage.
Instead of just one night – Oct. 31 – many parks dedicate the entire two or three weekends (or more) before Halloween.
That's why now is the best time to plan for your Halloween adventures. I've put together a list of some of the best places for Halloween camping across the U.S. (based on my own experiences and lists from others, including DoItYourselfRV).
The place sells out every weekend in October and to get a spot, many campers had to book their sites a year in advance. This year, they are having two events: Halloween Campout I on October 4-8 and Halloween Campout II on October 11-15.
Every year, about 1,500 people visit to take part in the festivities and activities that run all day long.
Several years ago, Jennifer and I visited it on a Wednesday and Thursday and found the place half full already by early birds – Halloween campers who have so much fun stay for weeks at a time.
At night, their motorhomes, fifth wheels, truck campers, and travel trailers are strung with lights and spooky decorations.
There are paper mache spiders, witches, werewolves, skeletons, headless horsemen, and elaborately carved pumpkins.
Cobwebs are strung between trees, tombstones sprout from the ground, ghostly sheets wave in the breeze. The park provides inflatables that can be borrowed as well.
There are costume parades and contests, wagon rides, music, barbecue, and campfire socializing.
I know of no park that is into the spirit of it all like the Lake Rudolph Campground & RV Resort in Santa Claus, Ind., which is planning seven – count them seven – consecutive Halloween-themed weekends this fall – starting Sept. 16.
Jennifer and I have visited this event, too.
"It's the most popular thing we do," said Dave Lovell, the resort's director of marketing. The park hires professional story tellers for Friday night bonfires. There are haunted hayrides, costume contests, scary movies and dance until you drop sound and light show.
As an indicator of how popular it is, reservations start rolling in a year in advance. So, while you may not make it this year, it's worth booking in advance for next year!
Lums Pond's annual Halloween Hoot for 2022 is on October 29, 2022. Their Facebook page keeps you posted on this event and many more this campground offers.
Campers should be sure to bring candy for trick or treating and compete to win the best-decorated campsite. Music, Games, pumpkin decorating, crafts, and more for this afternoon event that begins at noon. It's free for campers. Non-campers pay $6 per person. Free for 2 years and under.
This park features is having its 28th Annual Halloween Fest this year from Oct 11-23. This 13-day event is for registered campers only. They've scheduled Halloween putt-putt, camper decoration contests, costume contests, ghost walks, bean supper, pancake breakfast, Halloween parade, crafts, Pumpkin Express hayrides, live entertainment, trick or treating and lots, lots more.
Don't have a camping reservation for this year? That's okay, there's another option for you…
Their Halloween Lights Drive is open from Oct 7-22. Enjoy the sights, sounds and scares of over 1½ miles of Halloween lights and displays from your car. Drinks and snacks are available at the Trading Post in the campground. Call 859-527-354 for info.
Looking for other options in Kentucky? Check this list out!
October weekends are full of magic and monsters at the Hill Country Camp Resort. From trick-or-treating to costume contests, there's something for campers of all ages to enjoy.
Other offerings include a magic pumpkin patch, pumpkin carving contests, and campsite decorating contests. Older folks might enjoy the haunted hike.
For more than 20 years the Halloween experts at Midway Campground have been hosting the spookiest haunted woods walk around. Here, you can scare yourself silly with a delightfully terrifying walk in the Midway Wicked Woods.
From the haunted graveyard to the spinning tunnel of terror and 3D clown room, this is one haunted walk you won't want to take alone! Halloween weekends at Midway for 2019 are set for Oct. 26 and Nov. 2.
Definitely geared toward fun for the whole family, this park is holding its annual Halloween weekends starting with Miss Lilly's Pumpkin Patch. The event includes trunk or treat (award & prize for best decorated display), hayride, kiddie bingo, coloring contest, wiener roast, kid's craft workshop, and more!
There are themes for each weekend leading up to Halloween, including Monster's Inc., Wizard of Oz, the pre-Halloween weekend, and, of course, Halloween weekend.
Halloween weekends are held every week through Halloween. Each weekend will feature a number of Halloween-themed crafts, games and activities all weekend long.
Pumpkin carving contests and a trick or treat parade every Saturday evening.
There will also be a site decorating contest every weekend in October so don't forget to bring your decorations. See who has the scariest and most creative site.
Prizes will be given for first, second, and third place winners. Each weekend will get a little scarier and of course, you must visit Creekside Manor Haunted House on Friday and Saturday nights.
The Annual Hallowfest celebration features haunted evening hayrack rides, pumpkin roll obstacle courses, pumpkin carving contest, campsite decorating contest and much more!
Hayrack reservations begin early October. Hallowfest is held the weekends in October.
This campground's Halloween Campout is set for early October. The schedule includes a Friday night campfire get-together, trick-or-treating on Saturday through the campground (bring candy to hand out and one full-size bar per game for candy bar bingo).
Pot luck stew (campers bring the vegetables, the campground supplies the meat and homemade cornbread). Bring a pumpkin to carve, or take part in Halloween games, craft time, and "Monster Costume Ball Party".
This year on Oct. 22 and Oct. 29, Camp Margaritaville is hosting Halloween site decor competitions with prizes for the winner. Their activities director on-site is also hosting other fun spooktacular events.
Camp Margaritaville Pigeon Forge RV Resort & Lodge is the newest RV Resort in the heart of the Smoky Mountains, where you can bring your RV or treat yourself to a stay at The Lodge.
There is something for everyone at Camp Margaritaville Pigeon Forge with their Pool Recreation Area with a Double Loop Water Slide and Kid's Zone, Hot Tub and Fire Pit, Fins Bar, Fins Breakfast Buffet, kid's Playground, Barkaritaville Pet Park, pickleball courts and the recently opened family entertainment center, Fin City, lazy river and activities lawn.
Other places to enjoy a Halloween party!
Jellystone Parks around the country now offer Halloween-themed activities. some of them even have PRE Halloween activities in September! Most Jellystone Parks that have Halloween activities have something going on every weekend in October.
More than a third of KOA's nearly 500 campgrounds offer Halloween-themed activities. Many offer hayrides, monster-themed parties, costume contests, and so much more.
Like to Visit Haunted Places?
What are your favorite places to camp to enjoy a Halloween celebration?
Be sure to leave your favorite Halloween destinations in the comments below!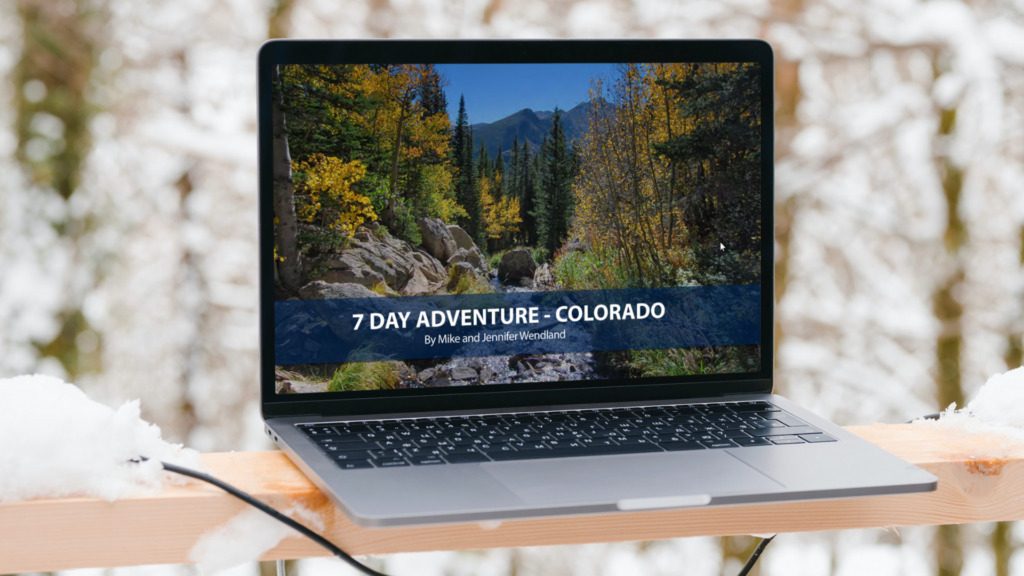 When Jennifer and I first went to Colorado, I felt like I finally understood what John Denver meant by his song: I've now been Rocky Mountain High.
And like Denver, exploring all that Colorado has to offer made me want to sing, too.
This is a fully designed and edited guide that you can download and start reading immediately on your phone, tablet, computer or e-reader.
---
---
Think of this as a group travel journal! We've been adding our favorite places all across the country and now you can, too! Every day more and more gets added by RVers just like you!
To add your own locations, you need to get the free app for your smartphone so you can add spots and share them with others as you travel! Click the link in the lower-right corner of the map and start adding YOUR favorite places. Already we've found many new places to explore during our RV adventures and you will too!
Together, we can make this a huge resource for the RV community!
---
---
Looking for exciting RV trip ideas and travel suggestions?
We've written a library of RV Travel books that lay out guided RV explorations of scenic areas of the US that we''ve explored and think would make an excellent RV trip for you.
In each location, we provide a suggested route and itinerary (7 stops in each guide, one for each day of a week trip!) as well as links to multiple campgrounds and boondocking spots, local tips, and interesting things to do at each location.
You can hit everything in seven days, do a whirlwind weekend tour, or you can take your time and explore the area over a 2+ week period.
Planning an RV trip can be very time-consuming so that's why we've done the research for you! Just take our guides and use them. We're sure you'll have an RV trip for the ages! Instant download. CLICK HERE for information on our RV Travel Guides
---
---