What do camp hosts do? If you're thinking of workamping as one or don't know what to expect as a newbie RVer, let me tell you! Here is what camping hosts do and don't do…
The pandemic caused a surge of RVers and workampers that may not quite understand what the duties of a camp host are. Unfortunately, this has led to incorrect expectations that further lead to frustration and disappointment.
Are camp hosts like a hotel concierge? Do they do all the campground maintenance? What should you expect as a camper? What will be your duties if you become a workamping camp host?
I'll answer those questions and more in this crash course that I like to call Camp Host 101.
**NOTE: I also give you resources to become a "workamper" at the end.
What Camp Hosts DON'T Do & Are Not
Let's start off with what camp hosts do NOT do and what they are not. Then I'll get into the range of job duties that do fall under their purview. That way you know what to expect on your next camping trip or temporary workamping job.
By the way, if you don't know already, "workampers" are people who work as they travel, often for free campsites and amenities. I provide resources at the end if you want to learn more.
Camp Hosts are NOT Concierges
A lot of pandemic newbies thought that camp hosts are equivalent to hotel concierges. This is not the case.
It is not part of their job to help you plan your activities or camping itineraries. It is true that camp hosts can be a good resource for local knowledge, but that is not actually part of their job description.
So, if your camp host happily shares local insight of things to do– great! But don't expect it of them, especially since many camp hosts are travelers themselves. They may not have much local knowledge.
Camp Hosts Don't Help with Setup
Camp hosts are not bellhops, either! It is not the camp host's job to escort you to your campsite and certainly not their job to help you setup camp.
A lot of camping newbies expect this kind of "tip service," but that doesn't fall under their duties. Some may offer some assistance in special circumstances, but you shouldn't expect it.
To help with setup, read RV Setup Checklist: 15 Tips on How to Setup Your RV.
Camp Hosts Don't Clean Up After Your Dog
It is always your responsibility to clean up after your dog. This does not fall under the camp host's duties whatsoever.
Cleaning up after your dog is part of Proper Campground Etiquette for Campers that every RVer should exhibit.
Camp Hosts Aren't the "Guy That Gets You Things"
You know how in movies and TV shows people say they "have a guy" that can "get them things." Like they need this item or need this done and they conspiratorially say, "Yeah, I have a guy for that."
A camp host is not that guy. It's not their job to supply you with things you forgot or do things that you don't know how to do.
Granted, some camp hosts may try to help you in such cases, but it is not their job. So, don't get disgruntled if they say they can't help.
What DO Camp Hosts Do
Now that we've covered what camp hosts don't do, we can highlight what they do… do. Now, keep in mind that some camp host job descriptions vary from campground to campground.
The following are just the most common duties that you can expect to perform as a camp host or expect to receive as a guest.
Checking In Campers
Though some campgrounds have auto check in or a separate staff member to handle check in, this is often done by the camp host. They will check you in, collect camping fees, and usually give you a map and quick run-down of the facilities.
Light Housekeeping & Maintenance
Many campgrounds have a designated maintenance person, but light housekeeping and maintenance is often expected of camp hosts. This includes light cleaning of bathrooms, laundry rooms, and in between campsites.
This housekeeping of course does not apply to your motorhome or campsite while you are occupying it. You're not going to get clean towels and a sweep-down of your outdoor rug.
Light maintenance may include minor repairs that don't require skill or heavy lifting.
Many workamping couples fill both positions when working at a campground. One person applies as the camp host while the other the maintenance position. Or, they work both positions together.
Camp Checks
This is probably the least enjoyable part of a camp host's job, but it's important. A camp host makes regular rounds (usually in the morning and at night) to ensure campers are abiding by the campground rules.
They will nicely remind people to keep the noise down, turn off bright outside lights, not allow their dogs to bark endlessly, and so on. This is sometimes met with annoyed resistance from the offending campers, but that's not the norm. Most campers handle the reminder with grace and do.
Depending on the campground, camp hosts may have to deal with an escalated situation, but sometimes they just report to someone who will then take over.
Firewood & Camp Store Sales
In many cases, selling firewood falls under the camp host job description. This is particularly true at state and national parks where workampers "volunteer" for free campsites and utilities.
That means they get paid indirectly with savings rather than paychecks. The same is true for many private campgrounds.
Along with firewood sales, some camp hosts also run the register at the camp store. Camp stores normally have camping basics like staple foods, clothing, sunscreen, basic outdoor or sports gear, and (my favorite) ice cream!
Oversee Activities & Events
Many campgrounds offer special camp activities and meet-ups, like ice cream socials or arts and crafts projects. This often falls to the camp host to oversee.
As Rhonda Phipps, a long time camp host and workamper, shares in the video below, she loved this part of the job. It's a great way to meet new people, learn from others, and as she put it, "play with other people's grandkids."
Do You Want to "Work Camp" So You Can Travel More?
Like what you see in these videos? We'd appreciate it if you would Subscribe to our YouTube Channel (easy to do right here) and consider "ringing the bell icon" to be notified of any new video from us. 🙂 Thanks!
In many cases, the only thing holding RVers back from traveling more is money. RVing is expensive and offsetting the costs can be a real challenge no matter someone's age or job status.
Whether you are a retiree, have another job that's not cutting it, or just want to make traveling more affordable, work camping is a great way to make money on the road.
If that's you, here is further information and resources to help: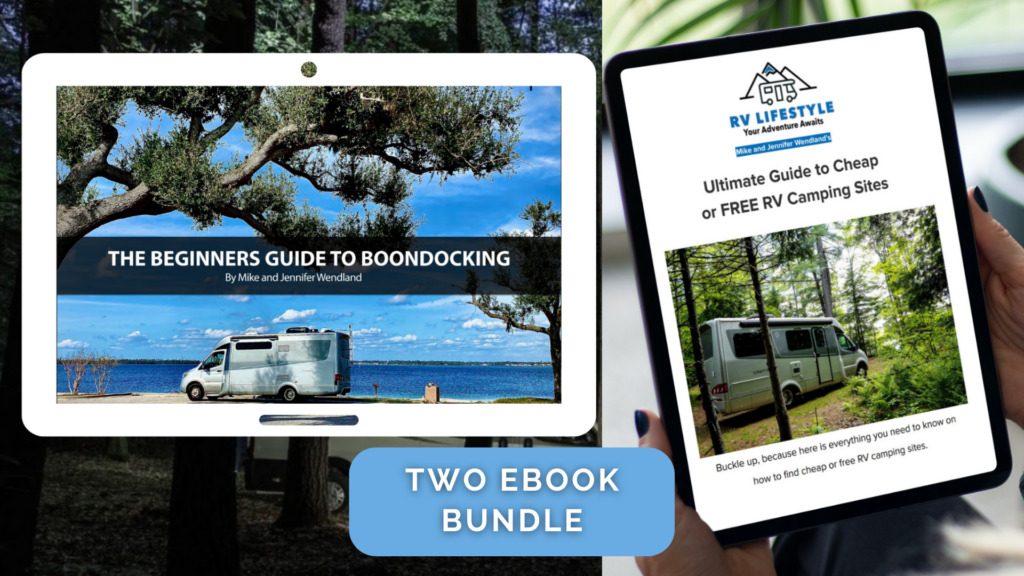 Beginners Guide to Boondocking (one of our most popular ebooks) and one of our newest ebooks, The Ultimate Guide to Free and Cheap RV Camping!
ebook #1: Beginners Guide to Boondocking
We created a 65+-page downloadable digital guide to help you understand the nuances that come with boondocking, the most common boondocking problems, and what you need to do to get your rig "boondocking-ready."
ebook #2: The Ultimate Guide to Free and Cheap RV Camping
Buckle up because here is everything you need to know on how to find cheap or free RV camping sites in the 33-page EBOOK.
---
---
---