The largest RV dealer in the world is located in Tampa, Florida. It has over 1,500 RVs, a huge store, a service center, an RV park, and more…
Are you looking for a place with all things RV? I am not talking about just any motor home dealer. But THE mack daddy of motor home dealerships. The place I am talking about is the largest full-service RV dealership in the entire RV industry.
Lazydays RV Supercenter in Tampa, Florida, has the largest selection of new and pre-owned RVs in North America. If you are hunting for the RV of your dreams, this place gives you the chance to see a lot all at once.
Even if you don't need or want to buy a new RV, it's a fun place for RVers to window shop for RVs and RV accessories. The sales staff is very knowledgeable, so you can learn about all kinds of new things.
It should be noted that RV Lifestyle is not an affiliate of Lazydays RV. We're just fellow RVers in awe of their supercenter's size.
Use your cursor on the map below and see 360 degrees. And if you make it full-screen you can really see all around.
The Lazydays RV Supercenter
Lazydays RV Supercenter earns the title of the Largest RV Dealer in the World with its 126 acres. Yes, the Tampa supercenter covers 126 acres!
The property has over 1,500 RVs for sale, an RV service center, a 20,000-square-foot RV accessories store, and a world-class RV resort.
Largest Stock of RVs
You can walk around and see the world's most extensive stock of RVs! With over 1,500 new and pre-owned RVs on-site, it's no wonder people travel from all over to find the perfect RV.
Class A Diesel RVs
Class A Gas RVs
Class B Rigs
Class C Motorhomes
Fifth Wheels
Travel Trailers
Toy Haulers
Pop-Up Campers
In addition, they have some of the top manufacturers of RVs, including:
Grand Design
Forest River
Thor Motor Coach
Heartland RVs
Gulf Stream Coach
Keystone RV
American Coach
and more
Full RV Service Department
The supercenter also has a highly-rated service center that services all RV brands. It has over 240 RV service bays and over 100 experienced RV technicians.
Plus, unlike other service centers, they can fabricate parts no longer in production. The services include everything from general maintenance to a full range of repairs, upgrades, retrofits, and renovations.
Their Giant Store
Lazydays RV Accessories & More is Florida's largest RV accessories store. Its 20,000 square feet is packed with thousands of RV-related products, from the best camping chairs to OEM RV parts.
Simply put, it's like a candy store for RVers. You can spend hours perusing the aisles.
Lazydays RV Resort
With a place this big, you can't expect to see it all in one day. That's why Lazydays smartly has an onsite RV resort with a wide range of amenities.
The resort offers full 30/50-amp hookups, a screened and heated pool with hot tub, a playground, complimentary high-speed wireless Internet access, complimentary morning newspaper delivery, and much more.
The campground gives you easy access to the RV sales area, the accessories store, and the three on-site restaurants.
The Florida RV Supershow
Like what you see in these videos? We'd appreciate it if you would Subscribe to our YouTube Channel (easy to do right here) and consider "ringing the bell icon" to be notified of any new video from us. 🙂 Thanks!
Come along as we tour through a variety of new RV models showcased at the 2023 RV SuperShow! This SuperShow is also in Tampa, which many people plan their trip to Lazydays around. It's held in January every year at the Florida State Fairgrounds.
You can hit the Supershow and Supercenter in one big trip. But you better get your walking shoes ready and check out these 13 Pro Tips for Attending an RV Show.
Other Lazydays RV Locations
If you are not going to be near Tampa, Florida location, Lazydays RV has many other dealership locations that you can check out, including:
Las Vegas, NV: 4530 Boulder Highway, Las Vegas, NV 89121
Phoenix-Mesa, AZ: 2260 E Main Street, Mesa, AZ 85213
Tucson, AZ: 3200 East Irvington Road, Tucson, AZ 85714
Denver, CO: 3640 Chambers Road, Aurora, CO 80011
Loveland, CO: 4777 Marketplace Drive, Johnstown, CO 80534
Portland, OR: 16803 SE McLoughlin Boulevard, Portland, OR 97267
Vancouver, WA: 1986 Atlantic Ave, Woodland, WA 9867
Tulsa, OK: 24655 S. Highway 66, Claremore, OK 74019
Houston, TX: 20103 Stokes Road, Waller, TX 77484
Minneapolis, MN: 3939 Chelsea Road, Monticello, MN 55362
Ramsey, MN: 8390 US-10, Ramsey, MN 55303
Milwaukee, WI: 390 South Sylvania Avenue, Sturtevant, WI 53177
Chicagoland, IN: 1171 Lions Drive, Burns Harbor, IN 46304
Nashville, TN: 1005 Beasie Road, Murfreesboro, TN 37128
Elkhart, IN: 1301 E. Sanford School Road, Elkhart, IN 46514
Maryville, TN: 4037 Airport Highway, Lousiville, TN 37777
Knoxville, TN: 835 Huckleberry Springs Road, Knoxville, TN 37924
The Villages, FL: 4505 Monaco Way, Wildwood, FL 34785
Tampa, FL: 6130 Lazy Days Boulevard, Seffner, FL 33584
You can also visit their MAIN website to find your next RV. You can search their current RV selection and look at trade-in values for your current rig. You can also look at what their service department offers and financing.
Enjoy the LARGEST RV Dealer in the World YouTube Channel
Lots of walk-throughs and tours of RVs you might be interested in right here.
Other Notable RV Dealers
Lazydays RV isn't the only favorite RV dealer. The United States has many RV dealers that offer exceptional service, a diverse selection of motor homes, competitive pricing, and knowledgeable staff.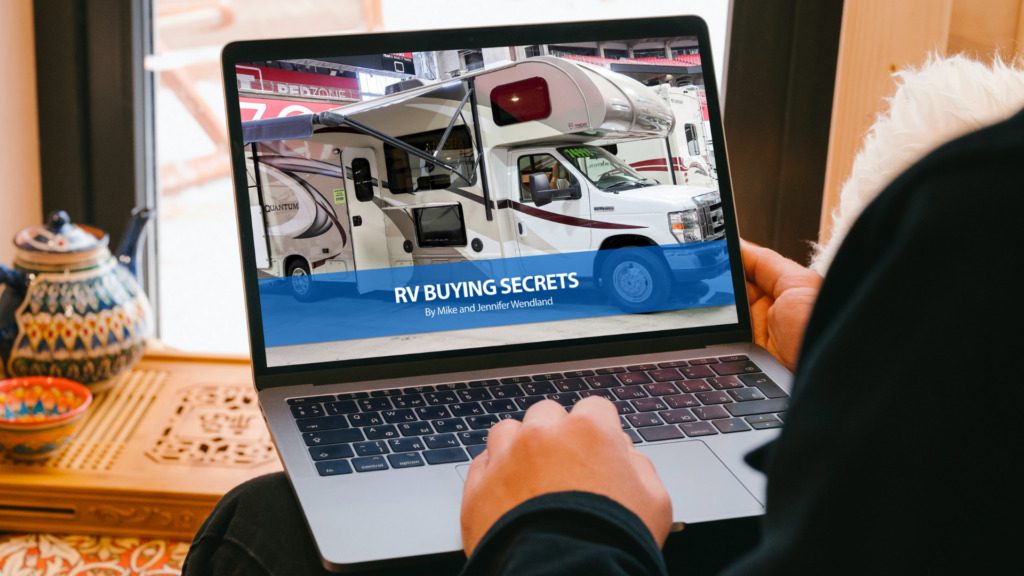 Next to your home, an RV is most likely the 2nd most expensive thing you'll ever purchase.
We get questions every day of other RVers wondering. "How do you buy a new or used RV?"
So we created a 75+-page downloadable digital guide to help you understand the nuances that come with purchasing an RV, where you can save thousands of dollars in the buying process, what the right questions are to ask dealers, what things to look out for, how to select the right unit, amenities, warranties, and so much more!
We created this guide to help you understand the nuances that come with purchasing an RV including:
Where to save thousands of dollars in the buying process
What questions to ask dealers
How to select the right unit
How to narrow down RV amenities
Understanding your warranty and what it covers
This ebook is designed to help make your purchase process as smooth as possible. And to teach you step-by-step exactly what to do so you can start your RV Lifestyle today!
---
Get the Home Study Course today and worry about the road, not the repairs!
Every time you move your RV it's like driving through a hurricane during an earthquake. Parts break and many items need to be maintained, this program will show you how you can save time and money by gaining the confidence to take on the majority of the issues you'll come across. Don't get caught with your RV in the shop! Learn how you can maintain and repair your RV at your own pace and at the most convenient time for you! This course is produced by the National RV Training Academy.