Half the fun of an RV road trip is discovering weird roadside attractions as you get off the interstates and travel the backroads. That's where the bizarre, quirky, and fun stops can be found that are sure to amuse and delight.
In Episode 443 of the RV Podcast, we interview an expert about what's waiting for you out there, from Giant Donuts to Mysterious Statues. Further, he tells you how to find them, too.
Also in this episode, Social Media RV Buzz, the RV News of the Week, RV Tips, the Travel App of the Week, and we answer your RV Questions.
To watch a video version of the podcast, click the player below.
You can download the latest Audio Version via your favorite Podcast App or click the player below to hear it on the device you are currently using.
Podcast: Play in new window | Download (Duration: 42:41 — 25.1MB) | Embed
Subscribe: Google Podcasts | Spotify | Stitcher | Email | TuneIn | RSS
RV Social Media Buzz – By Wendy Bowyer
Another busy week over at the RV Lifestyle Facebook group.
One post getting a lot of buzz is a news story Hayli shared with the group.
A Canadian RVing couple decided to visit New Orleans. Left their fifth wheel in the campground, drove their truck into the city and parked in a lot across from the police station and visited the French Quarter -when they came back, their truck was stolen!
While some RVers said they had visited New Orleans many times and never had any problems, others said they had been a victim of crime.
My favorite comment was from Janna wondering if there was a kind soul in the group willing to reach out and help this couple tow their rig home to Canada.
One of the things I love about the RV community: people really do want to help one another.
Another post that got people talking was from John – he asked: Why do RVers put nitrogen in their tires?
There were many responses. Some said it is completely unnecessary, pointing out air is already 78 percent nitrogen. Others said it helps, getting into chemistry, physics, sharing charts and discussing how nitrogen molecules are slightly larger than air molecules resulting in a tire losing pressure at a slower rate.
One of my favorite answers was from Kevin who said the best thing you can do for your tires is carefully monitor your tire pressure as you're out there on a trip.
Finally, I'd like to share one of my favorite posts: One beautiful campground.
Carl is camping at the Watchman campground at Zion National Park. Carl said he hit the weather just right and shared some pictures of his site.. And wow, was it ever beautiful.
That is what camping is all about!
Interview of the Week – How to Find Weird Roadside Attractions
Our guest this week is Ken Smith, one of three authors of RoadsideAmerica.com "Your online guide to offbeat tourist attractions."
Roadside America has been around since 1996. It's a website, app and book publisher that is full of odd and hilarious travel destinations — over 15,000 places in the U.S.A. and Canada — ready for exploration.
It's meant for backroad travelers, those who love the quirky, weird and fun sights and attractions off the beaten path.
You can browse by state, search by keywords or city, or just wander the backroads of their offbeat attraction stories and tips.
Be sure to listen and watch Ken's interview with the players above or through your favorite podcast app.
RV News of the Week
Alligator bites man's leg off at Florida RV resort
A man staying at Florida's Great Outdoors Nature, RV and Golf Resort lost his leg after an alligator bit it off at the sprawling 2,800 acre resort.
The man, 72, was apparently walking near a canal on the property in Titusville, Florida when a gator got a hold of him and bit. The man was flown to an area hospital and his right leg had to be amputated from the knee down.
Meanwhile, the Florida Fish and Wildlife descended, tracked two alligators on the property, and shot them. One of the gators, when captured, had a human foot and partial leg in its mouth.
Alligator attacks are rare, but it is mating season. To see the full story click here.
A man is in critical condition after his travel trailer was blown around by strong winds at Alabama's Gulf State Park last week.
His trailer was blown across the road, and ended up upside down, against another camper. The man was reportedly blown out of his trailer and found trapped under it. He was in critical condition. Another person was also hurt but few details were reported about the second person.
It appears from pictures that the trailer was an Alto – a new, lightweight travel trailer made in Canada.
Gulf State Park is a popular campground in Gulf Shores on the beach. The strong winds were part of a storm that blew through the area, downing tree limbs and causing power outages.
To see our story on the best RV weather apps for travel, click here.
Google Maps is planning to make visiting national parks easier to navigate on its platform.
Instead of seeing a massive green spot when you arrive at a national park, as in the past, beginning this month, the popular program will offer info on key attractions, popular trails, entrances, and park amenities (think bathrooms).
And since many national parks have spotty – at best- cellular service, the platform is also providing a way to download a map or other information and store it so it can be accessed later in areas with no cell service.
To see our story on 13 favorite national parks for RVing, click here.
A Colorado company is accused of stealing money by pocketing the profit made by selling RV's on consignment and failing to provide necessary paperwork (like titles) to those who purchase the RVs.
Bob Scott R.V. was in the news after being accused of financial irregularities involving 13-15 people. Some accuse the company of keeping the money made by selling their RV, and then going out of business. (To see full story click here).
Selling an RV on consignment is a popular choice, but there are other options. To see our story and hear our podcast with tips on how to sell your RV, click here.
Speaking of national parks, if you are planning to visit one this Saturday (April 22), admission is free because it is the first day of National Park Week.
Many special events are planned to celebrate the nation's national parks between April 22-30. Each day of the week has a special theme like discovery, tradition, inspiration and fun. And each park throughout the country is encouraged to plan special events around that day's theme.
Check out the park near you for a listing of special activities.
And if you are looking for the nine best national parks to RV in solitude, check out our story here.
RV Tip of the Week
Time now for the RV Tip of the week from certified RV Inspector Brenda of Queen Bee RV.
Brenda's focus is on educating RVers on how to care for their RVs – especially women RVers – and she is a regular contributor to the podcast, sharing her expertise with our entire audience.
Here's Brenda.. The RV Queen Bee… with this week's RV Tip.
Critical questions to ask yourself when thinking about where to store your RV
You might already have the wheels turning on your RV purchase, and unless you plan on being a full-time RVer, you need to consider one very important item: where will you store this thing when you are not camping? Or, maybe the storage mystery is the one road block that is keeping you from making the purchase at all!
Here are a few ideas to consider when you are thinking about where to store your RV:
Security – whether a storage facility, a relative's property, or your own driveway, think through how accessible the RV might be to those looking for an easy opportunity to steal the whole darn thing. And, be thinking about what you are willing to leave stored in the RV between trips versus unloading the contents each time. PS: keep weather conditions in mind here, too – things can melt and freeze!
Will the rig be under a cover of some sort – this can protect your roof, sealants, exterior, tires and overall investment.
Is there an electric hook up available – this will be to keep your batteries charged between trips. If not, consider leaving them on a battery minder or trickle charger or removing them to take home to charge.
Will pests and rodents have access while you are away – these guys can wreak havoc on electrical wires, fabric and pillows, plus they will leave a big mess to clean up next time you are ready to hit the road.
Are your tires on a solid surface and how will you protect them – parking on grass or in areas prone to mud can make for a difficult getaway and is also not good for the overall condition of your tires. In addition, UV rays are one of the most damaging enemies to your tires – so keep them covered.
Distance to and from your residence – nobody likes driving so far to pick up the RV that it feels like a big chore. Make it close and convenient.
Accessibility when you want to get to it – whether at a storage facility or a friend's property, can you access it 24/7 and will this be an inconvenience if you can not?
Cost – free is the best, but if you choose a storage facility, prepare to pay an average of $50-$200/month and sometimes more depending on your location. These facilities will oftentimes be gated and have security cameras.
There are loads of options and hopefully these tips will get you started on this important part of RV ownership. I will see you next time on another episode.
RV Travel App of the Week
Time now for the RV App of the Week segment, taken from the pages of NewTravelTech.com – our sister blog that celebrates the many ways technology enhances the travel experience.
This week's app is a familiar one to many –Waze
Waze gives all the different mapping apps a serious run for their money for everyday and standard travel. It uses crowd-sourced data to route your trip and provide real-time traffic updates. Its effectiveness in finding the quickest travel route around traffic makes it extremely popular in urban areas.
Its popularity grew so quickly after launching, in fact,so much so that Google realized it should acquire it, which it did in 2013.
Since its data is crowd-sourced, it isn't necessarily the best app for remote or less populous areas. It needs crowds, after all, to be at its best.
One of our favorite uses of Waze is planning our travel through big city rush hours. It lets you know the best time to leave and the most efficient route. And because it's community-based, you'll always be in the know about traffic conditions and road closures.
RV Question of the Week
QUESTION: Can I legally dump my grey water on the ground while boondocking? I hear lots of confusion about this? Jeremy
ANSWER: We just published a detailed article about dumping grey water on the ground on our RV Lifestyle blog. It's a controversial topic and we'll link to the article in the shownotes (post is here) but the short answer is you really shouldn't. In the vast majority of states, in fact, it is illegal.
There are good reasons for gray water dumping regulations. Notably, gray water can contain chemicals and other contaminants that can harm the environment and pollute rivers, streams, and groundwater.
Dumping gray water on the ground can also attract wildlife and insects, leading to environmental imbalances. That's why sink water and dishwater, especially, are almost never allowed to be dumped on the ground.
We recommend Hollywood Racks for your RV Lifestyle…
The RV Rider bike rack for RV's, motorhomes, and fifth wheels carries 2 E-Bikes (up to 80 lbs. each) on the back of an RV Motorhome, a 5th wheel, or a flat towed vehicle. A 2″ hitch is required for this rack. Special features include universal heavy-duty wheel holders for heavy load carrying capacity. These wheel holders can fit any tire up to 5″ wide and include a ratchet wheel strap. Locking frame grabbers secure the bikes in place. This bike rack is not compatible with bumper pull, travel trailers or bumper mounted hitch receivers. Enter the promo code RVLIFESTYLE to save 10%
If you want to look at everything they offer, not just the RV Rider rack — go here and explore all the options!
---
---
---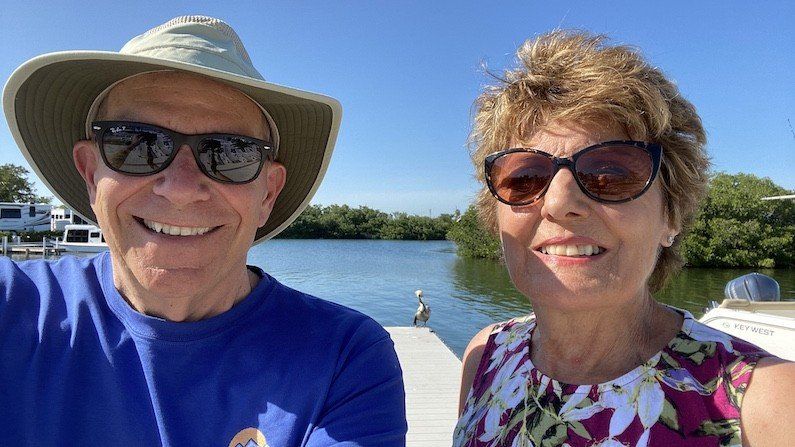 Curious about the gear, gadgets, accessories, and RV products Mike & Jennifer use and recommend?
On this RV Lifestyle Travel blog, our RV Podcast and our RV Lifestyle YouTube Channel, we mention all sorts of RV-related products and gear that we use, So we created a special page that links to them. We update this all the time.  CLICK HERE to go to it directly.
---