This week we offer a detailed guide to choosing the best RV Internet for you. For RVers, there is no one solution for everyone. And this week, we detail all the options available.
Our guests are Chris and Cherie from the Mobile Internet Resource Center. Last week, they shared the pros and cons of using Starlink in your RV. We continue the discussion this week in Episode 462 with a breakdown of all the other options, from cellular to Wi-Fi.
Also in this episode:
What it's like when a Tornado touches down right next to your campsite
The Best State Parks in Every State
The RV News of the Week and your questions
You can watch the video version from our RV Lifestyle YouTube Channel by clicking the player below.
If you prefer an audio-only podcast, you can hear us through your favorite podcast app or listen now through the player below.
Update:
Hurricane Warning
As this episode is released on Aug. 30, 2023, there's a Hurricane coming – the first of the year for the Gulf Coast. Tropical Storm Idalia is forecast to strengthen into a major, Category 3 hurricane before making landfall on Florida's Gulf Coast, perhaps early Wednesday, the day this podcast is released. As we record this episode, it looks like it is heading to the Big Bend region of Florida.
If you are camping there, we hope you got out of town as soon as you heard the predictions. And for everyone else along the Gulf Coast of Texas, Louisiana, Mississippi, Alabama, and Florida, as well as those on the Atlantic coasts of Florida, Georgia, and the Carolinas, pay attention to the weather. This is expected to be a very active year. Hurricane season runs to November. Move out of the area as soon as the forecasts have you in the target zone.
Complicating this situation is news of contaminated gas distributed and sold in the areas affected by this storm over the past few days.
RV Lifestyle Feedback
COMMENT: Everyone keeps talking about Buc-ee's and how they're so cool. But I don't think I've heard you and Jennifer talk about it. We tow a 26-foot trailer. Is it worth pulling in? – Lawrence
ANSWER: We are not big fans of Buc-ee's. They are too big and too crowded. There's no space for RV parking and they are really aggressive in making sure people gas up, shop and then move along. Someone just posted on our Facebook group the following. "My wife was at the Calhoun location and had filled up, bought a few things and walked the dogs. She was traveling in our minivan. She tries to stop and get a few hours sleep when traveling from Fl to Ky. Security guard came up to the van and told her she could not park and sleep there which we have done many many times even in the coach. He said it was a new policy. No loitering. That was at 2 am!!!"
Seriously? We've heard other similar reports. That's not very RV-friendly. So we don't stop at Buc-ee's. And for you, towing a 26-foot trailer, I think you'd find it challenging to get in and out of a gas pump, let alone find a place to park if you want to shop or go in to eat.
SOCIAL MEDIA BUZZ – Wendy Bowyer
Wendy Bowyer reports on the hot issues most talked about this past week on our RV Lifestyle Facebook Group:
I've shared a lot of posts with you about all sorts of creepy crawly creatures people encounter while out there camping, but we never had one like this.
Last week April took a picture of a black spider with a big egg sack and asked: "What kind of spider is this? Poisonous?"
The consensus was the spider was a black widow. It even had a dead male on the web.
Apparently, not all black widow spiders look exactly the same in North America – so there was some back and forth on this, but the consensus was it was a black widow.
April said the spider was in the propane area of her rig. After hearing from the group, April's husband got that spider, web, and egg sack out.
And hopefully they have moved to a new campground so when those babies hatch, they will be nowhere near.
Next I'd like to tell you about something that happened to our member Brian last week.
Brian was camping at a Yogi Bear Jellystone Campground in Pennsylvania when a tornado hit!
Fortunately Brian and his family are fine, but that tornado really caused some damage. Brian took pictures and shared them with the group.
You could see the fallen trees lying on RVs, trailers, and a pickup truck. Also, lots of pictures of huge trees fallen across the road.
Apparently, the tornado hit around 2:30 am when everyone was sleeping – Brian said it was nuts – there was no warning.
It was great to see the community really rallying around Brian, offering their prayers and sympathy and support. Can't imagine camping through something like that.
Then finally, I have to share with you a post from David.
David has a Class A. The paint and design on it was looking a little faded, so he repainted the whole thing and shared before, during and after pictures with the group – and wow! Did he ever do a good job!
David said it took about 200 hours to paint the whole rig and it was a much bigger project than he realized when he started.
Lots of people asked him technical questions about how he did it.
He said about 80 percent of the work was prep-work. He did it in his driveway. And if you are listening to this as you drive along the road, you need to go back to the show notes when you aren't driving and take a look.
RV INTERVIEW OF THE WEEK – Choosing the Best RV Internet
This week, we bring you Part 2 of our interview with Mobile Internet Experts Chris and Cherie of the Mobile Internet Resource Center.
Last week, we talked about Starlink and the pros and cons of using it for RV travel.
This week, we turn to other solutions, ranging from Wi-Fi and piggybacking off your smartphone to dedicated routers and sophisticated multi-carrier connections.
Just as there are many different types of RVers – casual and weekend travelers, long timers, fulltimers, digital nomads who work from the road, and boondockers and off-grid campers – there are many different ways to get Internet connectivity for your RV.
The pair walk us through all the options:
Using campground or public wifi
Using your smartphone as a mobile hotspot
Data cards like Mi-Fi and the Jetpack
Routers – from the basic to very sophisticated systems that can access multiple cellular plans, wi-fi, and satellite
For those who work from the road and travel a lot, they suggested choosing a monthly data plan of 300-500 GB. For weekend warriors and those who may want to stream a movie, 50-100 GB a month may prove adequate.
They also discussed the red flags to watch out for when buying service from a cellular reseller.
Hopefully, this interview will get you excited by all the possibilities and help you find the right solution for your needs.
RV NEWS OF THE WEEK
Heading out of town this Labor Day weekend to squeeze in a long camping trip? You aren't alone!
AAA has released its annual forecast of the busiest times to be on the road and that is Thursday (Aug. 31) from 2 pm to 6 pm with Friday, Sept. 1 from 11 am to 9 pm a close second.
The RV Industry Association is anticipating 16 million Americans will go camping this Labor Day weekend, and 38 million to go camping this fall.
We are not planning to camp this Labor Day, but we definitely plan to get out this fall. To see our list of five excellent places to see fall color, click here.
A man received thermal burns after walking off-trail in a thermal area at Yellowstone National Park, and is also facing federal criminal charges and is banned from Yellowstone and Grand Teton national parks.
The Michigan man is charged with being under the influence of alcohol or drugs to the point he is a danger to himself or others, and with traveling off-trail in a park thermal area.
The thermal areas in Yellowstone are fragile, dangerous to walk on and off limits.
The outrageous, foolish and downright dangerous behavior of some visitors to Yellowstone was the topic of a recent conversation we had with a Yellowstone ranger. To learn more click here.
The wild horses that roam North Dakota's Theodore Roosevelt National Park would be removed under a proposed National Park Service plan attracting much controversy.
Many visitors to the national park see the horses as a positive tie to the old West, and a highlight of their visit.
But the NPS is considering classifying the horses as livestock. This would enable them to capture the horses and give some to tribes, auction others, or use reproduction techniques to keep the horses from reproducing but permit those there to finish out their days in the national park.
Currently, there are about 200 wild horses in the park, but officials say 35-60 would be ideal. To read more on the issue, click here.
Theodore Roosevelt is one of our favorite National Parks. To see why, click here.
Ever wonder what is the best state park in every state? The magazine Travel & Leisure just released its ranking (click here) and we have to say we agree with many of their choices.
The magazine listed Gulf State Park as the best in Alabama in large part because of its white sandy beaches on the Gulf Coast. For Arizona, Lost Dutchman State Park, about 40 miles outside Phoenix was chosen because it boasts beautiful red rock formations.
Starved Rock State Park was the choice for Illinois. We have not been there but seeing its waterfalls, sandstone canyons and wooded trails, we think maybe we need to make it a stop.
Porcupine Mountains Wilderness State Park was the choice for Michigan. (It is one of our favorites!)
State parks are some of our favorite places to camp when out exploring. Here are two of our favorites for Utah.
RV QUESTIONS OF THE WEEK
QUESTION: How is Bo doing now? We are thinking about getting the spoton satellite collar. What kind of tips can you give us? Anything we have to be aware of? Any quirky things? Thanks for your help. – Stephanie
ANSWER: She's talking about the SpotOn Collar that uses satellites to monitor your dog's position and to sound a tone or send a mild shock to him if he strays outside the boundary of a geo-fence you set on a smartphone app. You can set as many so-called fences as you want. We have one on our 10 acres of Michigan property and one for our 5 acres of camping property in Tennessee.
It works great. We signed up for the optional cellular plan that sends an immediate alert to my phone if Bo goes outside the boundary, and it then tracks him so we know where he is.
This is not for small lots. To work well, the area you fence with the satellite needs to be a minimum of a half acre in size. It's also quite expensive. It costs about $1,300, although we can get you $100 off if you use the promo code RVLIFESTYLE100. We think it's worth it because we spend a lot of time at both spots and we like to let Bo run free.
Check it out at https://rvlifestyle.com/spoton
QUESTION: We're hooked up to 30 amp shore power at a campground and my breaker keeps tripping. I'm only running AC (It's 100 degrees out there), our fridge and the water heater. There are no other spots here I can move to. What could be causing this? – Jimmy D.
ANSWER: I bet you are running the water heater on electricity. Switch it off and use propane for the water heater and only turn it on when you need it. With 100-degree temps, your AC compressor is really working hard. The water heater when run on electric takes up a lot of power and the 30 amp connection just can't keep up.
Where will you be RVing next?
New York's Adirondack Park is immense. In fact, it's greater in size than Yellowstone, Everglades, Glacier, and Grand Canyon National Parks combined.
Created by New York in 1892, it is a constitutionally protected "Forever Wild" area and contains 85% of all wilderness in the eastern United States.
There are about 3,000 beautiful clean lakes in the region, surrounded by lush forests and dozens of small charming towns to visit.
This ebook is a seven day guided exploration of New York's Adirondack Park and Finger Lakes.
We provide a suggested route and itinerary, links to multiple campgrounds and boondocking spots, and the best spots to see along the way.
Don't plan your trip to Upstate New York without it!
---
---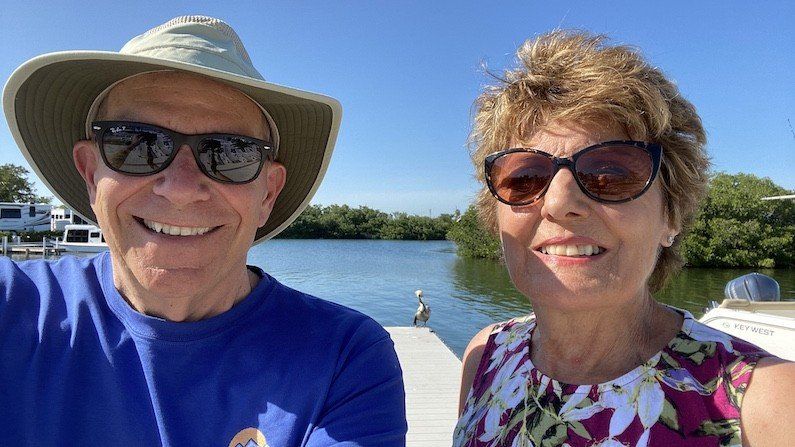 Curious about the gear, gadgets, accessories, and RV products Mike & Jennifer use and recommend?
On this RV Lifestyle Travel blog, our RV Podcast and our RV Lifestyle YouTube Channel, we mention all sorts of RV-related products and gear that we use, So we created a special page that links to them. We update this all the time.  CLICK HERE to go to it directly.
---
Podcast: Play in new window | Download (Duration: 1:02:19 — 36.3MB) | Embed
Subscribe: Google Podcasts | Spotify | Stitcher | Email | TuneIn | RSS