When it comes to the rules of camping, we've found that the most important are unwritten.
We've put in hundreds of thousands of miles on the road in our RV in the last 11 years and learned a lot about the RV lifestyle along the way.
Yes, of course, there are rules for camping.
Written rules of camping are straightforward: don't burn trash, clean up after your dog, don't cut down trees, leave nothing but footprints, etc. Usually, they'll be posted as rules for camping when you check in. You'll see them.
The unwritten rules of camping are those we've learned through trial and error — and yes, plenty of error. Think of these unwritten rules of camping as common-sense etiquette.
We've put together a list of the top 10 unwritten rules of camping for you to easily reference here. And number 3 gets a lot of people commenting!! Which of these 10 unwritten rules give you the most trouble?
Rules of Camping #1: Don't Park Right Next to Another Camper
There are times you're going to have to, especially if you're in a campground and there's just no other room except next to somebody. That's fine. But if you're in a campground and there are two empty spots on both sides of somebody who's already there and there were other empty spots down the way, take one of those other empty spots.
Sometimes, of course, you are assigned a spot. But often, you can choose.
In these days of social distancing, space between campsites is not good just for privacy reasons, it's also the healthy thing to do.
Let people enjoy that space. And you'll get some extra space too. It's kind of like when somebody is in a fishing hole and you park your boat right next to him or her, it's just not good manners.
Boondocking is a great way to have all the space you wanted. Here are some boondocking resources to help you find non-campground and free spots.
Rules of Camping #2: Don't Leave Your Porch and Outside Awning Lights on All Night
People want to get in the dark and quiet, see the stars.
They don't want to see your porch light or your cute little flamingo or lantern lights or whatever. Especially all night long.
If you want to leave it on, you know, right after dark for a little bit, when everybody's still up, that's great. But other than that it just causes light pollution all over the place.
Same with those automatic lights. If you are out boondocking and you feel more secure with the light, fine.
But when you have neighbors, please don't.
Rules of Camping #3: Don't Smoke Cigars
If there are other campers within 100 feet of you, nothing fouls the air like a cigar.
Now I know some of you guys do love your cigars. But listen — they stink.
They really do.
If there's nobody around that's fine, but don't smoke cigars in a campground. The smell is offensive to the vast majority of people.
And now that it's legal, we should also say don't smoke marijuana near others, either. Smoking weed next to others is really rude. It smells like a skunk, for crying out loud. Be considerate.
If you must, go boondock somewhere all by yourself. But in a campground, your smoke from cigars and marijuana affects the whole community.
Rules of Camping #4: Don't Arrive and Set Up at a Crowded Campground After 10 pm.
This is a big one. That's because it's quite rude to come in at midnight, 1 a.m., etc., pop open some adult beverages and start setting up your camp.
Trust me. We've had those experiences from neighbors.
They're particularly problematic on Friday nights when everybody leaves the city for camp.
You have to think of your neighbors in a campground because a campground is a community.
So one of the unofficial rules of camping is don't disturb your neighbors.
If you're going to arrive after 10, consider staying a Walmart and then come in first thing in the morning.
Here are three more resources that will help you as you read these unofficial rules of camping:
Rules of Camping #5: Don't Drive in the Left Lane Unless Passing
This is a rule to follow before you get to the campground.
You shouldn't get in that left lane unless you're passing.
If you do, you are causing a traffic hazard out there. You're making people angry and you're giving all RVers a bad name.
So don't drive in the left lane unless you're actively passing somebody. Also, it's actually illegal in some states.
Rules of Camping #6: Always Park Your RV in the Back Rows of a Parking Lot
This is a really good policy to have. RVs take up extra space. Some small Class B campervans are able to fit in one space. But anything larger in a motorhome (Class C, B-plus or Class A coaches), need at least two spots.
So go to the edge of the lots.
It's just considerate to everybody else and it'll stop future rules from businesses about prohibiting RVs in parking areas.
If you're fit and able, park in the back row. Besides, you've probably been driving a long time and could use a good walk.
And make sure you get permission first, or you might just get a visit from the local police.
Rules of Camping #7: Don't Play Music or Watch TV Outside Unless the Volume is Low
Yes, we know this can be hard to do sometimes. After all, many rigs have TVs on the outside these days.
But isn't getting away from the world the whole point of camping?
Blaring TVs, music, and entertainment is right up there with cigar smoke.
We go camping to enjoy nature.
Anyway, during the day is fine, but if you're up and watching the late shows outside your rig?
Come on.
Rules of Camping #8: Don't Expect Immediate Service from an RV Dealer (in the event of a breakdown)
I've got to give you a little reality check here: If something breaks on your RV, do not expect immediate service from an RV dealer because they are almost always busy. We've learned this one the hard way to a couple of times.
Instead, try mobile RV repair techs. They are more responsive and usually can fix anything wrong with most RVs.
They come when you call. It's a great service they provide. And we have found those guys to be incredible. Much less hassle involved than when taking it to an RV dealer.
I don't want to trash dealers. It's just that mobile techs exist only for repairs, and they can usually take care of your problems.
Get the Home Study Course today and worry about the road, not the repairs!
Every time you move your RV it's like driving through a hurricane during an earthquake. Parts break and many items need to be maintained, this program will show you how you can save time and money by gaining the confidence to take on the majority of the issues you'll come across. Don't get caught with your RV in the shop! Learn how you can maintain and repair your RV at your own pace and at the most convenient time for you! This course is produced by the National RV Training Academy.
Rules of Camping #9: Your AC has Limitations
One of the great RVing myths is now that we have solar and extra battery capacity, our air conditioners are going to be super more efficient. Sorry, it's just not true.
It's like when you're in a car: It heats up quick. An RV is like a tin can. I mean, it really is. And even though you can do things like put Reflectex in your windows, keep the drapes closed and run like your roof vent fan, the AC is not going to get you down to the levels of seeing your own breath — especially if it's humid.
Rules of Camping #10: Finding Camping Spots is Getting Harder
To consistently find an overnight spot, you're going to have to learn how to boondock.
This is another one we've learned the hard way.
Why? RVs continue selling well despite the fact that you don't see hundreds of thousands of new campsites opening every year.
That means crowded campgrounds. It's become more and more difficult to get a campsite without a reservation. And that's why we like boondocking on national forest and BLM land.
That's the way to go. So figure it out, get your maps, get ready.
Those are our 10 unwritten rules of camping. There are probably more, you may have a couple more that you'd like to add. You can do so in the comments below.
Also, if you'd like to watch a video version of our Unofficial Rules of Camping, here's one from our RV Lifestyle YouTube Channel that has been watched over a half a million times!
What are YOUR unwritten rules for camping – especially for RVs? Let us know in the comments.
---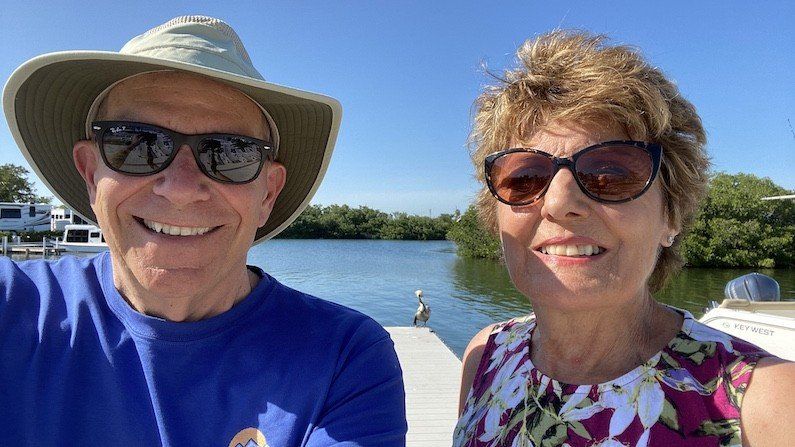 Curious about the gear, gadgets, accessories, and RV products Mike & Jennifer use and recommend?
On this RV Lifestyle Travel blog, our RV Podcast and our RV Lifestyle YouTube Channel, we mention all sorts of RV-related products and gear that we use, So we created a special page that links to them. We update this all the time.  CLICK HERE to go to it directly.
---
---
---