With such similar names, the difference between RV inverter and converter can be confusing, and they do similar things but in opposite directions. Let us explain:
RVing takes your camping to the next level. It is the closest thing you can get to "home" while relaxing in nature.
When you RV, you can cook, watch TV, and even wash your clothes! But how is this possible?
It is often all thanks to an RV converter and inverter.
Many think RVing is as simple as pulling up and plugging in your rig. They are only half right!
After RVing for a while, camping is as easy as pulling up and plugging in. But a lot is happening behind the scenes to make that simple act possible.
For your rig to run simple things, it must have a converter. If you want to run large appliances without shore power or propane, your RV must also have an inverter system.
Keep reading to learn what converters and inverters do, when you will be using an inverter, what type of inverter set-up you need, and what they cost.
Hey, if you buy something through my links, I might get a little something-something as a thank you. No extra cost to you, promise! Read our full affiliate disclosure here.
What Is an RV Converter?
All rigs have a converter. That is because they are necessary to run your RV. The converter helps operate all of the 12-volt DC components and systems.
It converts AC power to DC power. You can remember this by AConvertertoDC.
When you plug your rig into a 30-amp or 50-amp RV outlet box at a campground, you receive 110-volt AC power (or sometimes with a 50 amp hookup, 220v). Your RV converter converts this power to the 12-volt DC direct current necessary to run your rig's lights and other appliance-type items.
It also charges your 12v or coach batteries when your rig is plugged into shore power.
RV Converter Summary
All RVs have one
AC –> DC
110v (220v) –> 12v
Charges your 12v coach batteries from shore power
Runs AC appliances indirectly from shore power
When Do I Use an RV Converter?
You use an RV converter whenever you're plugged into shore power. This includes campground power pedestals or house outlets.
So, if you are a "campground camper," an RV converter is likely enough for you. As long as you're plugged in, your converter will provide the power you need.
It's when you go off-grid when you need an RV inverter. If you're only "off grid" in transit between campgrounds and home, propane or battery power will usually suffice.
What Is an RV Inverter?
Not every RV has an inverter. Most newer ones will come with one preinstalled from the RV manufacturer, but many older or very inexpensive ones don't and getting one requires an after-market purchase and installation.
The inverter is the inverse of the converter. It converts DC power to AC power. You can remember this by "inverting the alphabet" from D to A (DC -> AC).
An RV inverter will take your battery's low voltage, like 12-volt DC, and electronically change it to 110-volt AC (or 220v). 110-volt or 220v AC operates larger appliances in your rig, like the air conditioner, microwave, outlets, refrigerator, and water heater. Some TVs, personal computers, and coffee pots may also require an inverter.
The more powerful the inverter, the more you can run. Many RVers often upgrade their inverters after market, especially when adding solar and lithium batteries. The solar system charges your coach batteries, and your inverter uses those coach batteries to run appliances and electronics.
RV Inverter Summary
Usually aftermarket addition
DC –> AC
12v –> 110v (220v)
Runs AC appliances from coach battery bank
Coach battery bank is usually recharged with solar
When Would I Need an RV Inverter?
There are several different scenarios when having an RV inverter is necessary. The following are three scenarios you might want to have an inverter.
1. Electricity While Traveling
When you travel, you can operate a receptacle or outlet without plugging into shore power. For example, if you have to plug in a CPAP while RVing, you can use an inverter from the road.
An inverter also allows you to keep the food cold in the refrigerator if you run it on the electric option (not propane).
2. Using Your Rig for Short Overnight Stops
Inverters are for going off-grid, and this includes overnight stops where you don't have shore power.
For example, have you ever dry camped overnight at a Cracker Barrel or Walmart? Or stay at any of the unique and fabulous options offered by Harvest Hosts?
If so, you'd use the inverter to run your appliances for these stopovers. (By the way, Using this link and the discount code: RVLIFESTYLE15 you get 15% off Harvest Hosts annual membership.)
3. Going Off Grid
Another reason to invest in an inverter is to have an ample off-grid set-up that includes solar power. This allows you to run your appliances, A/C, etc. for days or weeks at a time without connecting to shore power.
You will need a large inverter to utilize the energy produced by solar panels. The inverter takes the variable direct current (DC) produced by the panels and transforms it into the alternating current (AC) used by your appliances.
What Type of Inverter Do I Need?
There are different inverter sizes and set-ups available to you, rated by their wattage output.
There are small stand-alone units that come with only a single receptacle. They can range to substantial units, like 3,000-wattage units, that work best with a solar and lithium battery set-up.
Some inverters come as combination units and act as a charger as well.
You will want to do an energy audit to figure out what type of inverter setup you need. To do this, list all the 110v or 220v AC appliances you use in your RV.
Take that list to your RV dealership, RV solar technician, or favorite repair shop. They can match you with the proper inverter setup for your needs.
What RV Appliances Typically Run on 110Volts AC?
Most larger RV appliances run on 110 Volts AC. That means you will need an inverter for your rig. Those appliances include:
Refrigerator (in the electric mode, not propane)
Rooftop air conditioner
Microwave
Whatever you plug into your power outlets (i.e. coffee maker, laptop, crockpot, etc.)
The DC system operates more minor things like lights, fans, water pump, and radio. When doing your energy audit, consider the appliances and electronics you plug into the power outlets. Those need to factor into what size inverter you buy.
How Much Do RV Inverters Cost?
As with most RV products, there is a wide range of costs depending on your needs. Small 1,000 watt inverters can cost in the field of $100-$200.
On the opposite end of the spectrum, very large inverters can cost well over $1,000.
It all comes down to finding the proper inverter setup for your needs. You can go smaller if you do not have much to operate. The best thing to do is do the energy audit of your unit and talk to an RV specialist to find the proper setup for you.
The Great Lakes region is filled with beautiful vistas, welcoming towns and villages, and fabulous places to camp, hike, and explore.

We were so taken with the adventure of this trip that we just knew we had to write one of our Adventure Guides about it!

But instead of the usual 7 Days that some of our other guides can be done in, with this one, we're suggesting that you budget more time. This is why we are calling it a "Tour" instead of a 7-Day Guide! There are 86 pages in this new ebook.
In this new Great Lakes Shoreline Tour we cover in detail:
Notable U.S. Cities/Towns along each Great Lake (US side) like; Watertown, Grand Island, Geneva-on-the-Lake, Vermillion, Mackinaw City and so many more!
What to See/Do Around EACH Lake like; Ocqueoc Falls Scenic Site, Les Cheneaux Islands, Antique Boat Museum, and many, many more places including BONUS side trips!
And good Campgrounds for each Lake (US side) – at least 4 or 5 for EACH Lake! With all the info you need to set up reservations.
Interested? 
---
---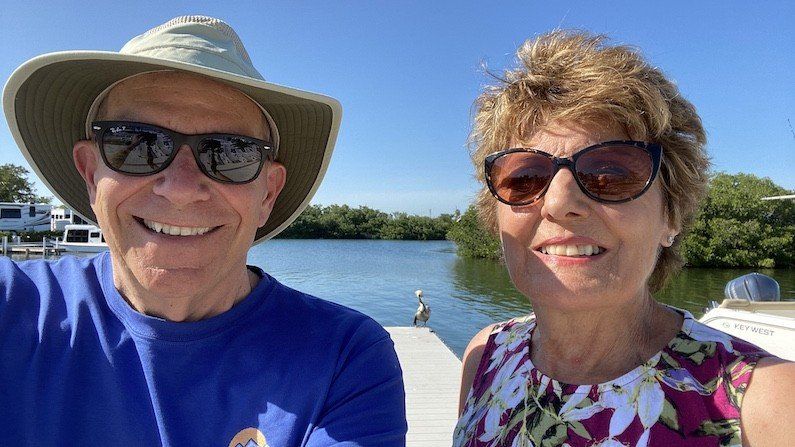 Curious about the gear, gadgets, accessories, and RV products Mike & Jennifer use and recommend?
On this RV Lifestyle Travel blog, our RV Podcast and our RV Lifestyle YouTube Channel, we mention all sorts of RV-related products and gear that we use, So we created a special page that links to them. We update this all the time.  CLICK HERE to go to it directly. Have you caught one of our Amazon LIVE events yet? Just go here and Follow us – to be notified every time we go live.
---