The idea of full-time RV living is a dream for many. The freedom to travel wherever you want, whenever you want, and without any financial constraints is an appealing prospect.
However, as with any major lifestyle change, it's important to be prepared and understand the realities of full-time RV living.
That's why we've compiled a list of tips from real RVers who have experienced the highs and lows of full-time RV living.
We use affiliate links and may receive a small commission on purchases at no added cost to you. Thank you for your support. You can read our full affiliate disclosure here.
Real RVers' Tips for Full Time RV Living
A member of our RV Lifestyle Facebook group recently posted about joining the RV lifestyle. She asked the 160,000+ members of our community for advice.
Sharon posted: "Hey guys!! Our dreams are coming true!! We are going to be full time in March!! If you could offer one piece of advice, what would it be?"
Lots of seasoned RVers responded with great advice. Some told her how to avoid camping mistakes, others gave travel advice, and others gave emotional and relationship advice. All in all, it was a very helpful and insightful conversation.
Most of the comments can be summarized in the following tips…
Tip #1: Rent an RV Before You Commit to Buying One
Buying an RV is a significant investment, so it's important to make sure it's the right choice for you before committing. One of the best ways to do this is to rent an RV and take it on a short trip.
This will give you an idea of what it's like to live in an RV and help you determine whether it's something you can see yourself doing long-term.
This can also help you determine what kind of RV you want, how much space you really need, and what amenities you can't live without. You may want to check out our RV Buying Secrets to learn more.
Tip #2: Think Like a Minimalist
When you're living in an RV, you have limited space, so it's essential to adopt a minimalist mindset. This means getting rid of anything that you don't absolutely need and want, and finding creative storage solutions for the things you do.
An RVer named Bill had good insight on this. He said, "Purge now – deeply; If you think you "might use it someday," you probably won't and it will only add to your clutter and frustration."
Bill hit the nail on the head. We have a couple of articles to help with this:
Tip #3: Expect Your Relationship with Your Travel Companion to be Tested
Like what you see in these videos? We'd appreciate it if you would Subscribe to our YouTube Channel (easy to do right here) and consider "ringing the bell icon" to be notified of any new video from us. 🙂 Thanks!
Living in an RV with someone can be a challenging experience, even if you have a strong relationship. You'll spend a lot of time together in a small space, which can lead to tension and arguments.
People have asked us how we've traveled together in a small campervan for so long. We start to answer with this warning: Your relationship in an RV usually expands on your current relationship. A good relationship gets better, but a bad relationship usually gets worse.
So, don't expect an RV to fix existing relationship problems! You can't run away from those problems in an RV. In fact, that'll drive you straight into them.
We had a good relationship to start with, BUT we still had to come up with rules for couples to survive living in a small space together. You can watch the video above and read How to Keep the Romance Alive While RVing.
Tip #4: Don't Expect Moral Support for Going Full Time
Not everyone will understand or support your decision to live in an RV full-time. This is actually one of the cons of our 10 RV Life Pros and Cons (Beyond the Obvious).
Some family members and friends might question your choices or express concern about your safety. It's important to remember that this is your life, and you need to make the best decisions for yourself.
Jiména summed it up nicely in her comment: "Not everyone will understand you or your decision. Don't become hardened by people's disapproval, it takes a lot of sacrifices to live on the open road. Focus on the journey, expect the failures, grow as you go, and find God along the way."
We recommend the following articles to help you deal with this issue:
It's also helpful to find a community of like-minded people who can offer support and advice when you need it.
Tip #5: Learn Basic RV Maintenance
When you're living in an RV full-time, you become responsible for its upkeep and maintenance. This means learning basic RV maintenance skills, such as how to check the oil, maintain tires, and troubleshoot common problems.
It's a good idea to take a basic RV maintenance course before hitting the road. Not only will this help you keep your RV in good condition, but it can also save you money (& time!) on repairs in the long run. There's a BIG shortage of RV mechanics, and any repairs and maintenance can take weeks, if not months!
Here's a great online course to check out…
Get the Home Study Course today and worry about the road, not the repairs!
Every time you move your RV it's like driving through a hurricane during an earthquake. Parts break and many items need to be maintained, this program will show you how you can save time and money by gaining the confidence to take on the majority of the issues you'll come across. Don't get caught with your RV in the shop! Learn how you can maintain and repair your RV at your own pace and at the most convenient time for you! This course is produced by the National RV Training Academy.
6. Take Your Time (The 330 Rule)
One of the biggest benefits of full-time RV living is the freedom to travel at your own pace. While it can be tempting to try to see as much as possible in a short amount of time, many RVers recommend taking your time and staying in one place for at least three nights.
We personally follow the 330 rule: stop when you have driven 330 miles or it's 3:30 in the afternoon. This allows you get somewhere while it is still early enough to setup, chill, and enjoy the place when you're not exhausted from driving miles upon miles.
7. Don't Make the Most Common Newbie Mistakes
Many commenters warned Sharon not to make the most common newbie mistakes. (Most of these warnings came from learning the hard way!).
We've written a few articles to help you in this area:
A lot of newbies aren't familiar with boondocking and don't know how to find affordable campsites. We have two guides to help you on that front…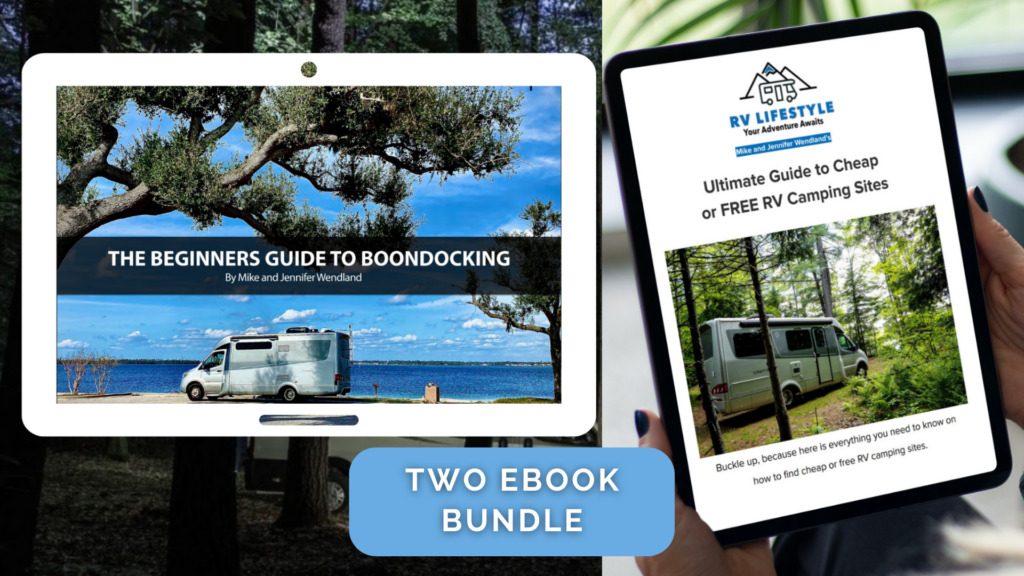 Beginners Guide to Boondocking (one of our most popular ebooks) and one of our newest ebooks, The Ultimate Guide to Free and Cheap RV Camping!
ebook #1: Beginners Guide to Boondocking
We created a 65+-page downloadable digital guide to help you understand the nuances that come with boondocking, the most common boondocking problems, and what you need to do to get your rig "boondocking-ready."
ebook #2: The Ultimate Guide to Free and Cheap RV Camping
Buckle up because here is everything you need to know on how to find cheap or free RV camping sites in the 33-page EBOOK.
---
---
---