In Episode 552 of the RV Podcast, we explore how shared RV knowledge can empower and enrich your RV journey, enabling you to create memories that will last a lifetime.
Also this week we discuss:
Troubleshooting your TV's Coach Batteries
A great pancake recipe perfect for camping mornings
A great app to locate essential services near you
The RV News of the Week, and
When it makes sense to downsize your RV
You can watch the video version from our RV Lifestyle YouTube Channel by clicking the player below.
If you prefer an audio-only podcast, you can hear us through your favorite podcast app or listen now through the player below.
Podcast: Play in new window | Download (Duration: 42:02 — ) | Embed
Subscribe: Google Podcasts | Spotify | Stitcher | Email | TuneIn | RSS
Live from our "Meetup at Mackinac"
This week's episode comes to you from Mackinaw City, MI, at the tip of the Michigan Mitt on the shores of Lake Huron, where our summer gathering – the "Meetup at Mackinac" is in full swing. We're recording the podcast on location from the Mackinaw Mill Creek Campground in between ferry boat excursions to Mackinac Island, hiking, biking, exploring and fudge-tasting.
We have a full complement of campers in every type of RV coming from all across the country. We have some great prizes we'll be giving away, too. A big shout-out to our rally sponsors:
Our Fall Gathering is SOLD OUT
Meanwhile, our fall gathering – the RV Lifestyle Music City Meetup, Oct. 2-5, 2023 in Nashville, TN. is now sold out.
Tickets went fast for this event, which features an evening at the Grand Ole Opry. Add in tours of downtown Nashville, historic sites, great shopping and a vibrant music culture that is truly Americana and this promises to be one of our best meetups ever.
We do have a waiting list. For more information go to:https://rvlifestyle.com/Nashville
RV RECIPE OF THE WEEK – Jerrica Mah
Time now for the RV Recipe of the Week, brought to you by CampingFoodRecipes.com
Here's the editor of CampingFoodRecipes.com, outdoor enthusiast and lifelong foodie enthusiast Jerrica Mah:
Sweet Cream Pancakes & Fruit Salad
Hey Mike and Jennifer and CampingFoodies! Jerrica here with CampingFoodRecipes.com, This week I didn't want you to think that we forgot about breakfast, because breakfast is just as important on a camping trip as any other day.
And I know that a lot of times a go-to for campers is that just add water, pancake mix, which it is really convenient and it's tasty enough to get the job done, but we actually  have a sweet cream pancake recipe that is so much better!  You can even make the dry  mix in advance and then just add the wet ingredients on your camping trip in order to enjoy really  delicious pancakes every morning of your camping trip.
So, we have that easy recipe with storage tips and everything like that on there.  We also recommend on that same camping trip making our fruit salad for a crowd, even if you're not traveling with a crowd! You can make this fruit salad and then just eat off of it your entire camping trip and a scoop of it goes great on those  pancakes as well.
Another great thing about that fruit salad recipe is it includes a sweet fruit dip that is so easy to make and it's so delicious. If you have any little ones that are really picky and it's hard to get them to even eat fruit, just add a little scoop of this fruit dip and they'll be gobbling it down.
So, both of these recipes are great options just to have quick and easy and delicious breakfast and snacks throughout your camping trip. Be sure to check them out!
Also don't forget to go to campingfoodrecipes.com to submit your favorite camping food recipe.
We'd love to hear what you and your family enjoy whenever you go camping. We have an easy form that you can just complete and submit your recipe and then hopefully get to see it featured on our website.
Thanks again and I will see you next week for our camping food recipe of the week!
Our interview guest this week is Wendy Bowyer, who reports on the hot issues most talked about this past week on our RV Lifestyle Facebook Group.
Instead of a taped segment, Wendy joined us for a live conversation from our Northern Michigan meetup on how the shared RV knowledge of our near 200,000 members provides almost instant answers to all sorts of RV questions about maintenance, travel routes, and every other RV lifestyle topic you can think of.
Wendy describes our RV Lifestyle Facebook group as a virtual haven where like-minded adventurers converge to exchange ideas, insights, and inspiration.
From novice road-trippers seeking guidance to seasoned nomads sharing their invaluable expertise, our Facebook group is a vibrant hub for enthusiasts at all stages of their journey.
Whether it's discovering hidden gems along the routes less traveled, optimizing storage solutions within the limited confines of an RV, or finding the perfect camping spot with breathtaking views, our Facebook group acts as an invaluable repository of shared RV knowledge.
RV NEWS OF THE WEEK
Anyone planning to travel to Elko, Nevada this week? If so, you want to beware of the Mormon crickets!
The town was in the news after a swarm of crickets hit, covering walls, roads and everything in their path. Apparently they look like grasshoppers, destroy crops, and sound like rain on a roof.
The bugs don't bite or sting. And they are also apparently swarming in other towns, specifically in parts of southwest Idaho and southeast Oregon. To learn more click here.
Camping World Holdings Inc. announced a first-of-its-kind plan to have some dealerships be dedicated exclusively to selling and servicing a particular RV brand.
The first dealership to operate in this new format is Jayco Morgan Hill in California. The company plans to open, acquire or convert brand-exclusive locations across its network of dealerships, believing this will enhance customer service and lead to growth.
To learn more click here.
A three-year-old who went missing from a Colorado campsite was found at 1:50 am after hours of searching.
The little girl was camping with her family when she disappeared around 8 pm. Her family said they only took their eyes off her for a minute and she was gone. They tried texting for help, but because they were in a remote area with poor cell reception, it took some time for their message to go out.
When rescuers arrived, complete with a K-9 unit and helicopter, they immediately went to work and she was found after about two hours of searching.
Rescuers said the story highlights the importance of not letting small children out of your eyes – even for a minute – especially when camping in remote areas.
A toddler died last weekend at a South Carolina State Park after being struck by a car.
The 1-year-old was in a parking lot with his family when he darted out between two vehicles and was struck by a car. The tragic accident happened at Devils Fork State Park.
A man fell 4,000 feet to his death recently at the Grand Canyon Skywalk attraction.
The overlook is a 10-foot wide, horseshoe-shaped glass bridge that extends 70 feet out over the rim. It provides visitors a glimpse of the bottom of the Grand Canyon and is operated by the Hualapai Nation.
RV Tip of the Week from Brenda of Queen Bee RV
Time now for the RV Tip of the week from certified RV Inspector Brenda of Queen Bee RV.
Brenda's focus is on educating RVers on how to care for their RVs – especially women RVers – and she is a regular contributor to the podcast, sharing her expertise with our entire audience.
Here's Brenda.. The RV Queen Bee… with this week's RV Tip.
RV Coach Battery Troubleshooting Tips
While some RVers associate their 12-volt (DC) coach battery with simple components like overhead lights, the water pump, and vent fans, it's truly one of the most important power sources in the RV. Your 12-volt battery system works in tandem with all of the other power sources by way of thermostats, control panels, and circuit boards on appliances to power items like your heater, furnace, and refrigerator. The 12-volt system is the command center that tells all other power sources what to do.
Here are a few important tips to keep in mind when troubleshooting and caring for your RV's lead acid, AGM, or gel coach batteries.
Are your lights only working when plugged into shore power? The short answer—there's a chance the coach battery is dead and the converter charger is the only thing operating the 12-volt systems. If the coach batteries are older, they're probably not receiving much, if any, charge and the converter is doing all of the work.
Your RV converter charger has several functions. In addition to charging the 12-volt DC coach batteries when the RV is plugged into shore power, it can also assist the batteries in operating certain 12-volt systems that might require more power, like a large slide room. When you are plugged into shore power, the converter will use the 120-volt AC coming into the rig and step it down to 12-volt DC to then operate all of the 12-volt systems in the RV. If the converter is the only reason the 12-volt systems are operative, it's probably time for new coach batteries.
Some RVers complain that their coach battery continues to drain while in storage. So, before putting the RV away for a stretch, you will want to pay attention to battery care. Did you know that the LP detector is hardwired directly to the 12-volt DC coach battery? There are also other parasitic loads, like your TV's antenna booster, some electronic devices, and circuit boards that can drain the battery charge. If you forget to turn off all the 12-volt lights when you put the rig into storage, it won't take long to drain the battery.
Ever wonder if you activate the battery disconnect switch, will that prevent your RV battery from discharging completely? Even with the battery disconnect switch activated, the coach battery will self-discharge up to 1 volt per month. If you're unable to keep it plugged into shore power, put it on a charger when not in use.
Testing your RV's power converter could be a helpful tool in troubleshooting, too. Your 12-volt DC battery will read 12.7 volts or higher when fully charged. When plugged into shore power, the voltage reading should increase by at least half of a volt. This confirms that your converter is operative. You can check it at the battery monitor panel or by using a multimeter. Set the multimeter to volts DC and touch one lead on the negative post and the other lead on the positive post of the battery. The reading should be approximately 13.2 volts DC or higher when plugged into shore power.
Your flooded lead acid (FLA) coach batteries require their own special maintenance to keep them in shape and prolong their lifespan. The FLA battery has water inside, and eventually, the water will evaporate. If you have serviceable lead acid batteries, you'll need to periodically remove the water fill well caps and top them off with distilled water. Water level needs to be touching the bottom of the fill well area and not overfilled. The more you use them, the more water they'll need, so be sure to check them at least every 30 days.
Ladies, are you a female RV Traveler? Want to learn more about safety, troubleshooting problems and maintaining your own RV? Head to www.queenbeerv.com and click on "events" to view the locations of our nationwide women's RV workshop tour – we'll see you there!
App of the Week
Time now for the RV App of the Week segment, taken from the pages of NewTravelTech.com – our sister blog that celebrates the many ways technology enhances the travel experience.
This week's app is called Around Me and it works on iPhones and Androids, even the Apple Watch.
This very handy app allows you to search for the nearest restaurants, banks, gas stations, and drug stores, and even find a museum or movie schedule nearby.
It even lets you search menus of thousands of restaurants.
It's a perfect app for RVers. When you find your favorite place, you can use the app to navigate to the venue: directly within the app or by transferring the result to Apple Maps, Google Maps, Navigon, TomTom, and many others.
RV QUESTIONS OF THE WEEK
QUESTION: My husband and I are going to the US to visit the Bourbon Trail in October. 
We are wondering if we can visit the distilleries by RV? Is there any restriction? Should we park the RV in a campsite and take an uber or taxi? – Maria
ANSWER: Most of the distilleries along the Bourbon Trail have large parking lots with plenty of room for all but the very largest RVs.
I'd say if you have trouble fitting your RV in most campgrounds I'd suggest not bringing it to visit a distillery. But of the dozen or so that we've toured in our various visits over the years, the parking lots are quite spacious.
That said, the distilleries do give samples and some have open bars that sell drinks. We think an uber or taxi makes a lot of sense if you plan to do a lot of sampling.
QUESTION: I currently have a 37' Coachman MH. Although we love the room it provides, we are considering moving down to a Leisure Travel Van Unity. I know it will be easier to drive trips. We don't usually take long trips. We seem to take weekend or shorter trips to attend grandkids events and usually travel with just my wife and myself along with our King Charles Cavalier. Occasionally we have one or two with us and maybe a second cavalier. Can you give us your reasoning and likes and dislikes? Thanks. –Bobby
ANSWER: We have both a Unity and a Fifth Wheel. In fact, we have both up with us here at our gathering.
Jen and I are camped in the fifth wheel. Wendy is in our Class C motorhome.
We love the roominess of our Keystone RV Arcadia, We call it or cabin on wheels. And we like having the tow truck as a way to explore the area and run errands without having to take the whole RV.
On the other hand, we love the Class B+ (technically a Class C) van for the same reasons you are thinking about one – ease of transport to visit kids.
Our kids are all over the country and we use our Class C motorhome to moochdock in their driveways.
Where are YOU traveling next?
Let us know in the comments!
This bundle contains our ever-popular Michigan Upper Peninsula 7-Stop Adventure Guide PLUS the NEW LOWER Michigan Adventure Guide PLUS the US Side Tour of the Great Lakes! This ULTIMATE Bundle will help you keep enjoying Michigan and the Great Lakes for years!
---
---
---
---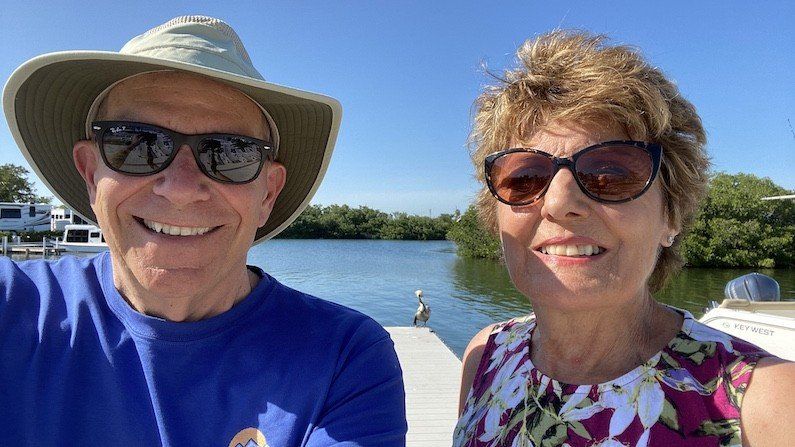 Curious about the gear, gadgets, accessories, and RV products Mike & Jennifer use and recommend?
On this RV Lifestyle Travel blog, our RV Podcast and our RV Lifestyle YouTube Channel, we mention all sorts of RV-related products and gear that we use, So we created a special page that links to them. We update this all the time.  CLICK HERE to go to it directly.
---