Also in this Episode:
There's a new land development in Tennessee for RVers
The most dangerous National Parks
Hot weather camping tips
RV industry news, camping meal planning and much more coming up on Episode 459 of the RV Podcast
You can watch the video version from our RV Lifestyle YouTube Channel by clicking the player below.
If you prefer an audio-only podcast, you can hear us through your favorite podcast app or listen now through the player below.
Podcast: Play in new window | Download (Duration: 1:04:52 — 37.8MB) | Embed
Subscribe: Google Podcasts | Spotify | Stitcher | Email | TuneIn | RSS
Welcome and Updates
Can you believe it… school is starting this week in many southern states. Summer is going by much too fast.
We're just back from a shakedown week of camping in our new Montana High Country fifth wheel. We spent last week in Shipshewana, Indiana, with a group of Keystone RV ambassadors. We toured RV manufacturing and supplier factories, learned about the latest trends in the RV industry, and did a lot of socializing around campfires.
The new rig was great, and in between all the activities, we got a comprehensive video review edited. It will be released this coming week on our RV Lifestyle YouTube Channel. If you have not yet subscribed, please do so, and don't forget to click the little bell icon to be notified when new content is published. Each week usually put out a new video every Saturday and a video version of our RV Podcast every Wednesday.
New RV Land development announced in Tenessee!
As many of you know, the Woodlands at Buffalo Rover in Mid-Tennessee is where Jen and I bought some land. It is a huge development, well over 5,000 acres and it is now sold out. But there's a new RV land development happening right in the same area, Southwest of Nashville not far from the Woodlands and a town called Hohenwald, TN.
This one goes on sale for the first time on Sept. 2 and is in the heart of Tennesee horse country. You can use it to camp in your RV or build a house, a cabin, a bardominium, campsites, whatever you want, whenever you want.
The same developers of the Woodlands are behind this new project, called "The Reserve at High Forest." Parcels range from 5 to 67 acres in size, starting at $89,900.
There are no restrictions: It's your property, your way. It's beautiful scenic country, right near the Natchez Trace, the Buffalo River and it's only 90 minutes from Nashville.
There's high-speed Internet and you can use this to camp on, as a getaway retreat, or your new fulltime home. Tennessee has no income tax and many are moving there to retire. Others bring their RVs and take advantage of all the recreational opportunities in Mid Tennessee.
We just found out about this development and it's first public offering is by appointment only on Sept 2. We know this area and we can assure you these properties will go fast. For more info or to to be one of the first to see this and secure an appointment for that Sept. 2 offering, go to RVLands.Net.
There's financing and big discounts, so go to that website – RVLands.Net… and learn more.
SOCIAL MEDIA BUZZ – Wendy Bowyer
Wendy Bowyer reports on the hot issues most talked about this past week on our RV Lifestyle Facebook Group:
Have you ever thought about buying something new for your RV, but just wanted to know what other RVers who had the item thought first?
Well, that is what Josh posted about last week.
Josh was thinking about getting an awning shade, so he snapped a picture of what he wanted to buy and asked if anyone had one, and did it work. This awning shade looks like a screen that attaches at the edge of your awning and goes to the ground, increasing the amount of shade by your camper.
Josh got SO many responses and over and over he heard that it worked great. In fact one person, named Jay, said it was one of the best purchases he ever made. Great information for Josh, and anyone else considering such an item.
Next I'd like to tell you about Henry. Henry has a 40-foot Toyhauler and said it is hard to find a fuel station big enough to use without getting stuck. He asked the group if there was an app to help or if he could use the trucker pumps.
More than 400 people replied, and many said they use the truck pumps because that is the only place they fit.
Others suggested Henry download apps from gas stations like Love's, Flying J, Pilot, and Buc-cee so he could see where gas stations are that can accommodate his rig. Others recommended the Open Roads app – so much helpful information!
Finally, imagine you're sitting outside your camper, trying to relax, but these annoying flies are all around, driving you nuts. Who has experienced this besides me?
Apparently, Erika was having just such an experience last week when she asked the group how to keep flies away, and got more than 300 tips.
Some suggested fly trap bags, others a portable fan. A few said flies do not like the smell of a basil plant, so get a couple.
Some suggested getting a plastic bag, placing a bunch of shiny pennies in it, filling it with water and hanging it up – that was a new one for me.
So many ideas there – hopefully Erika got some relief.
This is just a small sampling of what's being discussed over at the RVLifestyle Facebook group. I'm Wendy Bowyer and see you next week.
RV RECIPE OF THE WEEK – Jerrica Mah
Here's the editor of CampingFoodRecipes.com, outdoor enthusiast and lifelong foodie enthusiast Jerrica Mah
Hey, CampingFoodies, Jerrica here with campingfoodrecipes.com. And I don't know about you, but what I struggle with most whenever planning a camping menu is figuring out the side dishes for the meals.
So today, I actually have an excellent side dish that goes with lunch or dinner. In fact, you can make it into a meal in itself, and I'll tell you how. But this recipe is a fresh summer squash casserole made with stuffing mix and cream of chicken soup.
If you're a vegetarian, you can actually swap out that cream of chicken soup for cream of mushroom soup, and you're good to go on that. But this dish is really easy to make. You do a little bit of cooking on the stove, then pop it in the oven, and you just end up with this really fresh, family favorite of a side dish that can go with anything.
You can even make it in advance. It freezes and refrigerates quite nicely, so you can heat it up once you get to wherever you're going. And as I mentioned, you can even make it into a one-dish meal by adding cooked chicken or cooked turkey to the casserole before you pop it in the oven.
Or you can do as I've done before and you just stop at the store, grab a rotisserie chicken, and serve that alongside with this dish. So it's a really easy go-to meal for every single camping trip that is definitely worth checking out at campingfoodrecipes.com.
And I don't want you to forget that you can submit your own favorite camping recipes through our website. We'd really love to see your family favorites, your camping favorites, your go-to make-ahead, freezer meals, anything that you like to take with you camping. Go ahead and share that on our site and we get to share it with our community so everyone can enjoy it too.
So that's it for me this week, but I will see you next week with our favorite camping food recipe of the week.
RV INTERVIEW OF THE WEEK – RV Trip Planning Tips
As we mentioned up top, we spent last week in Northern Indiana hanging out with a couple dozen Amabassadors for Keystone RV. These fulltime RVers have every sort of RV and have spent a lot of time on the road.
They have a great depth of understanding about the ins and outs of RV travel, RV maintenance and trip planning and as we got to know them, we realized we needed to pass along their collective wisdom to our audience.
One of the big things we wanted to learn about was in how they handled their travel planning. Were they intentional planners or serendipity explorers, and how do those two very different travel styles work out among real RVers?
I think you'll enjoy their experiences as much as we did around the campfire last week.
We'll let them all introduce themselves.
The names of those we interviewed and links to their various platforms are below:
RV NEWS OF THE WEEK
Lake Mead National Recreation Area in Nevada earned the sad title of deadliest national park site in the nation.
Between 2014 and 2021, records show 145 people died there, most from drowning. Next on the list is Grand Canyon, with 97 deaths during that time period, most from medical-related issues.
Third place was Yosemite, with 94 deaths, most medical-related. Fourth place was the Great Smoky Mountains, with 80 deaths, most caused by motor vehicle accidents.
While at first glance, these numbers may seem high, considering the millions of people who visit each year, the numbers are actually pretty low.
If you're headed to Zion National Park anytime soon, be sure to keep your pets out of the water and be aware of any water warnings posted.
The National Park Service announced three bodies of water have cyanotoxins in them – the North Fork of the Virgin River, North Creek, and La Verkin Creek. Cyanotoxins are bacteria that is sometimes called blue-green algae. It is dangerous.
In the past, dogs have died from exposure. Some more common side effects (in people or pets) include headaches, vomiting, eye/ear/nose/throat irritation, and in rare cases seizures.
Officials evacuated the Emery Bay Campground and dispersed campers in Montana's Flathead National Forest last week because of a wildfire.
The fire was one of many in northwest Montana, causing Flathead County to declare a state of emergency and the fire risk to be raised by officials to "extreme."
Cooler temperatures were expected to arrive as of this writing, which officials hoped would help.
RV INDUSTRY NEWS WITH RICK KESSLER
For the latest in RV and Camping Industry news, we're joined by Rick Kessler, executive editor of the industry leading publications RVBusiness and Woodall's Campground Magazines.
I know I sound like a broken record, but once again Camping World tops the industry news this week.
Already the world's largest retailer – by far – Camping World bought two more stores – both in Arkansas – and announced each would become exclusive to a single brand, with one being Forest River RV Little Rock and the other Alliance RV Northwest Arkansas.
In other news, a company called IDS shared some data that I think you might find interesting. IDS provides dealership management systems to RV dealers and every month they aggregate the data they collect.
Here's where it gets interesting:
For June,
Out of all the units sold by the 282 participating dealerships,
· 70% were new RVs (meaning 30% were used).
· 85% were towable (meaning only 15% were motorhomes).
· The average selling price was $52,241.
· 64% were financed.
· The average APR was 9.7%.
· The average term was 191 months, which is just under 16 years.
And, lastly, Love's Travel Stop has been adding RV sites to some of its pre-existing locations in the last couple of years, mostly for 15 to 30 spots. They're a nice option for RVers who just need a safe place to overnight with some hookups and nearby conveniences.
Well, later this month, the Love's in Cañon City Colorado – which is just west of Pueblo – is opening an actual RV park with over 100 campsites.
Love's said the development is intended for campers, as it will offer restroom and laundry facilities, a dog park, pickleball and basketball courts and several community gazebos.
RV Tip of the Week from Brenda of Queen Bee RV
Time now for the RV Tip of the Week from certified RV Inspector Brenda of Queen Bee RV.
Brenda's focus is on educating RVers on how to care for their RVs – especially women RVers – and she is a regular contributor to the podcast, sharing her expertise with our entire audience.
Here's Brenda.. The RV Queen Bee… with this week's RV Tip.
Hot Weather camping tips
Talking about the summer heat wave is all of the rage, so let's change the station with some ideas for keeping your cool while camping in these scorching temperatures!
First, focus on some strategy when it comes to choosing your campsite or boondocking location. Pick a spot that allows your RV windows to face North and South instead of East and West where they would be inviting the sun to beat down on them all day long. This will help provide some natural shade throughout the day.
Take your windows to the next level by installing Reflectix in each of them. This is that silver bubble insulation that comes in a roll and you can cut to fit the shape of any of your windows. This step will greatly reduce the radiant heat coming into the rig during the hottest times of the day. If you have window awnings or a main awning, definitely extend those when possible to shade your windows and doors. Keep in mind that you need to pay attention to wind gusts any time you have your awnings extended to avoid damage to the fabric or mechanical parts.
Get your air conditioner serviced by an RV technician if you have not already done so this season. They can clean your coils and filter, plus do some other tests to make sure your AC is running in tip-top shape. This will ensure that your AC has optimum airflow and will maximize its performance.
If you are lucky enough to have a generator or inverter, you might be able to operate your air conditioner while traveling down the road to pull some of the heat out of your RV furniture and walls before you even reach your destination. It's true, you can operate your generator while traveling!
Lastly, plan your meals so that you are cooking outdoors or perhaps only cooking indoors at the cooler times of the day. You might even want to implement appliances like an induction cooktop that don't add additional heat to the RV while preparing your meals.
Stay cool everybody!
Time now for the RV App of the Week segment, taken from the pages of NewTravelTech.com – our sister blog that celebrates the many ways technology enhances the travel experience.
We learned about this app around the campfire last week while camping with a bunch of the Keystone RVers in Indiana.
Nomad Near Me is a free app for iOS and Android that allows you to find those traveling friends that you meet on your RV adventures. Gone are the days of passing a friend on the road only to learn about it later. Nomad Near Me alerts you when friends are in your area.
It has built-in messaging so you can connect but it randomizes the location enough so no one will come knocking on your door uninvited.
You can choose who sees you… all app users, or just your friends. And if you want to go off the grid, you can do so easily when you want to be undisturbed.
We connected and "friended" all those nomads we met last week and will do so with others we meet in our travels.
Want to meet up with nomads with similar interests? Nomad Near Me allows you to filter based on interests, RV types, and more than a dozen other options.
RV QUESTIONS OF THE WEEK
QUESTION: We just bought a tiny cabin in the NC mountains. It is located in west NC three miles from TN. Very convenient location. Our question to you guys is: Do you feel safe leaving your main residence alone for so Long? We have an alarm and one of our daughters lives one block away, but I always feel very scared to be away for so long periods of time and the fear that someone knows that the house is not occupied. Please give us your thoughts in this matter. Maybe you can talk about it in your podcast – Mary and Mike
ANSWER: For us, the key is having good neighbors who will check on your place while you're gone and notify you immediately of suspicious activities. We also have a series of solar-powered Ring security cameras all around and inside our house. They are motion-activated and immediately send me an alert whenever they are tripped.
Common sense things we also do include:
Having neighbors put any packages that are delivered in our garage
Having the lawn regularly cut in the summer and snow shoveled from the driveway and sidewalk in the winter when we're gone
Having inside lights on timers to go on and off as if we were there using them
Letting our local police department know when we're away and when we expect to be back
Where are you RVing next?
This bundle contains our ever-popular Michigan Upper Peninsula 7-Stop Adventure Guide PLUS the NEW LOWER Michigan Adventure Guide PLUS the US Side Tour of the Great Lakes! This ULTIMATE Bundle will help you keep enjoying Michigan and the Great Lakes for years!
---
---
---
---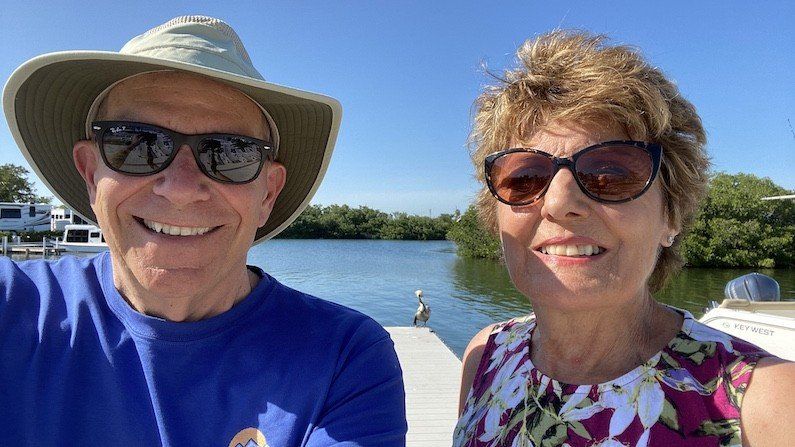 Curious about the gear, gadgets, accessories, and RV products Mike & Jennifer use and recommend?
On this RV Lifestyle Travel blog, our RV Podcast and our RV Lifestyle YouTube Channel, we mention all sorts of RV-related products and gear that we use, So we created a special page that links to them. We update this all the time.  CLICK HERE to go to it directly.
---
Last update on 2023-10-03 / Affiliate links / Images from Amazon Product Advertising API