This is the week for the annual Elkhart RV Dealer Open House, the annual wining and dining soiree the RV industry puts on every year to introduce their new models to RV dealers across North America.
That's where we come to you for Episode 466 of the RV Podcast, which features an in-depth interview with Jeff Runels, the President and CEO of Keystone RV, North America's largest manufacturer of towable recreation vehicles.
You can watch the video version from our RV Lifestyle YouTube Channel by clicking the player below.
If you prefer an audio-only podcast, you can hear us through your favorite podcast app or listen now through the player below.
Podcast: Play in new window | Download (Duration: 36:38 — 21.6MB) | Embed
Subscribe: Google Podcasts | Spotify | Email | TuneIn | RSS
The Elkhart RV dealer Open House is held all across the Elkhart region, where 80% of all the RVs sold in the world are manufactured. But Ground Zero is on the sprawling grounds of the RV/MH Hall of Fame where Thor, Keystone RV, Heartland, Jayco, Roadtrek, Grand Design, and many other manufacturers display all their new 2024 models.
The show is closed to the public and open only to dealers, RV salespeople, suppliers, and other industry businesses who make the annual trek to place their orders for the coming year.
There's lots of entertainment and great food and drink, with catered meals, food trucks, and open pit barbecue made by two of the nation's top BBQ chefs.
In past years, the partying sometimes raised some community criticism, though we notice it has toned down a lot over the past couple of shows. The atmosphere this year was much more professional and business was definitely on the front burner.
No wonder because the show will generate hundreds of millions of dollars in orders in three days. It's not unusual for some RV dealerships to order new models by the dozens.
Interview – Jeff Runels, Keystone RV CEO and President
On the podcast, we found an empty Springdale trailer and sat down across from a comfy dinette to interview Jeff Runels, who oversees all aspects from manufacturing to the sale of 19 different RV models.
We've interviewed Jeff several times before. We've always found him to be very open and forthcoming and this interview was no exception.
Jeff called the Elkhart RV dealer Open House event the "Superbowl" equivalent for the industry, noting that collecting direct feedback from the dealers about customer wants and concerns helps manufacturers design models without superfluous features.
"Not only do we get their opinion on all of the new stuff we've come out with, but we get to hear what's going on with their business and what they think is going to happen the next several months, which of course, in this environment is really important," he said. "And so it just kind of helps give us an idea of whether what we've been doing is right or wrong or what they think and kind of gives us an idea of what to prepare for."
He talked in depth about the challenges the industry is facing in these post-Covid years, noting that the industry-wide downturn in sales coupled with today's ever-growing interest rates are causing belt-tightening and adversely affecting consumer confidence.
"I think everybody has been waiting with bated breath on what's going to happen," said Runels. "Are the interest rates going to continue to go up? Are they going to drop off? We haven't seen rates like this since early 2000, late nineties, and so that certainly has affected us. And that plays into, okay, do we need to deconstruct the coaches? Do we need to shrink 'em up because that's what people can afford?"
The big issue now seems to be setting the proper price points for consumers.
"We loaded a lot of solar, a lot of lithium, a lot of different creature features into these coaches the last couple of years. And so with inflation and the addition of all these parts and pieces, we've exceeded some price points, and so now we're trying to figure out where those price points need to be and reset them to what the content level needs to be."
We asked him if boondocking and off-the-grid camping may have been oversold to the general RV population.
"I think there are some buyers who will probably never use some of the solar packages that we're putting on these RVs, but they'll still take it," he said. "So now when they're faced with, 'okay, here's how much money I have and here's what the payments will be,' now you're going to get a better sense of what people really do and don't want. But that's not just going to be lithium, it's going to be the size of a refrigerator. It's going to be the size and length of a unit. So everything is under scrutiny right now from the window treatments to the hardware and the coach. We don't want to cheapen things up, but we want to make it affordable."
These are challenging times.
"I think everybody has been a little stunned by the last several months," said Runels. While the RV parts and supply issues that arose during Covid have recently been corrected, RV buying consumers are facing two big issues: High interest rates and declining trade-in values.
But the industry has weathered similar challenges before. And with so many new people coming into the RV lifestyle since 2020, "there's a certain core that is not going to go away from RVs, and that's great for us."
SOCIAL MEDIA BUZZ – Wendy Bowyer
Wendy Bowyer reports on the hot issues most talked about this past week on our RV Lifestyle Facebook Group:
We had a Facebook member named Bubby ask last week: "What does everyone use to cover the leather couches from your dogs?"
So many people travel with dogs, this post sparked a LOT of interest.
Now obviously, as some members pointed out, keeping the dogs off the couch is the best option. But let's face it, many of us let the dogs climb up OR when we aren't looking, they climb up on the couch anyway. So what to do?
Some just cover their couch with an old beach towel, an old sheet or blanket, and many shared pictures of what they use.
Some said they don't cover their leather sofa, but do use saddle soap to protect it and they said it works great.
Others bought specific RV furniture covers and showed pictures. So many great suggestions here.
Next I'd like to tell you about a post from Michael warning people about bad road conditions on I-40 in New Mexico. Michael snapped a picture of himself driving down the center of the two-lane interstate, and the car ahead of him was doing the same thing. He said, "Sad to say but this is how we roll through New Mexico on I-40; straddling the center lane. I avoid 90 percent of the potholes that trash your rig. The other 10 percent that I hit are when I move over for those passing. Onward!"
More than 300 people commented on Michael's road report. Thomas said he traveled I-40 coming back from Las Vegas and from Kingman, AZ, through New Mexico I-40 was a complete disaster. It was so bad he will not drive it anymore.
Many travelers appreciated the warning and the bottom line was clearly avoid I-40 if you can.
Then finally Karen shared something that is a good reminder for us all.
Her tip? When you check into a new campsite, be sure to find out where the area hospitals and urgent care centers are located. She said she woke up at 4 a.m. with excruciating abdominal pain, and being in a new town, struggled to know where to go for help. They tried making some calls, but at 4 a.m. the medical facilities were not picking up.
Ultimately, they ended up calling 911, and she was taken to a hospital, had appendicitis, and it sounds like she had surgery and was released that same day.
So her tip was to know where the nearest hospital or urgent centers are so you aren't like her scrambling in a time of need.
Many thanked her for this idea, and others shared that it was a good idea to also get a 24-hour emergency number for the nearest vet if you are traveling with a pet.
What a great tip.
That's it for me this week. I'll see next time over on the RVLifestyle Facebook group.
RV NEWS OF THE WEEK
Unless Congress comes up with a solution, National Park campgrounds are likely to be shutdown with everything else at 12:01 a.m. Sunday.
So what happens if you are among the thousands already camping or you have a reservation next week? Communities near National Parks that depend on tourists are worried and are trying to come up with plans.
When this last happened in Dec. 2018, Utah was able to use state funds to keep their five National Parks open because the economic effect of a parks shutdown to nearby Utah communities would have been devastating.
This time, Utah officials hope to do it again. And in Wyoming, officials are urging the National Parks Service to keep parks like Yellowstone and Grand Tetons open, but there is no word yet on if that is even a possibility.
RVers are naturally concerned. Early fall is a very popular time to visit the parks.
Our best advice if you have National Parks reservations over the next few weeks is to develop a Plan B right now. Pay close attention to what Congress and the Park Service say and check the National Parks websites for instructions on what to do as the weekend deadline approaches.
What a mess of uncertainty this is causing.
Nineteen RVs that the government planned to give to survivors of Hurricane Ian in Florida last year were stolen by thieves from a federal staging area and then sold at too-good-to-be-true prices to unsuspecting buyers.
The organized theft ring has recently been busted. Officials said the stolen RVs, along with some heavy equipment in that same staging area, were worth about $1 million.
The RVs were meant to be temporary housing for victims of the hurricane. They were sold between March and July of this year.
If people asked about the RVs' low price, they were falsely told the RVs had been in Hurricane and Ian and repaired, lowering their value.
The story is a great reminder to all of us to make sure to verify the VIN when buying a used RV that we talk about here.
Investigators are working today to determine the cause of a massive fire that shot billows of black smoke into the sky after a Camping World reapir facility near Chattanooga, TN went up in flames last Friday evening.
The fire started after employees had gone home for the night. The blaze completely destroyed the building and at least a dozen customer RVs that were in for service.
A Camping World technician said he thought the fire may have been caused by a malfunctioning air conditioner in an RV there for service. RV air conditioners contain chemicals that are extremely flammable.
While we are thankful no one was hurt in this massive fire, our hearts go out to all the people whose RVs were damaged and destroyed.
That frustration of trying to book a campsite at a California state park only to find everything is reserved while, in reality, numerous campsites are vacant and not being used is hopefully about to end.
California's governor is expected to sign a law that will penalize people who make a camping reservation and don't show up or cancel it too late for others to use the campsite.
The law also opens a lottery system to make it easier for residents to get a spot at the state's most popular campgrounds.
California has about 15,000 campsites in its 280 parks. And about half of the state's campers have expressed difficulty in getting one of those campsites.
Previously in California, there was no penalty for making a reservation and not showing up. So if someone made a reservation months ahead of time and then changed their plans, there was no incentive for them to take the time to cancel.
These empty, no-show campsites have been a real source of frustration for RVers. It's great to see a state trying to do something about it. And it will be interesting to see if other states do the same.
Campgrounds have many kinds of reservation policies. To see our story on what YOU need to know about reservations, click here.
RV QUESTION OF THE WEEK
QUESTION: We bought 5 acres in Unicoi, TN in 2019.. We put in all the utilities (electric, water, septic and fiber optic). We had the property graded for a 3 bedroom house and an RV pad (total cost $83,000) and then Covid and inflation hit, making a house financially non-viable for living in only 4 months out of the year as we also have a place in FL for the winters. The local authorities have been very sticky about only allowing us to stay in our RV on the land with a special permit ONLY if we are building. I had the thought that maybe we should seek a variance and rezone the property as a private use campground. Any insight you can provide based on your experience would be greatly appreciated. Thanks and God Bless you in your venture.– Karen
ANSWER: I'm afraid our best advice is to hire a local attorney. Since we are not familiar with your area and its zoning restrictions, we can only speak in general. It seems the issue is you either need to build a house or give up on the idea of spending four months there in an RV. How long do they give you to build a house? Have you started it? Can you do it in stages? Local expertise from an attorney is essential for you. Your campground idea may work, but seems to be equally complicated because you would likely need a rezoning permit to allow that sort of use.
And for those contemplating buying RV land, your experience is a good reminder of why you need to be sure you understand what use restrictions the property may have. There are very few places we've seen that allow unrestricted use.
By popular demand, we announce the publication of the latest in our library of RV travel guides – a 7-Day Adventure Guide to Coastal Maine.
With its dramatic rocky coastline, enchanting fishing towns, and windswept sandy beaches, Coastal Maine is a destination that should be on every RVers' bucket list.
We call these guides "7 days," but they really are seven stops. They're meant to be experienced at your own pace, a couple of days at one stop, a week at another, however long you want.
We have carefully curated this 66-page digital guide (not a printed book) so you can take in all Coastal Maine has to offer. We give you the routes to drive, the spot to stop, the places to eat, and the museums, excursions, hikes and adventures we think you will enjoy the most.
For an RVer, Coastal Maine has it all: stunning landscapes, short drives between stops, spacious campsites, that perfect small city and nature mixed with a seemingly endless variety of things to see and explore.
---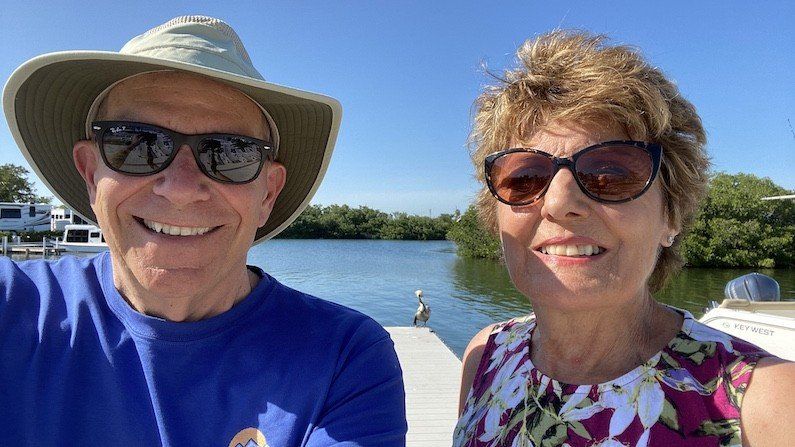 Curious about the gear, gadgets, accessories, and RV products Mike & Jennifer use and recommend?
On this RV Lifestyle Travel blog, our RV Podcast and our RV Lifestyle YouTube Channel, we mention all sorts of RV-related products and gear that we use, So we created a special page that links to them. We update this all the time.  CLICK HERE to go to it directly. Have you caught one of our Amazon LIVE events yet? Just go here and Follow us – to be notified every time we go live.
---