RV Storage theft happens a lot more than many people realize. We have an unbelievable tale from an RVing couple who learned this the hard way.
Their RV was stolen from what was supposed to be a secure storage facility. When police recovered it and took it to their storage facility, the same thief stole it again.
And when police recovered it the second time, they ended up selling it at auction. The owners knew none of this, thinking their RV was still safe in the facility they were renting.
They only discovered this when they went to pick up their RV in the spring. They have since spent months frustratingly trying to figure how out this could have happened and what recourse they have.
That's the story we share in the interview of the week in Episode 472 of the RV Podcast.
Also in this episode:
The best day of the week for RV travel
How to find the best RV and camping gadgets and gear
Campground etiquette for outside-the-RV lights
You can watch the video version from our RV Lifestyle YouTube Channel by clicking the player below.
If you prefer an audio-only podcast, you can hear us through your favorite podcast app or listen now through the player below.
Podcast: Play in new window | Download (Duration: 44:03 — 25.8MB) | Embed
Subscribe: Google Podcasts | Spotify | Email | TuneIn | RSS
Interview of the Week – RV Storage Theft
Steve and Claudia Sorensen have spent three months of every summer traveling in their RV for the past 15 years.
From Mount Rushmore to Glacier National Park to Chaco Canyon, they went up and down the American West in their 22-foot Minnie Winnie, which they had remodeled with new upholstery, curtains, paint, flooring, kitchen fixtures, solar panels, lithium batteries, and an inverter.
When they were done traveling each summer, they would store their RV in a storage facility in whatever town they happened to be near. They planned to continue doing this for years to come.
But when they went to their storage facility last July ready to hit the road and camp they were in for a shock: Their RV was gone. It had been stolen.
And how the RV storage theft happened and what they uncovered and experienced subsequently is an unbelievable tale that you just have to hear.
The Sorensens have learned a lot.
And today Claudia is here to help us all better understand what every RVer should know when storing their RV.
Click either the video or audio players above to hear the entire story of their RV storage theft.
Social Media Buzz
Wendy Bowyer reports on the hot issues most talked about this past week on our RV Lifestyle Facebook Group:
Have you ever wondered what state has the worst roads? Well, Michael was wondering just this so he asked the question on the RVLifestyle Facebook Group. Michael thought the state with the worst roads was probably Tennessee, but said he was told Louisiana was the worst.
More than 1,200 people weighed in with their vote, and I have to tell you, there are a LOT of contenders!
So what states did the group say have the worst roads?
Michigan and Pennsylvania came up a LOT, but so did California, New York, New Jersey, Colorado, Oklahoma, New Mexico, Arkansas, South Carolina, and Arizona…
But as to Michael's original question, most seemed to think the roads in Louisiana were worse than those in Tennessee. What a list!
Javier asked the group, Is age 69 too old to start RVing? His answer was a clear no, not at all!
Catherine said she is 73 and just started. She wrote: "If you are adventurous, it doesn't disappear with age!"
Terry said he is more than 83 years old and his wife is 81, and they are out there on the road full-time and loving life.
Steve said not if you're fit and physically able to do it, age doesn't matter.
And over and over again people said as long as you feel fine, go do it. You are not too old.
Then finally Paul asked: What is the best way to bake outside while camping?
Some people said to bring a smoker. Others said just bring their portable grill, put the cover over it, and use it like an oven.
But most people said they use a cast iron Dutch oven. While some place the Dutch oven over the coals of a campfire, most use charcoal briquettes, putting the coals under the oven and on top of the lid to maintain a warm temperature inside. Someone even shared a chart to show how many coals to place on the top and the bottom to receive various internal temperatures needed for baking. About 300 people commented, and I just love how very specific and truly helpful the group was.
RV News of the Week
Have you noticed gas prices are dropping? We sure have, and the good news is AAA believes the trend will continue.
As of Sunday, the national average for a gallon of gas was $3.37. That is down from $3.42 a week ago and $3.65 a month ago. The average price for a gallon of diesel is $4.36.
Gas prices vary greatly by location in the country. The highest average price for a gallon of gasoline was in California Sunday at $5.07 per gallon. And the lowest price was in Texas at $2.81 per gallon.
Gas prices typically decline seasonally this time of year, and globally, prices are also declining, all bringing good news at the pump, especially to RVers.
To see our story on fuel discount cards and more, click here.
Wildfires are spreading, closing campgrounds, and triggering campfire bans in some popular wilderness areas out in the Mid-Atlantic states.
In West Virginia's New River Gorge National Park and Preserve wildfires are burning in the War Ridge and Backus Mountain areas. The War Ridge Campground is currently closed, as well as the access road beyond the campground.
Firefighters are also battling a fire at Shenandoah National Park. The Rapidan Camp area is closed along with numerous other trails and areas in and near the park.
And in North Carolina, nine state parks in the western part of the state are closed to backwoods camping because of increased fire risk through Dec. 1, and campfire bans are now in effect in 13 state parks.
If you are planning a late fall camping trip to this part of the country, be sure to check fire conditions first.
Rocky Mountain National Park will continue its timed reservation system next year, with timed entries required beginning May 24 and continuing into October.
The timed entry system went into place in 2020 to manage crowds and improve visitor experience. The National Park Service says the reservations have worked, but some visitors say the system is a hassle as reservation spots in peak times do sell out.
No reservation will be required for people who want to visit very early (before 5 am for Bear Lake Road corridor, for example) and will not be required for those entering the park late in the day.
Also a limited number of reservations will be available at 7 pm for the next day to accommodate last minute travelers.
Rocky Mountain National Park is among the country's most popular and a stop in our Colorado 7 Day Adventure Guide you can see here.
Have you ever noticed that campers on average seem a little more Patriotic than most?
Turns out 14 percent of all campers are either veterans or active military, which is more than double the average American population.
The Dyrt found 14.8% of all campers are veterans or active military compared to the average U.S. population which is 6.4% veterans and less than 1% active military.
The Dyrt surveyed 4,000 campers to come up with its report
Find the best deals on RV and Camping Gadgets and Gizmos
We're watching all the Black Friday deals on RV, Camping, Outdoor and Tech Products and are doing regular Amazon Live Reports on what we're finding.
Please visit our Amazon Live page at https://www.amazon.com/live/rvlifestyle
And when there, click the yellow Follow Button to be notified when we go live again.
App of the Week
This week, we're talking about RV storage. Do you know that instead of high-priced storage facilities, you can find places at private homes and businesses?
That's where the app called Neighbor comes in.
You enter the Zip Code for the area where you need storage, select RV for places with room to store an RV, and it returns a list of places where you can keep your camper. We used it last year in Florida when we wanted to spend some time at a condo on the beach that didn't allow RVs. We found a spot not far away that had a security camera and, better yet, was on property owned by a state trooper.
We plan to use it again after we take the RV down to the Tampa RV show.
Most of the rentals require at least one month.
We found the prices very competitive and since the storage was in people's yards or businesses, we feel our RV is watched better and be more secure.
Check it out. Go to Neighbor.com
RV Question of the Week
First, some feedback:
Remember last week's story about an RV that was severely damaged by a bear? Well, we heard from a camper who was in the same campground when this happened, and after hearing our report, Beth wrote to tell us… the rest of the story:
We were in the site next to this camper.  A few nights prior some people were in a cabin cooking outside and feeding a bear, they thought it was fun. The bear then proceeded to take the food out of the pan. The park rangers think it was the same bear, the people in this camper had food cooking inside but were not there, they think the bear was trying to get to the food. Sadly they think they will have to euthanize the bear, lesson learned, do not feed wildlife.- Beth
QUESTION: We full time RV and right now are stationary. I'm still surprised how many newbies are entering the camping world. With that said…would you discuss the proper use of coach lights at night in the campgrounds! Im a work camper and recently we have had to send a text blast out to folks about lights! A motorhome turned on docking lights all night! Paul & Gina 
ANSWER: Yes, outside RV lights left on all night long in a campground is a pet peeve of a lot of RVers. In fact, we just published an article on leaving lights on when camping on the RV Lifestyle blog. 
To be sure, it is a real annoyance for many people. And doing so is considered by most to be poor manners.
Let's first say, many times, it is inadvertent. People just forget to turn them off when they go to bed. Been there, done that. People just forget. It's a mistake, not intentional.
Others, particularly newbies, think it makes them more safe and secure. They are ignorant of proper campground etiquette and simply are not thinking about how annoying it is to their neighbors.
So, for everybody,  please make it a part of your pre-bed routine at a campground to make sure your porch, awning, cab, and docking lights are off. 
It's just basic consideration.
If you feel you need to confront your neighbors about this, please do so in a kind and polite manner. We go into details in our article on leaving RV lights on at RVLifestyle.com, so we urge you to read that for some tips on dealing with inconsiderate camping neighbors.
Got an RV Lifestyle question or comment for us? Send us an email by clicking here.
Till next time… Happy Trails.
Explore Arizona with our RV Adventure Guide
We start our Arizona adventure guide at the South Rim of the Grand Canyon, then move west in a slow semi-circle to hit all of the highlights, including Sedona, Lake Havasu, Quartzsite, Kofa National Wildlife Refuge, Apache Junction, and Saguaro National Forest.
Throughout this guide, we explore incredible rocky vistas, historical and mystical sites, inspiring scenic byways, charming Southwest towns, national and state parks galore with wonderful wildlife. No matter what your interests are, you are sure to find something to awe and inspire you in Arizona.
---
---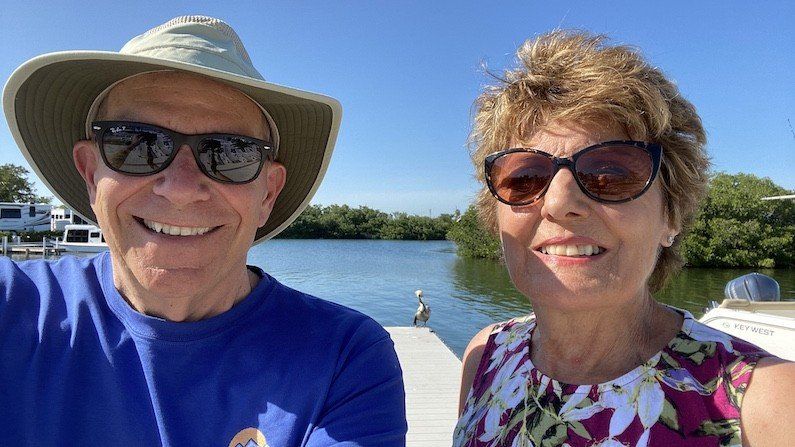 Curious about the gear, gadgets, accessories, and RV products Mike & Jennifer use and recommend?
On this RV Lifestyle Travel blog, our RV Podcast and our RV Lifestyle YouTube Channel, we mention all sorts of RV-related products and gear that we use, So we created a special page that links to them. We update this all the time.  CLICK HERE to go to it directly. Have you caught one of our Amazon LIVE events yet? Just go here and Follow us – to be notified every time we go live.
---