When it comes to an RV satellite TV system, we're done. We feel it is not worth the hassle. Here's why we will not be adding it to our RV.
You may feel otherwise. We get it, your RV is your home-away-from-home. And for some folks, it IS their home. You want your RV to have all of the creature comforts available. To be able to satisfy your wanderlust and still have a roof over your head can be one of the best things in life.
So why wouldn't you want to include entertainment in your RV at your fingertips, with an RV satellite TV?
Lots of people do. We understand
Jennifer and I are just not two of them.
For full-timers, an RV satellite TV system and antenna makes sense. For people who really, really like TV and can't bear going anywhere without it, then fine… get one.
But for us, who don't find much of anything on TV worth watching that we can't get other ways, it will not be a part of our RVing in our Leisure Travel Vans Wonder RV.
There are pros and cons to having a satellite TV system in your RV. For us, past experience convinced us we just don't need it.
But first, let's cover the pros:
RV Satellite TV PROS
With RV satellite TV, you have almost unlimited entertainment inside your RV, for those times when you are ready to settle in for the night and want to relax with some television.
It's also good for those days when going on that hiking trip is just not a viable idea. That's a big pro for many!
You can take the satellite TV with you wherever you go.
Another audience that RV satellite TV makes sense for is the sports lover – assuming that someday sports will again become available in the post-pandemic world, whenever that happens.
There are satellite dishes out there specially made for RVs. We had such a system with Dish Outdoors.
The advantage of such a system is that the unit uses a small antenna and receiver, and can easily be mounted on the roof of your RV. It is highly recommended that you have this professionally done.
You can also elect not to mount it on the roof and run the cable out from your RV to wherever your antenna can get a sightline to the satellite.
While that sounds all fine and good, our previous experience with an RV satellite system and found these issues:
RV Satellite TV Doesn't Like Obstructions
If you experience inclement weather issues or there is lots of precipitation in the air, the satellite often has problems picking up a good signal. This can be a real pain. Here is a good article that explains the many obstructions you can face with satellite connection problems.
For us, rain fade was an irritation. But we had bigger issues.
Very frequently, we found it hard to get a line of sight to satellites because we like to boondock in woods where trees interfere.
It also takes an annoyingly long time for the system to acquire a satellite. Many times, when we'd set up someplace new, we'd not even bother turning the RV satellite system on because we wanted a quick check of, say the weather channel, but it was so agonizingly slow in acquiring a signal that we felt it wasn't worth it.
Pretty much every time you move your RV, you need to reacquire a signal.
Way too often, to get that line of sight the antenna needed to acquire the satellite, we'd have to park in wide-open spaces, often leaving us under the hot sun where you and your RV bake. Not fun.
There were lots of times when we'd get to a spot, find the perfect location and realize that if we wanted the RV satellite system to work, we'd need to take a much less scenic spot.
We boondock to experience nature and if RV satellite TV meant we had to take a less than optimal spot, the RV Satellite system stayed off.
And finally… there's the cost of an RV Satellite TV System.
To install the required hardware onto the roof of your RV is no easy task, and as we said, really a professional should do it. This is definitely an investment and is not inexpensive.
Granted, you can keep your dish in a storage spot on your RV and haul it out and set it up on the ground. If you have lots of storage for that dish, then I suppose that may be a way to go.
Also, if you want local channels it's an extra cost and you have to call to set that up.
With the equipment costs, the monthly fee, and the hassle of getting it to work, we've decided it just isn't worth it for us.
When we sold our RV for a new one, we left the RV satellite system with it for the new owners.
On the rare occasions when we want to watch satellite, most times we can find an over-the-air signal that the built-in TV antenna we have on our RV can pick up. Or we can watch a movie on DVD.
There's also Netflix, Hulu or Amazon Prime delivered over our cellular Internet connection. And if we're in a campground, most have cable TV hookups.
So we really don't need satellite TV for our RV.
Since we got the new RV, we've had lots of questions about whether we'd add satellite TV again.
Now you know why the answer is no.
---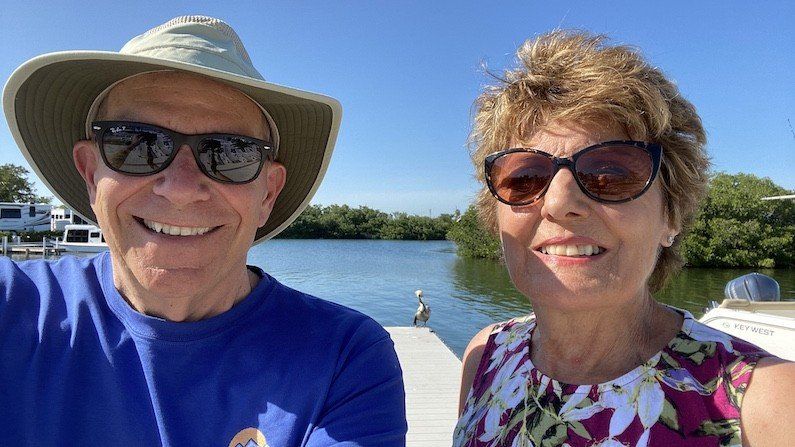 Curious about the gear, gadgets, accessories, and RV products Mike & Jennifer use and recommend?
On this RV Lifestyle Travel blog, our RV Podcast and our RV Lifestyle YouTube Channel, we mention all sorts of RV-related products and gear that we use, So we created a special page that links to them. We update this all the time.  CLICK HERE to go to it directly. Have you caught one of our Amazon LIVE events yet? Just go here and Follow us – to be notified every time we go live.
---
This bundle is our popular Upper Peninsula RV Adventure Guide PLUS our newest Adventure Guide – The Great Lakes Shoreline Tour! Both ebooks will give you plenty of ideas and resources to enjoy this part of the US.
---