There are a lot of RVers who want to own RV land thanks to overcrowded and expensive campgrounds, inflation and sky-high fuel costs, and a need for a reliable port in the storm.
It's been almost a year now since we bought 5 acres of wooded land in Mid-Tennessee as a personal RV retreat, which we have since developed with a circular driveway, water, electric, and sewer hookups for three RV spots.
The property we selected is located in a huge, 5,300-acre development called the Woodlands at Buffalo River. We're down there every chance we can!
This is NOT an RV park or campground. It is raw, wild land that can be used for hunting, hiking, horseback riding, ATVing or… RV camping.
There is no HOA and owners can choose to develop their property pretty much however they want.
In fact, someday, we can even see building a cabin or house there.
We are not alone. We've met other RVers like us from across the country who have done the same thing.
We just released a new video on the growing popularity of owning RV property. Click below to see:
The main reasons people want to own RV Land
We've talked to dozens of RVers over the past year about the growing appeal of owning RV property. There really are not that many places like the Woodlands at Buffalo River. While campgrounds and RV resorts across the country sell RV lots, they are typically quite small and located next to other campers.
The kind of land we're talking about usually involves raw parcels ranging in size from a few acres to over 100.
We just finished a gathering here that brought more than 50 of our friends and supporters to the area. The above video will introduce you to many of them.
But here are some of the reasons people have told us that they want to own RV land:
We have met several RVers who live in Florida and are also eyeing property in mid-Tennessee because they want a safe and secure spot to evacuate during hurricanes.
Others see Mid-Tennessee as being centrally located in beautiful rural countryside and thus a great "base camp" from which they can launch out to explore nearby states and visit friends and relatives.
The ability to get away from the busyness of city life is a huge draw.
Always having a spot to camp without reservations in an area rich in recreational opportunities.
Those who own RV land can store their RVs there.
A slower pace of life and the peace and quiet of the countryside.
How we came to own RV Land
All this year, we have been frequently reporting on the growing trend among many RVers to own RV camping spots. But you may find it helpful if we go into a bit of detail about how the process worked for us.
Before we bought, we made two previous trips to the area, located about 20 miles south and a bit west of I-40, an hour and a half west of Nashville.
One initial trip was to a place called the Landings, located right on the banks of Kentucky Lake (the Tennessee River). We first visited there in early summer of 2021 and interviewed a bunch of owners for a story on owning your RV campsite.
We returned for a follow-up report on the RV Land ownership trend in October to see how they were doing and while there, learned about the Woodlands at Buffalo River, which was not far away. So after wrapping up the story on the Landings, we headed over to tour the Woodlands.
After those stories, we kept thinking about what we saw. We couldn't get the idea out of our heads. We wanted to own RV land, and we fell in love with Mid-Tennessee, especially the nearby town of Linden, which bills itself as being in "Nashville's Big Back Yard."
The Buying Process
For us, it started with that first look at the property when we came down to do the story in October of 2021. Click below to see that video.
To tell the truth, I wanted to buy right then. But with such an important step, Jen convinced me we needed to do some more research. So for several weeks, we looked at satellite images of the area, learned all we could about Linden and Perry County, studied maps, and talked with representatives of the company.
One thing with the particular property we chose that really helped guide our decision was the fact that it was located off a very low-traffic public road that is maintained by the County and already had city water. That meant we would not have to drill a well. Electricity is also available off the road from the Meriwether Lewis Electric Cooperative.
From maps of the entire project sent to us by the developers, we arranged another trip and set an appointment with Cree Ham, the sales manager, and Jim Comes, the project supervisor.
From our research back home, we had narrowed our search down to four different parcels and inspected each of them. In all, we spent three days on-site, walking all over each parcel.
The Woodlands at Buffalo River has been selling parcels from five acres up to 69 acres, at prices starting around $79,900, depending on location and topographical features.
We liked all of the four properties we looked at. But it was the five-acre parcel marked as site 25 that stood out the most. We asked and got permission to spend the night on it in our RV.
That was the one we decided on. It fronts the road and is bordered on both sides by a series of small ravines, called hollers by the locals. At the back, a series of ridges staircases to the west.
The parcel is heavily forested. Loblolly pines are the predominant tree, with a nice assortment of hardwoods on the sides and back. In fact, that's the name we chose for our property – "Lobllolly Ridge."
A flat area in about the center of the five acres is where we cleared trees for the driveway, camping spots and hookups.
Why did we want to own RV Land?
For us, it came down to seven reasons:
We wanted a guaranteed spot to camp.
In these times of massive congestion and overbooked campgrounds where you need to make a reservation a year in advance, owning our own RV land in an area we liked just makes a lot of sense.
When we camp, we want peace and quiet, beautiful scenery, wilderness, and lots of elbow room.
If you follow us, you know that boondocking is our preferred form of camping. This land is indeed wild. It is as remote as the Michigan Upper Peninsula. Five wooded acres like we chose gives us plenty of space.
We can stay as long as we want.
There are no stay limits. And because we can install electric, water and sewer hookups, this land is be like a resort – for just us!
We can work remotely right from the property.
Cell coverage is excellent. But as a major bonus, fiber optic cable is being run right past our lot, making it easy to connect. It should be available to us by year's end.
Even though the land is remote, shopping, medical services and restaurants are only a few minutes away in Linden.
Linden has been voted as one of the best small towns in Tennessee. The historic Commodore Hotel, built in 1939 and meticulously restored, has been named one of "Six Great Places to Stay in Tennessee." The Commodore's Music Cafe brings in Nashville and local musicians every Friday night.
Land appreciates.
As the saying goes, God is not making any more of it. Nashville is one of the fastest-growing cities in America, and land prices are rapidly rising all over Tennessee. This property is close enough to Nashville to easily visit (our son and his family live there), but far enough away to avoid the congestion and craziness.
Recreational opportunities around the property abound.
The Buffalo River, which borders the Woodlands development, is one of the most beautiful waterways in Tennessee. It's perfect for kayaking and canoeing, and the smallmouth bass fishing is awesome. The Natchez Trace is nearby. There are numerous hiking trails, nature preserves, and the beautiful Mousetail State Park just a few miles away. And the Tennessee River is also nearby, a river so big it's also known as Kentucky Lake.
Getting the permits
Once we decided on the parcel and made the agreement to buy with the developers, Jim Comes guided me into Linden where we signed up and paid the fees for our electricity, made arrangements for a water tap, and applied for a permit to install a septic tank.
Then, we went back to the property and Jim helped lay out a rough driveway. I met with an excavator to arrange for clearing the trees needed for the driveway and to prepare the property for the RV pad and septic installation.
It has been an amazingly simple process so far and work on the improvements wrapped up in late summer 2022. We now have three sites, all with water, electric and sewer connections.
Now that we own RV Land, here's how we use it
The property is halfway between our home in Michigan and our Condo on Okaloosa Island, FL. So every time we travel between the two spots, we stay on the land. Usually, a couple of nights, at least.
But we also use it for extended stays for as long as two weeks.
We are traveling half to three-quarters of the time. And although we love every minute of it, we are always working, shooting videos, doing podcasts, recording interviews, writing blog posts, and researching for our travel books. When you try to fit all that work around RVing, you can see that if we don't intentionally create downtime, we could easily get burned out.
This property lets us chill out, decompress, and get away from having to juggle work around travel. In particular, I like to stay on the property so I can concentrate distraction-free during the writing phase for our RV travel books.
Here's a video tour of our developed property
We've been documenting the whole process in a series of videos over the past year. There's a whole playlist, in fact, on owning RV land.
But if you want to see our progress, here's the video we did once all the initial improvements were made. They took, by the way, 10 months to complete:
What's next for us?
Well, we're so enjoying the land that we just met with a couple of contractors about the next phase of our development. We hope to begin a couple of new projects right after the first of the year.
So stay tuned.
---
Looking for exciting RV trip ideas and travel suggestions?
We've written a library of RV Travel books that lay out guided RV explorations of scenic areas of the US that we''ve explored and think would make an excellent RV trip for you.
In each location, we provide a suggested route and itinerary (7 stops in each guide, one for each day of a week trip!) as well as links to multiple campgrounds and boondocking spots, local tips, and interesting things to do at each location.
You can hit everything in seven days, do a whirlwind weekend tour, or you can take your time and explore the area over a 2+ week period.
Planning an RV trip can be very time-consuming so that's why we've done the research for you! Just take our guides and use them. We're sure you'll have an RV trip for the ages! Instant download. CLICK HERE for information on our RV Travel Guides
---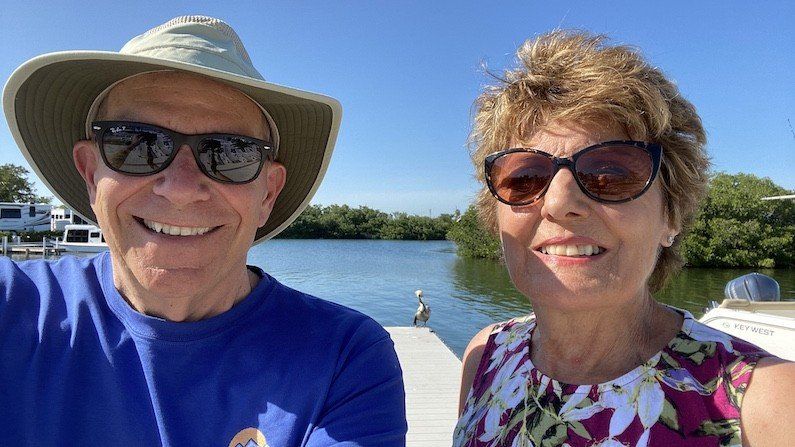 Curious about the gear, gadgets, accessories, and RV products Mike & Jennifer use and recommend?
On this RV Lifestyle Travel blog, our RV Podcast and our RV Lifestyle YouTube Channel, we mention all sorts of RV-related products and gear that we use, So we created a special page that links to them. We update this all the time.  CLICK HERE to go to it directly.
---
---
---