We can't make inflation go away. But we can promise that if you follow the advice in Episode 430 of the Podcast, you will save money.
You can watch the video version of the podcast – including updates on our travels, the RV News of the Week, New Travel Technology info, and your RV Lifestyle questions – by clicking the video player below from our RV Lifestyle YouTube Channel.
For an audio version only, you can listen on your favorite podcast app or by clicking the player below.
Podcast: Play in new window | Download (Duration: 37:30 — 22.1MB) | Embed
Subscribe: Google Podcasts | Spotify | Email | TuneIn | RSS
Tips for RV living on a Budget from Influencers
We recorded this week's podcast from the Florida RV Supershow in Tampa, FL.
And we asked some of our influencer friends to divulge how they save money on the road.
Watch or listen to the video for the very practical tips from the likes of: Dan of the RV Life Podcast; Sherri and John from Amped to Glamp; Ashley of Peeoples and Places; Bob of 2 Veterans on the Move; and Brian of Jonesin2go.
Mike and Jennifer's Tips for RV living on a Budget
A recent survey by the RV Industry Association (RVIA) has found that 37% of American leisure travelers, representing 67 million, plan on taking an RV trip this year,
The survey also showed that finances are a driving reason for people's plans to take an upcoming RV trip. On average, RV vacations cost 50% less than comparable hotel and plane ride trips and a third less than hotel and car ride trips, making RVing an attractive option for people looking for the freedom to travel while also controlling their travel expenses.
The Economy is placing a squeeze on all aspects of life, including camping. But we all need to get away. A recent survey by Campspot found 69 percent of those surveyed plan to camp somewhere new in 2023, and 53 percent said their camping trip budget will be less than $500.
Another story we recently saw said during hard financial times, people go camping more than ever. They need to get away.
So to help you keep camping, here are our 10 Tips to cut costs so you can keep RVing in 2023. We elaborate on them more in the podcast, but here's the Cliff notes version:
1. Choose a location with costs in mind – Look into the costs of a destination before leaving home and choose places where you can find free or low cost fun for everyone.
2. Set a budget – Determine how much you have to spend, then break it down to how much for gas, campground costs, food (restaurants AND groceries), entertainment, other (wood for the campfire, park entry fees, rental equipment costs, etc.) AND stick to it. This avoids going off track.
3. Eat in the RV as much as possible – Eating out adds up and can be unhealthy. Make food ahead, freeze and bring, keep it simple (no complicated recipes), and make cooking become part of the entertainment (kids love pizza over a campfire, for instance).
4. If you must eat out, choose lunch/ happy hours – Splurge at lunch, not dinner (it is cheaper!), research restaurant happy hours (often there are dinner specials), and see if a restaurant near you has a half off promotion on a slower weeknight – and eat out then.
5. Use fuel efficiently (apps like Gas Buddy for the cheapest gas around, slow down so better gas mileage, credit cards that give you points/discounts, stay in locations longer, etc.).
6. Camp for free – If you just need to overnight on a road trip, use a Cracker Barrel or Walmart parking lot. Try boondocking on U.S Forest Service or Bureau of Land Management land, or try Harvest Hosts. If staying for a while, often state and county campgrounds are cheaper than private ones.
7. Avoid holidays/prime travel times – Things tend to cost most during the times everyone will be there. Fourth of July weekend tends to be busy and expensive, same with the school spring break in Florida/Texas. If you're retired, use your flexibility to your advantage!
8. Use senior/military discounts – Many places offer senior and military discounts. If this is you, use them! Every little bit helps!
9. Find free things to do – A simple Google search is your friend. Many towns have free activities that are fun for everyone…. Music festivals, farmers' markets, museum days, etc. Check out this story for ideas: https://rvlifestyle.com/find-cheap-or-free-things-to-do-while-rving/
10. Take pleasure in the simple things. Nature is a great de-stressor. Enjoy a campfire, make s'mores, look at the night sky, take a hike along a beautiful trail, try fishing, swim in a lake, etc.
Whatever you do – Don't stop camping!
RV News of the Week
Storms continue to thrash California, causing flooding, closing campgrounds, taking lives
In California and southwest Oregon this past week, heavy rain continued to cause landslides, flooding, uprooted trees and sadly, many deaths.
In Oregon, a landslide closed a portion of U.S. 101 along the coast, causing major disruptions in travel. Oregon officials hope to have the road opened later this week.
In California at least 18 people have died, as massive flooding has caused numerous problems, with one report saying the Monterey peninsula may soon be an island.
At Pacific Dunes RV Park in Oceano, helicopters were used to deliver 200 pounds of ice to campers who were stranded at the park.
As of this report, there was an emergency declaration in 41 of California's 58 counties, with nine inches of rain has fallen, and more expected into this week. Eight-three state parks are either fully or partially closed, and many national lands, such as Sequoia National Park, are also experiencing road closures and disruptions.
RVers survive being trapped in RV when tornado strikes RV park in Alabama
One couple RVing in Alabama were happy to be alive after being trapped in their RV when a tornado ripped through J Landings RV Park in Decatur, where they were camping.
TV footage of the park showed many RVs flipped to their sides, some left shredded by the storm, walls torn down and belongings in a pile.
News reports indicate as many as 37 tornadoes struck Alabama, Georgia, and parts of the southeast last week, causing significant destruction and at least nine deaths.
RV sites for Albuquerque Balloon Fiesta break record, selling out in 70 minutes
On site RV reservations opened up for the Albuquerque International Balloon Fiesta last week and in 70 minutes all 1,785 sites were taken and a waiting list set up.
This set a new record for the popular, bucket-list event that happens in the New Mexico city Oct. 7-15. The event is the largest hot balloon festival in the world with more than 500 hot air balloons launched into the sky at various times during the week.
To read more about it and other epic events worth attending at least once during your RV adventures, click here.
New Travel Tech
This week we introduce a new segment to the podcast – New Travel Tech, brought to you by our sister blog NewTravelTech.com, which reports on the many ways technology is enhancing today's travel experience.
This week, we talk about Family Tracking Apps and how they are being used by RVers.
Family tracker apps are most commonly used to track teenagers as they begin to drive and go out on their own. However, more and more RVers are using them to give peace of mind to their family and friends back home.
The one Jen and I use is called Life360, an app we both installed on our phones, so kids can track our location as we travel.
They're relieved to be able to see where we are as we trot across the country, boondocking in national forests, overnighting in Cracker Barrels, and camping along remote roads.
The Life360 app (like other family tracker apps) allows users in the same "circle" to see where each person is wherever there is a satellite connection.
(By the way, we are NOT affiliates of Life360… just happy users.)
As boondockers, Jennifer and I bounce around from lot docking to national parks to Harvest Hosts and so on. We also like "serendipity travel" where we don't plan out a mapped itinerary.
We often don't know where we're going or where we're going to stay the next night, which means our family certainly doesn't know.
If something happened to us while driving or camping, our family wouldn't be able to send the cavalry. They wouldn't know where to send the calvary!
Life360 is considered one of the best family tracker apps, though there are several alternatives. Since Jennifer and I opted for Life360, that's the main one we will tell you about. Alternative family locator apps will have similar features, but Life360 seems the most comprehensive.
Life360 has several features that go beyond tracking your location. Its safety features include:
Smart Notifications
Location History
Place Alerts (i.e. when you arrive)
Bubbles (set boundaries)
SOS with Emergency Dispatch (tap for help)
Life360 has a free membership that does not cost any money. Or, you can opt for more features and services with a membership. The free version includes:
2 Days of Location History AND 2 Places with Unlimited Alerts
SOS Help Alert
Crash Detection
Family Driving Summary
As you can see, the free version has a lot of value on its own. But, you can always opt for the most popular Gold Membership ($14.99 per month) or Platinum Membership ($24.99 per month.) To get more features. We're more than happy with the free version and the 24 x 7 reports our family can get on demand of our whereabouts.
There are at RVLifestyle several Life360 alternatives, like FamiSafe and GeoZilla, but we'll tell you about one easy alternative worth checking out. Google Maps!
Yep, good ol' Google once again thought of everything when creating their Google Maps features. You can activate "Location Sharing" to share your location in real time with whoever you want and for however long.
Whichever app you use, get one. Activate it. It gives peace of mind to both you and your loved ones.
Again, this segment of the podcast is brought to you by NewTravelTech.com… A great blog you should check out to see the many ways technology is enhancing all aspects of the travel experience.
Get the Home Study Course today and worry about the road, not the repairs!
Every time you move your RV it's like driving through a hurricane during an earthquake. Parts break and many items need to be maintained, this program will show you how you can save time and money by gaining the confidence to take on the majority of the issues you'll come across. Don't get caught with your RV in the shop! Learn how you can maintain and repair your RV at your own pace and at the most convenient time for you! This course is produced by the National RV Training Academy.
---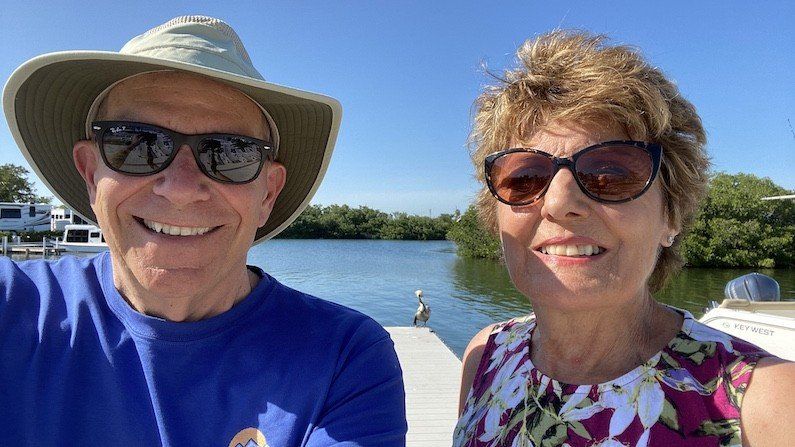 Curious about the gear, gadgets, accessories, and RV products Mike & Jennifer use and recommend?
On this RV Lifestyle Travel blog, our RV Podcast and our RV Lifestyle YouTube Channel, we mention all sorts of RV-related products and gear that we use, So we created a special page that links to them. We update this all the time.  CLICK HERE to go to it directly. Have you caught one of our Amazon LIVE events yet? Just go here and Follow us – to be notified every time we go live.
---