Used RVs certainly come with a more appealing price tag but the wear and tear can make the buying process more unsure and difficult. Here's how to find a used RV at the right price that will last…
The biggest investment people make in their lives is usually their home. Well, guess what? If you're reading this, then the second biggest investment you'll likely ever make is in your home on wheels.
Even used RVs come with big price tags, often starting around $60,000 and climbing way up the price scale. So, it's understandable that you want to find a good deal but for an RV that will last.
Over the years, Jennifer and I have learned buying tips that we wish we would've known when we bought our first used RV. We're going to share them with you now so you can start off better than we did.
I'm going to start and finish with the two biggest pieces of advice, followed by more in between.
Try Before You Buy
Before we jump into the buying process, Jennifer and I first like to say, "Don't buy!" At least not yet.
We highly recommend you "try before you buy" by renting various RV classes and models that you're interested in.
It's amazing how often people think they want one thing only to realize they need something different once they try it out. Sometimes that means going smaller or bigger, nicer or simpler, or, in truth, not buying at all.
People renting out their RVs is more popular than ever. So you can likely find the exact model you're interested in to try out. RVshare and Outdoorsy.com, are just two of the many different RV rental companies that put into service the many vast feet of RVs that are typically just sitting around in driveways.
Some dealers will even let you try out their RVs for a night or two. This is helpful, even if you just try it out in your driveway.
Once you've tried out enough RVs to know which class and model is right for you, then proceed with the buying process as follows…
Know the Real Value of the RV
The unfortunate truth is that many RV dealers inflate their prices in order to offer "deals." They'll have big "slashed prices" that are actually the real value of the RV.
So, it's important to know the real value of the RV you want before ever speaking with a salesperson. Thankfully, it's fairly easy to determine thanks to the internet.
Other than looking on dealers' websites, you can also use a great website called NADA Guides by J.D. Power. This site is like Kelley Blue Book but can give you information on the specific RV type you're looking to buy.
Another good resource is Search Tempest which shows listings for all of craigslist, eBay & more in one search.
These sites and searches will help you determine for yourself what a fair price is based on the average and lowest prices.
Who Should You Buy an RV From?
Now that you know what RV you want and its fair-value price, it's time to find sellers. There are 3 main sources to buy a used RV from:
RV dealerships
RV shows
Private sellers
None is necessarily better than the other if you know what to watch out for. Here's how to find a used RV from each seller, and what to watch out for…
Buying From RV Dealerships
RV dealerships are perhaps the most trusted source because they often come with warranties and a long list of 3rd-party customer reviews to reference. But, of course, we're all familiar with the used-car salesman stereotype.
Thankfully, like all stereotypes, it's often exaggerated and I really believe there are more honest used RV salespersons than not. After all, dishonesty catches up to everyone more quickly than ever before due to online reviews.
But in the end, they are salesmen and they have a whole slew of strategies to convince you to buy. My advice is to steer clear of any that say things like "If you buy today, I can do this… but that offer expires today" or "What can I do to get you in this RV today?"
We also recommend family-run RV businesses over chains. There's just something about having a family reputation on the line that encourages better service overall.
One of our favorite RV Dealerships is in Florida – Sunshine State RV.
Start Local Then Go National
We recommend starting with local dealerships for the convenience and hands-on factor. But don't be afraid to look not only out of your city but your state.
RVs are built to travel, after all, so driving one home or even having it delivered is a very valid option.
Many RV dealers will even pay your airfare if you're willing to buy from them. So, don't be afraid of buying outside of your area. You might score the best deal if you're willing to travel.

Just be sure to consider the pros and cons of buying out of state, such as access to repair services, registration requirements, taxes, and insurance that varies from state to state.
Buying From RV Shows
RV shows were widely canceled the last couple of years due to the pandemic but they are starting up again. Jennifer and I love attending them and I highly recommend them to the entire RV community, not just those in the market to buy an RV.
You can find astounding deals at RV shows. The whole point of selling at an RV show is to move RVs quickly. No dealer wants to return home with a bunch of unsold RVs.
It's like the "this deal is only available today" ploy works in both directions at an RV show. The dealer has a chance to sell to you that day or weekend before packing up. But keep in mind it still works both ways…
Beware of High-Pressure Tactics at RV Shows
Sometimes not so scrupulous salespeople working strictly on commission make all sorts of extravagant promises. Double-check them by seeing if those promises are shared by other dealerships and other salesmen.
Don't let them use the "only today" tactic on you because you can always talk or go to their home RV lot. Trust your gut on whether or not they have your best interest in mind. If your guts warning you, don't be afraid to pass up on a seemingly good deal. There's always another good deal to find.
Buying From a Private Seller
Buying from private sellers is perhaps the trickiest since it can be hard to tell what you're really getting. They also don't have a business reputation on the line to help ensure honest behavior and fulfilled commitments.
But, private sellers also don't have overheads to pay and other business expenses to cover. So, you can find some really great deals.
There are some red flags to watch out for, to help guide your decision. Try to avoid or be wary of the following:
Selling because behind on payments (likely behind on maintenance, too)
Don't have maintenance records
A salvage title or flood damage
Seller is a smoker and you're not (smoke smell is almost impossible to get rid of)
Seller isn't the owner and is selling it for someone (won't really know the RV)
RV has sat for over a month without care or maintenance
WARNING: Beware of scammers! Some may say they're out of the country but you can still send the money to get the RV. Or others may convince you to send them a money order because of this or that. Scammers can come up with elaborate stories. If something sounds odd, google it to see if it's a common ploy. Do your due diligence to ensure it's a safe purchase!
Here are some more tips on how to find a used RV from a private seller.
3rd Party RV Inspection
Ready for the other biggest advice on how to find a used RV that's affordable and reliable? Here it is…
Always order a 3rd party RV inspection. Whether you are buying used from a dealer or from a private dealer, order an inspection.
A 3rd party RV inspection will confirm whether or not the RV is in the working order as described. It may reveal issues that the seller wasn't aware of (or was and was trying to keep from you).
Remember, buying an RV is comparable to buying a house. You wouldn't buy a house without an inspection, would you? So don't buy an RV without one, either! Look into the National RV Inspectors Association of America.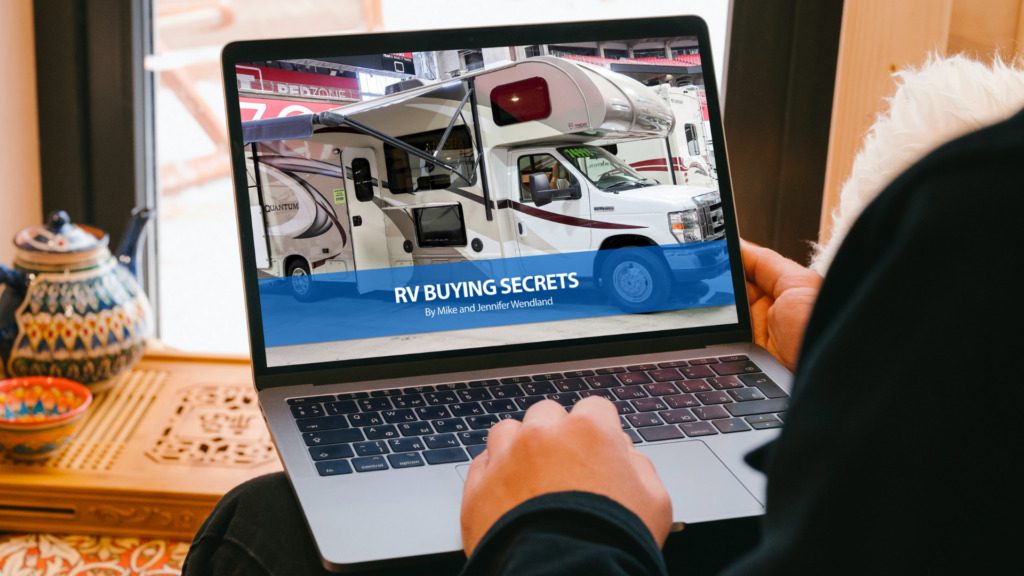 Next to your home, an RV is most likely the 2nd most expensive thing you'll ever purchase.
We get questions every day of other RVers wondering. "How do you buy a new or used RV?"
So we created a 75+-page downloadable digital guide to help you understand the nuances that come with purchasing an RV, where you can save thousands of dollars in the buying process, what the right questions are to ask dealers, what things to look out for, how to select the right unit, amenities, warranties, and so much more!
We created this guide to help you understand the nuances that come with purchasing an RV including:
Where to save thousands of dollars in the buying process
What questions to ask dealers
How to select the right unit
How to narrow down RV amenities
Understanding your warranty and what it covers
This ebook is designed to help make your purchase process as smooth as possible. And to teach you step-by-step exactly what to do so you can start your RV Lifestyle today!
---