Delivery day for your RV is a time of great excitement but before you drive off, here are 35 critical things to know before you take delivery of a new RV.
This article was written to answer an email I received from one of our followers who asked if I had a checklist of things to ask at the dealership on the final walkthrough before taking delivery.
And although we have offered some suggestions from time to time about what to do during the walkthrough – that's what dealers call it when they take you through the RV just before you drive off – it has never been in detail
So I sat down at the computer and gave it some serious thought.
The result is this article which will cover what we think are the key things to know before you take delivery of a new RV. These are all important items to ask about and get demonstrated on the lot.
The first of our things to know before you take delivery of a new RV starts the night before
My first suggestion is before you even get to the dealership and should be done at home, the night before the walkthrough.
Go to the manufacturer's website or the dealer's inventory post on your unit and read everything you can. Jot down anything you are not clear of.
Next, it's important to know just who is giving you the walkthrough. Is it the salesperson who sold it to you, or just whoever was free on the lot that day.
Often, we're sorry to say, once they get your signature on the bottom line the salesperson moves on and some dealers have "walkthrough guys," who are at best generalists who know a little about all RVs or worse, somebody who may nothing about your RV model but was drafted for the job because they didn't have anything to do when you showed up.
You'll want to know are they RVers themselves? How familiar are they with your particular model? Don't let them tell you they all work alike. They don't. Yours is unique.
If you are not comfortable with the person you get, stop the walkthrough and say you will complete the purchase when you get someone who has more expertise in your model.
Dealers will hate me for saying this. You, though, will thank me in the long run. That's what counts.
The third tip we have is, assuming you have a knowledgeable "walkthrough" guy, get out your cell phone and video record it. Have them show you, not just tell you. After they do it, you do it. Get it all on video. Take notes, too. Don't worry about it taking a long time. Make sure you know.
The video will come in very handy down the line as you get to know your new RV.
Lastly, here is my mega list of the key things to know before you take delivery of a new RV. We think you need to have explained and demonstrated. There may be more. But these will give you the basic background to get out there and use that RV.
Many of these things to know before you take delivery of a new RV will be detailed in the thick manuals and instructions that come with the RV. Review them when you can and frequently go back to anything that is confusing. But go over these questions, too, at the walk-through.
Ready? Here they are:
Things to know before you take delivery of a new RV
Hot water heater – How does it turn on? What controls does it have? How should they be set? How long does it take hot water to come out?
Where do you fill the fresh water tank?
Where and how do you drain the fresh water tank?
Where and how do you attach city water?
Is there a water filter in the RV? How often should it be changed?
How do you winterize the plumbing system?
How do you dewinterize the plumbing system?
How do you drain the black water tanks? Get the hose out and make sure you undertsnad
How do you drain the gray water tanks?
Can you fill the fresh water tank from a jug? How so?
How do you sanitize the water – black and grey – tanks?
What should you use in the toilet to control odors?
How do you plug into shore power?
When on shore power, how should the battery switches and inverter be set?
How do you start the generator?
Is there an auto start feature when the house batteries get low? How does it work?
How often do you have to "exercise" the generator?
How do you check oil level in the generator and what maintenance does it require?
Do you have a slide? How does it work…does the emergency brake have to be set, does it have to be level?
What if the slide sticks open?
Is there a lock to keep the slide from opening while driving?
How do you maintain the slide?
What kind of refrigerator do you have and what powers it – shore power, LP, generator, engine fuel? Does it automatically switch to whatever power is there> How does it work? How level does it have to be?
How does your air conditioner work?
If you have a microwave/convection oven, how is the convection oven different than the microwave?
If you have automatic levelers, what do you do if one of them refuses to retract?
Do you have surge protection for your RV's electrical system to protect it from bad shore power at the pedestal?
How does the bed work – Is it a sofa that makes into a bed, or a Murphy bed? If so have it demonstrated?
Where are the fuses located? The breakers?
How does the heater work?
How do the rooftop fans work?
How does the awning work? What happens if it sticks open?
How does the TV work? Using the antenna? Hooking up to cable? Is there prewiring for a satellite system?
Does your RV have an automatic sliding step? How and where do you lubricate it? How often? Where is the switch that allows it to stay out when you're camped?
Finally, what do you do if you have a problem on the road? Most manufacturers have free road service. Make sure you have the number and know what is covered and what isn't.
Whew! That's a lot of stuff. But, as I said, those are all really important things to know before you take delivery of a new RV so you understand and can properly operate your new RV.
It's at the final walkthrough that you can best start to see and learn the answers.
If you are still trying to figure how which type of RV to purchase – take a look at a few of these posts.
---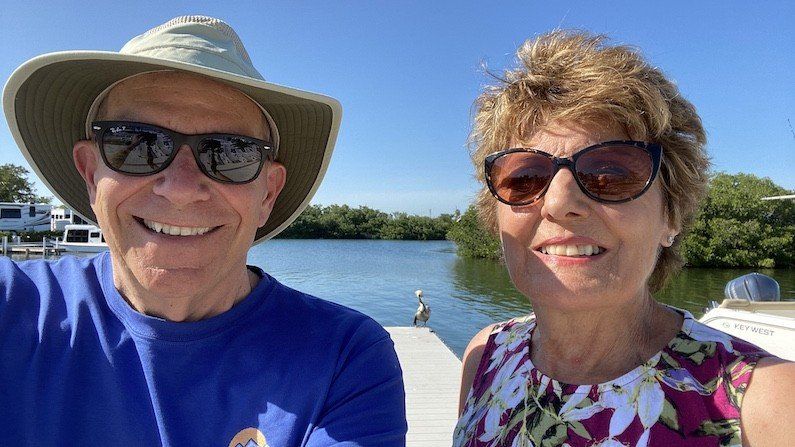 Curious about the gear, gadgets, accessories, and RV products Mike & Jennifer use and recommend?
On this RV Lifestyle Travel blog, our RV Podcast and our RV Lifestyle YouTube Channel, we mention all sorts of RV-related products and gear that we use, So we created a special page that links to them. We update this all the time.  CLICK HERE to go to it directly.
---
---
---