This month sees us celebrating the RV Lifestyle 10th anniversary and on RV Podcast #388 Jennifer and I reflect on the changes we've noticed – the good and the bad, especially as it relates to RV travel.
It was March of 2012 when we bought our first RV, a gently used 2006 Class B motorhome and since then, we've had five others, traveled about half a million miles, and crisscrossed North America multiple times.
The first blog post we wrote was on April 10, 2012, and detailed the lessons we learned from our first long RV trip.
As I re-read that early post, I can read between the lines the excitement and anticipation we had for what was to follow.
And here we are today, just as excited, maybe even a bit more. We're still loving this lifestyle and still have a bucket list that continues to grow.
We recorded this podcast from our camping spot in the Big Bend area of Florida this week.
To see the video version of the podcast, click the player below.
You can hear an audio version on your favorite podcast app or click the player below to listen to it on whatever device you are reading this.
Podcast: Play in new window | Download (Duration: 38:16 — 22.5MB) | Embed
Subscribe: Google Podcasts | Spotify | Email | TuneIn | RSS
Why we're not coming in from the road
If you have followed other RV influencers and YouTubers you've probably noticed that a lot of them are coming in from the road. Many of the full-timers, if not quitting, are selling their RVs and turning to other pursuits like homesteading, boating, international travel.
Jennifer and I have never been full-timers. We have a sticks and bricks house in Michigan and we use it as our home base. We are on the road in our RV from half to three-quarters of the time.
More recently, we purchased five acres of land in Tennessee which we are turning into a private RV retreat for ourselves and invited guests.
We want to do the same thing in Michigan, finding some property in the north woods. And we want to keep traveling across the country.
But we have noticed some changes.
How RV Travel has changed in 10 years
I hope you will take some time and watch or listen to the actual podcast. But here are the big changes we have noticed.
These are the highest fuel prices we have ever seen – My first fillup of that used motorhome in 2012 was $72. That was for diesel. Today filling up with diesel in the same motorhome would easily exceed $100.
90 mph seems to be the new normal highway speed! I travel close to the speed limit. Maybe 73 or 74. But even in the right-hand lane, that often gets me dirty looks or nasty gestures. There is no doubt, people are driving very fast.
There are more impatient and reckless drivers. They weave in and out of traffic. Passing in any lane they can at great speeds.
There are more driver distractions. A decade ago, it was talking on a cell phone. Now it's texting. Or watching videos.
There are more RV-friendly highway rest stops encouraging RV camping. We first noticed this on the Ohio Turnpike, east of Toledo, where designated RV camping areas have been set up, complete with hookups. More and more other rest areas have dump facilities, as well.
Diesel is much more available. Ten years ago, we often had to search for diesel. Often it was only available at truck stops. Now it's at almost every station.
Technology and better navigation have improved greatly. Services like Apple Car Play and Android Auto that interface with the vehicle's entertainment system and main screen are so handy. Apps like WAZE, which maps and tracks traffic and road conditions in real-time, now make getting directions and navigation information stress-free.
Cellular service is reliable and solid pretty much everywhere. A decade ago, there were lots of dark spots. I wouldn't dream of a long road trip without taking a cellular booster. The major cellular providers have now built out their systems for 4g LTE and 5G that I have not needed a booster even once in the past two years. In fact, I don't even have one now.
Satellite Internet is almost here for everyone. We talked last week about Starlink for RVers and the high-speed Internet is provided through a constellation of low orbiting satellites. In fact, I just got it myself. When this is fully functional, this will be the main Internet source for many RVers. Even now, a growing number of RVers are exclusively using it. Stay tuned I'll be sharing my experience over the next few weeks. But as an RVer who works remotely, Starlink really has me excited.
More reasons we're celebrating the RV Lifestyle after a decade of travel
As Jennifer noted in the podcast, familiarity brings comfort.
Over a decade of RV travel has given us a familiarity with the country, its many different regions, customs, and attractions. We know, generally speaking, what to expect on long journeys. We have collected our favorite campgrounds, restaurants, attractions that we like to revisit.
And in each area, we have lists of new things to seek out and experience.
Our goal for this year is to slow down and get to know specific areas of the country even better. Our first few years of travel were rushed. We tried to take in everything, all at once. Now, we realize that you really do need more than an overnight or two to experience a place.
But perhaps the best part of these ten years of travel has nothing to do with the places we have visited. It's the friends we have made. All across the country.
We can't wait to get back and see them all again.
We plan to keep doing this for as long as we can.
Here's to the next decade!
Happy Trails.
---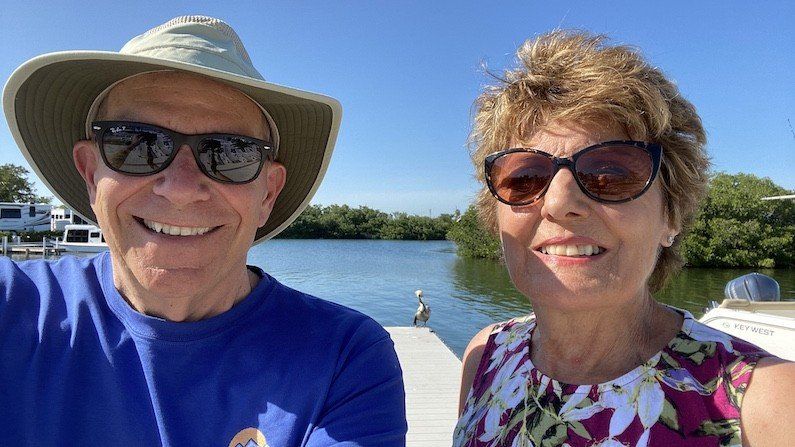 Curious about the gear, gadgets, accessories, and RV products Mike & Jennifer use and recommend?
On this RV Lifestyle Travel blog, our RV Podcast and our RV Lifestyle YouTube Channel, we mention all sorts of RV-related products and gear that we use, So we created a special page that links to them. We update this all the time.  CLICK HERE to go to it directly. Have you caught one of our Amazon LIVE events yet? Just go here and Follow us – to be notified every time we go live.
---