Want to explore caves in Utah? Utah features the world's longest cave and so many other cool caves & caverns…
Jennifer and I love exploring all that Utah has to offer. We have visited hot springs and rock arches, but now we want to share the coolest caverns and caves in Utah!
The following outlines the best caves in Utah that you do not want to miss!
And put these on your list to read too – 11 Magical Caves in the US and an Off The Beaten Path Report: Three Missouri Caves.
Hey, if you buy something through my links, I might get a little something-something as a thank you. No extra cost to you, promise! Read our full affiliate disclosure here.
10 Coolest Canyons & Caves in Utah
We think Utah should be on everyone's bucket list. It's such a special destination with a wide range of unique scenery.
We have a Southern Utah RV Adventure Guide that we highly recommend, but it doesn't include all of these caves. So, you'll want to add in the ones that catch your interest.
Located just east of Duck Creek Village, Utah, Mammoth Cave is one of the largest lava tubes in all of Utah. It is the world's longest cave system! Its elevation is 8,050 feet, and offers over 2,220 feet of passages.
Mammoth Cave is part of the Markagunt Plateau and was formed over time by flowing water and cooling lava. In fact, the cooled lava is only several thousand years old. That is young when it comes to geology timespans!
At first glance, the cave appears to be a large hole in the ground. But be sure to bring a good light! It is very fun to explore but becomes pitch black after the first turn.
A final note for claustrophobic visitors. The exit is a small tube at the very end, requiring you to slide on your belly. If this is not comfortable for you, turn around and exit the cave the way you entered.
Located near Highland, Utah, American Fork Canyon is more popular than ever for its excellent camping, fishing, rock climbing, and biking. It even features one of the coolest caves in Utah!
The main highlights to see are Cascade Springs, Mount Timpanogos Cave National Monument, and the Alpine Loop Scenic Backway.
Mount Timpanogos Cave National Monument contains Timpanogos Cave, Middle Cave, and Hansen Cave. All three chambers are connected through man-made tunnels. They are known for their crystal-filigreed walls, which are pink and white in color.
The three caves also feature stalagmites, stalactites, flowstones, and underground pools.
Moqui Cave is one of the neatest sand caves in Utah. This sandstone erosion cave in Kane County, Utah, maintains a cool 65 degrees Fahrenheit, even on the hottest summer days!
The site features a collection of Native American artifacts found in Southern Utah. They are from the inhabitants that frequented the area over 1,200 years ago.
The interior of the cave features over 180 dinosaur tracks, as well as a large fluorescent mineral display.
Situated in the Beaver Dam Mountains, in Washington County, Utah, is the Bloomington Cave. The mountains are made mostly of Permian Age limestone, making for interesting cave systems.
Bloomington Cave is the most well-known and extensive cave in the St. George area. It consists of six different levels and narrow, steeply dipping floors.
The length of the cave is 1.43 miles, which makes it the fifth-longest cave in Utah.
Main Drain Cave near Logan Canyon, Utah, is on my list for the coolest caves in Utah because it is the deepest. It is a vertical cave, bottoming out at 1,127 feet deep!
It sits in the Alpine Karst Glacier basin, at over 9,000 feet in elevation.
This cave is no longer open to the public following a fatal accident in 2009. But it's worth mentioning because of its unique history.
The cave was sealed after rescue workers could not save or retrieve the body of a spelunker trapped upside down in a small passage. The collapsed cave now serves as a tomb for the young man.
A film about the tragedy titled The Last Descent, produced by James Halasima, was released on September 16, 2016.
Situated in the quaint town of Duck Creek Village, Utah, Duck Creek Ice Cave is one of Utah's limestone caves that remains cool all year round.
If you visit during summer, you can expect the cave to be about 40 degrees Fahrenheit. There is not always ice present inside when temperatures are high outdoors.
The cave itself is a small, one-room limestone cavern. There are no amenities, but it's only a short hike to the cave.
Walking roundtrip from the parking lot to the cave entrance only takes about a half-hour. Despite being a small cave, it is still one of Utah's interesting ice caves!
One interesting fact about this cave is how it was used during the pioneer days. When traveling through, they would store their food inside to preserve it.
Check and call ahead as many months they are only open on the weekend.
Outside of Kanab, are some of the more unique caves in Utah. That's because they are man-made!
They were created when people began mining in the area. Although the mining was short-lived, it left behind these cool caves.
They're located 5 miles North of Kanab, Utah. They are right off Highway 89, which makes it a nice pit stop as you travel through the state.
Crystal Call Cave is a natural limestone cavern located in Gandy, Utah. The cave is surrounded by desert, and not far from the Great Basin National Park.
Although it is under control of the Bureau of Land Management, Crystal Ball Cave is managed by Jerald and Marlene Bates. That means there is no fee charged for entry, but donations are appreciated.
You might also want to check out the Bate Family Ranch. The site offers rustic camping, and is a short drive from Mt. Moriah Wilderness, Deep Creek Mountain Range and Wild Horses.
Located high on the south slope of the Uintah Mountains, Little and Big Brush Creek ice caves are only 5 miles apart. The cave mouths can be difficult to access depending on current trail conditions and weather.
Unlike mineral formations of stalagmites and stalactites you see in other caves, these caves are filled with incredibly ice crystals and formation that change from year to year.
While the large cave openings can be cautiously admired, exploring further into its depths is extremely dangerous. The cave system has many hazards, including vertical drop-offs and high levels of carbon monoxide.
Our 7-Day Adventure Guide to Utah (Quick Video Intro)
Like what you see in these videos? We'd appreciate it if you would Subscribe to our YouTube Channel (easy to do right here) and consider "ringing the bell icon" to be notified of any new video from us. 🙂 Thanks!
Here's a short review about our Seven Day Adventure Guide to Utah. And here is more information on the ebook…
Mike and Jennifer's Southern Utah RV Adventure Guide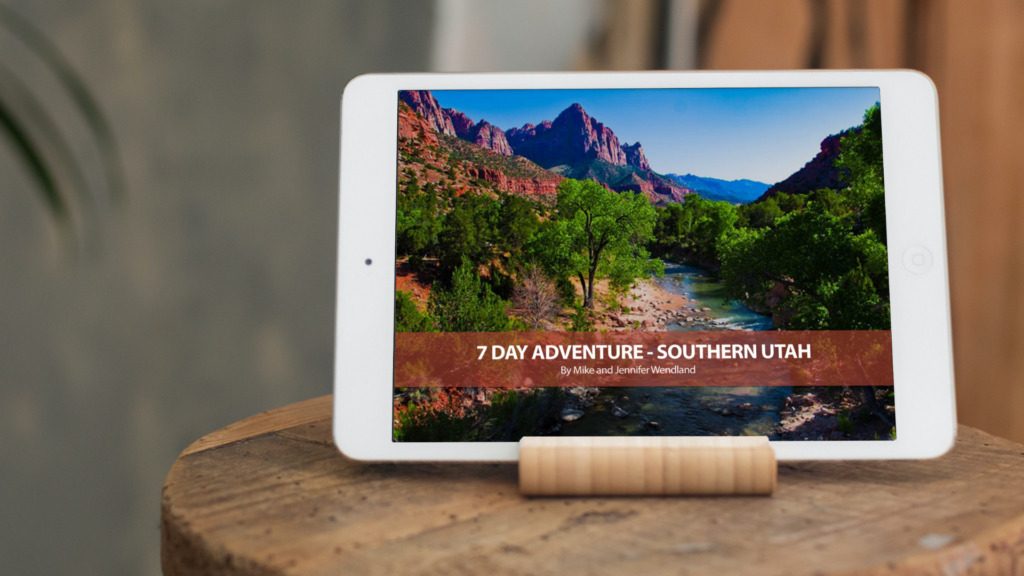 Utah, Utah, Utah. What more is there to be said? In very few places across the United States is there such a tremendous area with breathtaking vistas and diversity of terrain.
The sheer size of the National Parks, the canyons, the desert. Combined with the amount of history written in the red rocks that rise like towers jutting out of the ground and the delicate hoodoos washed away by erosion.
It is a place that, if you've never been, you need to go, at least once in your life.
This ebook is a seven day guided exploration of the State and National Parks in Southern Utah. We provide a suggested route and itinerary, links to multiple campgrounds and boondocking spots, and the best spots to see along the way. Don't plan your trip to Southern Utah without it!
You can hit everything in seven days, do a whirlwind weekend tour, or you can take your time and explore the area over a few weeks.
---
---
We LOVE Harvest Hosts! It's a membership program that connects RVers with unique places to stay overnight for free, such as farms and wineries. Members pay an annual fee and can stay at any of the participating host locations for one night at a time.
In exchange for the free overnight stay, members are encouraged to support the host location by purchasing products or services. This is a great way to save money on camping reservations while experiencing unique and memorable locations.
You can use this link and the discount code: RVLIFESTYLE15 you get 15% off Harvest Hosts annual membership.
The Harvest Hosts CampersCard is a NEW discount program we've already benefited from. You can see in the video above how we used it while camping out at an incredible hidden gem campground.
CampersCard members get benefits, including early check-in, late checkout, and discounts on nightly rates.
---