The best RV Camping in Oklahoma is found at the many beautiful state parks.
When traveling down winding roads through the beautiful scenery and rugged terrain in the state of Oklahoma, you may find yourself in search of the perfect place to hitch up for the night.
I have outlined fun places to see in Oklahoma that are off the beaten path. Places like where to toss cow "chips," where to locate a blue whale (yep, in Oklahoma!), and how to see a very cool 1917 Packard Motorhome.
But now, I want to outline the more natural places to go and see, like some of the gorgeous Oklahoma state parks.
The Best RV Camping in Oklahoma
The following are my recommendations for the best RV camping in Oklahoma!
Beaver's Bend State Park is one of Oklahoma's original seven state parks. It is situated in the mountainous terrain of southeast Oklahoma, on the shores of Broken Bow Lake and Mountain Fork River. It covers 1,300 acres in McCurtain County.
Established in 1937, the park features more than beautiful scenery. You can golf, visit the nature center, go water skiing, fish, or swim. Or use the boat ramp for motorized boating. Non-motorized equipment like canoes, rafts, SUPs, and kayaks are always welcome.
Then enjoy lunch at one of the park's picturesque picnic areas.
Take a short drive to camp in one of the RV sites or tent sites at Beavers Bend State Park Campground.
In the lower "River Area," located near the pristine Mountain Fork River, there are two campgrounds. They do not offer full hook-ups (no sewer), but semi-modern hook-ups with water and electricity.
The Acorn campground has RV campsites with 50-amp electric hookups, and the Cypress campground offers 30-amp electricity.
The lower "River Area" has the Fern campground, offering water with 30-amp electricity. That campground is near the miniature train and stables offering horseback riding.
For tent camping, you can go to the Dogwood, Grapevine, Elm, or Hickory campgrounds in the upper "River Area." Primitive camping only is available.
After a long day of enjoying the park, it is a great place to put your feet up and relax.
This 120-acre state park is located in the scenic Ozark Highlands area of northeastern Oklahoma. It is a popular destination a nice family, weekend getaway.
If you are in search of a great spot for a picture, look no further than the 77-foot waterfall that cascades through rock formations. This park is a popular place for fishing, hiking, seeing wildlife, playing volleyball, and disc golf.
The campground offers RV and tent campsites. Full hook-up sites with sewer, electricity and water hookups are available. There is a dump station on-site as well.
There is no wifi, but the campsite is pet-friendly.
Other modern amenities include restrooms, a play area, picnic tables, gardens, hiking trails, sports courts, disc golf, and a convenience store.
---
Do you enjoy your Small House and BIG Yard RV Lifestyle experience? Maybe you need a t-shirt or hoodie to tell the world. This saying is a favorite in our community. Don't need a hoodie? We have mugs.
---
Here are a few more of the best RV camping in Oklahoma State Parks
Another great road trip stop is Lake Murray State Park. This 5,700-acre lake can be found in south-central Oklahoma. The park is Oklahoma's largest state park, measuring in at over 12,5000 acres of wilderness!
Anglers will love catching White bass, Spotted bass, Largemouth bass, Smallmouth bass, and Channel catfish.
Some consider it the best place to enjoy golf, ATVing over the surrounding rolling hills, horseback riding, boating, swimming hiking, and biking.
There are nine campgrounds scattered throughout the park, as well as three group camps. Some RV sites offer full hookups, with a wide array of pull-through sites. There are also bath and shower houses.
Located in western Oklahoma, Black Mesa State Park and Nature Preserve can be found in the panhandle region. It was named for the layer of black lava that coated the terrain approximately 30 million years ago.
If you enjoy hiking, you can go up to the top of the plateau which is 4,973 feet above sea level.
Popular activities do include wildlife viewing, hiking, boating, kayaking and canoeing, and fishing.
On-site camping includes 25 RV sites with water and electricity or primitive tent sites. There are no full hookup sites.
Alabaster Caverns State Park is also located in western Oklahoma. This 200-acre state park attracts about 25,000 visitors annually.
Its main attraction is one of the largest natural gypsum caves in the world. The cavern is formed of alabaster, a rare form of gypsum. This rare cave is open to the public, and the only one of its kind in the United States.
Visit the unique 55-degree cave which is open year-round.
Other activities to enjoy in the park include wildlife watching and hiking.
The campground offers hot showers and lots of shady spots. Also enjoy a playground featuring a rock climbing wall, swings and a slide that can help keep your kids active. Picnic tables and shade offer a nice place to cool off and eat.
Other Things to See
That wraps up the best RV camping in Oklahoma, but parks are not the only popular attractions in Oklahoma. I have outlined a few other places you might want to visit.
You can find this interesting museum in downtown Oklahoma City. It features more than 28,000 American Indian and Western artifacts and works of art.
The museum also has the world's most extensive collection of American rodeo saddlery, early trophies, barbed wire, and photos.
Red Rock Canyon Adventure Park
What a great place to take the kids or grandkids! This park, (previously known as the Red Rock Canyon State Park), offers a great stop to get some energy out. And if you get tired of your RV, you can do some Glamping here, too!
Enjoy the gorgeous red rock scenery that was once home to the Plains Indians. Then use the swimming pool, fish, and play on the playground before enjoying lunch at a picnic site.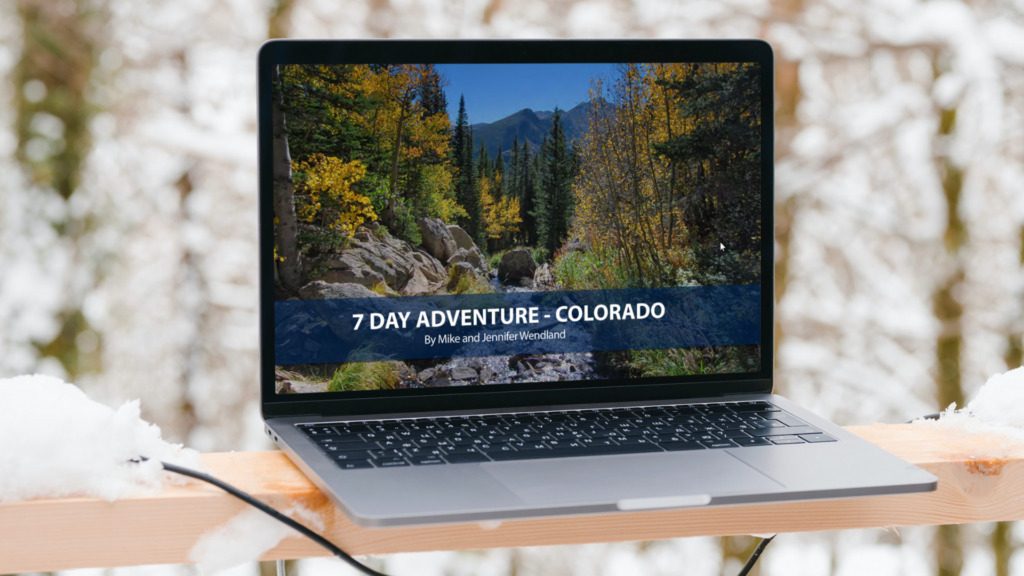 When Jennifer and I first went to Colorado, I felt like I finally understood what John Denver meant by his song: I've now been Rocky Mountain High.
And like Denver, exploring all that Colorado has to offer made me want to sing, too.
This is a fully designed and edited guide that you can download and start reading immediately on your phone, tablet, computer or e-reader.
---
---
---