Stargazing season is here! Enjoy the night skies at their brightest at National Parks stargazing festivals…
With warmer weather comes clearer skies and the perfect opportunities to see the night sky in all its awesome glory.
National parks are helping visitors make the most of this time by hosting stargazing festivals. The festivals include various nightime events in addition to stargazing.
These events are right around the corner, so bust out your stargazing kit and get going!
We use affiliate links and may receive a small commission on purchases at no added cost to you. Thank you for your support. You can read our full affiliate disclosure here.
Dark Sky National Parks
National parks are becoming night sky havens since they have less exposure to light pollution. Dozens of national parks are even designated Dark Sky Parks because of their "exceptional or distinguished quality of starry nights…"
Some national parks with the official "Dark Sky Park" classification are:
Arches National Park, Utah
Big Bend National Park, Texas
Big Cypress National Preserve, Florida
Bryce Canyon National Park, Utah
Canyonlands National Park, Utah
Capitol Reef National Park, Utah
Capulin Volcano National Monument, New Mexico
Cedar Breaks National Monument, Utah
Death Valley National Park, California
Mesa Verde National Park, Colorado
Petrified Forest National Park, Arizona
Voyageurs National Park, Minnesota
Zion National Park, Utah
You'll notice Utah is a big hitter when it comes to stargazing. So many incredible places to not only see during the day but also to be mesmerized by at night!
That's why it's no surprise that our Southern Utah RV Adventure Guide is one of our most popular guides. We also have an article on the 5 Best Dark Sky Locations for Stargazing in U.S.
National Parks Stargazing Festivals (2023)
Unfortunately, we're a little late posting this article as the first two events have just passed. But these annual events are held at similar times annually so you can start planning those for next year.
In the meantime, there are still a few amazing stargazing festivals at national parks in the near future. And, national parks often host many stargazing activities and events throughout the year, so check for those whenever you plan to visit.
Alrighty, let's take a look at the national parks stargazing festivals 2023…
Grand Canyon Star Party, June 10-17 (check in a few months for 2024 dates)
Grand Canyon National Park is known for its breathtakingly beautiful rugged terrain. But did you know it also hosts some of the most beautiful night skies around?
You can take in those skies this month at their annual Star Party. The event is free, but you must still pay to enter the park. The park fee is good for the North and South rims for seven days.
The event starts at sunset, although the best viewing time is after 9 pm. Most telescopes will be taken down at 11 pm, although some folks still share theirs after that when the skies are crisp and clear.
Bryce Canyon Astronomy Festival, June 14-17 (check soon for 2024 dates)
Bryce Canyon National Park is located in southern Utah. This park has such excellent night sky viewing that it earned its dark-sky designation in 2019!
Come view the reddish-colored "hoodoos" during the day, and then return for its spectacular nighttime views!
Their annual stargazing event includes lectures and, star stories presentations, guided stargazing sessions. They also have a performance by an Arizona string quartet called Dry Sky Quartet and other family-friendly activities.
Annual Badlands Astronomy Festival, July 14-16
South Dakota is home to Badlands National Park, which boasts exciting fossil beds and unique geologic formations. You can see things like sod tables and clastic dikes during the day, then stay to take advantage of their dark night skies.
Their annual Astronomy Festival partners with the NASA South Dakota Grant Consortium. Their festival typically includes guest speakers, telescopes, sky viewing, and a guided walk through a scaled solar system model!
---
Mike and Jennifer's Summer T-Shirts for your next adventure

---
Shenandoah Night Sky Festival, August 11-13
Shenandoah National Park is a gorgeous gem in the Blue Ridge Mountains in north-central Virginia. In fact, this almost 200,000-acre park is so breathtaking that we have done several posts about it!
The other great thing about this park is its location. It is only a 75-mile drive from Washington, D.C. So if you will be checking out our nation's capitol, it's an easy trip to make.
You can view its cascading waterfalls, wildflower fields, and quiet woods daily, then stay for its spectacular nighttime views.
Their annual stargazing event hosts public stargazing sessions. Ranger talks and other lectures and presentations, and family-friendly activities.
The guest presentations will include a span of topics, including space travel, space weather, and our future in space.
The event is free with park admission.
Great Basin Astronomy Festival, September 14-16
The Great Basin National Park might be for you if you prefer to avoid crowds. It is one of the least crowded national parks!
The 77,000-acre park in eastern Nevada also has a research-grade observatory!
This fall, you can attend their stargazing event, which usually includes constellation talks, guest speakers, and observatory tours. They also have a photography workshop for all you photo bugs out there!
Joshua Tree Night Sky Festival, October 13-14
Joshua Tree National Park is designated as an International Dark Sky Park by the International Dark-Sky Association (IDA). That means it is the perfect spot to stargaze all year!
Every year, the park and non-profit organizations Joshua Tree Educational Experience (JTREE) and Sky's the Limit Observatory and Nature Center partner to bring this incredible stargazing event.
The Night Sky Festival is a ticketed event and has a limited capacity. It is usually located just outside the park limits at the Sky's The Limit Nature Observatory and Nature Center. Tickets go on sale in early summer.
Stargazing Kit
With so many stars in the sky and a universe so vast, stargazing helps put life (and all of our problems) into perspective. It's one of the biggest perks of camping when you have an open sky filled with stars above you.
Of course, all you need to stargaze is a clear sky and a craned neck. But to really soak in the heavens and enjoy your time outside at night, it helps to be comfortable. It's also nice to know what you're looking at and to see things even better.
So, we've compiled a list of items that take stargazing for campers to the next level.
Um, Mike, I want to look at stars, not do yoga. I hear ya! But this yoga mat is better than any picnic blanket you'll find. With its thick padding, you can lie down anywhere and comfortably gaze up at the stars.
It's light and easy to carry with its strap. And it's not a problem if it gets wet. Just be sure to let it air dry before you store it.
This wearable blanket has a big front pocket and comes with a small pillow. And I do mean comes with a small pillow, not folds up into a pillow like some other options. That way, you can use the pillow and blanket at the same time.
Both the blanket and pillow zip up into a little bag. It's lightweight, easy to carry, and, most importantly, very cozy!
SEE THE COMPLETE LIST FOR YOUR STARGAZING KIT…
Our 7 Day RV Adventure Guide to Utah
Here's a short review about our Seven Day Adventure Guide to Utah. Here is more information…
Mike and Jennifer's Southern Utah RV Adventure Guide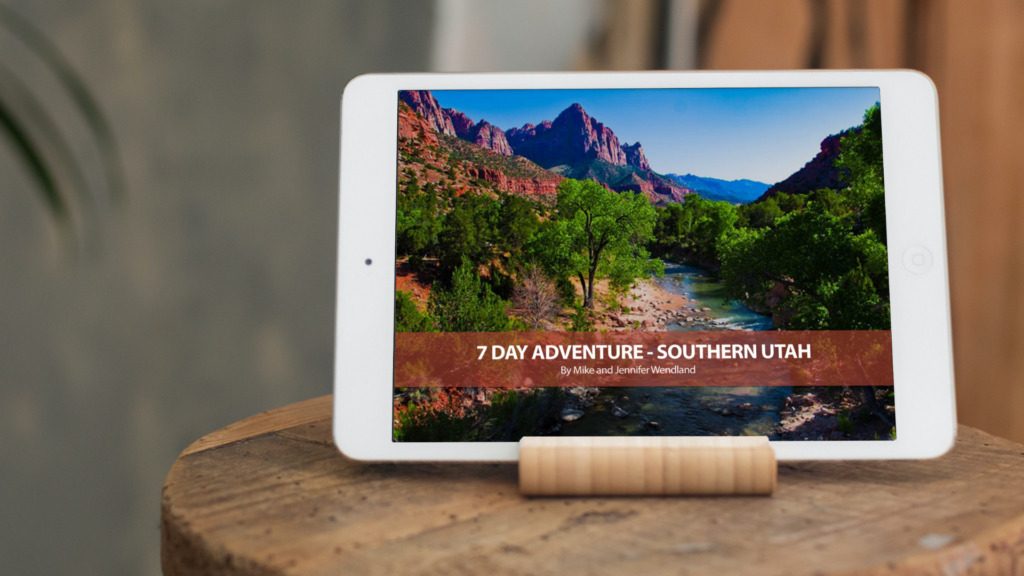 Utah, Utah, Utah. What more is there to be said? In very few places across the United States is there such a tremendous area with breathtaking vistas and diversity of terrain.
The sheer size of the National Parks, the canyons, the desert. Combined with the amount of history written in the red rocks that rise like towers jutting out of the ground and the delicate hoodoos washed away by erosion.
It is a place that, if you've never been, you need to go, at least once in your life.
This ebook is a seven day guided exploration of the State and National Parks in Southern Utah. We provide a suggested route and itinerary, links to multiple campgrounds and boondocking spots, and the best spots to see along the way. Don't plan your trip to Southern Utah without it!
You can hit everything in seven days, do a whirlwind weekend tour, or you can take your time and explore the area over a few weeks.
---
---
---
Official RV Lifestyle QUICK Links to ALL our eBooks
You can see ALL our eBooks here, or use the following Quick Links to go straight to what you need!
● Arizona
●    Colorado 
And MANY of these are BUNDLED together:
New England Bundle
Coastal Maine, Adirondacks
Ultimate Michigan and Great Lakes Bundle – 3 ebooks –
Upper Peninsula, Lower Peninsula, and the Great Lakes Tour
Michigan Bundle
Upper Peninsula, Lower Peninsula
The Great Lakes Adventure Guide Bundle
The Great Lake Shoreline Tour & JUST the Upper Peninsula Guide
Florida Adventure Guide Bundle
Gulf Coast, Atlantic Coast, Keys
Southwest Adventure Guide Bundle
Arizona, Colorado, Southern Utah)
Ultimate 7-Day RV Adventure Guide Bundle
Collection 1- our first 10 ebooks (does NOT contain Great Lakes Shoreline or Natchez Trace)
We also have a nice collection of ebooks that will help you navigate the RV Lifestyle.
Like these:
The Beginner's Guide to Boondocking
The Ultimate Guide to Cheap or FREE RV Camping Sites
Boondocking and Free RV Camping EBOOK Bundle
The Beginner's Guide to Boondocking ebook and Ultimate Guide to Free Camping Sites
And ONE PRINT book 🙂 and yes, before you ask, we have plans for MANY more print books.
The Complete Guide to Boondocking – PRINT VERSION
This is the same as the ebook titled The Beginner's Guide to Boondocking but in print.
And while you are exploring all our ebooks – check out the hoodies, T-shirts, Stickers, and mugs in our MERCH Store! You can get to it directly by just going here – SHOP!