As the leaves start to turn brilliant shades of red and gold, it's the perfect time to hit the road and experience the beauty of fall. Let's go on a Fall Foliage Adventure: Creating the Perfect Roadtrip with Harvest Hosts.
One of the best ways to do so is by setting off on a journey through the heart of the nation's most picturesque farms and wineries. When it comes to planning the trip of your dreams, there's nothing out there like (one of our favorites) Harvest Hosts.
And in case you're not familiar, Harvest Hosts is a unique membership program that connects travelers with a network of thousands of farms, wineries, breweries, and other unique and beautiful locations across the United States and Canada. Members gain access to these stunning properties, often nestled in the most scenic countryside areas, where they can spend a night on the property in their RV.
We've been big fans and affiliate partners with Harvest Hosts since their beginnings and highly recommend all their products and services.
Fall is the Perfect Time for a Roadtrip with Harvest Hosts
Fall, with its crisp air and vibrant foliage, sets the stage for an unforgettable Harvest Hosts adventure. Here are a few reasons why you should explore farms and wineries using Harvest Hosts this fall:
1. Breathtaking Scenery: The changing leaves create a captivating tapestry of colors, turning even the simplest countryside into a work of art.
2. Milder Weather: The cooler temperatures make outdoor activities more enjoyable, whether it's hiking through orchards or sipping wine on a vineyard patio. And because Harvest Hosts is a boondocking membership, these temperatures are perfect for the program.
3. Harvest Festivities: Many farms and wineries host special events during the fall, like apple picking, grape harvesting, and pumpkin festivals. It's a chance to immerse yourself in local traditions. Curious to know more? Each Harvest Hosts location has a profile that will let you know what to expect.
4. Less Crowded: Fall is considered an off-peak season, so you can explore these delightful locations with fewer crowds, allowing for a more peaceful and intimate experience.
Planning Your Fall Adventure with the Harvest Hosts App
To make your fall adventure even more enjoyable, Harvest Hosts has just launched an exciting app update that enhances your trip-planning experience and makes the program easier to use:
1. Save Your Filters: Customize your search with filters that match your preferences, such as type of Host, location, or amenities. The new update allows you to save these filters for quick and easy access.
2. Accurate Reviews: Get more detailed and reliable information on reviews from fellow travelers who have visited these Hosts. This feature helps you make informed decisions about where to stay.
3. Favorite Hosts on the Map: Now you can see your favorite Hosts directly on the map, making it easier to plan your route and ensure you don't miss any of your preferred stops.
Whether you're an RV enthusiast, wine connoisseur, or simply someone who loves the great outdoors, Harvest Hosts offers a unique and memorable way to experience the best of the season. Don't forget to take advantage of the new app update to make your trip planning smoother and more enjoyable than ever before.
With Harvest Hosts, you'll not only witness stunning fall foliage but also create lasting memories and connections with the friendly Hosts and fellow travelers you encounter along the way. So, pack your bags, hit the road, and immerse yourself in the beauty of autumn with Harvest Hosts as your guide. Your fall adventure awaits!
Where will YOU be going on a roadtrip with Harvest Hosts?
Let us know in the comments or on our social accounts!
Recap of SOME of our Favorite Fall Travel Posts
You are always welcome to use the search bar on our website and look for anything (as the RV Lifestyle blog is a RV Google of sorts), including Fall travel ideas!
Interactive Fall Leaf Color Map
The map provides a visual guide to follow autumn's colorful transformation across North America. View precise predictions of the fall foliage season from week to week. Get ideas for your RV route and plan to hit the road when scenery will be at its most breathtaking. Use the map here.
Fall Foliage: 5 Awesome RV Destinations for Fall Color
We have some awesome RV destinations for fall color to share with you! Whether you consider autumn the grand finale to summer or the calm before the storm of winter, few can argue that fall foliage delivers some of the most stunning scenery all across the country. Explore the Fall Destinations Here.
---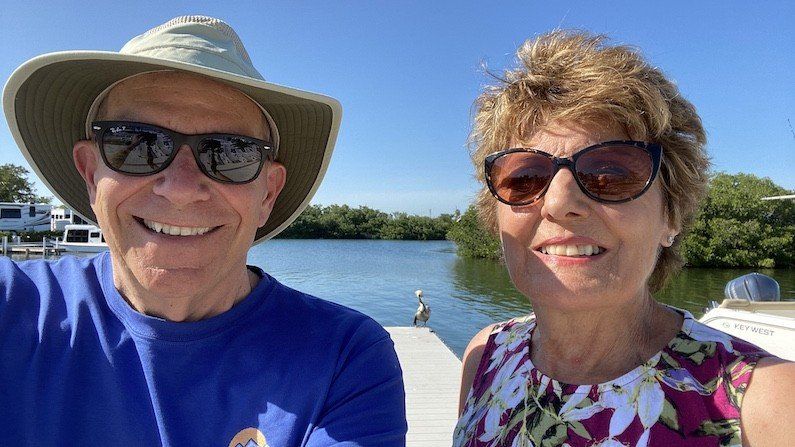 Curious about the gear, gadgets, accessories, and RV products Mike & Jennifer use and recommend?
On this RV Lifestyle Travel blog, our RV Podcast and our RV Lifestyle YouTube Channel, we mention all sorts of RV-related products and gear that we use, So we created a special page that links to them. We update this all the time.  CLICK HERE to go to it directly.
---