The best RV battery for boondocking depends on your needs, so let's review all the top options!
Boondocking, also called dry camping, is beloved by many RVers. If you don't know, it's camping without hookups to water, electricity, sewer, or cable. 
Jennifer and I prefer boondocking since we feel like we can truly disconnect from the hustle and bustle of life.
RV boondocking allows you to enjoy nature away from people and be off the grid. But, still be able to enjoy some comforts from home. It provides you with the best of both worlds!
Of course, if you want to use electricity to power lights and appliances, you will also need an efficient boondocking battery setup.
Hey, if you buy something through my links, I might get a little something-something as a thank you. No extra cost to you, promise! Read our full affiliate disclosure here.
Best RV Battery for Boondocking
To determine the best RV battery for boondocking, you will need to assess your particular needs. You will need to know how many amps each of your appliances consume when plugged in.
Small appliances, like lights, will not drain much power from your battery. But microwaves or coffee pots will use more amp hours. You will also want to account for an air conditioner or heater if you think you will use either of them.
Once you have set up camp, you will want to switch on a generator while using high amp consuming appliances like the air conditioner. You will also want to switch over your refrigerator to propane.
If you have not already done so, consider swapping lights for LED, use 12-volt DVD players or TV. You can also look into solar power chargers for electronic devices like phones, tablets, and computers.
And you might want to re-visit the podcast interview we did with Battleborn's top leadership team to discuss the findings of a recent White Paper and what it means to RVers. Our guests were Denis Phares, the CEO, and Sean Nichols, the COO.
As you may already know, we're big fans of Battle Born Batteries. We think they're an RV Upgrade That's Worth It, especially for boondockers.
6-Volt vs. 12-Volt Battery
When shopping for RV batteries, you will likely come across some that have both 6- and 12-Volt size options. So, what are the differences between the two?
6-Volt Batteries
Although it may seem unexpected, 6-Volt batteries last longer than 12-Volt batteries. This is because they have thicker plates and more space per cell. That means they have a deep discharge compared to a typical 12v battery.
Many RV owners like 6-Volt batteries because of their longer charge time, and because they are relatively inexpensive.
12-Volt Batteries
12-Volt batteries are usually less pricey than their 6-Volt counterpart. This makes sense since they do not last as long and cannot be discharged and recharged as often.
12-Volt batteries are fine for those RV travelers that use hook-ups. They are not always the best option for full-time boondocking trips, depending on the type of battery.
Keep reading for my explanation of the various types of RV batteries for boondocking.
BTW, if you love boondocking…
If you're a die-hard boondocker like Jennifer and me, you should check out our Boondocker t-shirt and Boondocker hoodie… they'll keep you comfy all year long and spur plenty of conversations.
You'd be surprised how often Jennifer and I meet people because they ask us, "What's a boondocker?" And as you know, we love to share the RV lifestyle with as many people as possible.
Different Types of Batteries
When looking into the best RV battery for boondocking, there are a lot of choices. Most batteries can fit into three broad categories, with each offering benefits and drawbacks.
Keep reading to learn about lithium ion batteries, lead-acid deep cycle batteries, and absorbent glass mat batteries.
Lithium-Ion Batteries
Lithium-ion batteries are the leading battery choice for boondocking. They are newer than lead-acid batteries, and lighter and more compact. In fact, you probably already own small lithium batteries in your laptop or cell phone!
They do not need as much maintenance as lead-acid batteries, making them easier to deal with. They can also lose their charge completely without damaging the battery, unlike lead-acid batteries.
A lithium battery is expensive, but if you spend a long time off the grid, it's worth it. These batteries are lighter and require little maintenance. They are a good, reliable battery for full-time boondocking adventures!
Lead-Acid Deep Cycle RV Batteries
Lead acid batteries are the most common type of RV battery. They are made of lead plates that are submerged in an electrolyte solution (a combination of sulfuric acid and water). You will want to look for a "deep cycle" battery for your RV, since they can discharge better than other lead-acid batteries.
These batteries come in both 6- and 12-Volt sizes.
They work fine for long-term boondockers, if you cannot afford a lithium-ion battery. However, for full-time boondocking you should really consider saving up for the lithium-ion option. Just be sure to always check the water level and do not drain it fully.
Absorbent Glass Mat (AGM) Batteries
Similar to lead-acid batteries, AGM batteries use glass fibers, not lead plates, in a mat. While they discharge better than lead-acid batteries, most RVers don't find their advantages worth the higher price tag.
One major advantage of AGM batteries is that they do not require maintenance like their lead-acid counterpart.
If you plan on doing some long-term boondocking, but do not want to purchase the pricier lithium-ion battery, this will work well. Just be sure to check the water level and don't drain it too far.
This is perhaps the best RV battery for boondocking on short trips. If you're only going out for a weekend, this battery should be enough to suit your needs.
Other Considerations
After deciding on the best RV battery for boondocking for you, you may still have some questions.
Should I Keep My Battery Plugged In?
Can keeping your battery plugged in make your battery less effective? The short answer is yes. You do not want to overcharge your batteries.
One simple solution is picking up a smart or solar battery charger. Both devices monitor the status of your battery, keeping it only at the optimal charge level, extending its battery life. Either one will ensure that your battery does not get damaged from overcharging.
How Do I Maintain my Battery Setup?
If you choose to purchase a lead-acid battery, you will want to ensure that the water level stays constant. If the level drops too low, it can cause damage to the battery. Be sure to keep distilled water on-hand to keep the level consistent with what is called for in the owner's manual.
Lithium and AGM batteries require less regular maintenance. You do not need to monitor the water level with those battery types.
That concludes our list for the best RV battery for boondocking! You may also want to check out Solar Panels for RV Battery Charging- 8 Quick & Easy FAQs.
Your Vote for Best RV Battery for Boondocking
Please share in the comments what kind of battery management system you use and recommend. Your advice on the best RV batteries can help a fellow RVer!
Want to learn how to boondock?
We created a PRINT version of our most popular guide to help you with the most common boondocking problems. We get a ton of questions from our subscribers about how to get started boondocking that range from where to go and wild animals to water conservation to what equipment to use and more.
Throw off the shackles of traditional RV Parks and campgrounds, stop paying high fees every night that you spend in your RV, and experience the boundless amounts of nature while boondocking!
You're done with the noisy RV parks, the 3.5 feet of room you have squished in between two other RVs, and other people's kids running through your campsite?

You've ditched the hookups, the concrete blocks and have replaced them with self-leveling and Navy showers?
---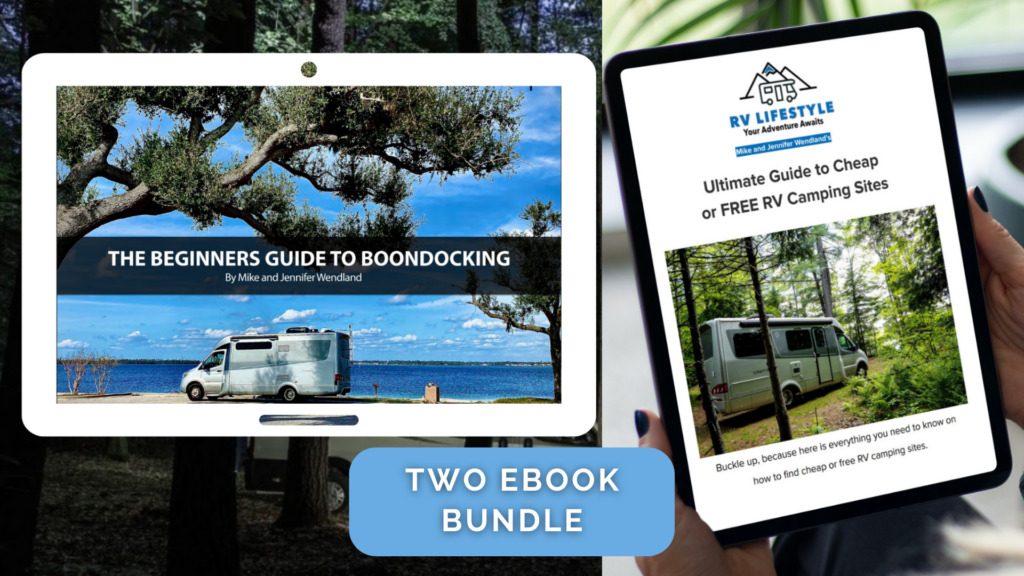 Beginners Guide to Boondocking (one of our most popular ebooks) and one of our newest ebooks, The Ultimate Guide to Free and Cheap RV Camping!
ebook #1: Beginners Guide to Boondocking
We created a 65+-page downloadable digital guide to help you understand the nuances that come with boondocking, the most common boondocking problems, and what you need to do to get your rig "boondocking-ready."
ebook #2: The Ultimate Guide to Free and Cheap RV Camping
Buckle up because here is everything you need to know on how to find cheap or free RV camping sites in the 33-page EBOOK.
---