What are the best products to clean your RV interior walls? Our RV Lifestyle member asked, and our wonderful community answered with great products and tips!
Recently, a member of our RV Lifestyle Facebook group posed a question. She wrote, "What stuff do you use to clean inside walls. Prior owner was smoker. I have that wallpaper stuff and my ceiling (has) that yucky yellow look."
Her post received many helpful comments, including 17 specific cleaning products. There were several other cleaning ideas mentioned that I'm also going to share with you.
We use affiliate links and may receive a small commission on purchases at no added cost to you. Thank you for your support. You can read our full affiliate disclosure here.
17 Best Products to Clean Your RV Interior Walls
The following are the 17 best products for cleaning your RV interior walls. These suggestions come directly from the best reviewers around: your fellow RV lifestyle enthusiasts. You can see the Facebook post here.
Who better to suggest what has worked than those that have put these products to the test?
**Important Note: several of these products are not made specifically for walls. So, please be sure to test a small, hidden area before fully applying these products to your RV interior walls.
Many people have heard of magic erasers. They are also called melamine sponges since they are made from melamine foam.
These little guys are truly "magical," able to scrub stains and dirt from surfaces that cannot otherwise be cleaned. They don't use a cleaning solution, just the foam!
They work just as well on RV interior walls as they do on traditional house walls.
Many of our Rv community folks suggested a product called OdoBan.
One member named Tammy shared how she used to clean motels and said they would use it to clean surfaces in smoking rooms.
She also said that it can help with urine odor, and be used in the washing machine! That would be useful for pet owners or parents that need a good cleaner to help with potty accidents.
Clorox Bathroom Cleaner may work for more than just a bathroom. Annette said she has used this cleaner on her ceiling and it "worked great!"
BEWARE! This product contains bleach and can damage or discolor some surfaces. Be sure to test a small, hidden area before you use it on your walls or ceiling.
Another member who is a chef suggested Dawn Power Wash for interior walls. He said that it removed the stains and debris from the interior of a food truck!
Several people suggested the cleaning power of TSP as its known for removing smoke and soot stains. It comes in a liquid or powder form and is widely available. You can easily find it online or in bix box or hardware stores.
Douglas said that it was effective at removing smoke but may have to be washed a couple of times.
Another member suggests the cleaning power of Tide. Although she said she had not tried it in an RV, it works very well to clean walls in her house. She said it even cleans baseboards and cabinets!
All you have to do is mix 1 TSP of the powder with a gallon of hot water. Then saturate and wring out a rag to clean.
She went on to say it can even help clean dirty windows. However, you will need to rinse the windows when you are done.
---
Mike and Jennifer's Summer T-Shirts for your next adventure

---
There is an Awesome cleaner that can be found on Amazon. But there is also a different Awesome cleaner that you can locate at the Dollar Tree.
Either way, these cleaners have a great reputation for cleaning walls well!
RV Lifestyle FB member John suggests diluting the cleaner by half and opening some windows to increase airflow.
409 is another great all-purpose cleaner that you can try out. You can find it in different versions, but try out the easy-to-use spray bottle. No need for a bucket!
Peroxide is an environmentally friendly cleanser that can be used in a number of ways. It is also pretty cost-friendly!
The product description boasts, "No Job is TOO TOUGH for our Peroxide Cleaner! Deep clean Restrooms, Kitchens, Mirrors, Floors, & other surfaces Easily & Efficiently."
Kristine uses a combination of Simple Green and Mrs. Meyers Lemon Multi-Surface Cleaner to clean walls, ceilings and upholstery!
She said that the previous owners of her RV were not smokers, but the combination really cleaned. It helped removed musty, stale smells and dirt and grime.
This product comes in a small bucket and helps soak up foul odors. It is not used to clean walls but can be used to remove odor from the interior of an RV.
Scrubbing Bubbles is another great bathroom cleaner that can be used to clean walls in other areas as well!
But again, don't forget to test a small, hidden area before applying to all of your walls.
If you are interested in an environmentally friendly, natural cleaner then you can use a vinegar and water solution. You mix one part vinegar to one part water, put it in a spray bottle, spray and wipe!
The best part is that it is an inexpensive way to clean as well. If you don't like the vinegar smell, you can add lemon juice to the mixture.
This cleaner packs a punch!
Mark said that it worked wonders in his RV. The previous owner smoked four packs of cigarettes per day for 10 years of ownership! Kaboom removed the tar easily and thoroughly.
Here's another natural cleaner for those that want it. A mixture of lemon juice and water can help remove tough odors. 1 squeezed lemon per cup of water should work, but it's easier to use lemon juice.
For tough stains, you can add white vinegar to the mixture as well. As we mentioned above, 1 part vinegar and 1 part water make a great cleaner for RV interior walls.
Another suggestion is using the power of orange! This cleaner can remove stains and odors, including harsh odors like urine.
Originally designed for pet odors, it also works well on any other strong smell.
Our final product was suggested by Kathleen. She said that Scentsy Bathroom cleaner "smells great and cleaned it up!"
She said she also used this cleaner on her outside chairs, and it worked well.
Out-of-the-Box Options to Clean Your RV Interior Walls
Our members suggested many beneficial cleaning products and tips. But what if none of them work for your particular issue?
There are a few other off-the-beaten-path suggestions that you can try on your RV interior walls.
Several members of our community suggested renting an ozone machine or generator. They are highly effective at taking out hard-to-remove odors.
Bross echoed these sentiments. He said, "Rent an ozone machine. It will take the smell out plus sanitize everything."
Repaint or Replace Wall Paper
Many respondents suggested that if cleaning products don't get out the odor of your RV interior walls, you can try repainting. KILZ brand paint can cover and seal many years worth of cigarette odor and staining.
(By the way, we wrote an article on the best paint for RV cabinets you might want to check out.)
Did you know that silly putty was originally made as a wall cleaner? The manufacturers realized that it made a good toy, and it was rebranded.
But it can still be used to clean walls. It may not be the most efficient way to clean your RV interior walls, but it could be fun!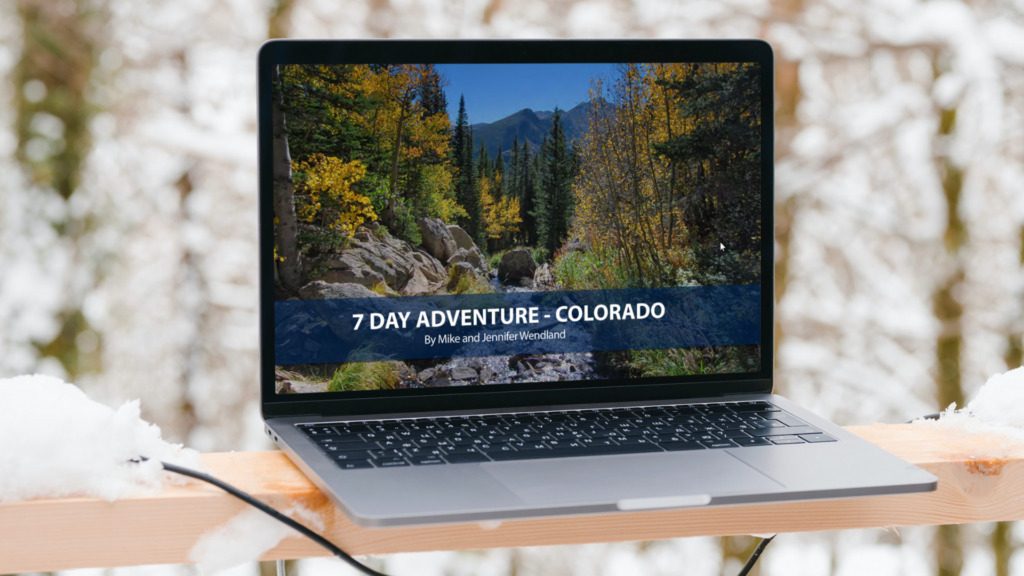 When Jennifer and I first went to Colorado, I felt like I finally understood what John Denver meant by his song: I've now been Rocky Mountain High.
And like Denver, exploring all that Colorado has to offer made me want to sing, too.
This is a fully designed and edited guide that you can download and start reading immediately on your phone, tablet, computer or e-reader.
---
---
---
Mike and Jennifer's Favorite Places in Florida – all 3 ebooks!
We RVers may wander far and wide but it's true for most of us that we end up with some favorite "Go-To" places – places that draw us back again and again.
Florida is one of those places for us. And we know it is for many RVers looking to get away and explore during the winter.
That's why we've created three guides, covering Florida's Atlantic Coast, the Gulf Coast, and the Keys.
Each of these guides is a seven-day guided exploration of one of the coasts. And each stop is a curated view of the best things that we've enjoyed on this trip and want you to experience.
Altogether these guides are over 300 pages of content!
---
FAQ's about Florida Gulf Coast beaches of interest to RVers
What is the weather like along Florida's Gulf Coast?
The weather along Florida's Gulf Coast can vary depending on the time of year and the specific location. In general, the area experiences hot, humid summers and mild, pleasant winters.
The Panhandle region can be quite cool in January. It is seldom below freezing, but daytime highs are typically in the 50s. It warms up about 10 degrees each month.
You can also generally add about 10 degrees for every 150 miles you travel south down the Florida peninsula.
By the time you hit Naples, daytime highs in January are in the comfortable 70s.
Did Hurricane Ian destroy many beach campgrounds on the Gulf Coast?
While it severely damaged almost two dozen RV parks and campgrounds, about 8-10 campgrounds in the Naples-Ft. Myers area were completely destroyed. Most of the damaged campgrounds have been repaired and reopened.
Check with the Florida Association of RV Parks and Campgrounds if you have questions or concerns.
Are there any websites that can help me get a reservation for a Florida beach campground?
One of the best resources we can recommend is called Campnab. This service monitors parks for cancelations and sends you an alert when an opening matches your criteria. That said, it isn't magic. The app doesn't create availabilities. 
The service works – but it is not free.
Campnab offers two ways to use the service. The first is individual pay-per-use scans. These watch for vacancies at a specific park for a specific date. These work well if you know exactly when and where you intend to camp. Pay-per-use scans cost $10 – $20, depending on how frequently you want them to check availability.
The second way to use the service is through a membership. These typically run monthly and are tailored to those who camp more frequently or are looking to maximize their chance of finding a site. Membership allows you to scan multiple parks and/or dates simultaneously. With memberships, you pay a monthly recurring fee ($10, $20, $30, or $50), depending on your needs.
Are there places in Florida where you can literally camp on the beach for free?
Not many. And they are very pricey. If you want to sleep directly on the sand in an RV, you'll have to stay at a developed commercial campground like Camp Gulf on the Emerald Coast or an RV resort like Big Pine Key Resort in the keys. Some state parks like the Gamble Rogers State Memorial Recreation Area in the Atlantic Coast or  Bahia Honda State Park in the keys or Fort Desto State Park near St. Petersburg have beachside sites, too.
But are there free, unrestricted RV beach camping spots in Florida?
Sorry, none that I know of that would work for RVs.
There is unrestricted camping on wild beaches on a couple of islands, but you need a boat to get there, and it is for tent camping only. If you want to sleep directly on the sand, there is Anclote Key offshore Tarpon Springs, and Shell Key in Pinellas County. Another favorite is Keewaydin Island between Naples and Marco Island but that area remains pretty devasted from Hurricane Ian.