Here are some tips and the best paint for RV cabinets.
Do you have an older, outdated RV? Or just one in need of a modern refresh or a new look?
The good news, it is not that hard or expensive to do! One great place to start is with the cabinets. Painting your RV's cabinets make a huge difference and is one of those RV renovations that is DIY-friendly!
In fact, I was fortunate enough to recently interview Dave and Jo Driscoll. They just completed a DIY RV Remodel of their 18-year-old motor home. They gave their RV a fresh facelift, and it feels like a whole new RV.
Before you Start…
Before jumping into picking different colors, you will want to choose the right type of paint.
In life, you get what you pay for. While you will not need to buy top-shelf paint, you do not want to skimp on the paint either. Set a sensible budget for yourself to give your RV a fresh makeover.
Before you start your paint project, you will want to know a little more about RV paint before making your purchase.
Best paint for RV Cabinets? There are 3 Types of RV Paint.
When it comes to RV paint, there are several to choose from.
Latex Paints
Latex paint tends to be the most affordable. In addition, it is very easy to clean once it is dry!
However, it can require a great deal of prep work, as well as a good top coat to make it durable. Furthermore, latex paint can peel. If you spend a good deal of time in your RV, it may not be your best choice.
Oil-Based Paints
Oil-based paint is a very popular choice among RV owners because of its durability. It is also easy to clean and tends not to leave brush strokes during the painting process. Overall, it requires fewer coats than latex paint usually does.
This paint does have a strong odor. When using it, you will want to be sure to use a mask. You will also want to open the doors and windows in the RV.
Water-Based Paints
Water-based paint is ideal for RVs. That is because it requires very little prep work to be used.
One downside is that it is more expensive than oil-based paint, and does not last quite as long.
Best RV Paint Manufacturers
There are a few very good RV paint manufacturers. I think the top two brands are BEYOND PAINT and Nuvo. Dave and Jo Driscoll used BEYOND PAINT and are very happy with the results.
KILZ, INSL-X, Rust-O-Leum, Amitha Verma, and Retique It are other very solid brands.
How to Paint RV Cabinets
In general, these are the steps that you will be taking when you paint your cabinets.
Step 1: The first thing you want to do is prepare the cabinet surface. It is a good idea to remove parts and paint them outdoors. Paint odor inside the RV interior can be very strong.
Step 2: Apply a coat of primer to achieve the best results. Coat the cabinets with or two coats of primer depending on how damaged your cabinets are. It is always the best way to ensure good adhesion of the paint.
This also helps immensely to achieve a bold color if you are going with white cabinets.
Step 3: Paint the cabinets. You may need several coats of paint. Be sure to mask off areas that you do not want painted, like wall edges and light fixtures, with painter's tape.
You may also want to follow up with a thin layer of clear coat of sealant to help keep them looking nice for a long time.
---
Mike and Jennifer's RV Lifestyle hat collection
Who needs a hat? You do! Dad hats aren't just for dads. This comfy one's got a low profile with an adjustable strap and curved visor. Just the thing to wear on your next RV Lifestyle adventure.
---
Best Paint for RV Cabinets & Primers
The following paints are the best paint for RV cabinets on the market.
If your camper cabinets need a new coat of paint, BEYOND PAINT is an excellent choice. It gives your RV a modern look, without having to put in a lot of work.
The paint has a thick consistency and is great for first-time painters. It can help hide flaws and make a huge difference on cabinets that are not in good condition.
This paint does such an excellent job of covering square footage, that you will only need to paint one or two coats. Some customers have said that it covered their cabinets well enough from the first coat!
Not only does this interior paint provide good coverage, but it also does not have as strong an odor as other brands. That can make painting in a small space a little more enjoyable.
Another great selling point for this paint is that it does not require that much preparation. That means it is an excellent choice for those weekend warriors! People that do not have a lot of extra time for DIY projects will love their quick new paint job.
Many people that have used this product were surprised by how little paint they needed for excellent coverage. They also love the paint's durable finish, which is necessary for all of that bumping and moving.
When it comes to primer, you want to be sure to use a good one. It can be the difference between a paint job that lasts for a long time or one that peels.
The KILZ brand primer provides good bonding for tough to paint surfaces. This actual primer provides a great surface for the paint to adhere to. Especially on cabinets that may have peeling wood finishes, or other issues.
If you enjoy looking at how other RVers are doing their DIY and painting projects – come on over to the Facebook RV Lifestyle Group and see what's posted.
So which is the best paint for RV cabinets? Do you have your favorite brand of paint for an RV? Post it below or bring it to the Group! We love seeing your DIY projects.
Once you get your RV ready – look into our collection of travel guides to help you explore this great country.
This bundle is our popular Upper Peninsula RV Adventure Guide PLUS our newest Adventure Guide – The Great Lakes Shoreline Tour! Both ebooks will give you plenty of ideas and resources to enjoy this part of the US.
The Great Lakes Shoreline Tour — One of our favorite RV trips has been driving the United States side of the five Great Lakes. It is a trip of over 4,000 miles and takes you to 8 states! And it's filled with beautiful vistas, welcoming towns and villages, and fabulous places to camp, hike, and explore.
Upper Peninsula RV Adventure Guide — Whenever someone asks us, "Where is one of your favorite places in the US for RVing?" Our answer is unquestionably, in unison, "The UP of Michigan." The "UP" means Upper Peninsula, of course.
---
---
---
---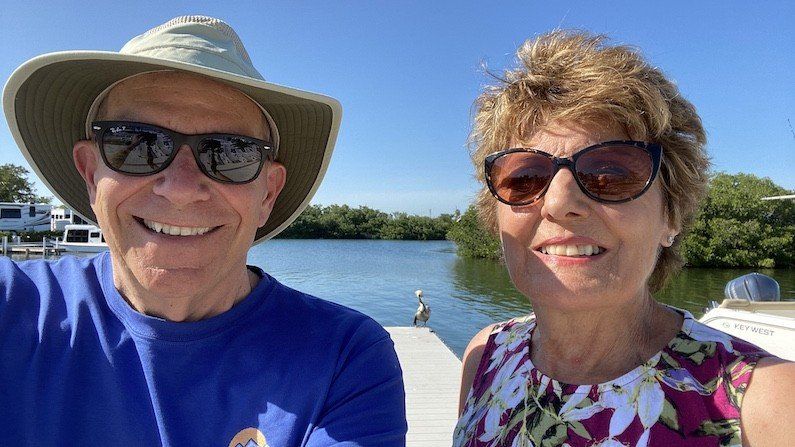 Curious about the gear, gadgets, accessories, and RV products Mike & Jennifer use and recommend?
On this RV Lifestyle Travel blog, our RV Podcast and our RV Lifestyle YouTube Channel, we mention all sorts of RV-related products and gear that we use, So we created a special page that links to them. We update this all the time.  CLICK HERE to go to it directly.
---