Want to DIY your roof cleaning? Here is the best homemade RV roof cleaner that's as simple as it can get…
In a recent article, we shared our Top 3 Picks for the Best Commercial RV Roof Cleaner. Those products are tried and true, but there is also a homemade alternative you can consider.
In this article, we'll share the simple homemade solution that you can use on any type of roof. Yep, that's right. You can use it on a TPO roof, EPDM roof or rubber RV roof, and even an aluminum roof.
Keep in mind that commercial cleaners often include treatments that leave a protective layer on the roof of your RV. This homemade RV cleaner does not! So, you may need to add a protectant for UV rays or to help prevent water damage once you have a clean surface.
We use affiliate links and may receive a small commission on purchases at no added cost to you. Thank you for your support. You can read our full affiliate disclosure here.
The Best Homemade RV Roof Cleaner
The best homemade RV roof cleaner simply uses dish soap and water… and elbow grease. Using a homemade cleaner typically requires a bit more scrubbing, but a good scrub brush will get you through it.
Here is the ratio that works with most dish soaps:
1 gallon of water
1/8 cup (2 Tbsp) dish soap
We recommend considering eco-friendly options for your dish soap, as some contain harsh chemicals that are bad for the environment.
​Best RV Wash Brushes
Be careful which type of scrub brush you use! Check your RV owner's manual to see if it specifies a soft bristle brush or if a medium bristle brush is okay to use. If it doesn't specify, err on the side of caution and use a soft brush.
We do have an article on the best RV wash brushes. It's a list that covers a range of RV brushes for cleaning your RV, so pay attention to the various applications for your RV's exterior.
The CAMCO RV FLOW-THROUGH WASH BRUSH and EVERSPROUT 7-TO-19 FOOT SCRUB BRUSH are good options for most RV roofs. Go to the FULL LIST of the Best RV Wash brushes…
Should You Use a Pressure Washer?
It is not a good idea to use a pressure washer to clean your RV roof. Sure, it will get the grime off, but it can also damage your seals, making your roof more susceptible to water damage.
​If you have a particularly dirty roof, we recommend the following:
Sweep away or remove big debris by hand
Rinse roof off with a garden hose to remove small debris and most dirt
Use warm water, if possible, on tougher stains
Fill a spray bottle with a more concentrated version of the above cleaning solution to use on stubborn stains
How Often Should You Clean Your RV Roof?
Most people clean their RV roof 4 times a year, once each season. But there are a couple things that could change how often you need to do it.
If your RV is kept undercover when not being used, you may not need to clean as much. The roof won't get as dirty sitting out of the weather.
But if you're hitting the road very often, the roof could collect more debris that needs washing away more regularly. So consider your RV's storage and how frequently you travel to determine if you need to clean the roof more or less than four times per year.
The Best Way to Clean Your RV Roof
We recently wrote another article on how to clean your RV roof. It walks you through from the first step all the way to the end.
Plus, it discusses what RV roof cleaners are best based on roof type, and whether or not you need a protective coating.
We recommend you read the full article by clicking here.
What About Tree Sap?
Tree sap and even some bird droppings can be very difficult to remove. The good news is there are some clever hacks RVers use to deal with these "gifts" from Mother Nature.
Believe it or not, there are items in your RV fridge that will likely work better than your homemade solution or even a commercial cleaning product, like Simple Green.
Go to the full article to see the clever hacks REAL RVers use to get rid of sap.
The Best RV Sealants & Caulks
After washing your roof, you should always check the seals and caulks. Even a small gap can lead to big problems. Your wallet can be hit hard with some serious water damage.
Plus, a leaky roof puts you in danger. Mold and mildew are an obvious concern, but that's not all. Various materials like electrical could get messed up from roof leaks. Crossed wires could start a fire!
We have an article on the Best RV Sealant that's worth checking out.
Great Product for Removing Bug Splatter
Like what you see in these videos? We'd appreciate it if you would Subscribe to our YouTube Channel (easy to do right here) and consider "ringing the bell icon" to be notified of any new video from us. 🙂 Thanks!
Speaking of cleaning your RV, Jennifer shares an effective product for removing bug splatter. Watch the video to learn more!
Get the Home Study Course today and worry about the road, not the repairs!
Every time you move your RV it's like driving through a hurricane during an earthquake. Parts break and many items need to be maintained, this program will show you how you can save time and money by gaining the confidence to take on the majority of the issues you'll come across. Don't get caught with your RV in the shop! Learn how you can maintain and repair your RV at your own pace and at the most convenient time for you! This course is produced by the National RV Training Academy.
---
---
Official RV Lifestyle QUICK Links to ALL our eBooks
You can see ALL our eBooks here, or use the following Quick Links to go straight to what you need!
● Arizona
●    Colorado 
And MANY of these are BUNDLED together:
New England Bundle
Coastal Maine, Adirondacks
Ultimate Michigan and Great Lakes Bundle – 3 ebooks –
Upper Peninsula, Lower Peninsula, and the Great Lakes Tour
Michigan Bundle
Upper Peninsula, Lower Peninsula
The Great Lakes Adventure Guide Bundle
The Great Lake Shoreline Tour & JUST the Upper Peninsula Guide
Florida Adventure Guide Bundle
Gulf Coast, Atlantic Coast, Keys
Southwest Adventure Guide Bundle
Arizona, Colorado, Southern Utah)
Ultimate 7-Day RV Adventure Guide Bundle
Collection 1- our first 10 ebooks (does NOT contain Great Lakes Shoreline or Natchez Trace)
We also have a nice collection of ebooks that will help you navigate the RV Lifestyle.
Like these:
The Beginner's Guide to Boondocking
The Ultimate Guide to Cheap or FREE RV Camping Sites
Boondocking and Free RV Camping EBOOK Bundle
The Beginner's Guide to Boondocking ebook and Ultimate Guide to Free Camping Sites
And ONE PRINT book 🙂 and yes, before you ask, we have plans for MANY more print books.
The Complete Guide to Boondocking – PRINT VERSION
This is the same as the ebook titled The Beginner's Guide to Boondocking but in print.
And while you are exploring all our ebooks – check out the hoodies, T-shirts, Stickers, and mugs in our MERCH Store! You can get to it directly by just going here – SHOP!
---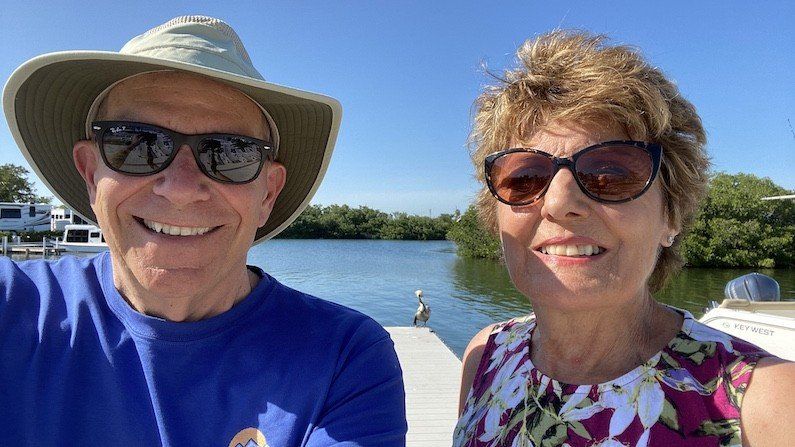 Curious about the gear, gadgets, accessories, and RV products Mike & Jennifer use and recommend?
On this RV Lifestyle Travel blog, our RV Podcast and our RV Lifestyle YouTube Channel, we mention all sorts of RV-related products and gear that we use, So we created a special page that links to them. We update this all the time.  CLICK HERE to go to it directly.
---
Last update on 2023-10-03 / Affiliate links / Images from Amazon Product Advertising API