Road trips offer lots of excitement and anticipation about what's to come — the various destinations, small-town stops, landmarks, photos, and special memories made.
As much as we may look forward to family trips, they can quickly turn south if we're not prepared. Will you be traveling with YOUR teens? Or will these teens be your grandkids? There's a power to family camping. Will you all fit in your RV? Will you need an extra vehicle to get everyone to your camping destination?
No matter what – Here are 10 tips for traveling with teens.
Tip #1: Set expectations beforehand.
Be upfront with your teens about your travel plans and what you expect from them during your travels. Will you allow headphones in the car or will it be a tech-free zone?
Consider what will make the trips better for everyone while still allowing you time to bond. If you have your route planned out, try scheduling tech time.
For long drives, set aside 30 minutes to an hour of tech time in areas with little sightseeing opportunities.
Tip #2: Stock up on snacks.
There's nothing much grumpier than a hungry teen. We've all heard the. Referred to as "bottomless pits" and unless you plan to make pit stops or hit the drive-thru every hour, having snacks handy in the car is essential.
Depending on your travel space, pack a bag or cooler of your teens favorite snacks. Consider quick, easy, and mess-free options like string cheese, cookies, crackers, chips, and for healthier treats, fresh fruits, and veggies.
Pre-packing small containers in your bag or cooler can make grabbing a quick snack an easy way to avoid teen drama.
Be sure to ask your teens in advance if there's a specific snack they'd like for the trip. This can help prepare them and let them know you want the trip to be good for everyone.
Tip #3: Keep things comfortable.
Plan for the temperature ahead of time. If you have teens who tend to vary with heat and cooling desires, let them know ahead of time what the car temperature will be set on so they can dress or plan accordingly.
As a family of five, our guys seem to be fine as long as they're cool but for my daughter and I, a blanket and pillow are always a must.
Clothing that is too light or too heavy can be difficult to modify but blankets offer a quick solution for transitioning between hot and cold temps. Bonus: they also don't take up a lot of space.
Tip #4: Don't skimp on space.
Comfort is crucial when it comes to traveling, especially with growing teens. In previous years, our boys could easily ride in the 3rd row of our minivan or SUV.
The early high school growth spurt hit both of our boys extra hard. They went from short or average to almost the tallest in their age groups. Now they tower over us at 6'2 each. The back row is no longer an option.
One solution has been to swap and let all the boys ride up front while my daughter and I take the back.
This has been an easy solution for our family.
Depending on your vehicle and space, be sure to consider the size of your teens and plan for them to ride where they will have the most head and leg space.
Not only will this keep them more comfortable along the way, but it's also likely to keep them quieter as well!
What if you've outgrown one vehicle?
Now that our boys are older and both have been driving awhile, trips within 4-5 hours away have become two vehicle trips. The boys will typically pile in the oldest one's truck and follow my husband, daughter, and myself.
Aside from the space-saving benefit, it also gives them some boy time which is much rarer as older teens.
Tip #5: Plan for pit stops when traveling with teens.
Inevitably, someone will have to use the bathroom during your drive time. If you're lucky and time it well, everyone can take advantage of one stop, avoiding the hassle of several stops within a shorter mile range.
Try planning pit stops with gas fill-ups. Most teens can handle three to four hours without a stop. When you're ready for a fuel up, go ahead and have everyone hit the restrooms at that point, even if they say they don't need to. This will help cut down on travel time and unnecessary extra stops.
Use this as an opportunity for a good stretch as well. Set aside 10-15 minutes for these stops to ensure everyone has had a chance to get their needed break before hitting the road again.
Tip #6: Feet can make or break the trip…and it's not just the boys!
There's something cozy about being able to kick off your shoes on a long trip.
Unfortunately, for those in the car with us, it may not be such a grand experience. Our feet breed stench. Teenagers breed stench. With the two combined, the trip just might be unbearable.
Encourage your teens to choose shoes they can easily slide off and on that won't keep their feet stuffy and sweaty when they have them on. This will help cut down on any unwanted odors, at least from their feet.
What about once you've arrived at your destination? Here are a few more tips for traveling with teens.
How do you keep your teens engaged and interested? What plans do you have? Where are you staying? Will you cook meals or eat out? Will there be a daily routine?
Let your teens in on the plans so the surprises (complaints) are minimal. If you're willing, let them in on some of the planning and decision-making.
Tip #7: Sleeping arrangements should be comfortable for all.
We, as parents (or grandparents), have earned every right to the biggest bedroom or the most comfortable bed.
Whether you are staying in a hotel, a vacation home, or your RV, comfort is important…for the kids too.
Your teens may have grown a foot since your last trip. Make sure they have plenty of space to stretch out. Getting the best rest will be great for everyone. Make their space as teen-friendly as possible.
Tip #8: Speaking of space, give them some time of their own…in their space.
Oftentimes, we think we need to have every single minute planned with entertainment and excitement. In reality, even on vacation, we all still need some downtime.
Make sure you are setting aside time for your family to just spend time together without the hustle and bustle of vacation excitement.
Offer some individual time as well. A little quiet time or privacy can go a long way to making trips more bearable and fun.
Let your teen enjoy their space with some screen time, a good book, maybe some drawing, or whatever else interests them. Don't think you have to overplan to keep them occupied. That can actually be counterproductive!
Tip #9: Keep it interesting.
While downtime is necessary for all, we take road trips and vacations to get away from normal life and enjoy things we may not be able to enjoy otherwise.
When planning special adventures when traveling with teens, keep them in mind. Avoid planning activities that are too childish or too adult.
Consider music concerts, comedy shows (be sure to check the lineup to get an idea of age-appropriate material), animal adventures, and entertainment that suits your family and teens.
Tip #10: Set everyone up for fun with flexibility.
Even if you have a specific or rigid schedule, keep things flexible enough for easy changes. Inevitably, something will go wrong and you'll need to adjust plans. Going into your trip with that in mind can cut down on stress for you and your teens.
If you are traveling with teens, you want your road trip to be less work and more fun for all. Avoid unnecessary stress by trying these tips on your next trip. You and your teens (or teen grandkids) will benefit! Now…go make some memories!
Will you be traveling with teens anytime soon?
Let us know in the comments or come on over to our Facebook Group and tell us all about it.
---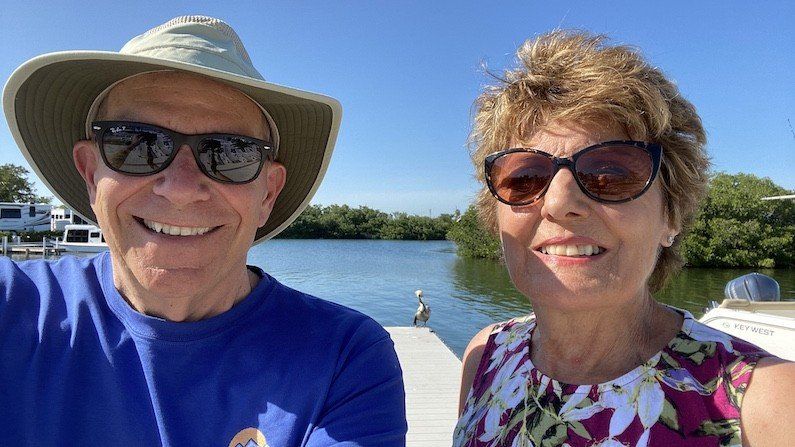 Curious about the gear, gadgets, accessories, and RV products Mike & Jennifer use and recommend?
On this RV Lifestyle Travel blog, our RV Podcast and our RV Lifestyle YouTube Channel, we mention all sorts of RV-related products and gear that we use, So we created a special page that links to them. We update this all the time.  CLICK HERE to go to it directly.
---
---
---