Want to avoid an EXPLOSION or CO poisoning? Learn how to safely transport propane tanks from a certified RV inspector…
Though propane incidents are rare, they happen, and sometimes with catastrophic results. That's why it's imperative RVers know how to safely transport propane cylinders when getting them recertified, serviced, or refilled and topped off.
In a recent podcast episode, a certified RV inspector from Queen Bee RV shared tips on safely transporting propane. We share her advice in this article.
But, before we get into her advice, let's quickly review the importance of safely transporting propane.
We use affiliate links and may receive a small commission on purchases at no added cost to you. Thank you for your support. You can read our full affiliate disclosure here.
The Importance of Safely Transporting Propane
RV Propane tank disasters are rare, but they can still occur. If you google propane explosions, you will see that this can happen and have dire consequences. This is all the more reason to ensure that your tank is stored correctly!
The following are important reasons to transport your propane safely and what can happen if you fail.
Fire Hazard: Propane is highly flammable and can ignite even at low concentrations. Any leaks or mishandling can lead to a fire or explosion, endangering the lives of occupants and causing significant damage to the RV.
Health Risks: Propane leaks can lead to health issues, as inhaling propane gas can cause dizziness, nausea, respiratory problems, and even loss of consciousness. Long-term exposure can lead to long-term damage or death.
Legal Compliance: Laws and regulations govern the transportation of propane in RVs. Not adhering to these regulations can result in fines, penalties, or even loss of insurance coverage.
Insurance Requirements: Many RV insurance policies have specific requirements regarding the safe transportation of propane. Non-compliance may result in a claim denial in case of an accident or damage related to propane.
How to Safely Transport Propane Tanks
Brenda of Queen Bee RV is a certified RV inspector and a regular guest on our RV Lifestyle podcast. She focuses on educating RVers on how to care for their RVs properly. In this podcast episode, she shared propane safety tips.
Many RVers transport portable DOT cylinders, commonly called propane tanks. You typically see these tanks on a 5th Wheel or travel trailer. Some motorized RVers also use these in conjunction with their extend-a-stay adapter.
If you need to disconnect and transport your tanks to fill them, trade them in, or get them recertified, there are critical steps you need to follow:
Turn off any appliances calling for propane inside the rig, such as the refrigerator, furnace, stove/oven, or water heater.
Turn off/close the service valve at the tanks. This is the triangular-shaped handle on the top of the tanks. Follow the arrows to know where to turn them to open and close the valve.
Disconnect the pigtail/excess flow valve. No tools are needed. You can simply use your hand to unscrew it.
Put the dust cap on the opening of the service valve to keep debris and dust from entering during transport.
Release the tank from its platform on the tongue of the trailer or holding area in the cargo storage bin.
Lift the tank up and out of the area and carry it to the transport vehicle.
It is imperative to keep the tank upright during transport. Keep it from slipping over. You can place it in a carrier or something secure in the truck's bed, or you can even put it in the backseat of the car. HOWEVER…
No matter where you put the tank for transport, you must follow some safety tips to ensure it stays secure.
The tank must be secured in all directions, over its shoulders, and around its belly so that there is no movement. Do not let it slide around the bed of the truck.
Another great way to do this is with the seatbelt inside the vehicle. However, be sure to crack a window just in case your service valve has a small leak.
Do not leave propane tanks in a hot vehicle. If you take it to a dispenser or store, go straight there and return it when you are done.
When you return, follow the above steps in reverse. Secure the tanks in the cargo storage bin or on their platform, remove the dust cap, attach the pigtail, and open the service valve.
Do all of this BEFORE you turn on any appliances calling for propane in the RV to avoid a propane lockout.
These simple and essential steps can help you feel confident about refilling the propane tanks.
Watch Queen Bee RV's Tip of the Week
Like what you see in these videos? We'd appreciate it if you would Subscribe to our YouTube Channel (easy to do right here) and consider "ringing the bell icon" to be notified of any new video from us. 🙂 Thanks!
We summarize Brenda's tips above, but watching the above video is very helpful! Brenda walks you through what you need to know.
We also suggest you tune into our podcast for more troubleshooting tips, camping recipes, and lots of great RV-related information. A new episode airs every Wednesday!
Subscribe with your favorite podcast platform: Google Podcasts | Spotify | Stitcher | Email | TuneIn | RSS
Additional Propane Articles
RV propane is an important topic. We have written several articles about propane. The following outlines a few articles that may interest you.
These simple tips can help keep you safe from an RV propane tank explosion. Keep reading…
Propane can fuel many things, including your stove and fridge. But when it comes to Generators, which type of gas is best? Keep reading…
Propane explosions also rise when the weather warms and people start heading out in their RVs. You can take steps to ensure your family is safe while traveling. Keep reading…
All of us must know how to detect carbon monoxide in your RV. This is serious if you want to make sure you are safe in your RV. Keep reading…
Are you curious about what exactly is inside your RV propane tank? Keep reading…
Get the Home Study Course today and worry about the road, not the repairs!
Every time you move your RV it's like driving through a hurricane during an earthquake. Parts break and many items need to be maintained, this program will show you how you can save time and money by gaining the confidence to take on the majority of the issues you'll come across. Don't get caught with your RV in the shop! Learn how you can maintain and repair your RV at your own pace and at the most convenient time for you! This course is produced by the National RV Training Academy.
---
---
Official RV Lifestyle QUICK Links to ALL our eBooks
You can see ALL our eBooks here, or use the following Quick Links to go straight to what you need!
● Arizona
●    Colorado 
And MANY of these are BUNDLED together:
New England Bundle
Coastal Maine, Adirondacks
Ultimate Michigan and Great Lakes Bundle – 3 ebooks –
Upper Peninsula, Lower Peninsula, and the Great Lakes Tour
Michigan Bundle
Upper Peninsula, Lower Peninsula
The Great Lakes Adventure Guide Bundle
The Great Lake Shoreline Tour & JUST the Upper Peninsula Guide
Florida Adventure Guide Bundle
Gulf Coast, Atlantic Coast, Keys
Southwest Adventure Guide Bundle
Arizona, Colorado, Southern Utah)
Ultimate 7-Day RV Adventure Guide Bundle
Collection 1- our first 10 ebooks (does NOT contain Great Lakes Shoreline or Natchez Trace)
We also have a nice collection of ebooks that will help you navigate the RV Lifestyle.
Like these:
The Beginner's Guide to Boondocking
The Ultimate Guide to Cheap or FREE RV Camping Sites
Boondocking and Free RV Camping EBOOK Bundle
The Beginner's Guide to Boondocking ebook and Ultimate Guide to Free Camping Sites
And ONE PRINT book 🙂 and yes, before you ask, we have plans for MANY more print books.
The Complete Guide to Boondocking – PRINT VERSION
This is the same as the ebook titled The Beginner's Guide to Boondocking but in print.
And while you are exploring all our ebooks – check out the hoodies, T-shirts, Stickers, and mugs in our MERCH Store! You can get to it directly by just going here – SHOP!
---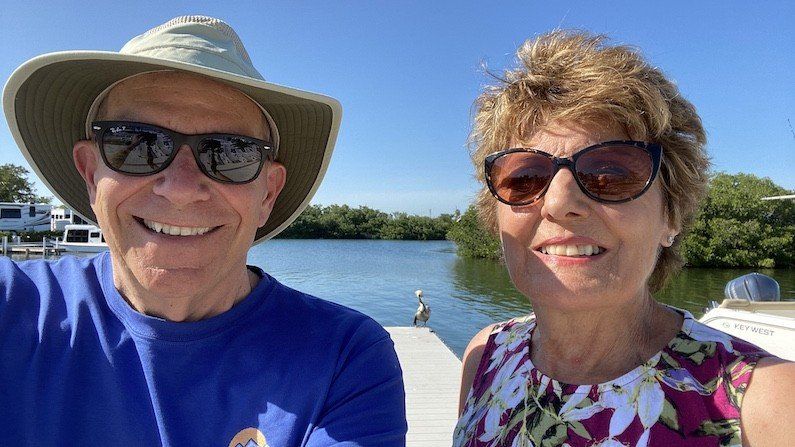 Curious about the gear, gadgets, accessories, and RV products Mike & Jennifer use and recommend?
On this RV Lifestyle Travel blog, our RV Podcast and our RV Lifestyle YouTube Channel, we mention all sorts of RV-related products and gear that we use, So we created a special page that links to them. We update this all the time.  CLICK HERE to go to it directly.
---