Have you attended an RV Rally? An RV rally is one of the best ways to come to understand your RV better, learn how to set up and take down camp more efficiently, and to make lifelong friends who will always bring a smile to your camping travels.
That's what we talk about this week in Episode 464 of the RV Podcast, recorded live at the Montana Owners Club National Rally in Goshen, IN. Attended by owners of the luxury Montana brand of fifth wheels, this 8-day-long event brought more than 400 campers to the Elkhart County 4-H Fairgrounds for seminars, socializing and sight-seeing.
You can watch the video version from our RV Lifestyle YouTube Channel by clicking the player below.
If you prefer an audio file, you can listen on your favorite podcast app or by clicking the player below:
Podcast: Play in new window | Download (Duration: 42:45 — 25.1MB) | Embed
Subscribe: Google Podcasts | Spotify | Stitcher | Email | TuneIn | RSS
Updates and Feedback
From Joe – Right now, my biggest problem is the process of trading up from our 2021 Coachmen Prism Elite 24DSE (which we love love love!), to something with a little more space, a little towing capacity, and a little more CCC. We've zeroed in on either the Entegra Esteem 27U or the Thor Quantum KW29. If I trade my Prism to a dealer that has an RV we want, the process is easy and there's a HUGE sales tax benefit. But the trade offers are pretty low. If I sell it myself, I get top dollar, but the process is time consuming and it has huge sales tax consequences.
From Michelle – I have wanted to travel full time in an RV for many years, but my health was too poor to do so. Now that things are headed in the right direction I'm ready to start making plans. I came across your FB group searching for travel groups.
My biggest RV-related problem is deciding on the layout/features for my RV. I want to make sure I get something that I can live in for at least a year; since I plan to rent out my home while I travel. I'm going to be doing my traveling primarily by myself, so I also need to learn as much about setting a camper up, maintaining it, and trouble shooting as possible before I take my first trip. There's so much to learn!! Thanks for adding me to your group. I look forward to learning from you all.
SOCIAL MEDIA BUZZ – Wendy Bowyer
Wendy Bowyer reports on the hot issues most talked about this past week on our RV Lifestyle Facebook Group:
One thing I'd like to share with you today are some ways people use the RVLifestyle Facebook group for every stage of trip planning.
John recently retired and he and his wife are planning a trip out West next year pulling their Fifth Wheel. His dream vacation would be to head out without reservations, staying a few days here, a week there, basically traveling according to what interests them, without a rigid reservation schedule.
He asked; Is this way of traveling even possible?
A few said no, make reservations.
Others said it depends on where you're going and what time of year.
But the majority of the more than 125 responses said as long as you remain flexible, realize you may not get the nicest campsite at some places, and stay open to using options like Harvest Hosts or boondocking on federal land, you definitely can make it work.
Then people, a little further along in their planning, ask questions like Dawn.
Dawn posted a map of her proposed travel route to the American southwest. It looked like she and her husband were starting around Sandusky, Ohio, and traveling mostly along Route 66, ending in Tucson, Arizona.
She said they planned to drive less than 300 miles a day, stay most places two nights, and she got so many helpful suggestions!
She got a warning about driving on a stretch of I-40 near Williams, Arizona. Several warned the road's condition was so bad, it caused literally $1,000 worth of damage to one member of the group's RV.
Others suggested some nice campgrounds to stay at along her proposed route.
And others suggested things to see like the Big Things in Casey, Illinois, or in Texas, near Amarillo, there is a state park with a wild buffalo herd and a huge canyon. About 300 responses so far – and counting- and so many helpful tips!
Often we have people who take an epic road trip, share pictures and campsite reviews along the way, and a summary when it is over.
I'd like to leave you with one such wrap-up by TJ.
TJ and her husband were on the road from May to September and posted pictures and updates along the way. I, like many others, followed along.
In her final trip post she gave some summaries.
They spent 107 days on the road,
They traveled just shy of 11,500 miles and spent $4,730 on fuel.
They visited 24 states, stayed at 33 RV parks, 1 state park and 1 winery.
While they had zero tire blowouts, they did lose 1 A/C to a low hanging wire and did trade out an RV half way through the trip.
TJ posted a map showing where they traveled and said: The memories made were countless, the cost of the entire trip: priceless, and she urged everyone to enjoy the journey – because you only live once!
RV TOPIC OF THE WEEK – Why You Should Attend an RV Rally
Greetings from Goshen, Indiana and the 2023 Fall rally of the Montana Owners Club.
We've been camped here with 400 plus others for the past week, attending seminars, socializing (Jennifer even got me out on the dancefloor..), learning new ways to do RV things, and having a top-secret (for now) tech project installed, activated and tested on our fifth wheel.
Eventually, there will be an epic video on the tech project, but I need a couple of weeks to test it out and make sure it's as awesome as it appears to be before sharing the details.
At the rally, Bo won first place among all dogs over 50 pounds in a special pet parade. All day yesterday, he' was struttin' around the Elkhart Fairgrounds where we're camped with his award ribbon on his collar. I told him not to get too big of a head because only two dogs were in his category.
But hey, a win is a win, right?
Have you ever been to a rally aimed only at owners of the RV brand you have?
Until this one, we hadn't. Now, we can wholeheartedly recommend it. Almost every major RV manufacturer has rallies for owners of its products. Make it a point to do so. You will learn so much about your rig that you'll return year after year.
Please listen or watch the podcast in the player above for a full discussion on why an RV rally should be on your radar.
RV News of the Week
A Massachusetts man was killed, his finance injured, when a tree fell on them over the weekend while they were camping in Vermont.
A bad thunderstorm caused the tree to fall. The couple was camping in Somerset, Vermont, which is located in the Green Mountain National Forest.
Sadly we see stories of campers dying or being seriously injured when a tree falls on them during a storm while camping every year.
We wanted to share our story on 3 Critical RV Bad Weather Tips to help you should you find yourself camping in a storm.
The stories of tourists doing dangerous and foolish things at Yellowstone National Park just keep coming!
The latest video to go viral was of unsupervised children trying to feed grass to wild elk near Mammoth Hot Springs.
What added another layer of danger to this foolish behavior was the children were trying to feed this grass to cows and their calves. Cows are known to attack people when they get too close to their young.
Fortunately, no one was hurt in this incident but it was another good reminder that visitors should stay at least 25 feet away from elk and bison.
In the past elk have bit and kicked people who get to close, sending them to the hospital.
We interviewed a Yellowstone ranger on our podcast recently to talk about this problem of dangerous visitor behavior and what should you do if you witness it. To learn more click here.
A 76-year-old Ohio woman was in critical condition after the RV she was riding in had a flat tire and crashed.
Her husband, who was driving, lost control after the front right tire blew, and crashed into a tree.
He and the couple's two dogs were not hurt. The couple was driving home to Ohio from a camping trip in Michigan's Upper Peninsula.
Losing control of the RV after a flat tire has to be many of our worst nightmares. Our hearts and prayers go out to this couple.
We also want to share with you our story on how to survive an RV Tire Blowout here in case it can help someone.
Hundreds of saguaros toppled at Arizona's Saguaro National Park after a monsoon blew in several weeks ago, and park officials say they still haven't finished surveying the damage.
At least 400 saguaros were damaged and counting, either being completely uprooted, or losing arms or their tops.
Saguaros are the largest kind of cactus in the U.S., some growing as high as 40 feet. They can live for 150-175 years.
Saguaro National Park is Arizona's second national park, and it's a top recommendation in our Arizona 7-Day Adventure Guide you can see here.
A 7-year-old girl found a 2.95-carat diamond at Arkansas Crater of Diamonds State Park while there to celebrate her birthday.
The golden brown diamond is the second largest found at the popular state park this year. The largest found in 2023 was a 3.29-carat brown diamond.
We love hearing these stories of diamonds found by visitors at this Arkansas state park, and think it is great this 7-year-old girl found it while there for her birthday.
One day we hope to visit. To see the full story click here.
RV QUESTION OF THE WEEK
QUESTION: We just finished our first season of RV Travel and we loved it. We hate the idea of putting our trailer in storage. We did almost every weekend since Memorial Day and we got away for a three-week vacation in July and we loved every minute of it. We both still work and we have young kids at home so the fulltime life isn't for us. But how can we do more? Camping is like an addiction. – Susan and Cody
ANSWER: You're still in the honeymoon phase. But you don't have to put the RV away until spring. Extend the season. Camp into fall. Try winter camping. Break up your summer vacation into three one-week getaways. Could you work remote maybe part of the time?
Where will you go next?
New York's Adirondack Park is immense. In fact, it's greater in size than Yellowstone, Everglades, Glacier, and Grand Canyon National Parks combined.
Created by New York in 1892, it is a constitutionally protected "Forever Wild" area and contains 85% of all wilderness in the eastern United States.
There are about 3,000 beautiful clean lakes in the region, surrounded by lush forests and dozens of small charming towns to visit.
This ebook is a seven day guided exploration of New York's Adirondack Park and Finger Lakes.
We provide a suggested route and itinerary, links to multiple campgrounds and boondocking spots, and the best spots to see along the way.
Don't plan your trip to Upstate New York without it!
---
---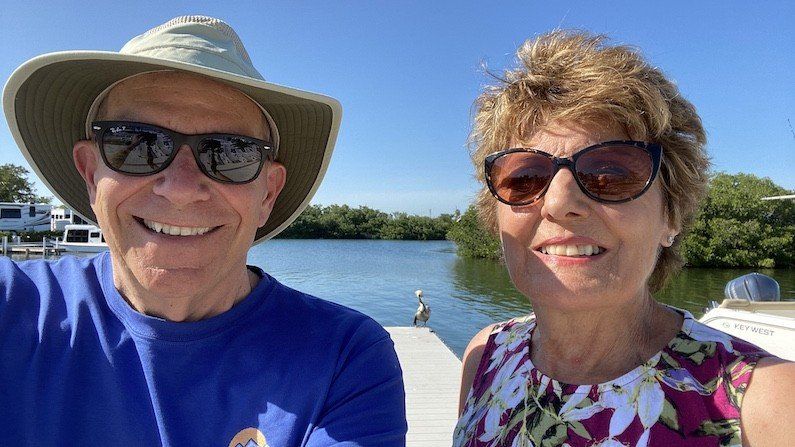 Curious about the gear, gadgets, accessories, and RV products Mike & Jennifer use and recommend?
On this RV Lifestyle Travel blog, our RV Podcast and our RV Lifestyle YouTube Channel, we mention all sorts of RV-related products and gear that we use, So we created a special page that links to them. We update this all the time.  CLICK HERE to go to it directly.
---