No one likes to pay for RV repairs. That's where an RV extended warranty can save a lot of headaches. But signing up for one at the dealership at the time of the purchase is seldom a wise decision.
This week in Episode 449 of the RV Podcast, we dig into the intricacies of an RV extended warranty and how to get the best deal.
Also this week:
There's a lot of RV social media buzz about very expensive road tolls out East
Expert advice on how to prep your RV for sale to get the best price
Why campfire hot dogs need sauerkraut!
How to instantly identify any plant, bush or tree
RV news, tips and inside information to make your next road trip a success
You can watch the video version from our RV Lifestyle YouTube Channel by clicking the player below.
If you prefer an audio-only podcast, you can hear us through your favorite podcast app or listen now through the player below.
Podcast: Play in new window | Download (Duration: 49:50 — 29.1MB) | Embed
Subscribe: Google Podcasts | Spotify | Stitcher | Email | TuneIn | RSS
RV SOCIAL MEDIA BUZZ – Wendy Bowyer
Wendy Bowyer reports on the hot issues most talked about this past week on our RV Lifestyle Facebook Group:
Last weekend was the official kick off of the summer camping season and over on the RVLifestyle Facebook group, we had many RVers sharing pictures of themselves out there camping. It was great!
Many of the posts were like this one from Jeffrey that asked: Where is everyone camping this Memorial Day weekend?
Some places mentioned in Jeffrey's post included South Dakota, Ohio, Oklahoma, New Orleans, Myrtle Beach and so many more.
And some showed a picture of their rig all decked out patriotically for Memorial Day celebrations, like our friend Erik, who is camp hosting with his wife and dog at a state park in Delaware- it was great seeing all the pictures.
We also had many tips – like a warning from John. John was on the east coast, got some bad directions, and somehow ended up driving his rig over the George Washington Bridge that connects New Jersey and Manhattan! He had to pay the bridge toll and guess how much it cost? $92!!! For one way!!
Donald, who read this post, wrote: "What were you thinking??? Driving an RV in NYC?"
John said it was all Google Maps fault. He was trying to get to Rhode Island, and Google Maps directed him that way. What a warning!
And the last post I'd like to share with you is from Jane.
Jane was driving down a country road when someone pulled up and motioned for her to pull over. When she pulled over, guess what she saw?? One of the trailer tires had been shredded, and I am talking REALLY shredded!
The crazy thing was they had checked their tires before the trip, and they were fine. And their tires were only a year and half old.
Jane wrote she thinks a big pothole is the culprit. Jane and her family never heard any sound, didn't feel anything in particular, yet the tire was gone and the rim was bent. She said it could have been so much worse.
So be careful of those potholes – they can do some REAL damage!
That's it from me this week. I"m Wendy Bowyer and I'll see you over at the RVLifestyle Facebook group.
RV Recipe of the Week – Homemade Sauerkraut & New York Style Hot Dogs
Here's the editor of CampingFoodRecipes.com, outdoor enthusiast and lifelong foodie enthusiast Jerrica Mah:
Hey, Mike and Jennifer and Camping Foodies! Jerrica here with CampingFoodRecipes.com. This week for our recipe of the week, I actually have two recipes for you because they kind of go hand in hand. The first is homemade German-style sauerkraut. And if you're wondering what that goes hand in hand with, I bet you jump straight to New York style hot dogs. At least I hope you did, because that's the other recipe that we have this week!
So if you go to our website and see the homemade sauerkraut, you will be amazed at how easy it is to make. I didn't realize that you can make sauerkraut with only two ingredients. And just some patience, really, while you wait for it to ferment. But we have a couple tips on that and even to add even more flavor to that, which makes your New York style hot dogs even better.
And of course, New York style hot dogs have the sauerkraut and onion sauce, and all the other goodies that let you enjoy those authentic, Big Apple hot dogs wherever you travel.
So be sure to check out both those recipes at the same time. Just keep in mind that the homemade sauerkraut, you need at least two weeks to make it because you really want to give it time to ferment and to get that nice flavor, the perfect flavor for your own taste. And we tell you, you know, how to monitor it to make sure it's exactly how you like it. And then of course the easy recipe for the New York style hot dogs.
And don't forget to also go to the website to submit your own favorite camping recipe at the top of the website. You'll just see a tab that says submit a recipe. You click on that, send in your recipe information, and hopefully, you'll get to see it featured on CampingFoodRecipes.com.
Thank you for tuning in this week. Be sure to check out those tasty recipes and I will see you next week with our next favorite camping food recipe!
RV INTERVIEW OF THE WEEK – RV extended warranty advice
If you have ever bought an RV from a dealer, you probably heard your salesman tell you you should add on an extended warranty at a hefty price. But what exactly does an extended warranty cover and do you really need to get one from your dealer? We get this question weekly, it seems, on our RVLifestyle Facebook group, usually from newbies trying to figure out if an extended warranty is worth it.
Those who have been following us for a while know we are fans of Wholesale Warranties, a warranty broker that helps you get the best price for an extended warranty, cares about its customers, and frankly, really knows their stuff.
To help us better understand extended warranties, we've invited Jim Hoffman, the VPO of Wholesale Warranties, to walk us through the basics and share with us some new things happening at Wholesale Warranties. Welcome!
What we talked about:
What is an extended warranty
What are the typical things an extended warranty covers?
What are the main things that break in an RV?
Typical costs to repair parts
Listen or watch the podcast interview above, use your favorite podcast player, or watch it over on YouTube!
RV News of the Week
How many times have you heard national park officials tell visitors to stay away from the wildlife? A reminder of why this is so important comes from Yellowstone National Park where park rangers recently had to euthanize a baby bison after a visitor tried to "help" it.
The bison calf became separated from the herd at Lamar Valley when its mother crossed a river. So a man, in his 40s or 50s, got out of his vehicle, approached the baby and tried to physically help it move.
This caused the herd to reject the calf, despite rangers continued attempts to try to reunite the calf with the herd.
Then when the calf kept going on the roadway approaching cars and people, rangers had no choice but to put it down. Park officials are asking for the public's help identifying the man who created this situation. Someone captured images of the incident which the park is circulating. (click here to see).
The whole incident reminds us of a story we did not too long ago on the Yellowstone pledge. It is something good for all of us to review and can be found here.
Texas is planning to open six new state parks over the next 12-15 years, the state recently announced.
The state's population is growing, and there is a need for more state parks and outdoor opportunities, officials said. Currently Texas has 89 state parks, historic, and natural areas.
The state has identified where each of these new parks will go, and they sound wonderful. The parks will also create new camping opportunities. To learn more click here.
To see a story on when we visited the Texas bluebonnets – something we highly recommend – click here.
Oregon's Silver Falls State Park is beginning a new camping experience we haven't seen before in a state park: Sleeping in a hammock tied to the limbs of an old growth tree hundreds of feet in the air.
The tree hammock sleeping experience is definitely not for the faint of heart – or those with a fear of heights. An official described this new sleeping option as an "incredible sensory experience."
Campers sleep in a regular hammock or in a portaledge – a bed with aluminum frames – 280 feet up an old growth tree. They are also strapped in for safety.
A private company is offering this experience at the state park, and those interested must hike in and climb the tree, all for a hefty fee.
But the reward is an incredible 360-view of the tree canopy below, and truly a unique experience. To see a story on this click here.
Elkhart's RV/MH Hall of Fame is undergoing an estimated $3 million expansion, adding 36,000 square feet to the Hall's existing 100,000 square feet.
The goal is to improve the museum's experience for visitors by not only increasing the amount of display and meeting space, but adding state-of-the-art sound, lighting and video technology.
The museum has vowed not to go in debt for the expansion, so they are fundraising as they go, with the exterior part of the expansion underway now.
The RV/MH Hall of Fame is dedicated to the history of the RV, and is really something every RVer should visit. Jen and I have gone there several times and even had a rally there last summer. To see our stories click here or here.
A man died at a New Hampshire campground last week when his camper fell on him.
The man was an experienced camper who had been coming to the Sunset Park Campground some 30 years. He had apparently elevated his Fifth Wheel and was doing some work under it when something happened and the trailer became unstable and fell on him.
Emergency personnel arrived within minutes, moved the trailer but the man, who camped regularly with his kids and grandchildren, was dead.
You can see the news account here.
RV Tip of the Week from Brenda of Queen Bee RV
RV Tip of the Week from Brenda of Queen Bee RV
Time now for the RV Tip of the week from certified RV Inspector Brenda of Queen Bee RV.
Brenda's focus is on educating RVers on how to care for their RVs – especially women RVers – and she is a regular contributor to the podcast, sharing her expertise with our entire audience.
Here's Brenda.. The RV Queen Bee… with this week's RV Tip.
Step by step guide for prepping, pricing and selling your RV
Are you an RV seller who is overwhelmed with the thought of getting your current RV ready to sell? Or, excited and just need to know where to start? As a Certified RV Inspector, you can bet I see all kinds of rigs in various conditions throughout the sales process.
Here is some helpful advice for prepping and pricing your RV for sale:
Info gathering:
Start by gathering all of the service records and improvements that you have done, as well as from previous owners, including repairs, routine maintenance, oil changes, generator servicing, and new tires.
Even if you did some of these yourself, include any receipts or records of the process.
Scrub a dub
Wash the roof and all of the RV exterior, and clean the windows. Shine the tires. Clean out the cargo bins and if it's motorized, consider an engine cleaning.
Dust, vacuum, sweep, mop, and sanitize the interior.
Confirm proper function of ALL appliances, the water system, propane system, electrical systems, holding tanks, lights, and electronics.
You might even consider a "pre-sale" inspection by a Certified RV Inspector! This can be a great selling tool.
Pricing
I suggest to start with the NADA website when gathering data to price your RV. Simply input your year make and model plus features and options into the pricing tool to receive some preliminary numbers. Compare that data to other RV marketing websites to see how the competition is lining up.
Next, decide if you want to sell the RV privately or to a wholesaler or dealership. Keep in mind that if you trade your RV in at a dealership, they are going to offer you wholesale pricing so they can make a profit when they sell it. Consider consigning with one of them instead and decide if that makes it worthwhile for you since the dealership will be handling showings, negotiations, and the paperwork. They might even take on some repairs.
Marketing for private sale
Take some good-looking color photos – this is a must. Buyers are shopping on-line first and need lots of photos.
Prepare the listing for uploading to on-line RV sales websites and social media. Things to include in your description will be the year built, manufacturer and model number, VIN number, 50 or 30 amp service, any improvements and upgrades, mileage, plus all of the details you would see in a manufacturer's brochure. The more the better.
Some popular websites for RV sales include www.rvtrader.com, Facebook marketplace, Craigslist, Ebay and various manufacturer forums. Some of these websites charge a fee, some are free.
Showing and negotiating
Safety first when it comes to meeting potential buyers. Consider meeting in a public place like a shopping center or church parking lot, a campground, or other public space. If it is motorized, decide if you will allow them to take it on a test drive (with you riding along, of course) or if you want to drive and let the Buyer be a passenger.
Choose whether or not you will be willing to hold the RV for a period of time with a deposit.
Be prepared for lowballs. If you decide to sell privately, you will still get calls from wholesalers and dealers. Have your bottom dollar in mind.
Talk with your bank about who holds the lien and the proper way to transfer title. If there is no loan, decide how you will exchange title with the new owner once payment has been received.
Next decide how you are willing to receive payment: cash, bank check, payment apps like PayPal or Venmo, Zelle or even wire transfer.
Finally, be honest. Think about the Golden Rule! Treat others as you would want to be treated.
Time now for the RV App of the Week segment, taken from the pages of NewTravelTech.com – our sister blog that celebrates the many ways technology enhances the travel experience.
This week's app is called PictureThis and it is an awesome tool that lets you instantly identify different plant and tree species you encounter on your outdoor adventures.
Not sure what the plant is? Open the app and take a picture, and instantly it scans its database of 10,000 North American species and tells you what the plant or tree is, giving its scientific name and its common name.
The app works on iOS and Android and it's free, though premium versions are available at an extra cost that unlock more features.
RV QUESTION OF THE WEEK
Question:
How do you guys incorporate exercise on a regular basis with your RV lifestyle?- Desiree
Answer:
That's a hot topic issue for us. Jennifer is an exercise addict. She tries to find local gyms in the areas we visit. Plus, of course, there's hiking, lots of walks with Bo, and some basic exercises like sit-ups, pushups and squats that you can do in or out of the RV.
Exercise bands (those little elastic bands) are a great way to do weight training.
And on travel days, we try to stop every hour and a half to walk around the RV and not be sitting too long.
Where are you RVing next? How about…
The Great Lakes region is filled with beautiful vistas, welcoming towns and villages, and fabulous places to camp, hike, and explore.

We were so taken with the adventure of this trip that we just knew we had to write one of our Adventure Guides about it!

But instead of the usual 7 Days that some of our other guides can be done in, with this one, we're suggesting that you budget more time. This is why we are calling it a "Tour" instead of a 7-Day Guide! There are 86 pages in this new ebook.
In this new Great Lakes Shoreline Tour we cover in detail:
Notable U.S. Cities/Towns along each Great Lake (US side) like; Watertown, Grand Island, Geneva-on-the-Lake, Vermillion, Mackinaw City and so many more!
What to See/Do Around EACH Lake like; Ocqueoc Falls Scenic Site, Les Cheneaux Islands, Antique Boat Museum, and many, many more places including BONUS side trips!
And good Campgrounds for each Lake (US side) – at least 4 or 5 for EACH Lake! With all the info you need to set up reservations.
Interested? 
---
---
---
---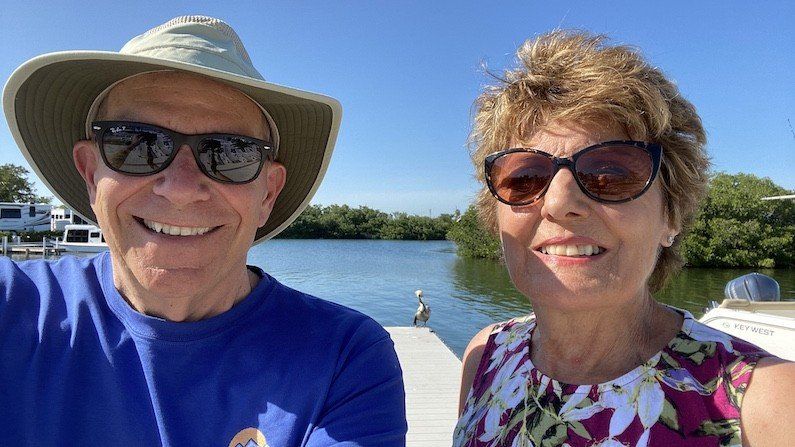 Curious about the gear, gadgets, accessories, and RV products Mike & Jennifer use and recommend?
On this RV Lifestyle Travel blog, our RV Podcast and our RV Lifestyle YouTube Channel, we mention all sorts of RV-related products and gear that we use, So we created a special page that links to them. We update this all the time.  CLICK HERE to go to it directly.
---