Wholesale Warranties is an insurance broker for RV extended warranties. RV Lifestyle recommends its service and products for several important reasons…
A few years back, I interviewed a warranty brokerage called Wholesale Warranties. The goal of the podcast interview was to answer two questions:
What is an Extended RV Warranty?
Do you need an Extended RV Warranty for a new RV?
I received those answers (which I will share with you below) and learned about the value of extended RV warranties. But I also realized the value of the company Wholesale Warranties itself.
After the interview, Jennifer and I decided to partner RV Lifestyle with Wholesale Warranties so our followers knew they could get a free, no-strings-attached quote for extended RV insurance coverage. We haven't regretted that decision, as we continue to hear lots of good things (including from our followers) about Wholesale Warranties.
So, we wanted to take the time to share what Wholesale Warranties is and the service they provide. That way, you can decide for yourself if you need an Extended Warranty for your RV and if you want Wholesale Warranties to help.
But first, let's quickly answer the two questions I posed above and a couple of other common questions…
What is an Extended RV Warranty?
An extended RV warranty is an extended service contract that steps in to pay for repairs to some of the most common mechanical and electrical failures. It can cover you on repairs that are not covered or are no longer covered by your RV's manufacturer's warranty.
Depending on your policy, such repair coverage can range from a diesel engine down to a microwave and might include roadside assistance and other benefits.
Do You Need an Extended Warranty for a New RV?
The answer comes down to personal preference. A new RV does come with manufacturer warranties that'll cover most things for the first year and a few years after. However, manufacturer warranties do not cover everything, and coverage does start to drop off after the first year. An extended warranty may cover you where a manufacturer's warranty may not.
There is also another big benefit to buying an extended warranty for a new RV: better rates. Unlike most policies, an extended RV warranty is usually a one-time purchase as opposed to a monthly payment. That means you lock in a rate that will cover you for several years to come.
The best rate you're ever going to get is on a brand new RV because extended warranty companies know they'll probably not have to pay out too many claims right off the bat. So, you get a better rate that, in a way, "prorates" the lesser need for it in the first year or two.
When and Where Should You Buy an RV Extended Warranty?
When you purchase a new RV, the salesman will likely try to get you to sign up for an extended warranty right there in the dealership. You can, of course, accept or decline on the spot. But did you know that's not the only time you can get an extended warranty? Nor is it the only place you can get an extended warranty!
As explained in the previous question, there are perks to buying an extended warranty immediately after purchasing a new RV. However, some people choose to wait until their manufacturer's warranty no longer gives them the coverage they want. There are certainly pros and cons to either strategy, so it depends on your personal preference.
Mind you, extended warranties are not only for new or newer RVs that are purchased from dealers! You can purchase an extended RV warranty for a used or older RV, too, whether you purchase it from a dealer or a private seller. In fact, that's when extended RV warranties come in handy the most!
---
Mike and Jennifer's RV Lifestyle hat collection
Who needs a hat? You do! Dad hats aren't just for dads. This comfy one's got a low profile with an adjustable strap and curved visor. Just the thing to wear on your next RV Lifestyle adventure.
---
Why Do We Recommend Wholesale Warranties for an Extended RV Warranty?
First, let me start by saying that we recommend extended RV warranties in general because we know from experience how often things break with an RV.
I've said repeatedly that driving an RV is like putting a home through an extensive earthquake time and time again. No matter how well-built your RV is, the constant rattling and shaking is going to break things. A lot. That's just a reality of the RV lifestyle.
An extended RV warranty, therefore, balances out the negative side of RVing with a positive solution.
As for recommending Wholesale Warranties, in particular, we partnered with them for several reasons. First and foremost being that they really know their stuff and care about their customers.
As a broker, they have several different options available to ensure you get the policy you need for your particular RV and situation. They serve a wide array of RVers, from brand new rights to used RVs, private party sales, and from motorhomes to travel trailers and 5th wheels.
Their most popular RV Extended Warranty policy offers extensive coverage, including:
Engine
Transmission
Air Conditioning
Refrigerator
Generator
Water System
Radiator
Wiring
Wiring Harnesses
Flat Panel TVs
Seals & Gaskets
They also offer Pre-Purchase Inspection, Consequential Damage, and Brown Out Coverage. Plus, Wholesale Warranties is the only provider that offers in-house claims support should you run into issues filing a claim down the line.
Do you see now why we partnered with them? But that doesn't necessarily mean they are the right company for you. To know that for sure, you'll need to get a quote from them and a few other sources to compare your options.
You can start by getting a free, personalized quote from Wholesale Warranties.
What About RV Roadside Assistance?
Now that you know about extended RV warranties, there is another service that I think all RVers should consider: RV roadside assistance. If you don't have roadside assistance already, I recommend reading my RV Pro Tip: The Best RV Roadside Assistance.
Keep in mind that some extended RV warranties include or offer roadside assistance. So, be sure to check with your RV Extended Warranty broker or policy to make sure you're not double-paying for the same kind of coverage.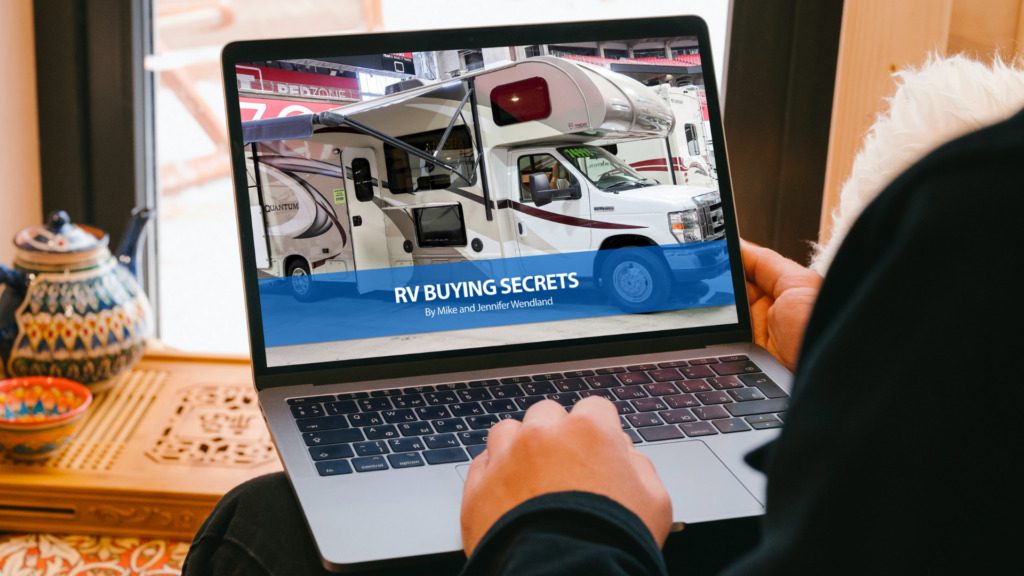 Next to your home, an RV is most likely the 2nd most expensive thing you'll ever purchase.
We get questions every day of other RVers wondering. "How do you buy a new or used RV?"
So we created a 75+-page downloadable digital guide to help you understand the nuances that come with purchasing an RV, where you can save thousands of dollars in the buying process, what the right questions are to ask dealers, what things to look out for, how to select the right unit, amenities, warranties, and so much more!
We created this guide to help you understand the nuances that come with purchasing an RV including:
Where to save thousands of dollars in the buying process
What questions to ask dealers
How to select the right unit
How to narrow down RV amenities
Understanding your warranty and what it covers
This ebook is designed to help make your purchase process as smooth as possible. And to teach you step-by-step exactly what to do so you can start your RV Lifestyle today!
---
---
---
Where to next? How about…
Explore Arizona with our RV Adventure Guide
We start our Arizona adventure guide at the South Rim of the Grand Canyon, then move west in a slow semi-circle to hit all of the highlights, including Sedona, Lake Havasu, Quartzsite, Kofa National Wildlife Refuge, Apache Junction, and Saguaro National Forest.
Throughout this guide, we explore incredible rocky vistas, historical and mystical sites, inspiring scenic byways, charming Southwest towns, national and state parks galore with wonderful wildlife. No matter what your interests are, you are sure to find something to awe and inspire you in Arizona.
---