Looking to find the perfect campsite this weekend, but frustrated that all the good spots are taken?
Before you give up, you'll want to check out the cutting-edge technology we preview in RV Podcast Episode 354 that streamlines the process of finding and booking a great campsite.
Plus we have the latest RV News, RV questions, and RV trip reports that you can catch if you click either the audio or video players below.
You can listen to the RV Podcast in its entirety by clicking the arrow in the podcast player below:
Podcast: Play in new window | Download (Duration: 56:14 — 32.8MB) | Embed
Subscribe: Google Podcasts | Spotify | Email | TuneIn | RSS
Or, you can watch a full-length video version of the podcast from our YouTube RV Lifestyle Channel by clicking below.
You can find the perfect campsite – if you know how to look
Our guest in the RV Podcast Interview of the week is Mark Koep, of CampgroundViews.com, whose motto is "Look Where You Are Going."
And that's what he shows us how to do in this week's podcast. Because CampgroundViews.com – as its name applies – is all about showing, the podcast video version is probably the best way for you to really grasp the power of the technology Mark illustrates.
In inviting Mark to the program, I issued a challenge as the prerequisite.
In the interview, I didn't tell Mark the location until just before he was to start. I chose one of the most in-demand places in all of America. I asked Mark to find us an open campsite in a great campground within an easy drive of Glacier National Park.
It took him 7 minutes to find the perfect campsite. And that was with a lot of preliminary stuff he clicked on just to show us how his software worked. If he had gone straight to the chase, I bet it would have been accomplished in under 5 minutes!
You need to watch the video to appreciate it. But Mark shows a few tips on how and where to look for campgrounds that do have openings, even in the most popular areas.
The campground he ended up finding for us, that we could have booked for this weekend, was about a 20-minute drive from one of Glacier's entrances.
If I hadn't seen it for myself, I wouldn't have believed he could so quickly find an open campsite – and a great one at that – on such short notice.
It's as if Google Street View was used to find the perfect campsite.
The technology Mark's team has developed marries 360-degree video of a campground with the latest in mapping technology all beamed to the recreation.gov campsite booking software used by most big government campground reservation systems.
You can drive all around the campground and the sites that are open on the dates you specify are shown in green. You can tilt the camera up and down, pan left and right to really check them out. It's amazing to watch. And once you find it, just click your mouse and you can book it.
In appreciation of us showcasing his website – which costs $50 a year to join – Mark has extended a nice discount to those who enter the promo code RVLIFESTYLE when signing up (look for the green text that says Have a coupon? and enter it there).
---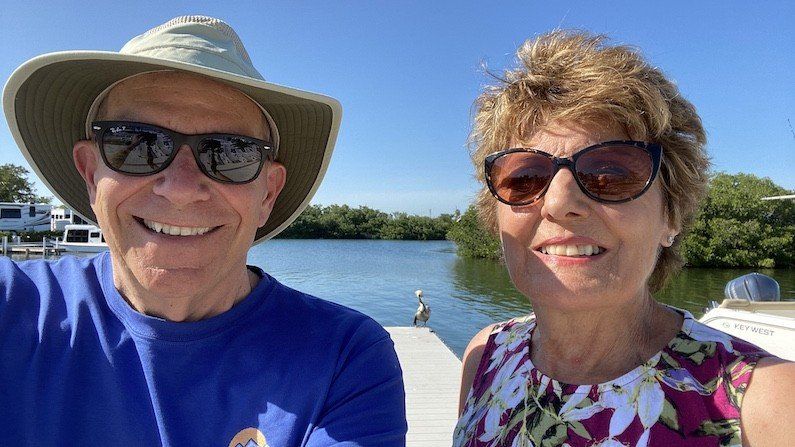 Curious about the gear, gadgets, accessories, and RV products Mike & Jennifer use and recommend?
On this RV Lifestyle Travel blog, our RV Podcast and our RV Lifestyle YouTube Channel, we mention all sorts of RV-related products and gear that we use, So we created a special page that links to them. We update this all the time.  CLICK HERE to go to it directly. Have you caught one of our Amazon LIVE events yet? Just go here and Follow us – to be notified every time we go live.
---