In Episode 386 we tackle two big issues for RVers: How high fuel prices will affect RV Travel in 2022 and the RV Internet solution Jennifer and I rely on for on-the-road connectivity.
To watch the complete video of this episode, click the player below:
If you'd like to listen, the audio version is available on all the popular podcast apps. Or click the player below to hear it right now on whatever device you are currently on.
Podcast: Play in new window | Download (Duration: 28:52 — 17.2MB) | Embed
Subscribe: Google Podcasts | Spotify | Email | TuneIn | RSS
How high fuel prices will affect RV Travel in 2022
Up until the last few weeks, no one saw any dark clouds on the RV horizon.
The unprecedented growth in sales, new campers, camping reservations, and RV travel seemed unstoppable.
But then came the massive increase in fuel prices.
And now it seems that it is ever high fuel prices that are unstoppable, with no one seeing an end in the upward spiral.
No matter what you want to blame it on – politics, international events – the pain at the pumps is very real and is already taking a toll.
We have been in six states the past week. The cheapest I bought 89 octane gasoline was $4.31 a gallon. The highest $4.87. Diesel prices have ranged from $4.68 to $5.05.
(CLICK HERE to see our favorite apps for finding cheap fuel)
After Jennifer and I shared this Sunday night on our "Ask Us Anything" weekly live stream on YouTube and Facebook, we heard from many who said they were reluctantly making plans to curtail their RV travels. Some canceled long trips. One person said he canceled an order he and his wife had for a new RV that was supposed to be delivered this fall. A few said they were taking a wait-and-see attitude.
My prediction is that if the nationwide average hits $6 for gas, $7 for diesel, the 2022 travel season will be upended. The effects will be felt instantly and industry-wide. Campgrounds will lose bookings, dealers will lose orders, new sales will suffer greatly.
Here's some feedback we have received on how high fuel prices will affect RV Travel in 2022
Lilli: We had pretty much had all our summer figured out till all this fuel problem hit. My wife and I are on a fixed income and well I do not regret getting our camper but it seems like again this year we will not get to use it. We canceled all our reservations except the ones in state and are saddened about what is happening. I'm 74 years old and well I don't know what lies ahead. It is scary for me to think that I will never be able to travel like we once did.
Pat: There is no question! Higher Gas Prices will severely HURT the RV Industry/Marine Industry/ as well as the overall Economy! We will be canceling our reservation at a Pleasureway Rally we were planning on attending this summer.
Thomas: With fuel costs around here for diesel at about $5.50/gal and gasoline at over $4.00/gal, doesn't look like we will be going anywhere soon in the Wonder. I betcha this will have a profound effect on the RV Lifestyle. For the larger rigs, class A pushers, and large 5th wheels, fuel costs are approaching $1.00/mile if this keeps up. Kinda like the last fuel crisis—the bottom falls out of the RV industry.
Jerry: Been looking at Class B's for a long while. I found one and I'm scheduled to pick it up this coming Monday. Gas prices and its projection to increase further is giving me second thoughts. I can walk away from this sale at no costs to me.
Marlese: We are staying at a Journey KOA and was chatting with the owner. She said they've had 10 cancelations in the last few days with high fuel prices being the reason given.
Darlene W: All of our pre-planned trips will be very close to home this year. We're still camping! But not traveling like we hoped.
Craig: With the economy going in the toilet and the gas going sky high. Would you buy a new camper?
Lance: No travel. Staying in TX.
Deloris: We have a class A gas and we will be staying home or take short trips.
Ken: We are canceling the Class C van we have on order from Winnebago. We can't afford these prices and with everyone saying they will get higher yet and stay that way, we're going to hold off. We're very depressed about this. First, we lost two years of travel from COVID and now this.
Randy: I think for those of us that work remotely or travel for a living will still proceed on. Perhaps the weekend warriors or whichever may slow down a bit for a while.
Kelly Ann: Life has changed in an instant. We chose not to drive to Palm Springs because it would have cost us 1000.00 in gas. It's time to batten down the hatches and make wise decisions.
Cory: Let's say gas is up a dollar. A 500 mile trip with the average tow vehicle will cost $50 extra. Skip the Starbucks for a week or two and you're good. At this point, it's nothing I am freaking out about.
Leonard: My Thor Aria Class A diesel has a 100 gal tank. Last year at $3.50 a gallon it cost me $350 for a fillup. Today, at $5.03 it costs $503. I won't be happy but I will do so. But if it goes to $7 or more a gallon, that's just too much. Whatever trips we take are going to be much shorter and we are going to stay longer.
Personally, Jennifer and I are not willing to toss in the towel on our travel plans.
But there's no doubt that the higher fuel prices are cause for concern.
The trip we just took down to Florida is our second such trip this year. My last fillup yesterday – we have a 22 gallon capacity on our Class C on the Ford Transit chassis – cost $102.96. In January, just before we got to the Tampa RV Supershow, my last fill-up cost $87.12. So a fillup is costing me $15 more today than two months ago.
I usually fill up four times between Michigan and Florida. So this trip down cost me $60 more than the trip in January.
That's not yet a trip-killing extra expense. But how much higher will those costs go? It's worrisome and is rapidly becoming the biggest threat the RV industry has dealt with since the supply chain crisis… which, by the way, is still far from over.
Our Internet Solution
The other topic we talk about on the podcast this week is the Internet solution we have found to keep us connected.
Because one of the most frequent questions we get is what Internet service we use, I thought we'd finally share the details in this week's report.
This service we have is called InternetOnTheGo.net and it is expensive.
It is not for everyone. Jennifer and I are very heavy on the road Internet users. Our entire business depends on me having reliable, solid connectivity. And that costs.
The system we have allows us 400 gigs of data each month, 200 on T Mobile and 200 on Verizon. Even on the heaviest month when we are on the road, uploading and streaming daily, we have never used more than 200 gigs.
This is unthrottled data. I've gotten as high as 50 mpbs download speeds in our travels and never less than 12mbps. I have used this for hour-long video live streaming of our Ask Us Anything Sunday night RV Lifestyle question and answer show, uploading my podcast each week, updating photos and videos to the blog, and even streaming movies and some of our favorite TV programs.
Let me point out that I have no financial incentive or advertising relationship with this company, not even that of an affiliate. I paid full price ($950) for the dual-carrier Max Transit Pepwave router we use and I pay $189 a month, with no discount, for my Internet service.
We have had the service for 8 months now and can say that it has performed flawlessly as we've traveled across the country.
Could I get this cheaper? Maybe. But until Elon Musk's SpaceX Starlink satellite Internet system becomes available for mobile use in RVs, InternetOnTheGo.net has been our choice.
(CLICK HERE to see our video on Starlink)
The router is mounted on a shelf in our RV and plugs into an always inverted AC circuit. My one criticism of the router is it has no battery backup power system. Other than that, it works great. I leave it on all the time, except for times when I know the RV won't be in use for a couple of weeks.
The router has two SIM cards inside. One is on the Verizon network. The other is on T-Mobile. The router constantly checks each provider and uses the one with the best signal.
So there you go. You asked. That's what we have.
Happy Trails!
---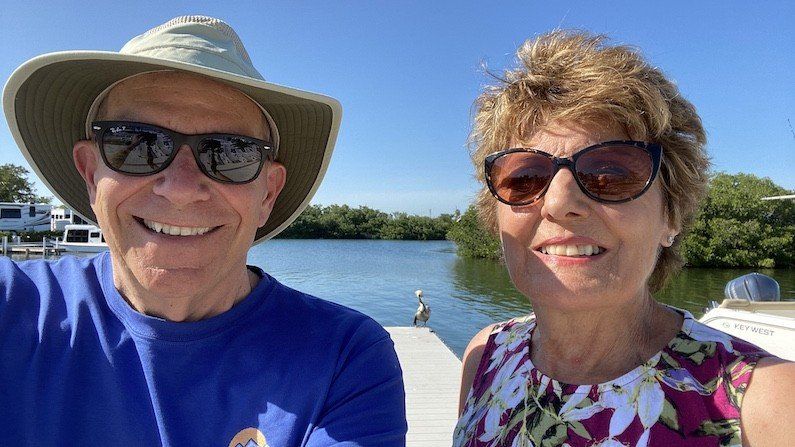 Curious about the gear, gadgets, accessories, and RV products Mike & Jennifer use and recommend?
On this RV Lifestyle Travel blog, our RV Podcast and our RV Lifestyle YouTube Channel, we mention all sorts of RV-related products and gear that we use, So we created a special page that links to them. We update this all the time.  CLICK HERE to go to it directly. Have you caught one of our Amazon LIVE events yet? Just go here and Follow us – to be notified every time we go live.
---