When planning meals for a camping trip, lunch can often be a bit of a challenge. You want something easy to prepare, tasty, and satisfying enough to keep you fueled for the rest of the day's activities.
Luckily, we've got you covered with delicious camping lunch ideas from our sister website, Camping Food Recipes.
From hearty chili cooked in a Dutch oven to mouthwatering grilled cheese sandwiches with a twist, these recipes offer a variety of flavors and options to suit everyone's taste buds. Whether you're looking for classic comfort food or lighter and healthier fare, there's something here for every camper.
(Psst! At the end, we also share 10 easy campfire treats!)
Hey, if you buy something through my links, I might get a little something-something as a thank you. No extra cost to you, promise! Read our full affiliate disclosure here.
15 Easy Camping Lunch Ideas
We're adding new recipes every week at CampingFoodRecipes.com, and the following are some of our favorite lunch recipes worthy of your camping menu.
Don't forget! You can also submit your favorite camping recipe to be featured on the site!
This chili recipe is perfect for a hearty and flavorful lunch. It minimizes ingredients while maximizing flavor, and you can easily spice it up to your liking. Cook it in a Dutch oven over the campfire for a delicious meal.
Go to recipe: Super Easy Campfire Chili (Dutch Oven)
These Hawaiian pineapple chicken kabobs are a great option for lunch. Save time, money, and space by using a popular Hawaiian marinade to easily make these delicious and flavorful kabobs. They are sure to be a hit with everyone.
Go to recipe: Hawaiian Pineapple Chicken Kabobs (w/ Easy Marinade)
Take your grilled cheese to the next level with this sweet and savory recipe. With caramelized apples added to your pie iron grilled cheese, it's an easy yet impressive lunch option for your camping trip.
Go to recipe: Pie Iron Grilled Cheese with Caramelized Apples
Elevate your basic ham and cheese sandwich with this pie iron version. It's a satisfying and delicious option for lunch. Get creative with your campfire cooking and try this recipe on your next trip.
Go to recipe: Pie Iron Ham and Cheese Sandwich
Forget your basic grilled cheese; try this cafe-worthy version with tomato. With a couple of extra ingredients, you can have a gourmet grilled cheese wherever you camp. It's a simple yet flavorful lunch idea.
Go to recipe: Pie Iron Grilled Cheese & Tomato Sandwich
Spice up your camping meals with Homemade Uncrustables from Camping Food Recipes. These kid-friendly sandwiches are quick and mess-free. Fill them with your favorite ingredients and freeze for ready-to-eat lunches on your camping adventure. Say goodbye to soggy sandwiches and hello to tasty Homemade Uncrustables!
Go to recipe: Homemade Uncrustables
If you're looking for a fun and easy meal, these loaded campfire nachos are the answer. Enjoy a plate of cheesy and flavorful nachos directly from the pan while sitting by the campfire. It's a great option for a relaxed lunch.
Go to recipe: Easy Loaded Campfire Nachos
Looking for a flavorful and easy lunch option? Try this Taco Soup Recipe from Camping Food Recipes. Packed with classic taco flavors, this hearty soup is perfect for camping. Make it over a campfire or portable stove and top it with your favorite taco toppings.
Go to recipe: Taco Soup Recipe
Get a taste of the Windy City with this Chicago Hot Dog Recipe from Camping Food Recipes. Loaded with classic toppings like mustard, relish, pickles, tomatoes, onions, and peppers, this hot dog is a flavorful and satisfying lunch option for your camping trip. Fire up the grill or heat it over a campfire for an authentic Chicago-style experience.
Go to recipe: Chicago Hot Dog Recipe
Craving the iconic flavors of a New York-style hot dog? Try this New York-Style Hot Dog Recipe from Camping Food Recipes. Complete with all the classic toppings like sauerkraut, onions, mustard, and ketchup, this hot dog will transport you to the streets of the Big Apple. Enjoy this delicious lunch option on your next camping adventure.
Go to recipe: New York-Style Hot Dog Recipe
Take your hot dogs to the next level with this Hot Dog Sauce Recipe from Camping Food Recipes. Made with a flavorful blend of ingredients like ketchup, mustard, Worcestershire sauce, and spices, this sauce adds a savory and tangy kick to your hot dogs. Serve it on your favorite bun with grilled hot dogs for a tasty and easy lunch outdoors.
Go to recipe: Hot Dog Sauce Recipe
Need a refreshing and crowd-pleasing lunch option? Look no further than this Fruit Salad Recipe for a Crowd from Camping Food Recipes. Packed with a variety of colorful and juicy fruits, this salad is a perfect balance of sweet and tangy flavors. Whether you're hosting a large group or simply craving a healthy and refreshing lunch, this recipe is sure to be a hit.
Go to recipe: Fruit Salad Recipe for a Crowd
If you're watching your calorie intake but still want to enjoy a delicious burger for lunch, try this Healthy Grilled Turkey Burger Recipe from Camping Food Recipes. Made with lean ground turkey and packed with flavor from herbs and spices, these burgers are a healthier alternative to traditional beef burgers. Grill them up on your camping trip for a satisfying and guilt-free lunch.
Go to recipe: Healthy Grilled Turkey Burger Recipe
Sometimes, simplicity is key, and this Simple Burger Recipe (No Breadcrumbs) from Camping Food Recipes proves it. Made with minimal ingredients, these burgers still deliver on flavor and juiciness. With just a few kitchen staples and your choice of toppings, you can have a delicious and fuss-free lunch on your camping trip.
Go to recipe: Simple Burger Recipe (No Breadcrumbs)
Give your leftover hamburger patties a new life with this Leftover Hamburger Patties Casserole recipe from Camping Food Recipes. No need to waste those extra patties – transform them into a hearty and flavorful casserole. With the addition of vegetables, cheese, and spices, you'll have a satisfying lunch that's easy to make and perfect for using up leftovers.
Go to recipe: Leftover Hamburger Patties Casserole
Easy Campfire Treats & Snacks
No matter where you plan to camp, one of the most beloved traditions is enjoying a snack by the nightly fire. Or heck, even enjoying a snack by your backyard fire pit!
There is something gratifying about sharing a fun treat with people you love, no matter where your campfire is.
The following are some of the easiest (and tastiest!) campfire snacks and treats to take on your next camping trip.
1. S'MORES VARIATIONS
I think our first suggestion should be a twist on traditional s'mores. If you love s'mores but are bored with them, the simplest solution is mixing things up!
For instance, you can give a fun patriotic twist with these All-American S'mores. Or try this Easy S'mores Dip!
You can also try different cookie and cracker combinations or fillings.
One popular option is to replace the chocolate in the s'more with a Reese's peanut butter cup. Or, add Andes mints for a holiday twist on the old favorite!
Or, instead of making it with graham cracker outer walls, try Oreos instead.
Want something fancier (and a tad healthier)? Add fresh raspberries, bananas, or strawberries inside a traditional s'more.
2. CAMPFIRE CINNAMON ROLL-UPS
If you love cinnamon rolls, then you will love these roll-ups! You need a package of crescent rolls, ¼ cup sugar, and a tablespoon of cinnamon.
You combine the cinnamon and sugar in a bowl to make these delicious treats. Then separate the crescent rolls, wrapping each one around a skewer.
Roll it in the cinnamon-sugar mixture and cook over a campfire for five minutes.
You can also make an optional glaze for your treat. Mix ¼ cup powdered sugar with about two tablespoons of water. If it is too dry, add another tablespoon of water.
3. EASY CAMPFIRE TARTS
While this recipe only calls for three simple ingredients, you'll need some way to cook the tart shell. You can fashion a metal shot glass into a skewer to give you the right shape. But if you are not a typical DIYer, you can purchase some Wolf'em Roasting Sticks that have attachments to keep in your RV.
All you need to make these tarts is refrigerated biscuits (like Pillsbury), canned pie filling, and whipped cream.
Simply wrap the biscuit around the end of the shot glass (or pastry attachment). Toast it over the campfire until it is browned. Then fill it with the pie filling and top with whipped cream!
Or, use the Wolf'em roasting sticks to make these patriotic biscuit cups!
Mike and Jennifer's Southern Utah RV Adventure Guide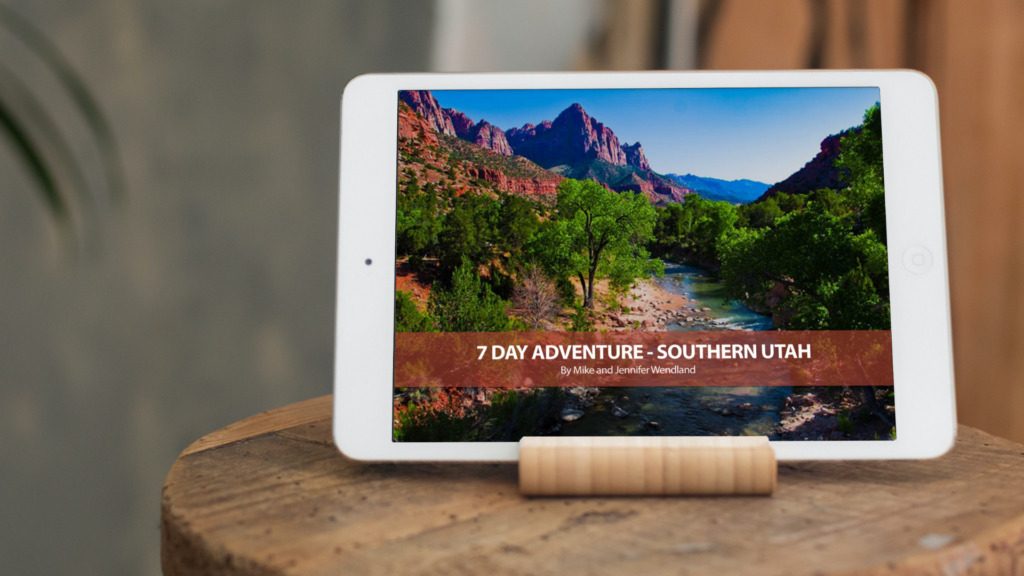 Utah, Utah, Utah. What more is there to be said? In very few places across the United States is there such a tremendous area with breathtaking vistas and diversity of terrain.
The sheer size of the National Parks, the canyons, the desert. Combined with the amount of history written in the red rocks that rise like towers jutting out of the ground and the delicate hoodoos washed away by erosion.
It is a place that, if you've never been, you need to go, at least once in your life.
This ebook is a seven day guided exploration of the State and National Parks in Southern Utah. We provide a suggested route and itinerary, links to multiple campgrounds and boondocking spots, and the best spots to see along the way. Don't plan your trip to Southern Utah without it!
You can hit everything in seven days, do a whirlwind weekend tour, or you can take your time and explore the area over a few weeks.
---