No excuses. I promised I'd do a tell-all on breaking the rear truck window of my Ford F-250 with my fifth wheel. So here's the full story, embarrassedly told in hopes it will prevent others from making the same costly mistake I did.
The below lays it all out.
The backstory on my breaking the rear truck window
It happened in Tampa, FL, when we showed up to camp for a week at the Florida State Fairgrounds during the big Florida RV Supershow in our Arcadia 32.5-foot Fifth Wheel. Jen and I were upfront in our Ford F-250 Super Duty, with Bo in his usual spot in the back seat.
A fairgrounds employee in a golf cart led us to the spot they had set aside for us – a very narrow spot at that. Jennifer asked him if there was something a little easier to navigate. It was basically a take-it-or-leave-it response.
So we took it.
I'm fairly new to the fifth-wheel life. While I think I've done pretty well learning the ins and outs of dropping off and hooking up, backing in was still a bit challenging. But I thought I was up to the challenge.
Besides, all the other campers were watching.
Then came Mistake #1
"Let me get out and spot for you," said Jennifer.
"No," I said much too fast. "I got this."
Dumb, dumb me.
But I reasoned that this was good experience for me. I just needed to go slow.
I started the approach, cranking the wheel in the opposite direction I wanted the rear of the fifth wheel to move. I made it in about 20 feet or so, then pulled out to make the turn a little less severe.
It really was tight.
I cranked. The rear of the Arcadia was moving in the right direction. So I kept going.
Then came Mistake #2
I was watching the rear of the fifth wheel, not the front end. And as the angle in the turn increased, the front end got closer and closer until…… CRRRACK!
The rear window exploded in a loud shower of tinted glass. The front of the fifth wheel pushed right through it.
Bo lept from the back seat onto the front, smack down on Jennifer's lap. All 65 panicked pounds of him.
And I immediately knew I had screwed up big time.
I was not watching the front of the fifth wheel at all. A simple glance would have shown me it was getting way too close. Or if I had let Jen out to spot.
I suppose it could have been worse. The front end could have caved in part of the rear cab as well. Instead, it took out the window.
I was so embarrassed…. as I should have been. I still am.
There was a third mistake I made.
I have a great fifth-wheel hitch. The A-20 from Curt. It is a sliding hitch.
I assumed, out of total ignorance, that a sliding hitch meant that it would slide automatically.
The dealer who installed my hitch gave me no instructions at all. So I assumed it slid all by itself when the RV was cranked at a tight angle.
It doesn't work that way.
There is a stout black lever that needs to be pulled that then moves the hitch from the "towing position" to the "maneuvering position." In the above video, a representative from Curt at the RV show generously came to the campsite to demonstrate how the sliding hitch is supposed to work.
If I had done that one simple step, the hitch would have slid back a foot and not have broken the window.
It would have been nice if the hitch installer had told me how it works. But it would have been even better if I had read the instruction manual. I hadn't.
Ignorance is no excuse. And for my ignorance, I had to pay the price in getting the damage repaired.
EXTRA: See the 43 Dumbest RV Camping Mistakes
Finding replacement glass and a repair person was no easy feat
I forced myself to calm down. Jennifer didn't say a single word of criticism. She didn't have to.
I still had to get into the tight camping spot. A neighbor came over and spotted me as I slowly backed in.
Word of my mishap traveled quickly.
Within minutes, a small crowd of other campers, including some other RV influencers, came over to commiserate. A couple of them kindly brought us a ShopVac, which Jennifer immediately used to start cleaning up the broken glass. She never complained.
I should have cleaned the mess I made. "We're in this together," she said. "You feel bad enough."
The task of finding someone to replace the window took a couple of days.
I first tried Safelite, the "we come to you" window company that advertises so heavily. It was impossible to talk to anyone there. It's all done on the web. There were no phone numbers and after filling out a form, I got a return email message that no, they would not come to me.
Instead, Safelite informed me that I'd have to take into one of their repair facilities in Tampa. The soonest they could get me in was a week from the following Tuesday.
We needed to be long gone from the Tampa area by then.
I next tried the closest Ford Dealer I could find, in nearby Brandon, FL. The service department said they don't do that sort of repair. They referred me to a local car glass company. All I got was an answering machine. I left several messages. They never returned my calls.
It so happened that there were two RV glass companies that were exhibiting at the RV show. They felt my pain, they said, but were much too busy to come to me in the adjacent campground to even look at my problem, let alone fix it.
Then I found a company called Auto Glass Geeks. Their website advertised that they do mobile windshield and glass repair "anywhere in Florida." I called and the next day, they sent technician Wyatt Johnson from up near Orlando down to me at the Tampa fairgrounds with a perfect replacement for our F-250.
He did an amazing job.
It took him just over an hour. It cost me just under $1,000.
This is my penance
This is an embarrassing post to write. But maybe, like I said, my mistakes will be a learning experience for others.
Since my setback in breaking the rear truck window, I have learned that a lot of others have done the same thing.
And people have been very kind.
But it was all so preventable.
If only I had listened to my wife…..
Where to next?
Mike and Jennifer's Southern Utah RV Adventure Guide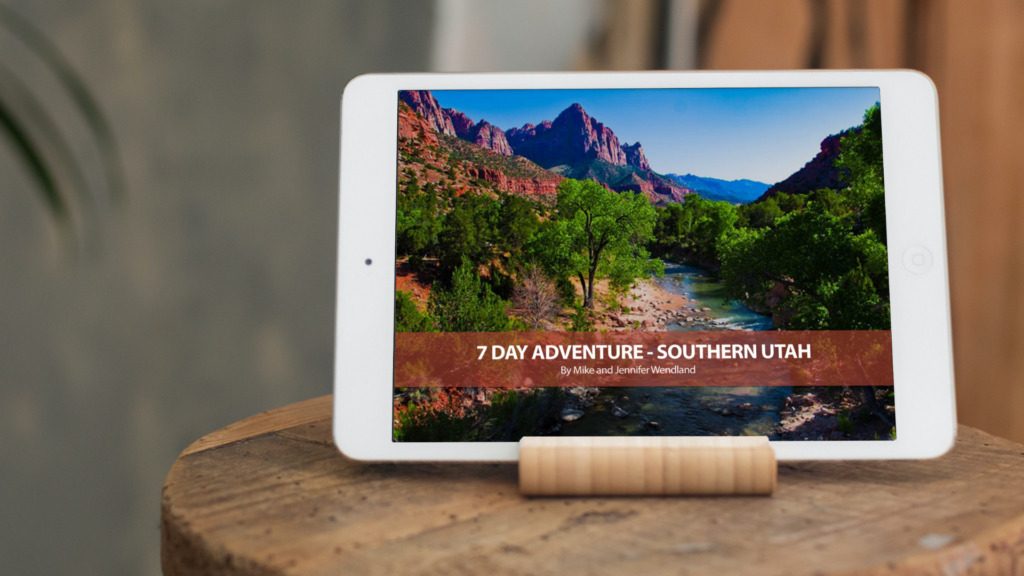 Utah, Utah, Utah. What more is there to be said? In very few places across the United States is there such a tremendous area with breathtaking vistas and diversity of terrain.
The sheer size of the National Parks, the canyons, the desert. Combined with the amount of history written in the red rocks that rise like towers jutting out of the ground and the delicate hoodoos washed away by erosion.
It is a place that, if you've never been, you need to go, at least once in your life.
This ebook is a seven day guided exploration of the State and National Parks in Southern Utah. We provide a suggested route and itinerary, links to multiple campgrounds and boondocking spots, and the best spots to see along the way. Don't plan your trip to Southern Utah without it!
You can hit everything in seven days, do a whirlwind weekend tour, or you can take your time and explore the area over a few weeks.
---
---
---
Get the Home Study Course today and worry about the road, not the repairs!
Every time you move your RV it's like driving through a hurricane during an earthquake. Parts break and many items need to be maintained, this program will show you how you can save time and money by gaining the confidence to take on the majority of the issues you'll come across. Don't get caught with your RV in the shop! Learn how you can maintain and repair your RV at your own pace and at the most convenient time for you! This course is produced by the National RV Training Academy.
What to use for the Internet?
That said, we get asked a lot about what we do for the Internet while RVing. And I can tell you this – it has changed a lot over the years. 
We used to just use a hotspot on our mobile devices, and then we used cellular boosters, and then we tested out systems for a variety of providers, and now – without Nomad – we use a mix of things. 
If you only need to check your email and get caught up on your social media, you only need a good cellular service from any of the major providers. Use your cell phone or tablet as a hotspot.
If you need to power up your laptop and do some work, check email, maybe watch a few youtube videos, then you need something more, like a Jetpack or Mi-Fi card from your Internet Service Provider.
If you are online content creators like us, and need to edit long videos and upload them to Youtube, or are very heavy online users, you'll need a more robust service like Internetonthego or Starlink (if you are out west and are not covered by trees).
If you want to read through a few posts we've done on this topic, here are a few to get you started… RV Lifestyle Internet
We are always searching for and testing out Internet solutions for RVers so watch for more articles and videos here as we come across things that catch our attention. But I will be very careful in ever again recommending another service after our experience with Nomad.
If you want truly expert technical reviews of the latest technology, check out the RV Mobile Internet Resource Center from our friends Cherie and Chris.
They keep track of Internet offerings aimed for travelers better than anyone we know and they are totally objective. They accept no third party advertising and are not sponsored by any Internet service or company.
---