Tired of waxing your RV? It's time to consider ceramic coating. Here's what you need to know about the best protective RV coating…
When it comes to preserving the beauty and integrity of your RV over a long time, a protective coating is essential. The market today offers a wide range of products that claim to safeguard your RV from UV rays, bird droppings, water damage, and more.
In this article, we will explore the different options available, including liquid sealants, waxes, and ceramic coatings.
While ceramic coating is the best protective RV coating, it does come with a hefty price tag. So, we'll discuss if (and when) it's worth it.
Hey, if you buy something through my links, I might get a little something-something as a thank you. No extra cost to you, promise! Read our full affiliate disclosure here.
Liquid Sealants and Waxes
Liquid sealants and waxes have long been a popular choice for RV owners looking to protect their vehicles. These products, such as Heng's Rubber Roof Coating and Turtle Wax, offer a good level of protection against environmental factors, including UV rays and bird droppings.
Applying a protective coating regularly can prevent water damage, minimize the appearance of water spots, and provide a glossy finish. While these coatings require regular reapplication, they can be a cost-effective and easily accessible choice for RV owners.
What Is the Best Protective RV Coating?
When it comes to long-lasting protection, ceramic coating stands out as the best protective RV coating. Formulated with advanced technology, ceramic coatings create a strong seal on your RV's surface, shielding it from UV rays, bird droppings, and other environmental factors.
These coatings work at a molecular level to bond with the surface and provide exceptional protection. If you want the best, long-term results for your RV, ceramic coating is the way to go.
Benefits of Ceramic Coating
The main benefit of ceramic coating is its ability to provide long-lasting protection. Traditional waxes require reapplication 2-3 times a year. Ceramic coatings can provide up to 10+ years of protection.
Ceramic coatings also offer excellent protection against minor scratches and chemical stains, keeping your RV's surface in top condition. Additionally, they provide UV protection, preventing oxidation and maintaining the design of your RV. It can be used over decals to protect them as well.
With a ceramic coating, you can have peace of mind knowing your RV is well-protected from the elements. Plus, the glossy finish enhances the appearance of your RV, keeping it looking (or making it look) as good as new.
Cons of Ceramic Coating
While ceramic coating offers many advantages, it's essential to consider the downsides as well. The cost is the biggest inhibitor.
Where a bottle of Turtle Wax costs around $15, ceramic coating pricing often starts around $1,500. So, you have to weigh the long-term benefits of ceramic coating vs. the shorter-term yet more affordable alternatives.
Additionally, the application process of ceramic coating requires attention to detail and lots of proper preparation. It's not an easy DIY project, which means most RVers will need to invest in professional application.
Let's take a closer look at these two main cons…
How Much Does RV Ceramic Coating Cost?
The cost of an RV ceramic coating varies based on the size and condition of your RV, as well as the quality of the coating. Prices typically range from $1,500 to $5,700.
Applying the coating to a new RV is generally more affordable and straightforward due to less surface preparation. So, if you're buying a new RV, it's better to invest in the ceramic coating now rather than later.
How Long Does RV Ceramic Coating Last?
The lifespan of an RV ceramic coating depends on several factors such as the coating's quality, the number of layers applied, and proper maintenance. While cheaper coatings may last around a year, high-end options can endure for 10+ years or even the lifespan of your RV.
Regular maintenance, including rinsing your RV after every trip, can help prolong the coating's longevity.
Can You Apply a Ceramic Coating at Home?
For those who enjoy DIY projects, applying a ceramic coating yourself is possible. You can find ceramic coatings online or at auto detailing stores. However, be sure to check how long it lasts, because some "ceramic coatings" still require reapplication a couple of times a year.
You must also pay meticulous attention to detail when prepping. You must get your RV as clean as possible before applying the ceramic coating. Otherwise, you're going to lock in remaining dirt, grime, or debris for the life of the ceramic coating.
If you're going to DIY ceramic coating, check out the following resources:
Keep in mind that professionals often spray ceramic coating rather than wipe it on as you usually do with DIY. Spraying ceramic coating is supposed to be a better, more effective application.
Is RV Ceramic Coating Worth It?
With a 4-figure price tag, ceramic coating isn't for everyone. But, if you plan to keep your RV for more than several years, tire of bi-annual waxing, or want your RV to look its best at all times, the investment is worth it.
Let's take a look at the median cost of ceramic coating: $3,600. This is a good estimate for a mid-size RV.
If you keep your RV for 10 years, then the ceramic coating only costs $360 per year and saves you from 20-30 waxing applications. Plus, it offers the best protection, which will help with resale value.
KEEP IN MIND that the cheap ceramic coatings you find online usually only last as long as wax alternatives. So, take that into account when comparing DIY to professional ceramic coating.
Hopefully, all of this information will help you determine if investing in ceramic coating for your RV is worth it.
Basic RV Maintenance Any RVer Can Do
Like what you see in these videos? We'd appreciate it if you would Subscribe to our YouTube Channel (easy to do right here) and consider "ringing the bell icon" to be notified of any new video from us. 🙂 Thanks!
Sometimes – particularly for those who of us who are not mechanically inclined – those wonderful RVs that take us on our grand adventures can be a bit intimidating as far as maintenance and repairs go. I know that was sure true for me. But I met an expert on a recent visit to the Erwin Hymer factory in Cambridge, Ontario, Canada, who offered up some preventative maintenance tips that anyone can do. Even me 🙂
Get the Home Study Course today and worry about the road, not the repairs!
Every time you move your RV it's like driving through a hurricane during an earthquake. Parts break and many items need to be maintained, this program will show you how you can save time and money by gaining the confidence to take on the majority of the issues you'll come across. Don't get caught with your RV in the shop! Learn how you can maintain and repair your RV at your own pace and at the most convenient time for you! This course is produced by the National RV Training Academy.
By popular demand, we announce the publication of the latest in our library of RV travel guides – a 7-Day Adventure Guide to Coastal Maine.
With its dramatic rocky coastline, enchanting fishing towns, and windswept sandy beaches, Coastal Maine is a destination that should be on every RVers' bucket list.
We call these guides "7 days," but they really are seven stops. They're meant to be experienced at your own pace, a couple of days at one stop, a week at another, however long you want.
We have carefully curated this 66-page digital guide (not a printed book) so you can take in all Coastal Maine has to offer. We give you the routes to drive, the spot to stop, the places to eat, and the museums, excursions, hikes and adventures we think you will enjoy the most.
For an RVer, Coastal Maine has it all: stunning landscapes, short drives between stops, spacious campsites, that perfect small city and nature mixed with a seemingly endless variety of things to see and explore.
---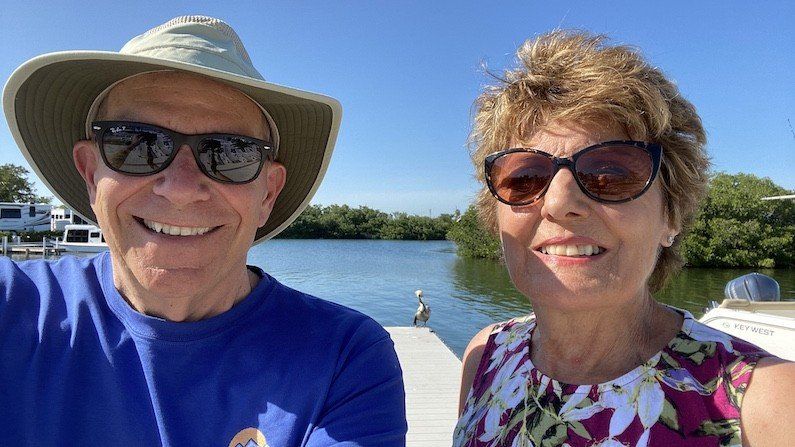 Curious about the gear, gadgets, accessories, and RV products Mike & Jennifer use and recommend?
On this RV Lifestyle Travel blog, our RV Podcast and our RV Lifestyle YouTube Channel, we mention all sorts of RV-related products and gear that we use, So we created a special page that links to them. We update this all the time.  CLICK HERE to go to it directly. Have you caught one of our Amazon LIVE events yet? Just go here and Follow us – to be notified every time we go live.
---