You don't have to buy new, you can DIY RV Remodel to save money and make your old RV as good as new.
That's what we talk about in Episode 364 of the RV Podcast, interviewing Dave and Jo Driscoll, age 81 and 71 respectively, who just completed an awesome DIY RV Remodel on their 18-year-old motorhome.
What I like so much about the awesome job this couple did with their DY RV Remodel is that neither are experienced DIYers. They just took their time, did a lot of Google searching and transformed their RV with an updated interior that rivals anything you can see in a new showroom.
See the Video Version of the DIY RV Remodel podcast
To see the Video version of the RV Podcast, click the player below. It's loaded with before and after photos of their DIY Remodel. And of course all the regular features of the RV Podcast like the RV News of the Week, RV Questions, and campground tips.
Listen to the Audio Version
Podcast: Play in new window | Download (0.0KB) | Embed
Subscribe: Google Podcasts | Spotify | Stitcher | Email | TuneIn | RSS
Table of Contents for the Podcast
Here's a listing of the time in the podcast when we discuss the various topics. Just scroll the video or audio player at the listed time:
1:00 – Mike and Jennifer's Welcome
1:30 – Our Giveaway of a new WaggleCam (worth $300) and a Waggle PetSafety Monitor (a $200 value)
4:40 – Discussion about safe pressure for travel trailer tires
7:05 – Feedback on solo female RV travelers
7:55 – Another use for ZipLock Bags in the RV
12:12 – Interview of the Week with Dave and Jo Driscoll on their DIY RV Remodel project
33:12 – RV News: Some experts say RV inventory to be in short supply until 2023
35:38 – RV News: NYC busts guy who was renting out a fleet of vans to sleep in for $97 a night
38:41 – RV News: U.S. continues border restrictions for Canadian visitors
40:23 – RV News: Oregon imposes 25% surcharge on non-resident campers
41:37 – RV News: No-shows also plague Canadian campgrounds
45:36 – RV Question: Finding beachfront camping in Florida. Check our Florida RV Travel Book Bundle
48:30 – RV Question: Sticking photos to RV walls without damaging the trim or paint
50:10 – RV Question: From Ask Us Anything, learning to drive a Class A RV
53:49 – Hidden Campground Gem: Dinner Station Campground in Colorado
Interview with the Driscolls on how to do a DIY RV Remodel
Here's an edited transcript of our interview with Dave and Jo Driscoll.
Mike Wendland: Well, Dave and Jo join us now from their home in Lake Lanier, Georgia. And I guess before I get too far, where is your RV right now? It's getting some more work done on it yet, right?
Dave Driscoll: It's actually at Camping World in Oakland up near Oakwood, near Gainesville.
Mike Wendland: Okay. Let's tell everybody a little bit about all the work that you did on this. And just to recap, describe your RV, how old it is and why you decided to do this big remodel.
The RV Remodel started with an 18 year old motorhome
Jo: Okay. It's about 18 years old and when we bought it, of course, it had the regular, the original, cabinets, the color of the walls, the little wallpaper border and the stuff that it comes from the factory with. We are only the third owner. So it was in great shape, very low mileage.
So we decided, I decided I have to say, he goes along with me, but it was like, okay, this is just so dark. And I couldn't deal with it. And so we decided to paint the walls white, the cabinets in the kitchen, we painted, it's supposed to be gray, but it's really blue-gray.
And then actually I found at Aldi, the press and seal, the subway tile. So that's what it's in the kitchen around the wall. And I used Amazon for the sticky countertop paper vinyl to do the countertops.
Where they got the parts for their DIY RV Remodel
We actually bought a new faucet for it. We're doing black faucets throughout, and Camperworld's putting a sink in and installing the faucets for us.
We put a new sink in the bathroom, new faucets in the bathroom. We bought a new loveseat, took out the jackknife sofa. Got rid of one of the benches and put a new loveseat in there. I covered the bench that was left.
And then we painted the bathroom. We did a backsplash in the bathroom and a new sink, new faucets in the bathroom. And then in the bedroom, of course, new bedspread and stuff, painted white. I put a shiplap wallpaper in there and it really turned out nicely.
And then we got from Factory Direct Blinds, I think is the name it's those three words. I'm not sure it was Factory Blinds Direct, but I got all of the shades from there and I got the day blackout shades. So the daytime, it lets all the light in, but at night, of course, we pull them up and it's dark in there.
He painted, he took all the hardware off with exception of the lights in the bedroom, which he's going to do that, the lights by the bed. He took them all off and painted them black. And what else did we do? New floor.
COVID interuppted the RV Remodel
Mike Wendland: Let's start with a couple of quick questions. How long did this process take?
Dave Driscoll: Well, to tell the truth, it was elongated because we both were hospitalized with COVID.
Mike Wendland: Oh, my goodness.
Dave Driscoll: So we started last November and then it was interrupted. So we didn't start again until January when we had the strength to do that. So we've been working on it for a good seven, eight months.
Mike Wendland: And you're still doing some work, right?
Dave Driscoll: Almost finished. Yeah. Yeah. Still working.
Mike Wendland: Your son helped you?
Jo: We took a little break where we would take the camper out because he said, "Enjoy your labors. And then you can come back and work on it some more."
Mike Wendland: Yeah, that is great advice. So now you have an 18-year-old RV, so you must have at one point said, "Well, do we want to replace it or do we want to remodel it?" And what made that choice for you?
Why they chose to remodel instead of buying a new RV
Jo: Well, you know what? I think both of us. Dave can say yes or no, we love the RV. We just love it. It feels good. And so that's why we decided that we could… I had a vision and I decided that we could, what we needed and what would be comfortable for us.
And I've looked at some of them online and stuff and some of the people who've bought new ones and stuff. And it's like, I really like the color scheme in ours. So we haven't been tempted. Have you?
Dave Driscoll: No, this is our first one. We had Triton on the lake and which I didn't enjoy, but the RV, I enjoy and she enjoys because the scenery is always changing when you're traveling. On the lake, it stays the same.
Mike Wendland: Yeah. Now how much did all of this cost in terms of money to do a remodel that extensive?
The cost of this awesome DIY RV Remodel
Jo: We're very thrifty and like bargains. So it was only about $2,500.
Mike Wendland: I mean, it's like you have a brand new RV.
Jo: Yeah. It is. We did change mattresses, too, in the bedroom, but yeah, it was about $2,500.
Mike Wendland: Now, a lot of people are wondering about something like this, are you two people particularly crafty and handy? Or is this the kind of thing that most people can do?
Dave is 81. Jo is 71. Age is no barrier!
Dave Driscoll: I would think most people can do it. I'd rather dig in the dirt, but yeah. Yeah. I'm not a handyman, and I'm 80 years old, so I can't do a whole lot, but I think it was a goal of my wife to have this and she had the vision. So we just decided, I decided to follow her vision.
This was their first major DIY project… ever
Jo: Yeah. And it really is stuff that people could do because you're painting. We actually, and our son did help us take out the faucet in the bathroom. But Dave installed the new one and we put the new sink in. That wasn't an issue. But it's like electrical stuff and plumbing stuff that you don't know how to do. You would need to get professional help.
But the painting, we didn't do any sanding, because I hate to sand. It's such a mess. The one thing that I would do differently is, in the bathroom, we put primer on everything first and then painted it white. Anything different I would do would be putting primer on the rest of the cabinets and walls outside the bathroom because it just made it easier to cover it up.
Jo: I used Beyond Paint for the refrigerator and it did really well with that. But the other was just a Sherwin Williams paint. Self-leveling paint.
Mike Wendland: Now that was the question I had: is there special materials that people need when they want to give a rejuvenated look to their RV? You bought stuff at Sherwin Williams, you bought stuff you said at Amazon. I think of the flooring, for example…
Jo: It was on sale at Home Depot.
Mike Wendland: Those were stick-on?
Jo: Yep, and it was on sale at Home Depot so that wasn't even very much.
Mike Wendland: And so many people look at this and do, I think, buy a new RV because they say, "Oh, I'll never make ours what we want it to be." And you guys have to feel very proud about this.
Dave Driscoll: We are.
Jo: And we love it.
Dave Driscoll: It's a lot of work that we put into that, but it was something we both enjoyed doing. We go out and work on it for two or three hours and Jo would go out and work for 10 or 12 hours.
No one ever said an RV DIY is easy. But it IS worth it!
Mike Wendland: Jo, for people who were thinking about doing the same thing, what is the process like? How do you begin something like this? You said you had a vision, what does that mean?
Jo: Well, I wanted it light and airy. I wanted it to not to feel closed in. And so I think the white and the blue kind of makes it light and airy.
We divided it into three zones. Our son actually suggested this. And I thought it was a good idea because he said, "Think of like the kitchen, the living area, the dinette table, think of that as zone one. Think of the bedroom as zone two. Think of the bathroom as zone three." And then over the cab, which we still have to do that's zone four, but we're just using that for storage. So it's not something that we're raring to get to, because it really doesn't matter. It'll just make it look better to us.
The RV Remodel Process
Mike Wendland: Yeah. So you started, you think of the areas that you have to do, but where do you begin researching to get the supplies and the paint and all of that stuff? How did you find all that?
Jo: Well, I saw on some of the websites where someone had used Beyond Paint. And so I was…
Mike Wendland: What is Beyond Paint? Maybe you could explain what that is.
Jo: Beyond Paint, that is the company's name and that is their paint name and their tagline or what they advertise is that no sanding, no priming. And that it's not a one coat paint, but you just simply paint it on and it levels itself out.
So I actually went to Sherwin Williams looking for that paint because the website said it was there and they didn't have it, but they sold me another, their paint, that was a primer paint, and it was self-leveling. Whether it was a primer paint combined, we had to put a lot of coats on the white.
Lessons learned
And so I think if I had it do over again, like I said, I would I'd wipe the counter down with, shoot, is it TSP? Or with a good cleaner, I wiped it down with a good cleaner. And then we painted over it. Dave took the doors off, the drawers out and painted.
It did have like a TV… There's a big opening between the refrigerator and the counter and stove. There's an opening above where the TV was over that countertop. So we took the TV out and we actually just put a big basket up there in the opening. That is where we store all of our large bowls. And I'm a talker. What can I say?
Dave Driscoll: She'll go into detail.
Mike Wendland: Yeah. Well, I think that's what people would like to hear. So many of them want to do this, and, one, you guys aren't spring chickens and two…
Jo: No, 71 and 81.
Mike Wendland: And the fact that you guys also are not remodeling experts or a handyman and a handywoman, whatever the term is now for somebody who has those skills and that you just did this yourself and survived, you survived it. And you have a beautiful RV.
Jo: Thank you.
Mike Wendland: I mean, it looks brand new. We just came from the Hershey Show and your interior, the photos I've seen are equal to anything we've seen in that show.
Jo: Well, thank you.
Mike Wendland: Advice to people who want to do this besides go ahead and do it? What are some of the lessons that you might have learned? Dave? How about you? What did you learn about all of this?
Advice for others who want to do a DIY RV Remodel
Dave Driscoll: I learned she's right.
Mike Wendland: I bet you knew that before. I just have a feeling.
Dave Driscoll: We can go our own way from time to time, but no, we would argue over how to proceed.
Jo: Processes.
Dave Driscoll: She's right. So it was a lot of fun. It was a lot of frustration. It was a lot of sweat. It took time. We took all the handles off and I took all the handles off and we painted them, black spray paint. I mean…
Jo: And light fixtures.
Dave Driscoll: I would've left them.
Jo: He took those, the light fixtures down and sprayed those black. The only ones that we have yet to do are the two that are in the bedroom, over the bed. But with the black handles faucets in the kitchen and in the bathroom, it just looks better with the black handles and stuff.
Mike Wendland: What was the most frustrating part about all of this?
Dave Driscoll: Trying to work in the same space at the same time.
Jo: And there's not much room.
Mike Wendland: Yeah. That's a problem of every RV though, isn't it?
Jo: It is, it is.
Dave Driscoll: I was exasperated with Jo because she's a trained nurse, a retired nurse. So everything has to be perfect. If you try to get the lines on wallpaper…
Jo: It don't work.
Dave Driscoll: The big expense was having to replace all the paper that she ruined or not ruined, but discarded and had to replace. But it's very exacting to have to get into very tight areas. And at our age, particularly, if we were younger, we would've knocked it out in probably three weeks. But we took our time and we did what we could and we'd stop when we could. We'd take off and take a little trip when we could.
Mike Wendland: So, so your advice is to do it, to give it a try, right?
Dave Driscoll: If you go wrong, you redo it again. And we've redone things many times to get it right. But it looks great.
Jo: But it hasn't really truly it hasn't gone over that $2,500 because I'm a bargain shopper. So I try to find things that I like that are on sale and pick it up.
Mike Wendland: Yeah. I noticed you didn't do any solar panels or any big inverters or any of that stuff. All that new technology, didn't do any of that.
Jo: What we did do, we did the tire monitoring pressure system. We did that now, and this isn't included in the 2,500, that's just the painting and decorating part of it. But we did that.
Jo: We did an EMS, installed one in the system. A leveling pro, we did Level Pro, what else did we do?
Dave Driscoll: Well, we've replaced both awnings.
Jo: Well, that was our fault. It was.
Dave Driscoll: True.
Jo: They came almost new. And it was our learning experience.
Mike Wendland: We've all had those. We've all had those. Well, now that you got guys have figured all of this out, I wanted to let you know that I will be bringing my RV down to Lakeland near Georgia next week. And you've got a week or two to do a couple of things that we'd like to have fixed up in ours. So it'll be there.
Dave Driscoll: Bring money.
Jo: No problem.
Dave Driscoll: Just bring money.
Mike Wendland: Bring money. Yeah. Thank you so much for sharing this in learning how to remodel an RV and still survive and live to tell about it. I want to thank you also for being part of our RV Lifestyle Facebook group, and posting those photos.
Folks are going to love seeing this interview and we have 70,000 people on that group and you had a very popular post, and they're all going to love to actually meet you guys through the accompanying video. So thank you for sharing this and Dave and Jo, I hope that Jennifer and I meet you out on the road someday.
Jo: Hope so. Thank you.
What types of DIY have you done to your RV?
Let us know in the comments! Or come on over to our Facebook Group and join the conversation over there.
---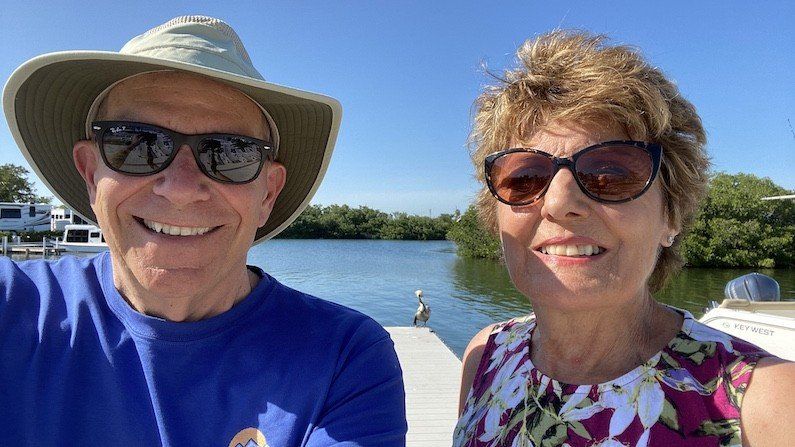 Curious about the gear, gadgets, accessories, and RV products Mike & Jennifer use and recommend?
On this RV Lifestyle Travel blog, our RV Podcast and our RV Lifestyle YouTube Channel, we mention all sorts of RV-related products and gear that we use, So we created a special page that links to them. We update this all the time.  CLICK HERE to go to it directly.
---
---
---